If you finally want to get into the best shape of your life without spending hours slaving away in the gym every day doing workouts you hate . . .
. . . without starving yourself, crash dieting, or kissing all the foods you like goodbye . . .
. . . and without wasting another dollar on worthless supplements . . .
. . . then this might be the most important letter you'll read all year.
From: Mike Matthews
Dear Friend,
You probably know me already if you're reading this.
I'm the author of several bestselling health and fitness books including Bigger Leaner Stronger and Thinner Leaner Stronger, as well as the founder of Legion, and here's the deal:
No matter how genetically "cursed" you might think you are, and no matter how lost you might feel after trying and abandoning many types of workout and diet routines, you absolutely, positively can have the lean, strong, and healthy body of your dreams.
The truth is getting into awesome shape isn't nearly as difficult as the fitness industry wants you to believe.
Here's what I mean...
You don't need to: Obsess over "clean eating" and avoiding "bad" or "unhealthy" foods like sugar, meat, and bread. Some foods are just more nutritious than and should be eaten more frequently than others. That's it.
You don't need to: Constantly change up your fitness routine. A little of the right variability in your exercise is productive, but more than that is obstructive.
You don't need to: Spend a couple of hours in the gym every day grinding through punishing strength training workouts. Sweating buckets, getting really sore, training until bone-tired . . . all wholly overrated for gaining lean muscle and strength.
You don't need to: Slog away on the treadmill. In fact, you don't need to do any cardio exercise at all to shed ugly belly fat and even get six-pack abs.
You don't need to: Waste coin on sketchy bodybuilding supplements like fat burners, hormone boosters, and amino acids. Most of these products either haven't been scientifically proven to do what you're paying for or have been proven outright ineffective.
Those are just a few of the many myths that keep people from losing fat, gaining muscle, and getting into the best shape of their lives.
And while I could tout the 2 million books I've sold over the last decade or tens of millions of podcast plays and website visits I've received, that's not why you should listen to me.
You should listen to me because after examining much of the important scientific literature, trying scores of workout programs, diets, and supplements, and working with thousands of people, I don't know everything, but I do know what works and what doesn't.
Like most people, I was clueless when I started lifting weights nearly twenty years ago. I picked up some bodybuilding magazines and started working out a couple of hours per day and spending hundreds of dollars on supplements per month.
I carried on that way for over seven years, jumping from diet to diet, workout program to workout program, and supplement to supplement. Here's what that looked like: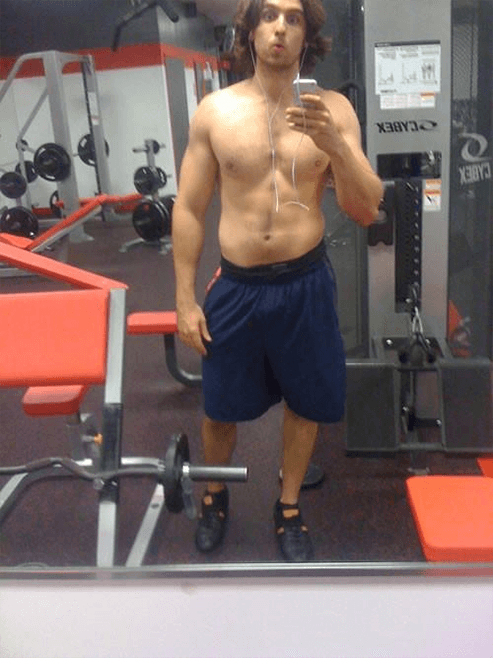 Despite my considerable efforts, I had only gained about twenty-five pounds of muscle and novice-level strength, and I still didn't know how to get and stay lean or break through my training plateaus and build the body I really wanted.
As you can imagine, I was a little less than thrilled, and I figured I probably just didn't have the genetics to get ripped or strong. I was wrong. I was just making some of the worst (and most common) fitness mistakes out there, including . . .
I didn't know how to diet correctly. For instance, I thought some calories "mattered" more than others, carbs made me fatter, and what I ate was far more important than how much I ate of it.
I cared a lot more about getting a "pump" than achieving progressive overload. In fact, I didn't even know what progressive overload was, how it drives muscle growth, and how to work toward it in every workout.
I agonized far too much over which "workout split" I should follow. A workout split doesn't drive muscle growth. Your biceps don't care if you do an "arms," "pull," or "upper-body" workout. Your muscles will grow when you do the right amount of the right exercises with the right amount of weight.
I changed up my workout routine way too much. A little of the right variability in your exercise is productive, but more than that is obstructive.
I wasted thousands every year on worthless supplements. Supplements are supplemental by definition and don't build great physiques—only proper diet and training does.
I finally decided to get "serious" about my fitness and learn the true physiology of muscle growth and fat loss. I tossed the magazines out, ditched the Internet forums, and stopped paying attention to locker room chatter, and started studying the work of leading strength and bodybuilding coaches, consulting veteran natural bodybuilders, and reviewing scientific research.
When I finally escaped all of the misinformation and changed what I was doing in the kitchen and gym according to what I was learning, the results were almost too good to believe. I started gaining muscle again. I started gaining strength again. I got a six-pack for the first time. I was getting jacked by spending less time in the gym, doing less cardio, and eating more freely. It felt like I had found the cheat codes to the fitness game.
Here's what I mean: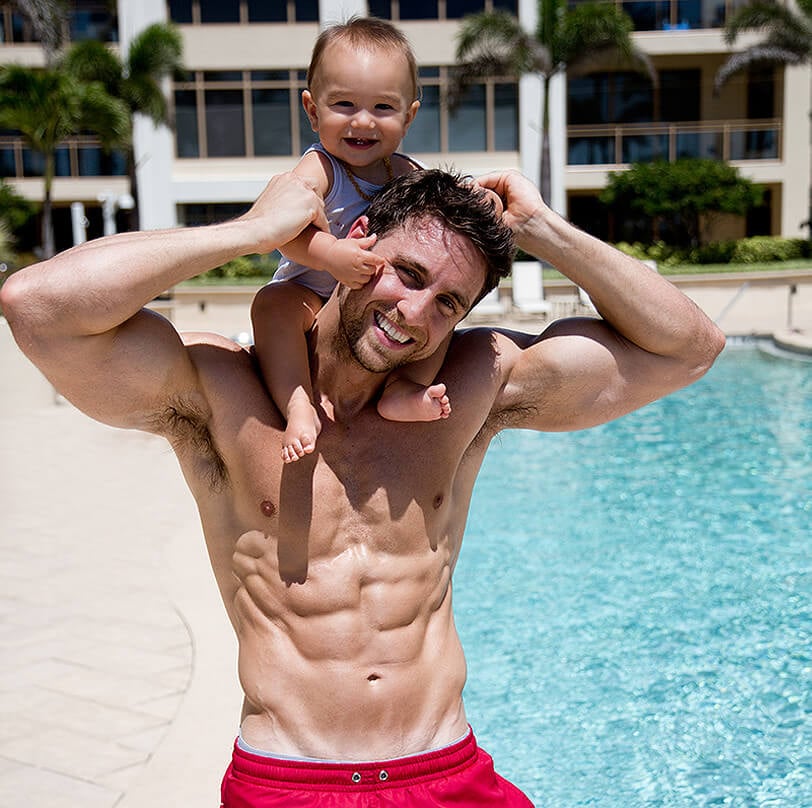 That became my "summer look" of about 7% body fat (featuring my adorable son Lenox), and now, years later, I still stay within striking distance of "photoshoot lean":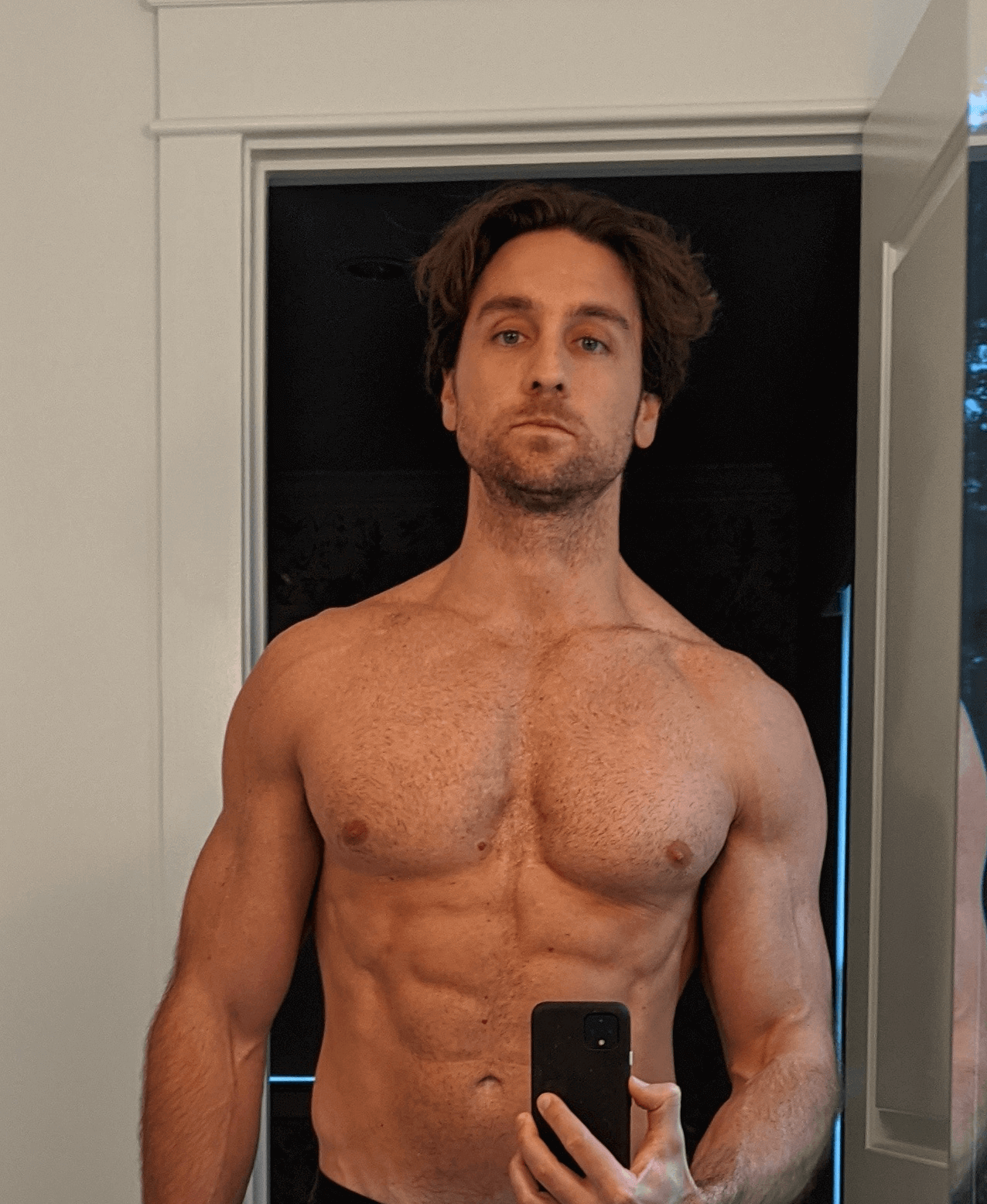 So, here's the bottom line:
I know what it's like to be stuck in a rut . . . to have no idea whether you're eating or training effectively . . . to feel like it's no use trying to get any fitter, leaner, or stronger.
That said, coaches and trainers like me seem to be a dime a dozen, so if you're skeptical, you should be . . .
How Much Can You Really Trust Personal Trainers and Nutritionists?
This might sound arrogant, but after speaking and working with thousands of people over the years, I'm thoroughly convinced of the following:
Although most personal trainers and nutritionists have their hearts in the right place, many don't know what the hell they're doing.
Low-carb starvation dieting is rampant. Strength training workouts are either way too hard or way too easy. "Clean eating" is worshiped while energy and macronutrient balance are completely ignored. Hours of cardio every week is mandatory.
The problems go on and on.
You can spot these bad trainers and coaches pretty easily, too: while they themselves may look great (although they often don't), their clients look exactly the same month after month.
How can this be? Aren't these people certified professionals? The truth is it doesn't take much to get your personal trainer or nutritionist certifications.
In most cases, you do a CPR class and some online studying, which teaches you just about nothing of practical value. Then you take a couple tests that are basically impossible to fail and voila...you can now hang your shingle up as a "professional" without ever having to prove you can actually get results in others.
Another major problem with how many trainers and nutritionists operate boils down to an underlying conflict of interests: your and their goals are often very different.
You want a trainer to teach you how to get and stay fit but they want to keep you as a client for as long as possible, and if they really gave you what you wanted (the key what's, how's, and why's of fitness), they couldn't get what they want.
Now, my point here isn't that I'm so righteous and clever and everyone else is criminal scum. My point is I like to do things differently.
Every week I get scores of emails and social media messages from people eager to work with me on a one-on-one basis, regardless of the cost. And as fun as it sounds to take on a bunch of coaching clients and just make diet and training plans and chat with cool people on Skype all day, there's just no way I can do it.
Between researching, writing, podcasting, marketing, and the various CEO-related activities for Legion, I simply couldn't give coaching clients the amount of attention and level of service I'd want if I were them.
And so here's how I used to reply to requests for 1-on-1 coaching:
"I wish I could somehow work that into my schedule but it's just not possible...but I'm happy to answer any questions, so fire away."
This has allowed me to meet and help thousands of people over the years, but eventually it became clear that I was doing them a bigger disservice by not figuring something out.
I got to work on a solution, and here's the result . . .
You Work With My Hand-Picked Team of Coaches and Get the Body You Really Want
While I couldn't personally work with everyone who wants 1-on-1 help, I could build and oversee a team of evidence-based, tried-and-tested coaches who can work with my readers and followers who want help.
And that's exactly what I did 7 years ago, and since then, my team and I have helped over 3,000 men and women of all ages and abilities build muscle, lose fat, and get healthy, and faster than they ever thought possible.
For example . . .