A dip belt can be an invaluable weightlifting tool.
They allow you to comfortably and safely lift more than just your body weight during exercises like the pull-up and dip, which is crucial for muscle and strength gain. 
Before investing in a dip belt, selecting one that aligns with your needs and goals is essential.
In this guide, you'll learn the best dip belts available, including the best dip belt with a chain, a strap, the best dip belt for squats, and more. 
(Affiliate Disclosure: All products we review reflect the research and opinion of our editors. We sometimes receive the products we review for free, and when you make a purchase using the links in this article, we may earn an affiliate commission at no extra cost to you.) 
The Best Dip Belts
Best Overall:

Rogue Dip Belt

Runner-Up:

Harbinger Dip Belt

Best Dip Belt with Chain: DMoose Fitness Dip Belt

Best Dip Belt with Strap: Hypeletics Weighted Dip Belt

Best Dip Belt for Squats: Armageddon Premium Dip Belt
Find the Perfect Supplements for You in Just 60 Seconds
You don't need supplements to build muscle, lose fat, and get healthy. But the right ones can help. Take this quiz to learn which ones are best for you.
Take the Quiz
Best Overall: Rogue Dip Belt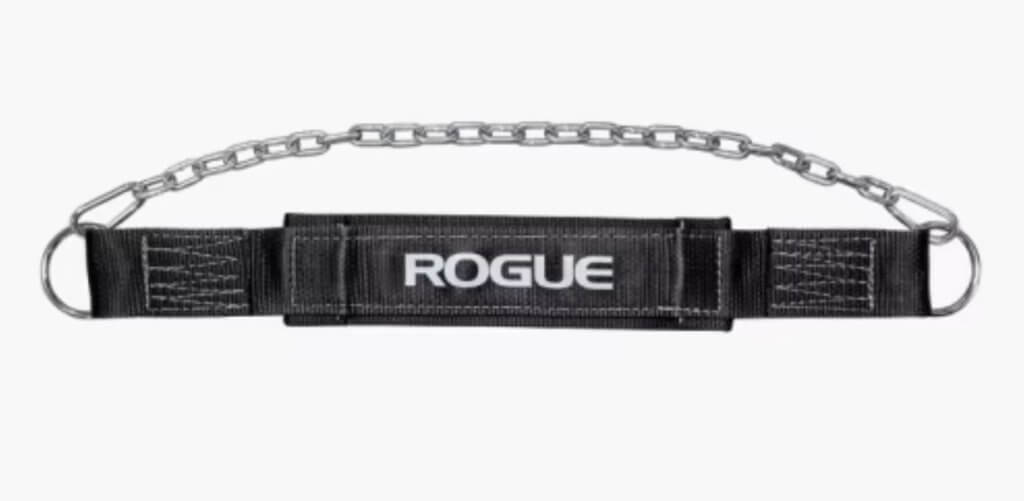 Price: $62
Material: Nylon
Chain Length: 30"
Weight Capacity: 29,400 pounds
The Rogue dip belt is our top pick for two reasons.
First, according to Rogue's official testing, it can withstand up to 29,400 pounds, which is easily the highest load capacity of any belt on the market. While you (hopefully) won't push it anywhere close to the breaking point, you can rest easy knowing this sucker won't wear out on you. 
Unlike most dip belts, which are thin and flexible, this one is made of thick woven nylon—basically the same material used to attach cargo to flat-bed trucks. Despite being rugged, this material also conforms to the shape of your body, and the wide shape distributes the weight well.
And second, Rogue has designed the belt to fold onto itself, creating loops that secure the rings. These loops are then stitched in a zigzag pattern across the entire belt width. 
This design ensures the belt provides reliable safety under extreme tension, is exceptionally durable and comfortable, and any added weight is evenly distributed around your entire waist (instead of pinching your hips).
At $62, it ranks among the pricier dip belts available. However, the quality of this belt for weighted dips and other exercises fully justifies the cost. 
Pros
Exceptionally durable

Comfortable

High load capacity

Well designed
Cons
Runner-Up: Harbinger Polypropylene Dip Belt

Price: $40
Material: Polypropylene
Chain Length: 30"
Weight Capacity: No official weight capacity
Not far behind the Rogue dip belt is the Harbinger Polypro dip belt.
This belt is made from polypropylene, which means it molds to your body and becomes more comfortable after a few uses. It also has a 5-inch back pad that stops the belt from digging in even when loaded with heavy weights and an excellent chain and carabiner mechanism, which held up well when I loaded it with 100 pounds. 
The biggest limitation of the Harbinger dip belt is that Harbinger doesn't provide an official maximum load capacity. As such, we can't guarantee it'll hold up comfortably during serious training, which is why it misses out on the top spot. 
Pros
Wide back pad for extra comfort

High-quality

steel chain and carabiner

mechanism
Cons
No official weight capacity
Find the Best Diet for You in Just 60 Seconds
How many calories should you eat? What about "macros?" What foods should you eat? Take our 60-second quiz to get science-based answers to these questions and more.
Take the Quiz
Best Dip Belt with Chain: DMoose Fitness Dip Belt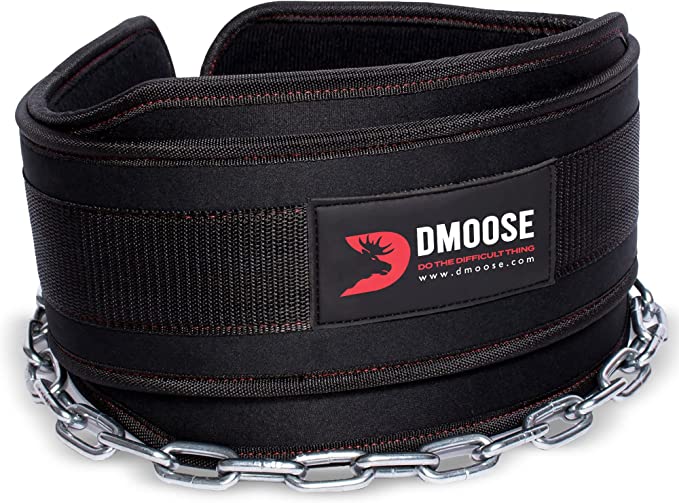 Price: $42
Material: Neoprene and nylon
Chain Length: 36"
Weight Capacity: No official weight capacity
The DMoose Fitness Dip Belt stands out among other chain dip belts because of its 36-inch steel chain and carabiner mechanism. 
Because of its length, you can load exercises that develop power and strength in your legs, like dip belt squats, with enough weight to be effective and add even more weight to upper-body exercises like dips and pull-ups.
Similarly to the Harbinger, there's no official maximum weight capacity. While this is disappointing, the build quality and stitching are solid, so it should easily hold at least 100 pounds.
Pros
Long chain

Versatile

Solid build quality
Cons
No official weight capacity

Neoprene generally less durable than other materials
Best Dip Belt with Strap: Hypeletics Weighted Dip Belt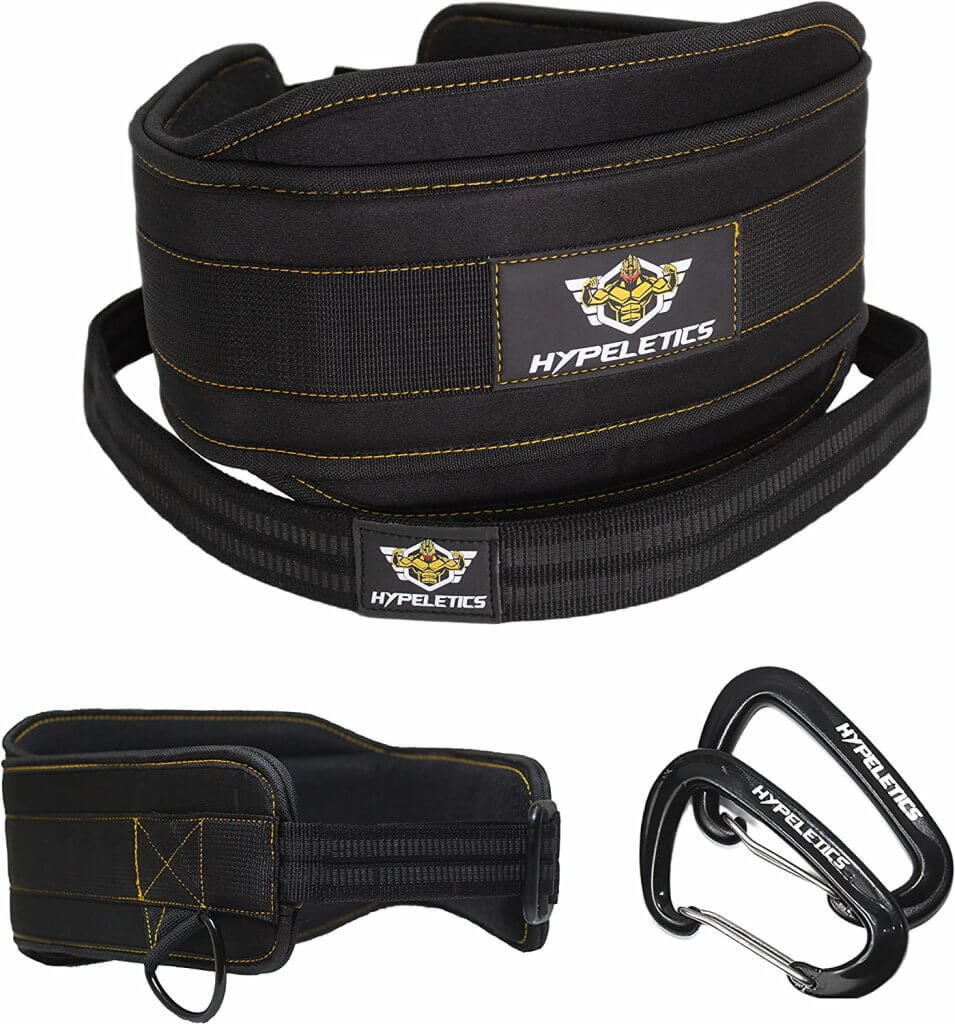 Price: $35
Material: Neoprene and nylon
Strap Length: 40"
Weight Capacity: 300 pounds
Unlike traditional chain dip belts, the Hypeletics belt features a hefty 40" strap, providing enough room to add up to 6 Olympic weight plates.
This makes it ideal for progressively overloading belt squats, pull-ups, and dips, helping to develop muscle and strength across your entire body. 
It also has an adjustable waist strap and buckle that secures the belt around your waist (Small size fits 23-to-30-inch waists, and Regular size fits 30-to-40-inch waists) and a 7-inch back support, which prevents it digging into your back and sides, regardless of how much weight you've added for chin-ups or dips.
For many (myself included), chain belts are a more robust option. However, if you're looking for something more lightweight, the Hypeletics belt tops the list. 
Pros
Affordable

Long strap

High weight capacity

Different waist sizes
Cons
Strap belts might not suit everyone

Strap may be overly long for shorter weightlifters

Neoprene generally less durable than other materials
Best Dip Belt for Squats: Fire Team Fit Weighted Dip Belt with Chain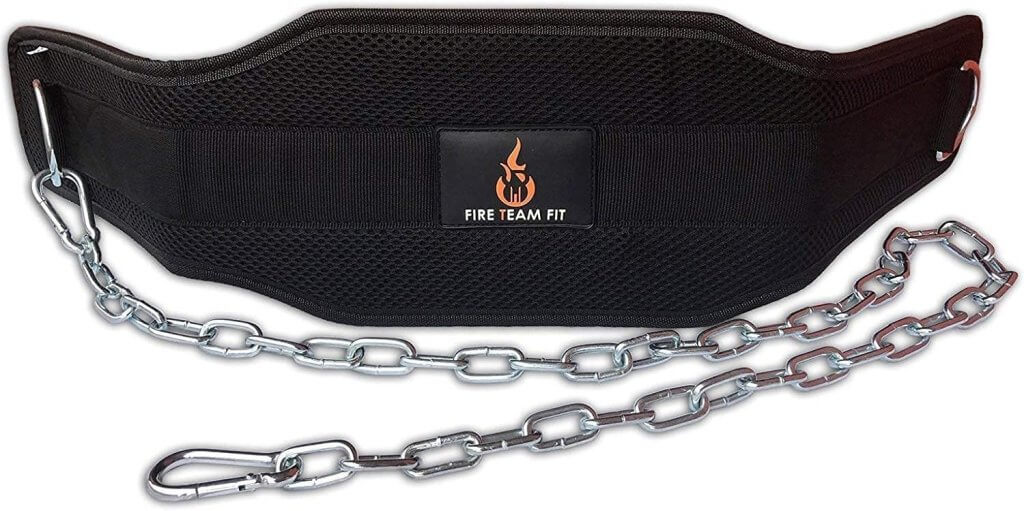 Price: $28
Material: Neoprene and nylon
Chain Length: 44"
Weight Capacity: 300+ pounds
Generally, people can squat heavier weights than they can lift in exercises such as triceps and chest dips, pull-ups, and chin-ups. Thus, if you want to perform belt squats, you need a belt with a long chain that can accommodate a lot of weight plates. 
With an extra-long, 44-inch chain, higher load capacity, easy adjustments, and exceptional build quality, the Fire Team Fit belt is ideal for performing belt squats effectively and safely. 
Pros
Extra long chain

High weight capacity

Solid build quality

Wide back pad

Reasonably priced
Cons
Chain may be overly long for shorter weightlifters

Could feel awkward for those not using it for belt squats

Neoprene generally less durable than other materials
Some Nutritionists Charge Hundreds of Dollars for This Diet "Hack" . . .
. . . and it's yours for free. Take our 60-second quiz and learn exactly how many calories you should eat, what your "macros" should be, what foods are best for you, and more.
Take the Quiz
How We Chose The Best Dip Belts
Design
We assessed the design of each dip belt, focusing on factors such as easy adjustments, reliable safety features, and load capacity.
Materials
The material of the belt significantly impacts its durability and comfort. We favored dip belts made from robust materials that provide comfort and safety under extreme tension.
Chain
The quality of the chain and carabiner mechanism was a key consideration for the best dip belts with chains. We sought belts with durable chains capable of handling added weight for chin-ups and dips.
Comfort
A dip belt must be comfortable to wear. We prioritized belts that fit well and remained comfortable even under heavy load.
Price vs. Quality
While affordability is important, it should not compromise the quality of the belt. We compared the prices of various dip belts with their features to ensure they provided good value for money.
How to Choose the Best Dip Belt for You
When selecting the perfect dip belt, it's important to consider your specific training needs and preferences. Here are a few key factors to keep in mind:
Chain vs. Strap
Your first decision is to choose between a chain and strap dip belt.
Typically, dip belts with chains have a higher load capacity than strap belts, making them ideal for training with heavy weights. Chains also tend to be harder wearing, which means chain belts often last longer.
On the other hand, strap belts are very lightweight, making them easier to transport to and from the gym. They're also a good option if you train at home and don't want to damage your weight plates with a chain. 
Material
The belt's material can greatly impact its durability and comfort.
For instance, leather is incredibly tough and often associated with long-lasting durability. However, it may not provide the same level of comfort as belts made of neoprene, nylon, or other padded materials.
Neoprene belts often provide a softer, more comfortable fit, but are typically less durable than leather and nylon. These are ideal if comfort is a top priority.
Nylon is exceptionally durable and still very comfortable if the belt is designed well, although not quite as comfortable as neoprene.
Chain Length
Belts with longer chains allow you to perform a wider variety of exercises and load heavier weights than belts with shorter chains.
If you plan to do exercises like belt squats or train gymnastics strength, a longer chain or strap is beneficial.
If, however, you're shorter or not planning to load pull-ups and dips heavily, a short chain is more suitable. (If you're unsure of whether to get a long or short chain, get a long one, since you can always double up the chain to take up the extra slack.)
Why Use A Dip Belt
Increased Muscle and Strength:

A dip belt allows you to

easily add weight

to bodyweight exercises like dips, pull-ups, and chin-ups.

Adding weight allows you to continue progressively overloading your muscles when your body weight becomes too light, which is essential for gaining muscle and strength.

 

Safety and Comfort

: Dip belts distribute the added weight evenly across your hips rather than putting stress on your lower back or spine, which is particularly beneficial during heavy lifts. Premium dip belts also come with padding to sit comfortably during training.

Versatility:

With the right belt, you can add weight to exercises that train your entire body, including dips, pull-ups and chin-ups, belt squats, and calf raises. 
How to Use a Dip Belt
Position the Belt:

Kneel on the floor and wrap the belt around your back so that the metal loops at each end of the belt rest on your thighs. Attach one end of the chain to the loop on your left side and place the other in front of your body.

Thread the Chain:

Take the free end of the chain and thread it through the loop on the right side of your body. Adjust the chain to achieve a snug fit around your waist.

Attach Your Weight:

Thread the chain through the central hole of the weight plate (or plates) you want to use. 

Secure the Carabiner:

Pull the free carabiner back to the loop on your left side and fasten it securely. Double-check to ensure the carabiner is locked before continuing.

Start Exercising:

Get into the exercise's start position. Before beginning, ensure the weight is hanging comfortably. Begin the exercise, making sure the chain is adjusted to prevent the weight from hitting the floor or your body during the exercise.