Wrist wraps are thick, flexible pieces of fabric that you wrap around your wrists for support during pressing exercises and squats. 
Not all wrist wraps are the same, though. Before buying, you need to decide which suit your needs best. 
In this guide, you'll learn the best wrist wraps for lifting weights, including the best wrist wraps for powerlifting, bench press, CrossFit, and more. 
(Affiliate Disclosure: All products we review reflect the research and opinion of our editors. We sometimes receive the products we review for free, and when you make a purchase using the links in this article, we may earn an affiliate commission at no extra cost to you.) 
The Best Wrist Wraps
How We Tested The Best Wrist Wraps
To ensure we only recommend the best products to our readers, the Legion team tested a ton of the most popular wrist wraps on the market. 
In our assessments, we tried to find the most durable, well-made wrist wraps available.
We also paid attention to details that make some wraps superior to others, such as the quality of the elastic materials and fastening, whether they feature reinforced stitching, if they come in various colors, and so forth.
Find the Perfect Supplements for You in Just 60 Seconds
You don't need supplements to build muscle, lose fat, and get healthy. But the right ones can help. Take this quiz to learn which ones are best for you.
Take the Quiz
Best Wrist Wraps Overall: Rogue Wrist Wraps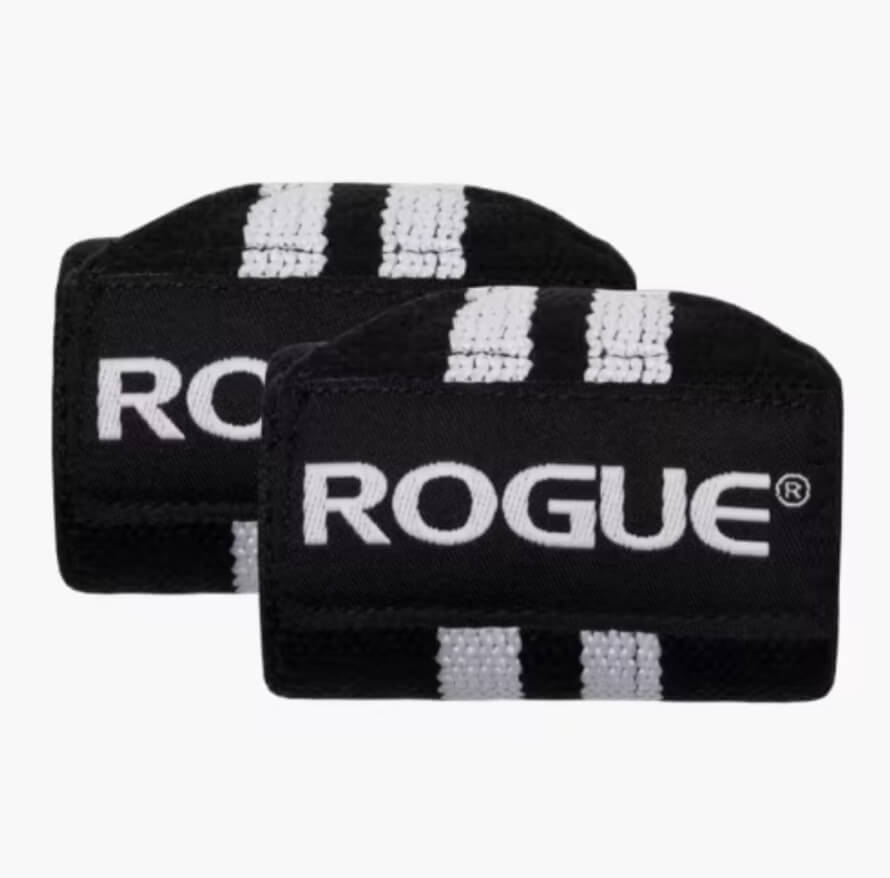 Price:

$14-to-$20

Length:

12″, 18″, or 24″

Width:

3″

Material:

Cotton, polyester, and elastic blend
Rogue's wrist wraps are our favorite overall because they blend durability, versatility, and comfort with top-notch construction. 
Crafted from a cotton, polyester, and elastic blend, they're soft, moisture-wicking, and provide optimal support without feeling restrictive.
You can also choose from various colors and three sizes: 12" for dynamic exercises like Olympic lifts, 18" for an ideal balance of comfort and support, and 24" lifting wrist wraps for the maximum level of support during heavy lifting.
The only minor snag is these wrist wraps currently aren't on the IPF's accepted list. However, considering most of Rogue's other equipment has received the nod, it might just be a matter of time for these wraps.
Pros
Comfortable

Available in a range of colors and sizes

Made by a trusted brand

Affordable 
Cons
Best Powerlifting Wrist Wraps: Stoic Wrist Wraps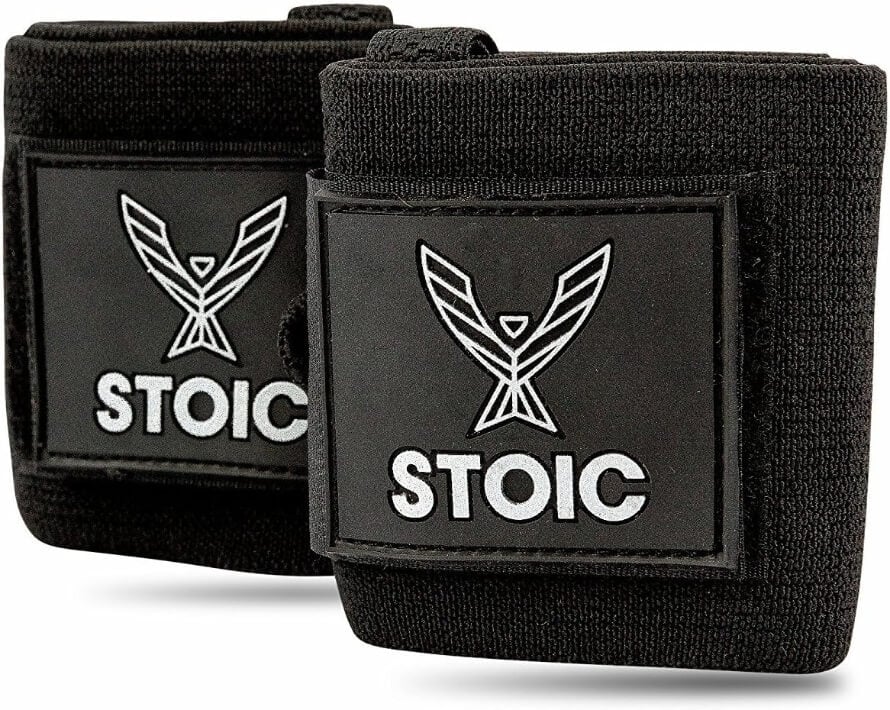 Price: $22-to-$37
Length: 18″, 24", and 36"
Width: 3″
Material: Nylon
For robust powerlifting wrist wraps, the IPF-approved Stoic wrist wraps are hard to beat. 
Crafted from stiff nylon, they're not the most comfortable but offer top-tier stabilization and support. They also come in various colors and lengths, allowing you to find wraps that you like the look of and that offer your preferred level of support. 
Key features include a double-stitched 2-inch "hook-and-loop" fastening and premium Velcro that makes sure these wraps stay put during sets. Their chunky thumb loop is another plus—it feels ergonomic in your hand and should withstand several years of hard training. 
While they're easily the best wrist wraps for powerlifting we tried, their sturdiness makes them less suitable for other training forms like Olympic lifts or circuit training. They're also slightly more expensive than most other wrist wraps, which may deter some. 
Pros
Highly Supportive

Come in a range of colors and lengths

Excellent construction

Durable materials
Cons
Only suitable for powerlifting

A little expensive
Best CrossFit Wrist Wraps: Gymreapers Strength Wrist Wraps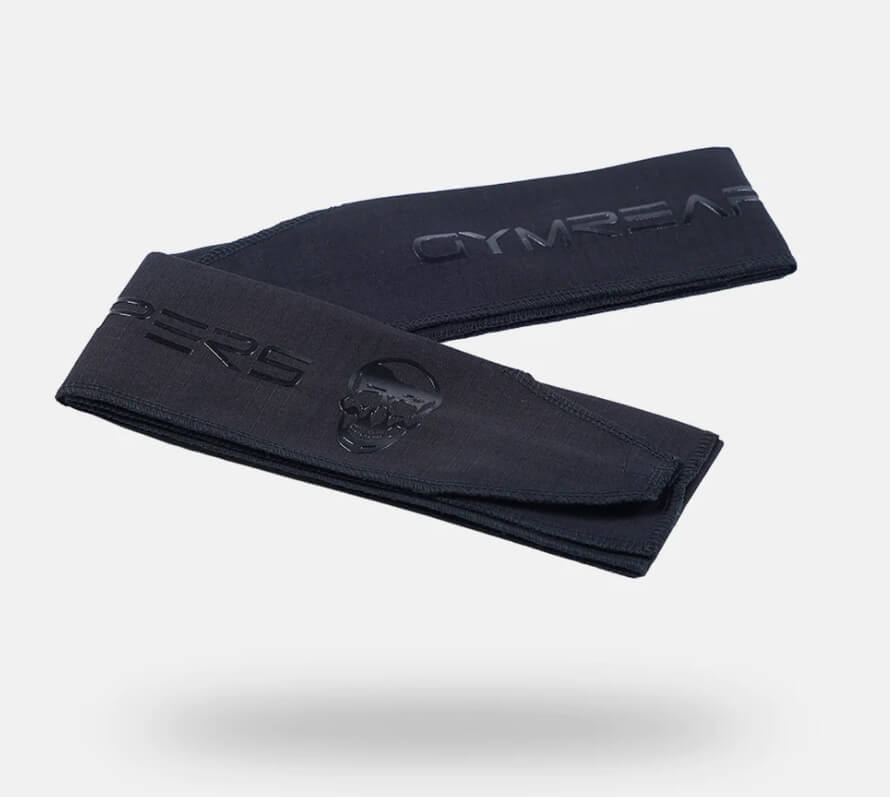 Price: $16.99
Length: 36″
Width: 3″
Material: Cotton
These Gymreapers wrist wraps are a departure from traditional wrap designs—they're longer and slimmer, and instead of the usual thumb-loop with Velcro, they fasten using a string. 
You wrap the material around your wrist, tuck the string under itself to fasten the wrap, then adjust the tightness by twisting the wrap around your wrist. 
This detail makes them ideal for CrossFit workouts, which typically demand quick shifts between exercises. During a circuit, some exercises may require tight wrist wraps, whereas others may require less wrist support.
With regular wraps, adjusting the tightness is a chore. But with these Gymreapers wrist wraps, adjustmenting the tightness is quick and straightforward, saving you time during your workout. 
While their flexibility makes them excellent Olympic weightlifting wrist wraps, they don't offer the same support level as regular wraps. Thus, you might want to explore other options if you're not into Olympic weightlifting or circuit training.
Pros
Quick and easy to adjust 

Good support without being restrictive

Available in a range of colors
Cons
Not as supportive as regular wraps

Fastening takes getting used to

Not suitable for regular

strength training
Find the Best Diet for You in Just 60 Seconds
How many calories should you eat? What about "macros?" What foods should you eat? Take our 60-second quiz to get science-based answers to these questions and more.
Take the Quiz
Best Wrist Wraps for Bench Press: Manimal Wrist Wraps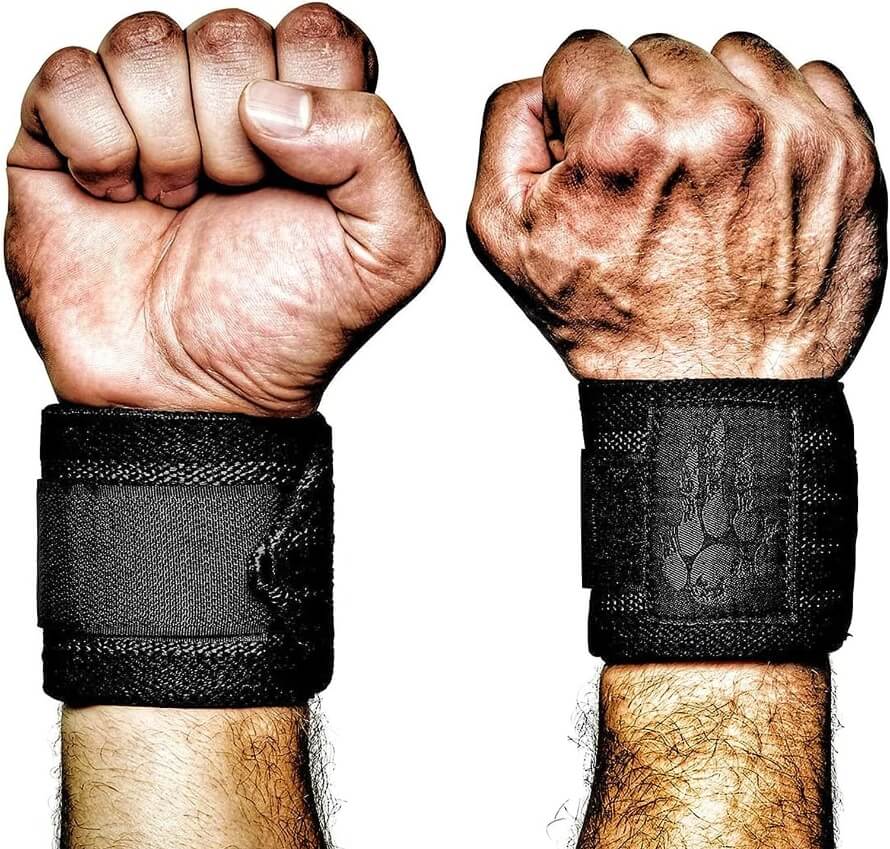 Price: $35
Length: 17.5″
Width: 3″
Material: Cotton, nylon, and elastic blend
Most regular gym-goers want bench press wrist wraps that support their wrists while pressing, help them lift more weight, and reduce their risk of injury. 
They don't want to wear wrist wraps that are so stiff the material chafes their skin and digs into the backs of their hands.
These Manimal wrist wraps brilliantly strike the balance between support and comfort, which is why they're our favorite wrist wraps for bench press.
They're made from cotton, nylon, and elastic, which is supportive and durable without being overly restrictive, and their construction is top-notch, too, so they should withstand years of training. They're also made in the US, come in a range of designs, and have a lifetime warranty.
There are some caveats, though. 
At just under 18" (including the Velcro), they're slightly shorter than most wraps. Given their soft material, a bit more length would offer more support without compromising comfort. Additionally, their premium quality comes with a higher price tag, which might discourage some.
Pros
Ideal for most gym-goers

Supportive yet comfortable

Available in a range of designs

Come with a lifetime warranty
Cons
Best Budget Wrist Wraps: Harbinger Wrist Wraps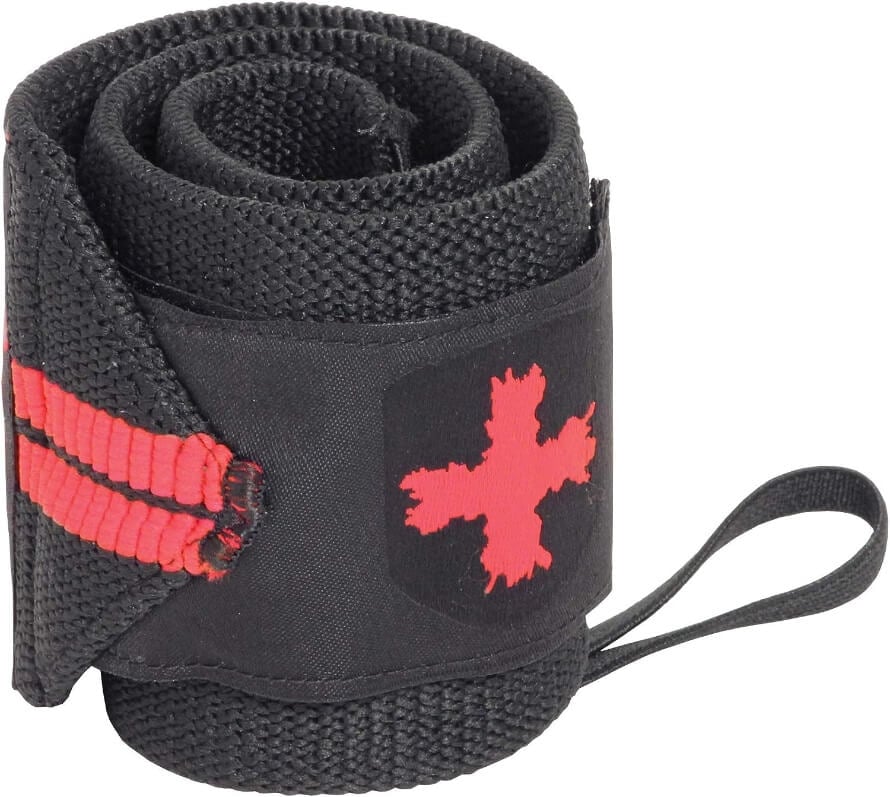 Price:

$13.08-to-$14.94

Length:

18"

Width:

3"

Material:

NA
Harbinger wrist wraps are an affordable choice for those new to using wraps.
The company doesn't detail the materials they use. Still, the wraps feel sturdy enough, the Velcro is decent, and the built quality is very passable.
After a few weeks, the logo patch on my pair started to fray. This cosmetic issue doesn't impact their performance, but it raises questions about how well they'll stand the test of continued use. 
If you're a beginner or watching your budget, these Harbinger wrist wraps are a viable solution. But if you're after something that'll last several years of heavy use, you might want to consider other options.
Pros
Affordable

Build quality and materials are decent
Cons
May not last as long as other wraps

No information about the materials used
Best Premium Wrist Wraps: Inzer Gripper Wrist Wraps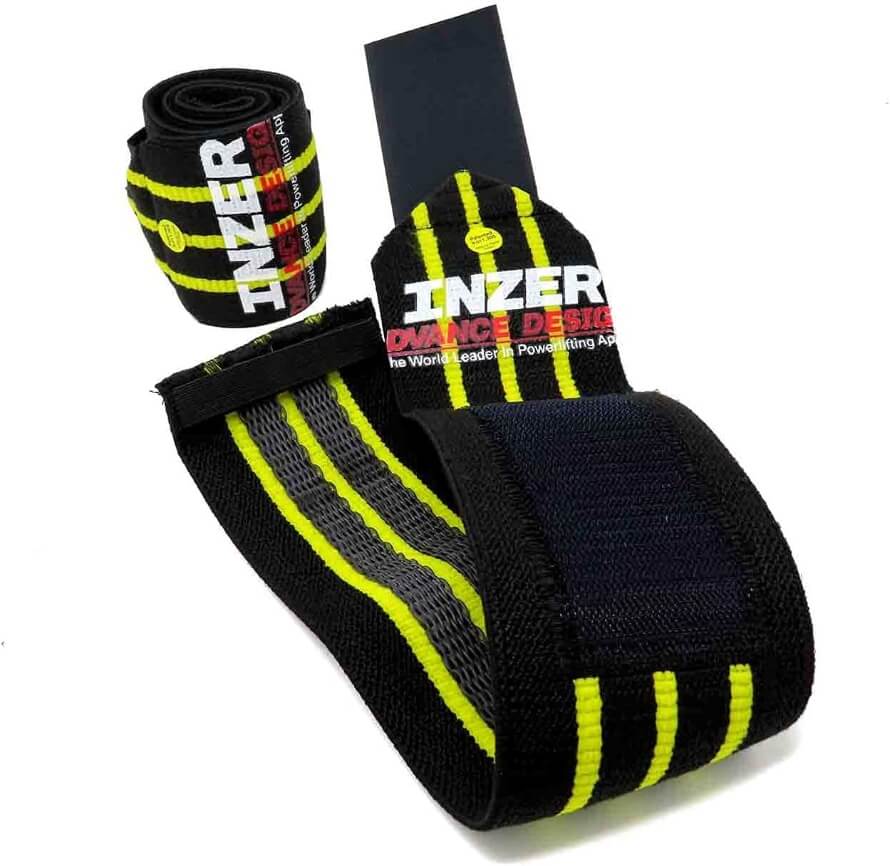 Price:

$28

Length:

20" and 36"

Width:

3"

Material:

NA
There's a lot to love about these Inzer wraps. 
They boast an innovative design featuring strips of exposed rubber down the length of the wrap, which helps the fabric grip your skin and itself, preventing it from moving or loosening while you lift. 
They also have unique thumb loops spanning the wrap's entire width, eliminating the hassle of having to discern the left wrap from the right. Plus, they're impressively durable, so they look and feel brand new, even after months of heavy use.
However, some aspects held them back from being our top choice. 
The rubber strips, while functional, can be uncomfortable on the skin. Inzer also gives no information about the materials used. This isn't a huge deal, but knowing what you're spending your money on would be good.
Additionally, the only color option—a garish black and yellow—may not appeal to everyone. And, priced at $28, they're a premium option that may stretch some budgets.
Pros
Highly secure

Very durable

Can wrap in either direction on either hand
Cons
May be uncomfortable for some

Only one color option

A little expensive
Best Stiff Wrist Wraps: SBD Wrist Wraps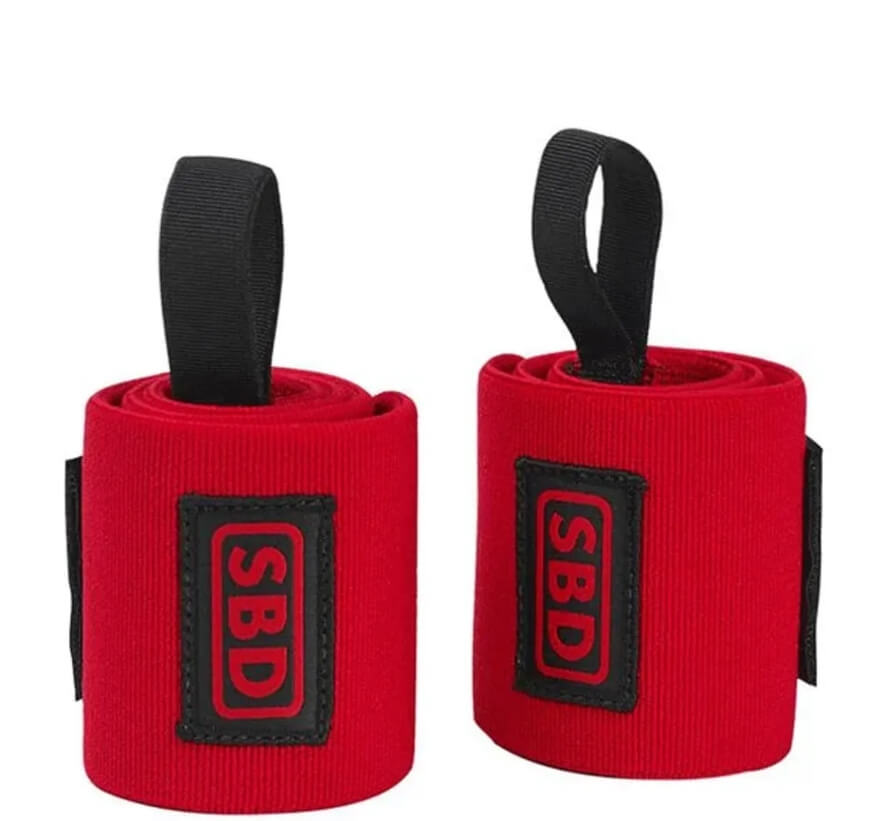 Price:

$42.50

Length:

40 cm (small), 60 cm (medium), and 100 cm (large)

Width:

3"

Material:

NA
SBD offers its wraps in two levels of support: flexible and stiff.
If you're looking for wraps that'll completely immobilize your wrist joint, the stiff SBD wrist wraps are the best option we tested. 
As expected from SBD, their construction is top-notch, with premium materials and Velcro.
Bear in mind, though, that they're not suitable for everyone—even SBD advises using the flexible option for regular training.
That's because their stiff wraps, while providing unparalleled support, are uncomfortable. They limit wrist movement to the point of feeling restrictive and can be challenging to wear, especially when they dig into the back of your hand
The discomfort also extends to their price, standing as the costliest at $42.50.
Pros
Highly supportive

Well made
Cons
Very uncomfortable

Expensive
Most Comfortable Wrist Wraps: Schiek 1100-WS Wrist Wraps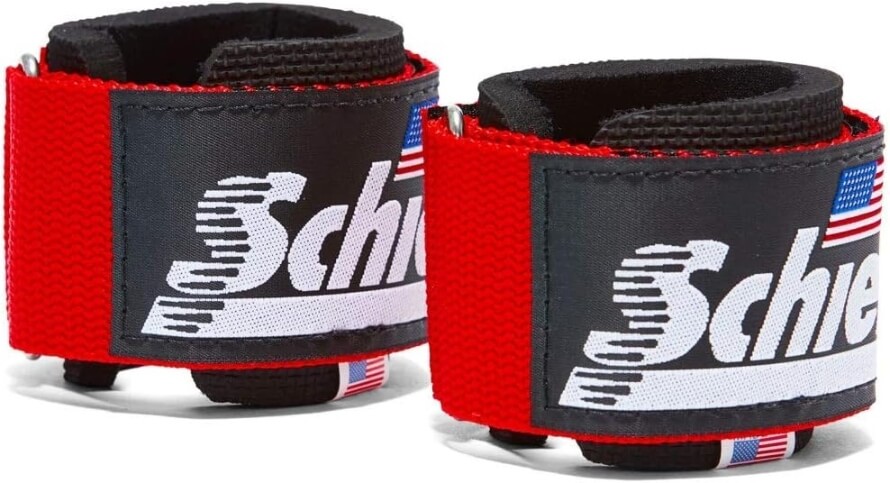 Price:

$22.95

Length:

17″

Width:

2.5″

Material:

Nylon and neoprene
Schiek's 1100-WS wrist wraps showcase the company's knack for innovation.
Their standout feature is a neoprene interior lining, which makes them the most comfortable wrist wraps we tested.
Schiek's wrist wraps also fasten using a metal buckle, which feels secure and is arguably easier to use than regular Velcro. Additionally, they're made in the US and come in a range of colors, which some consumers will like.
However, they do have drawbacks.
They don't support your wrists as much as most other wraps on this list, and while they didn't "fall apart," they showed signs of wear more rapidly than the other wraps we tested. 
Another potential snag is that they aren't sanctioned for most competitive powerlifting events. Thus, if you compete in powerlifting, choose a different option.
Pros
Comfortable

Easy to fasten and secure

Available in multiple colors
Cons
Questionable durability

Not competition legal
Best Minimalist Wrist Wraps: Element 26 Wrist Wraps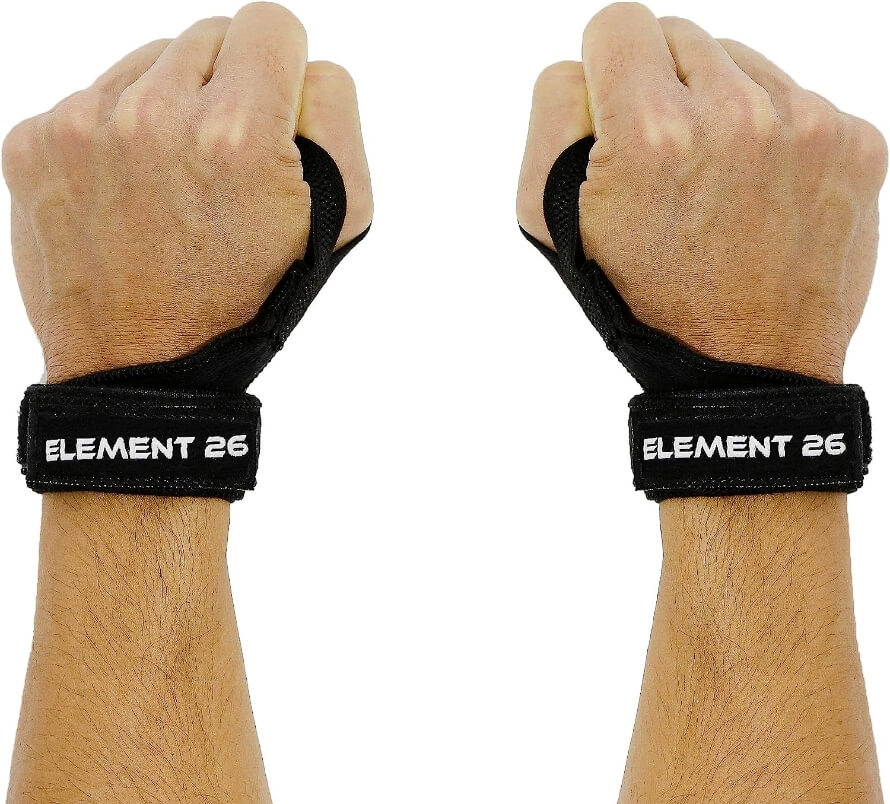 Price:

$24.97

Length:

24"

Width:

1"

Material:

Suede or cotton
The Element 26 wraps are a unique proposition.
Unlike traditional wrist wraps for weightlifting, these are only 1" wide. This allows them to support the scaphoid bone (the source of wrist pain and instability for many) without compromising wrist range of motion.
Their size also means you can wear a smartwatch while training, which some will appreciate.
There are some trade-offs for this design. 
They aren't as supportive as their wider counterparts, and their larger-than-average thumb loop initially feels odd.
If you're an Olympic weightlifter or a CrossFitter, these might be a good fit due to the enhanced mobility they offer. But powerlifters or those lifting heavy loads will likely find the support insufficient.
Pros
Offer support without limiting range of motion

May reduce wrist pain

Made of high-quality materials
Cons
Less supportive than regular wrist wraps

Not suitable for heavy weight training

Expensive 
Some Nutritionists Charge Hundreds of Dollars for This Diet "Hack" . . .
. . . and it's yours for free. Take our 60-second quiz and learn exactly how many calories you should eat, what your "macros" should be, what foods are best for you, and more.
Take the Quiz
How to Choose the Best Wrist Wraps for You
Here's what we considered when choosing the best wrist wraps.
Materials
Wraps that use a blend of elastic, cotton, nylon, or polyester ensure support while maintaining flexibility. Leather wraps, though durable, tend to be less comfortable.
Stiffness
While stiff wraps give better support, they can be less comfy. Powerlifters often lean towards stiffer wraps, whereas CrossFitters and Olympic Weightlifters might opt for more flexible wraps.
Durability
Quality wrist wraps boast reinforced stitching. It's also a plus if wraps use "box-X stitching" around velcro patches.
Length
Most wraps are between 12″ and 36″ long. While longer ones offer extra support, they can be cumbersome. For most people, 18″ wraps provide the best mix of comfort and support.
Price
Most wraps fall between $15 and $30. Avoid wraps much cheaper than this because they'll often have quality issues. Likewise, scrutinize anything above $25 to make sure they justify their price tag.
Certification
Ensure the wrist wraps you choose are approved by any competition you plan to compete in.
What Are the Benefits of Using Wrist Wraps?
Wrist Support
Wraps primarily support your wrist joints. Because of this improved stability and the confidence it gives you, you may be able to lift heavier weights.
Injury Prevention
With the added support, wrist wraps minimize your risk of wrist injury, empowering you to confidently and safely tackle new personal records.
Pain Relief
Wraps can help alleviate wrist pain by supporting your wrists and preventing them from moving through unnatural ranges of motion.
Improved Technique
Some people struggle to keep their wrists in the optimal position to effectively transfer force into the barbell or dumbbells. The stability from wrist wraps can help you use better form, which may boost performance.