I'm not ashamed to admit that I'm kind of a sucker for cool stuff. I like nifty gadgets, quirky decoration pieces, nice clothes (and shoes!), good books, and fun games.
In this series of weekly posts, I share whatever currently has my fancy. Maybe some of it will catch yours as well!
VIDEO OF THE WEEK:
THE ULTIMATE PEE WEE FOOTBALL TOUCHDOWN
What a little beast. Making daddy proud, I'm sure…
Find the Perfect Supplements for You in Just 60 Seconds
You don't need supplements to build muscle, lose fat, and get healthy. But the right ones can help. Take this quiz to learn which ones are best for you.
Take the Quiz
DARK ENERGY RESERVOIR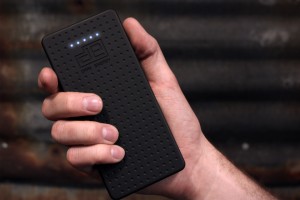 The Dark Energy Reservoir is the ultimate portable device charger.
It's as big as a smartphone and stores enough juice to keep the average smartphone running for an entire week, and it charges as fast as a wall outlet. It can charge two devices at a time and is compatible with any USB charging device.
PANDEMIC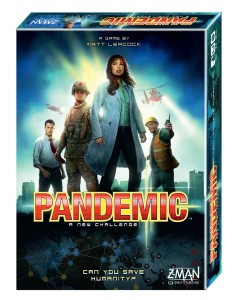 I love playing a great board game with friends, and the award-winning Pandemic is just that.
Here's what it's all about:
Four diseases have broken out in the world and it is up to a team of specialists in various fields to find cures for these diseases before mankind is wiped out. Players must work together playing to their characters' strengths and planning their strategy of eradication before the diseases overwhelm the world with ever-increasing outbreaks. For example the Operation Specialist can build research stations which are needed to find cures for the diseases. The Scientist needs only 4 cards of a particular disease to cure it instead of the normal 5. But the diseases are out breaking fast and time is running out: the team must try to stem the tide of infection in diseased areas while also towards cures. A truly cooperative game where you all win or you all lose.
Cooperative board games are rare, and good ones are even rarer, which is why I really like Pandemic–it's actually great fun, and a nice alternative to the normal "race to beat your friends" experience of other games.
Everyone must work together and help devise the overall strategy, and the tension is kept high as you almost always feel like you're about to lose. If you like to do game nights, pick Pandemic up–it's a nice addition.
BREAKING BAD: THE COMPLETE SERIES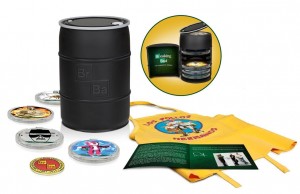 If you're hooked to Breaking Bad, you'll love this complete collection, which contains the following:
Collectible replica money barrel
Over 55 hours of special features from all seasons
All new two-hour documentary
16 page booklet with letter from Vince Gilligan
Commemorative challenge coin designed by Vince Gilligan
Los Pollos Hermanos apron
If you don't watch Breaking Bad, you're missing out.
There's a reason why it's universally acclaimed, has 3 Emmys and 4 more nominations. It's just damn good. One of the best shows of the last several years, in my opinion  (and I'm a really picky TV watcher–I rarely make it past the first few episodes of a show before losing interest).
In case you're not familiar with it, here's a the premise:
To provide for his family's future after he is diagnosed with lung cancer, a chemistry genius turned high school teacher teams up with an ex-student to cook and sell the world's purest crystal meth.
But what makes it truly great is the combination of strong plotting (great twists, rising tension, hero-abuse, etc.) and addictively intriguing characterization (think seasons 1 and 2 of Dexter). Thanks to the fantastic writing, no matter how despicable the protagonist becomes, you can't help but root for him, which is just plain fun.
Check out the first episode on Amazon Instant Video and I think you'll be hooked.
BOOK OF THE WEEK:
PILLARS OF THE EARTH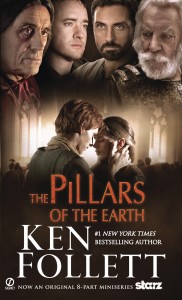 Pillars of the Earth is one of the best pieces of historical fiction I've ever read.
The story is set in 12th century England and concerns the building of a cathedral in a fictional city, but like Shogun, it offers so much more than a bunch of trite archaic speak and dull historical details.
It's really about the ambitions and conflicts of 5 people during decades of political upheaval, and like Game of Thrones, the characterization is riveting, the plot is beautifully paced, and it delivers that rare visceral experience that just grabs and forces you to keep reading.
What do you think of this week's picks? Have anything you'd like to add? Let me know in the comments below!