I'm not ashamed to admit that I'm kind of a sucker for cool stuff. I like nifty gadgets, quirky decoration pieces, nice clothes (and shoes!), good books, and fun games.
In this series of weekly posts, I share whatever currently has my fancy. Maybe some of it will catch yours as well!
VIDEO OF THE WEEK:
RACCOON EATING GRAPES
This makes me want a pet raccoon so I can feed it grapes whenever I'm feeling down.
Find the Perfect Supplements for You in Just 60 Seconds
You don't need supplements to build muscle, lose fat, and get healthy. But the right ones can help. Take this quiz to learn which ones are best for you.
Take the Quiz
LOUIS C.K. "OH MY GOD"
Emmy and Grammy award winning Louis C.K is, in my opinion, one of the boldest, funniest comedians around (and is in my top 5 favorites of all time). If you're not familiar with his work, just start watching some clips on YouTube (NSFW, haha) and I think you'll see why.
Well, in "Oh My God," he's back in all his uncomfortably raunchy and self-humiliating glory. He rants about road rage, dating, why being overweight and bald is better, and a bunch of other stuff that makes you "cringe laugh" with delight.
"THAT'S NO MOON" STAR WARS SUNSHADE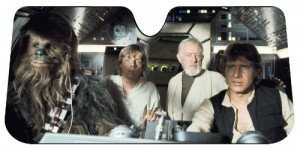 If you want to make other geeks jealous, get this sunshade.
It features the timeless shot of the Millenium Falcon getting pulled into the Death Star, fits most cars perfectly, and is a plastic material, not a cheap cardboard.
WUSTHOF CLASSIC HOLLOW-GROUND SANTOKU KNIFE

If you like to cook, then you want a great set of knives.
I recommend you start with what you'll use the most, and a cook's knife is #1 on the list. You can use it for almost all cutting, slicing, dicing, and chopping,
This Wusthof Classic Santoku knife is a Japanese-style cook's knife with alternating hollows on each side, which keep food slices from sticking. It feels great in your hand, is easy to control, and, as you would expect from a company like Wusthof, is extremely durable and easy to keep sharp.
BOOK OF THE WEEK:

THE VIRTUES OF WAR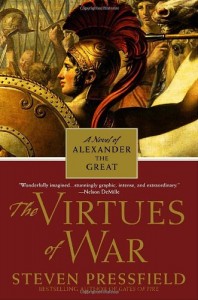 I'm a fan both of Pressfield and Alexander the Great, so I'm not surprised I liked this book.
In this piece of historical fiction, Pressfield does a wonderful job transporting you to the ancient times of Alexander, placing you right at his side and in his head during his meteoric rise to conqueror of the world, followed by his equally rapid tailspin and death.
If you like this period of history, and like "thinking fiction," then I think you'll really like this book.
What do you think of this week's picks? Have anything you'd like to share? Let me know in the comments below!