There are many ways to create meal plans, but the best ones accomplish five things:
They control your calories.

They control your macros.

They provide plenty of nutrition.

They allow you to eat foods you like.

They allow you to eat on a schedule you like.
The more a meal plan meets these criteria, the more likely it is to work, and when it checks all of the boxes, results are all but guaranteed. 
There's a hitch, though:
Many methods of meal planning involve using tools to measure everything you eat—a process that ensures accuracy but also puts many people off, especially those new to evidence-based eating.
That's why in my new book, Muscle for Life, I provide a much simpler method of portioning your food properly that only requires your grippers.
For example, to determine the calories and macros of your meals, instead of weighing . . . 
Meat, seafood, and high-protein plant foods, you'll simply compare them to the size of your palm

Dairy, fruit, and grains, you'll simply compare them to the size of your fist

Oils, nut butters, and cheese, you'll simply compare them to the size of your thumb
In other words, I teach you an intuitive and effective way to "eyeball" your calories and macros so you can stow away the measuring scale, spoons, and cups and make better on-the-fly diet decisions.
I've even found this system helpful myself because it makes portion control connect-the-dots simple.
Want to know more? Then order a copy of Muscle for Life now: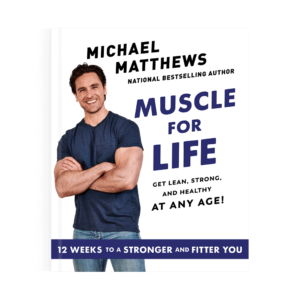 Go for it!
P.S. I'm also giving away over $12,500 of splendid swag, including…
Bowflex C6 Bike ($999)

Hypervolt Go ($199)

Instant Pot Duo Crisp Air Fryer ($199) 

Vitamix E310 ($350)

30-minute Zoom call with me, Mike (priceless, natch)
. . . and more!
There are several ways to enter to win, too, including buying books, spreading the word, following me on social media, and more.
Click here for a quick hosedown of the giveaway intel: