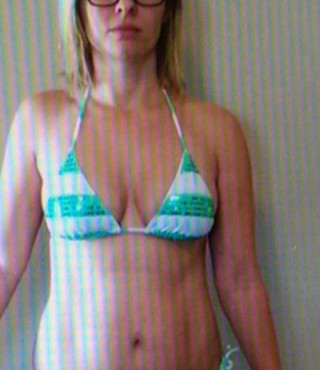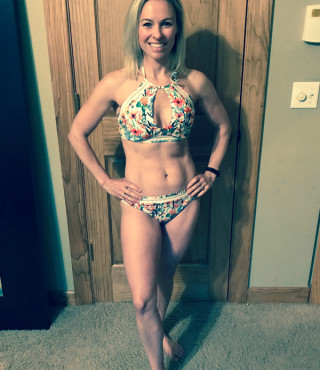 "I was shocked at how quickly the weight started to fall off!"
How many months' progress do your pictures represent? What were your stats for each picture?
12 months progress.
Weight: 118 pounds to 104 pounds.
Body fat: 27% to 20%.
What has happened so far on the program?
I cut for 8 weeks and lost 14 pounds. After the 8 weeks, I added calories back into the "maintain" phase due to my increased activity.
After the holidays and events—where I was a bit more relaxed on my diet—I cut again for a few weeks, then went back to a maintenance plan. Consistency has been key for me. I haven't gained any weight for a year.
The scale hasn't moved much, but I am most proud of the amount of weight I can lift. I am a little person by bone structure, but I feel SO STRONG!
Squat: 50 pounds to 95 pounds
Deadlift: 50 pounds to 115 pounds
Leg press: 90 pounds to 200 pounds
What workout split from the book did you use?
I use the 5-day split.
What, if anything, almost kept you from buying the book or starting the program?
I have a long history of fitness. I have been in sports, dance, and teaching fitness classes all my life. I was also an NFL cheerleader in my late 20's.
I really never struggled with weight until after my 3rd baby. In the two years after she was born, I ran a half marathon and I did other lifting programs to no avail.
I had never struggled to lose weight prior to this stage in my life. I was completely defeated and almost resolved to the fact that maybe it was just my age/stage of life.
What do you like most about the program?
Results were quick for me because I started being honest with myself about what I was eating/not doing. I was shocked at how quickly the weight started to fall off.
The program is very easy to follow and I love the 5-, 4-, and 3-day split options. The workbook is my favorite and keeps me accountable and allows me to track my progress.
How does this program compare with others you've tried?
This program is superior to any program out there. I was afraid I wasn't doing enough at the beginning because other programs took forever and I didn't see results.
It wasn't that my lifts were "easy," I was just used to spending 1.5 hours in the gym with no results—how was I going to get results in an hour or less?
How has what you've achieved with your body changed other areas of your life?
When I couldn't drop the weight, I felt terrible about myself. I was constantly beating myself up because I had never struggled the way I was struggling.
This program wasn't just about dropping weight, though, it was about taking time for myself as a mom and finding just one way to put myself first. I am most proud of my strength and that my kids ask me to flex on a daily—especially my girls.
We don't talk about weight in our family; we talk about strength and feeding our bodies/muscles so we can do things. When I wake up in a bad mood or just "not feeling it", that workbook staring at me in my car gets me to the gym.
Ninety-nine percent of the time after my workouts, I am happy, energized, and ready to conquer my two jobs, kids, home life, and all that is on my plate.
Who would you recommend this program to and why?
I already have! My proudest moments have been when strangers come up to me in the gym and ask me what I am doing. I always lead them to the Thinner Leaner Stronger book, the workbook, and the website.
I have had people comment on the weight I am pushing with astonishment at the amount. This program is flexible, easy to follow, and I am living proof that it works.
I tell everyone I can about this program. If you look up all the orders that ship to MN, you can bet that 70% of them were recommended by me ☺
Is there anything else you'd like to add?
I think the thing I have repeated to myself over and over is "trust the process." I trust Mike Matthews and his no-nonsense, "this-is-science" approach. Read the book, apply it to the workbook workouts, and you WILL see results.
Did you use any Legion supplements?
Pulse is by far the best pre-workout I have ever used. I LOVE it. I also use Forge, Phoenix, as well as Whey+.
If you enjoyed this article, get weekly updates. It's
free

.
Sending...
Great! You're subscribed.
100% Privacy. We don't rent or share our email lists.