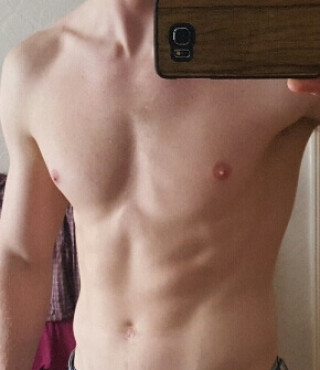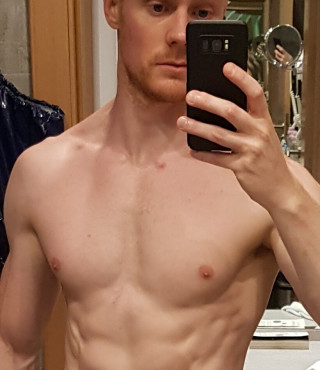 "My confidence in my body appearance is beyond recognition to what I felt previously."
How many months' progress do your pictures represent? What were your stats for each picture?
36 months, but I've definitely been in good shape for a while (for circa the last 25 months) only just started taking progress pictures again.
Prior picture: 139 pounds, 19% body fat.
Now: 161 pounds, 10% body fat.
What has happened so far on the program?
I've mainly looked to bulk as I had a very slim frame and struggled to add weight and gain strength. Bigger Leaner Stronger enabled me to massively develop my strength from/to bench press 99 pounds to 220 pounds, squat 77 pounds to 287 pounds, deadlift 99 pounds to 320 pounds & military press 66 pounds to 159 pounds.
I was a novice when starting with little weight lifting experience and now feel so much more confident in myself and my abilities, especially for my size.
Nutrition-wise, I used Bigger Leaner Stronger to calculate my calories and macros, then added extra to compensate for my weightlifting and competitive squash playing.
What workout split from the book did you use?
Have varied across the 3 years, starting with 5 but reducing to 4 to fit in with my lifestyle including changing work demands, competitive sports and becoming a father.
The program has enabled me to flex and hone in on tweaking my schedule to improve performance.
What, if anything, almost kept you from buying the book or starting the program?
I had been working out for 6 months with very little progress and nearly gave up. Finding the book, I was 50/50 on purchasing mainly due to doubts over whether it would help or I was just destined to never improve. I took the chance and never looked back.
What do you like most about the program?
Results have been measurable and at pace. Friends and family have noticed huge differences and I almost seem a different person to what I was previously.
The program itself was easy to follow and was actually less intense than what I was doing, which was burning myself out and making no gains.
How does this program compare with others you've tried?
Workouts have been similar in lifts, but session length and overall aim of less reps and higher weight has been different. For someone who likes to analyze data, the tracking of my increased strength has been impressive to see.
Food-wise, it's actually enabled me more freedom sticking to a calorie number and eating what I can within that. Previously I was starving myself with 'clean' foods, which was not sustainable and complementary to my workouts.
How has what you've achieved with your body changed other areas of your life?
My confidence in my body appearance is beyond recognition to what I felt previously. The compliments I receive off people close to me (and those not so close when by the pool/beach) are flattering and mean a lot.
Although the main benefit has been how weight lifting has helped my mental state through some challenges across the last 3 years. It's enabled me to stay level, think rationally and expose negative energy. This has enabled me to be more productive in life for my family and at work.
Who would you recommend this program to and why?
I'd recommend this to anyone looking to get into weightlifting, having trouble progressing or even experienced weight lifters wanting to try something new. It completely changed my life.
Is there anything else you'd like to add?
Just to go for it. The mental benefits far outweigh the physical benefits and as from my pictures, you can see they are huge!!
Did you use any Legion supplements?
No.
If you enjoyed this article, get weekly updates. It's
free

.
Sending...
Great! You're subscribed.
100% Privacy. We don't rent or share our email lists.