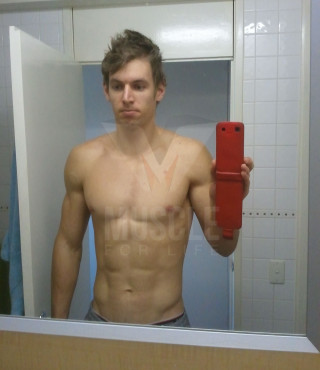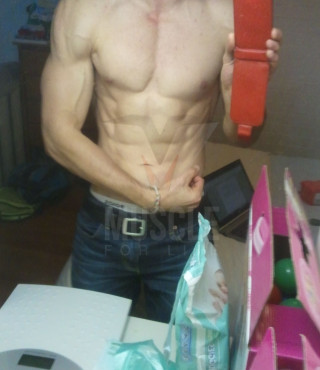 "With results like this I will be following this program for a long time."
I am halfway through my ninth week on the "Bigger, Leaner, Stronger" program, and I am definitely happy with the results so far. Below is a brief summary of me, what I have done on the program and were I am now at. I am very happy with what I have achieved, and with results like this I will be following this program for a long time.
Background
I have been weight training at least 3 times a week for the last 6 years, and have been doing between 4-6 sessions per week for the last three years. Apart from a short 8 week period with a personal trainer, I have managed my own training and nutrition based on information I have read through magazines and textbooks on body building. I headed into this program coming off a 5 day a week training regime, which including many of the exercises which I did in Bigger, Leaner, Stronger. This regime also had me working in a range of rep ranges, from 3-5 at times up to 10-12 at other times.
 What I did on Bigger, Leaner, Stronger
No one is ever going to follow another persons training/nutrition regime to a T, as we obviously all have different preferences and constraints on us.
The main differences in my training routine were that I increased the rep range for arms as I was struggling going up a weight from 6 reps, and I added in an extra back and quad exercise because I wanted to hit them both a little more.
Overall all I have been really happy with the programs, I really enjoyed the shorter, more focused and intense workouts. It is also always nice to be doing heavy weights, even if that is just the pride speaking. The warm-up guideline presented in the book was gold – I have had back problems in the past which really affected my squats and deadlifts, but following this warm-up every time I have had no problems and am lifting heavier on these exercises than ever before hand.
I am extremely pleased with the improvements in strength that I have made on this program. Below are the improvements I have made on the first exercise for each major bodypart over the last 9 weeks (values listed are for the first set):
| Exercise | 1st week of program | 8-9th week of program |
| --- | --- | --- |
| Barbell Squats (weight on bar) | 95kg – 6reps, 1RM = 110kg | 105kg – 4reps, 1RM = 116kg |
| Dumbell Bench Press (per dumbbell) | 42.5kg – 5reps, 1RM = 48kg | 50kg – 4reps, 1RM = 55kg |
| Deadlifts | 125kg – 4reps, 1RM = 136kg | 130kg – 6reps, 1RM = 151KG |
| Weighted Chin-ups (weight hanging off me) | 20KG – 3reps, 1RM = 21kg | 25kg – 4.5reps, 1RM = 28kg |
| Dumbell Military Press | 32.5kg – 5reps, 1RM = 37kg | 35kg – 6reps, 1RM = 41kg |
Again, I am very happy with these results. There are always a few frustrating weeks were it feels like I would never get off the current weight, but that is weight training.
Nutrition
I feel I already had a good knowledge base on nutrition heading into the program, and I already had an eating plan set up for myself that worked well. The information in the book though is spot on with what I already knew, and offered some extra information on and explanations behind some of what I was doing. I purposefully ate so that I would only put on about 0.25kg per week, as I wanted to stay as lean as possible while still gaining muscle. My weight did appear to stagnate in the first few weeks though so I did up my calories by 200cal per day which has worked well. My basic macronutrient breakdown for a day is:
Calories: 3450, Protein = 260g, Fat = 80g, Carbs = 420g
I like to eat often so I broke this up into 8 meals a day, all 2 hours apart.
I started the program at 86.1kg and a body fat percentage of 4.3%. I am currently at 87.8kg and a body fat percentage of 3.8%. Meaning I have gained 2kg of lean weight and  lost 0.3kg of fat – although. Cannot complain about those results.
If you enjoyed this article, get weekly updates. It's
free

.
Sending...
Great! You're subscribed.
100% Privacy. We don't rent or share our email lists.