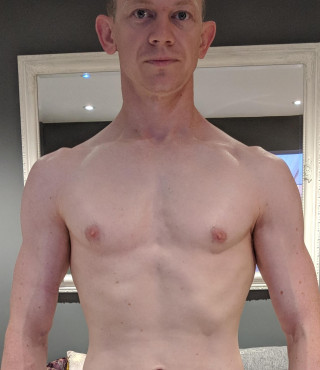 "My life has changed dramatically, I have more energy, I feel more alert, and much more confident."
How many months' progress do your pictures represent? What were your stats for each picture?
The progress was over a 19 week cut following the Bigger Leaner Stronger workout plan. I started at approximately 19% body fat and ended at approximately 10-11% body fat.
What has happened so far on the program?
During my cut, I lost strength gains obviously to be expected, but it did level out. I was tracking avg weight in a spreadsheet and ensuring I was losing weight at 0.5-2 pounds per week.
I did find that as I got lower, I had to change my diet to more of a low carb, high fat, high protein. I felt much better with this as the higher carb lower fat was making me feel lethargic and with no energy. I started at a weight of 155 pounds and finished at 145 pounds.
What workout split from the book did you use?
I used the 5-day split from the book and bought the Bigger Leaner Stronger 1 year challenge workout guide.
What, if anything, almost kept you from buying the book or starting the program?
I bought the book a few years ago and read it many times. The first time I bought the book was after using a personal trainer who let me down and really couldn't help me with nutrition. I then turned to your book to start learning about it and a lifting program. I most recently came back to it as I have had to stop the sports I was involved in (powerlifting & rugby) due to requiring a double hip replacement.
I didn't know what to do as I love training so I came back to your book and started using your program with a goal of getting to a lower body fat percentage. Now I have hit this goal I aim to enter a master's body physique competition as I know this will now drive me and I can work around my challenges.
What do you like most about the program?
The program is nicely laid out and simple to understand the nutrition side of the book is great and since I have gone and read and learned so much more. I love everything that you write about your backup with science and studies. The structure of the lifting program allowed me to see success and gains in my lifts.
It pushes me to push myself that extra rep or adding the weight onto the bar after hitting 6 reps before. This way I think there is no hiding from yourself you know if you're not putting the effort in.
How does this program compare with others you've tried?
It's very good and the price of a book! I have really enjoyed and look forward to reading Beyond Bigger Leaner Stronger.
All training programs I have had in the past have never covered the principles involved why your doing what you're doing. They also have not covered the nutritional side which is key and so many don't dedicate any time to this.
How has what you've achieved with your body changed other areas of your life?
My life has changed dramatically now I am working out, I have more energy, I feel more alert, and much more confident. I now get people come up to me at work and say 'Hey you're the guy that works out can I talk to you about training'.
My boss calls me Mr. Atlas which is a great confidence booster when people start to see your success and want it for themselves.
It even drove me to start writing a blog about health and fitness and my challenges which I called Fit4Forty.
Who would you recommend this program to and why?
I would recommend this program to anyone and I have done so openly on my blog site. It is a must-read to anyone wanting to get into weight lifting whatever your goal.
Is there anything else you'd like to add?
I have had a lot of failures along the way with injury, personal life, and injuries. I went a bit off the rails after I found out I needed a double hip replacement. I had been training for a powerlifting competition and actively coaching rugby. I then had to reflect and choose how to react to it. I now managed a goal I never achieved before 10% body fat and I am changing my goals to suit.
This has led me to believe that 'Success is born from failure' the difference is the people who pick themselves back up and keep going and those that quit.
Did you use any Legion supplements?
This is a very interesting point. I don't currently but have looked at them as I really get love your morale of not producing anything that is not needed and being from organic sources. I have a lactose issue and can't take whey, so I consume pea protein just before my workouts (rest from food).
How do you distribute this protein in the UK, and are you looking for distributors? As would have a conversation about it.
If you enjoyed this article, get weekly updates. It's
free

.
Sending...
Great! You're subscribed.
100% Privacy. We don't rent or share our email lists.