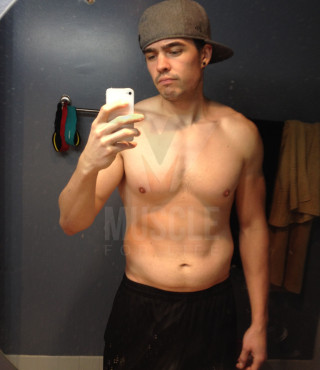 "I've been sticking with the main principles in the book, and am continuing to see great success."
What has happened so far on the program?
I was having trouble losing the last 20 pounds (to where I could see ab definition), and it wasn't until I read your book and applied the principles inside where I was able to break my weight sticking point. I have reached my major fitness milestone (ab definition!), but am now left with wanting more. I've been sticking with the main principles in the book, and am continuing to see great success.
What do you like most about the program?
My absolute favorite thing about this program is how EASY it is for literally anyone to pick up the book, read it, and (given you follow the program) see results within just a few months. Mr. Matthew's (aka Jedi Master as I like to call him) does a excellent job of simplifying what you need to do to lose weight, and keep it off. This book is an excellent start for anyone who's looking to make the most progress, in the shortest amount of time. I only wish I read this book the day I made the decision to live a better lifestyle.
What, if anything, almost kept you from buying the book or starting the program?
I was actually looking up fitness/nutrition books on amazon, and stumbled upon your book. After reading all the great reviews, I bought the book that night. Best. Decision. Ever!
What are three other benefits of the program?
One of the major benefits I've enjoyed being on the program is the increase in my energy levels! I am making better food choices, which has provided me with steady levels of energy throughout the day.  Secondly, I have appreciated the increase in my confidence level; which is based on the fact that I feel better about myself, AND I look better as well. Lastly (and I could go on), is the increase in strength that I have received being on this program. I have been lifting for 8 years now, but I have made significant increases in performance in the weight room since starting this program.
Would you recommend this program? If so, why?
I would recommend this program to anyone who is unfamiliar with nutrition or fitness, because I have yet to find a book that is so easy to read, where if you apply the principles in his book, you can achieve the body you've always wanted. I have talked about this book to my friends, and they've had just as much success as I have. If you're reading this, BUY THE BOOK ALREADY!
I also love how involved Mike is with all of his fitfam (Fitness Family). He has replied to every email I've sent, is very active on Facebook and Instagram, and sends out emails regularly that include various articles regarding your health that is backed up with cited studies. All in all, the guy knows his stuff! Oh yeah, lastly, if you get the chance, pick up some of his cook books as well, I am a HUGE fan of his High Protein Banana Oatcakes and eat them on the regular. Kudos Mike!
If you enjoyed this article, get weekly updates. It's
free

.
Sending...
Great! You're subscribed.
100% Privacy. We don't rent or share our email lists.