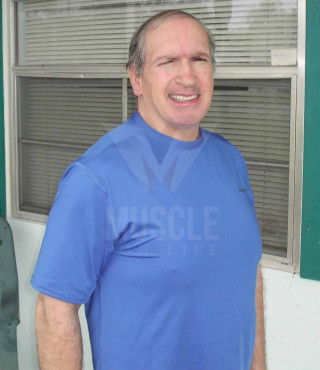 "I lost 75 lbs and beat type 2 diabetes as a result of Bigger Leaner Stronger!"
What has happened so far on the program?
I have gotten stronger, leaner, and faster. I have more energy. I have had positive results from my blood work and have beaten Type 2 diabetes. I have lower cholesterol now down to 105. When I started with your program I was a 42 waist, I'm now a 32 with room to spare (maybe 30). I have muscular legs. I'm sleeping better. I no longer have sleep apnea and am off the c-pac machine and meds since Jan 2013.
Last Tuesday I saw my doctor, she hasn't seen me in 6 weeks and noticed a big difference. She told me the hard work in the gym has paid off. She noticed the lean muscle mass I have added and my waist has wasted away. I see her again in a month for blood work. So far she told me my blood work is PERFECT!!! I feel so much better and have done a 360 with my life. Me and food are great friends, before we were foes. My health was headed down hill rapidly if I didn't change my ways. I have lost 75 lbs since I purchased your books and followed your advice.
My family is proud of the way I changed my eating habits, they were the worst. This was the hardest thing I have done, I became mentally stronger and I know that I can do anything because I have the strength and will power within me to do it.
What do you like most about the program?
I like your format and layout of the way you have written the book. Easy to understand and follow. Love your breakfast recipes for French toast and protein oats cakes I tweaked the French toast with Ezekiel cinnamon raisin and your sweet potato pancakes I make them into a Belgian waffle with apple's and some raw roasted almonds.
What, if anything, almost kept you from buying the book or starting the program?
My choice to purchase your books was based on the reviews from other readers and the sample of the book. Also your no nonsense approach to training old school.
What are three other benefits of the program?
(1) Your diet approach. (2) Your workout routines. (3) Your honesty! I mean that sincerely. You care about your clients. Not take the money and run.
Would you recommend this program? If so, why?
I have recommended your books to my fellow co-workers and gym members. I am living proof that if you eat smart train hard all that hard work will pay off.
Is there anything else you'd like to add?
The supplement part of your book was outstanding. Easy to understand and follow. Saved me time and money. In the past 4 months I have seen my strength gains climb upwards where in the past I was stuck in making little to no gains in my training and my body but that has all changed now. I look forward to my workouts and beat the alarm clock on the days I train.
If you enjoyed this article, get weekly updates. It's
free

.
Sending...
Great! You're subscribed.
100% Privacy. We don't rent or share our email lists.