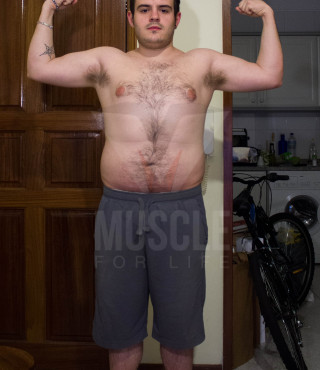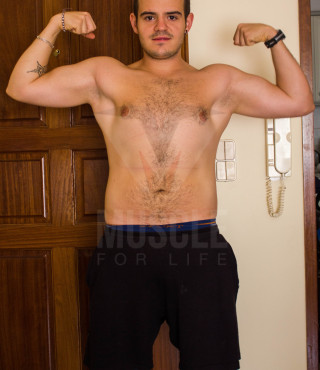 "I am much healthier now. I can run faster and move better!"
What has happened so far on the program?
I started with the program in the middle May more or less working at home. I had some dumbbells at home and I started lifting heavy with them. I have a pull-up bar and I also did pull-ups starting from a couple of them, now I am able to do about 20. I now wake up at 6:30 in the morning to be in the gym by 7 am. In the evening some days I go back to the gym to do some cardio, I love doing HIIT.
Diet is the best part for me. The experimentalist that I am, I love to try different things and see how my body reacts. I eat what I need and see how my body changes. I started controlling my macros with myfitnesspal and saw the changes.
What do you like most about the program?
The workouts are awesome. I love lift weights and see how every week I can lift more. I have gained a lot of strength. I use gymrat as an Android app to track my workouts and I have increased my strength considerably. I started lifting 8 Kg for bicep curls and the last thing I tracked was 20 Kg… I never thought I could lift so much.
What, if anything, almost kept you from buying the book or starting the program?
Nothing. I was the fattest I have ever been and I started to notice that I couldn't breathe normally when walking or going upstairs. I started to workout and diet and when I was doing that for a month I felt that I didn't know too much about nutrition and fitness, so I looked for a book and found yours. I bought it and here I am.
What are three other benefits of the program?
Obviously health. I am much healthier now. I can run faster and move better. Another benefit is the fact that you learn. Not just that you change, but you learn why that is. The third is not intrinsic to the the program but to fitness: you learn to sacrifice and you know that everything done properly has a reward.
Would you recommend this program? If so, why?
I would and I did! I have my brother, sister in law and girlfriend doing it.
If you enjoyed this article, get weekly updates. It's
free

.
Sending...
Great! You're subscribed.
100% Privacy. We don't rent or share our email lists.