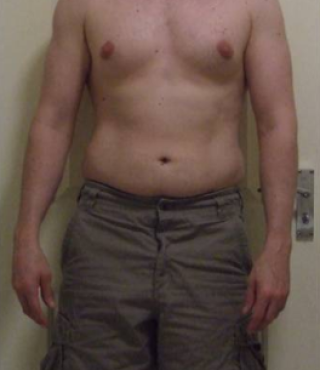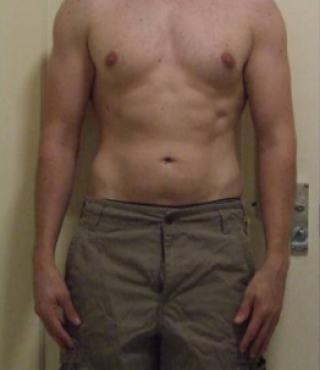 "I went from 83kgs to 77kgs and I made constant gains in my lifts!"
What has happened so far on the program?
This was a cut I did because I had suddenly got into a rut in my training and diet, so I was looking for something to concentrate on. The losses were very stable at 2lbs a week (apart from the big first week loss), I went from 83kgs to 77kgs and I made constant gains in my lifts. Work commitments have meant that my training has been on/off for the couple of months following this, but now I am back on BLS (Bigger Leaner Stronger) and adding some size and really enjoying it.
What do you like most about the program?
The structure of the program really suits me, along with the shorter workouts. The first couple of weeks takes some time to change your mind set from higher rep ranges to putting everything into the lower reps and not leaving anything behind. The diet was different to the usual lower carb approach I am used to, but I enjoyed it a lot more as I didn't feel as restricted.
What, if anything, almost kept you from buying the book or starting the program?
Not much, I read the reviews and got the general idea of what Mike was promoting and was exactly what I was looking for.
What are three other benefits of the program?
Time- Both in and out of the gym. I train in the mornings and I can get up later (more sleep and not wake up the wife at a ridiculously early time) and with the shorter sessions it has given some extra gym time so I can do some mobility work which is helping.
Greater knowledge with training and nutrition – Mike tells you why he adds parts to the training and backs it up with actual research which is very refreshing in this industry. His honesty shows when he has started his own supplements range, but openly admits that you don't need supplements to achieve results; but will identify products that could help and why. With this added knowledge you have it means that you have no doubt that you are helping yourself to your goals.
Confidence – I think everyone says this, but it is true. Even after just 2 months I felt a lot more confident in myself because I felt/looked so much better and my lifting was improving.
Would you recommend this program? If so, why?
I would definitely recommend this program to anyone and everyone. You will see result fast, it is very easy to stick to and it never feels like a chore. The only piece of advice I would give someone starting is to forget everything that you have done before with regards to training and just do as the plan says and fully commit to it.
Is there anything else you'd like to add?
Big thanks to Mike for writing the book and who always answers e-mails, updates the site constantly with articles, videos and recipes.
If you enjoyed this article, get weekly updates. It's
free

.
Sending...
Great! You're subscribed.
100% Privacy. We don't rent or share our email lists.