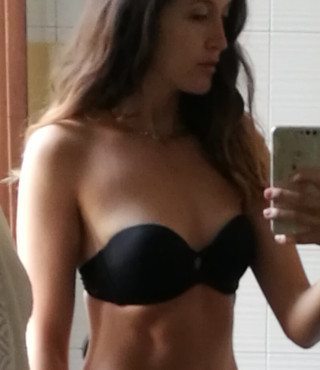 "My life has completely changed. I feel so confident, and sure about who I am and who I want to be."
How many months' progress do your pictures represent? What were your stats for each picture?
These two pictures represent 14 months' progress. I've officially started the Thinner Leaner Stronger at the end of March 2018. The first picture has been taken on April 2018 and the second one has been taken on June 2019.
I think by body fat was around 19% and now it is around 14.5/ 15%. I weighed 123 lb and my weight has not changed too much (I am now 122 lb).
What has happened so far on the program?
I've always been into fitness and I have always trained. But, the question is: was I training properly? Did I eat properly? The answer is NO. Being Italian, I was following a Mediterranean diet (no junk food at all) but my protein intake was really really low and my fat intake was quite high.
It has never been a matter of lack of willpower or a status of laziness, but before reading your books, I didn't have the knowledge to train properly and I didn't know where to find the right information.
Once I've finished reading your book, I immediately started to calculate my macros, to weigh my food, to have a high protein intake, and even if it sounded scary to me at the beginning (but at the same time very exciting), I started weightlifting.
My idea was to bulk from March until September 2018, then to maintain until February 2019 and then to cut for the summer holidays (2019). With the knowledge I have today, I think I have recomped from the beginning till February 2019 and then started a proper cut until June 2019.
I'm now maintaining and doing Beyond Bigger Leaner Stronger and focusing on the progressive overload. I've finally understood how much it's important to progressively add weights to the bar!
On the incline bench press, I was lifting 26 pounds, and now I am lifting 55 pounds for example. Deadlift was 61 pounds and now is 132 pounds. Squat was 66 pounds and now is 121 pounds. Standing barbell military press was 44 pounds and now is 55 pounds.
What workout split from the book did you use?
I started with the 5-day split and then moved to the 4-day split + 3 HIIT a week (25′)
What, if anything, almost kept you from buying the book or starting the program?
No, I have never thought it was going to be too hard. I really wanted to learn how to train and eat properly. Yes, I tried other programs, such as Emily Skye Fit Program and I really enjoyed it (I am still doing her HIIT workouts).
What do you like most about the program?
I love that this program is scientifically proven and you can definitely see the results if you train hard and eat within your macros.
How does this program compare with others you've tried?
This program is not a simple program, it's a lifestyle. The other programs I have tried have lasted for a few months. This "program"—or to say it better, this lifestyle—is going to last forever.
How has what you've achieved with your body changed other areas of your life?
My life has completely changed. I feel so confident, and sure about who I am and who I want to be. I don't care if everyone wants to drink alcohol on a Saturday night—I can definitely spend a night with a class of sparkling water without being afraid of being judged by anyone.
However, I also have to say that going out at night is no more a priority to me. Going to bed early, have 7+ hours of sleep at night to have the energy to workout in the morning is!
Who would you recommend this program to and why?
I would recommend this program to anyone, it definitely changed my life.
Is there anything else you'd like to add?
Now that I have finished the 1 year training program of Thinner Leaner Stronger, I am on the 2nd week of the program Beyond Bigger Leaner Stronger. It took longer that 12 months to complete the first program because of a ski injury I had to stop training my upper body for 2 months.
But it didn't stop me. Actually, nothing is stopping me now. Because, not only you gave me the tools to learn how to train and eat properly, but you also gave me a lifestyle and you taught me how to achieve my goals no matter what.
Did you use any Legion supplements?
Yes, while cutting I used Phoenix and really enjoyed it. I also tried the protein powders but I am not a big fan of the Stevia aftertaste.
If you enjoyed this article, get weekly updates. It's
free

.
Sending...
Great! You're subscribed.
100% Privacy. We don't rent or share our email lists.