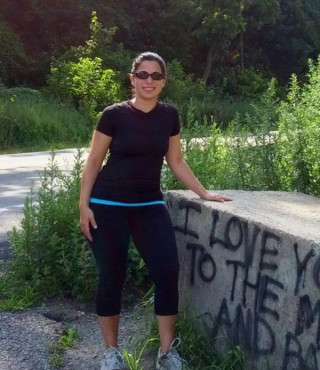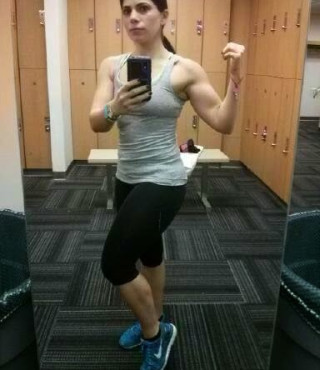 "Feeling strong and sexy has helped increase my confidence and overcome some of my long term insecurities!"
What has happened so far on the program?
In the pre-program photos I was at 138 lbs and 28-30% body fat and 6 months post I am at 128 lbs and 20-22% body fat.
Mike's program has helped me achieve several milestones/goals. I have dropped 10 lbs and about 6-8% of body fat; although this doesn't seem like a large change it has made a significant impact on my physique. I have always been bottom heavy and by tightening up and building more muscle I now feel like my body is stronger, more defined, as well as proportional.
One of the greatest aspects of the program is that I learned how adaptable my body is and the amazing things it is capable of. With every workout, I am shocked at how strong my body has become and how it continues to adapt to heavier weights and greater challenges.
In 6 months I have progressed from lifting no more than 15 lbs dumbbells to squatting 125 lbs, deadlifting 145 lbs, pressing 53 lbs, and benching 76 lbs…and I get stronger with every workout!
What, if anything, almost kept you from buying the book or starting the program?
I had discovered the program by researching health books on Amazon.com and finding Mike Matthew's free abridged version of the book Bigger Leaner Stronger. I could relate to everything that I read in the book, and working in the medical field everything I was reading made sense scientifically. I have always eaten healthfully and kept active with cardiovascular exercises and mild weight lifting, but rarely achieved any significant changes in my physique.
This led me to purchase a number of his books and read them from cover to cover more than once! Mike's program is the only program in which I achieved real visible results by monitoring my macronutrients and lifting heavier weights. His books present a lifestyle that is easy and enjoyable to maintain for the long haul. The reward of a strong, healthy, sexy body is motivation to keep going.
What do you like most about the program?
I love that the program is easy to stick to, that it's realistic and extremely effective. I am in the best shape I have ever been in my life (even though it's not the lightest weight I've been) and feel stronger and more confident than I have ever felt.
The changes I have made in my life and body have helped me motivate others to do the same and have helped me set a great example for my family. Having suffered from bulimia as a teenager, this program has helped me love my body in a healthier and more satisfying way.
I hope to pass on this healthy mindset to my children in hopes that they don't have to suffer in the ways I did with body image. We live in a world where body type often defines the way we view and judge others and it is important for me to provide for them a defense against this mindset.
How does this program compare with others you've tried?
Similar to other people on this program, I have tried many diets, diet supplements, and workouts in the past- they would work initially but were not sustainable for the long haul. This program is a lifestyle that is flexible and sustainable and that I plan to maintain for life! I see it as remodeling for your body and life, not just a diet and an exercise program.
How has what you've achieved with your body changed other areas of your life?
Following this program has positively affected so many aspects of my life beyond my physical appearance. This lifestyle has helped me relieve stress and depression that often comes along with a hectic life of mothering, running a household, and working full time.
Exercising and healthy eating has also become a hobby in many ways – like finding new workouts or trying new physical activities (eg. rock climbing, learning the Olympic lifts), testing out new healthy recipes or creating some of my own, and always striking up a great conversation with old friends and new ones that I've made with my new found lifestyle.
Being on this program has also helped me absolve my chronic GERD/acid reflux for which I no longer need to take medications. Additionally, feeling strong and sexy has helped increase my confidence and overcome some of my long-term insecurities with body image; this has made me a better mother, a better wife, and a better provider for my patients.
Is there anything else you'd like to add?
In summary, this program is a way of life it's not just a diet and exercise program. You need to commit to it and trust in the process. If you are not satisfied with how your body looks and feels and are looking to remodel not only your body but your life this is the only way to do it. There is NO QUICK FIX! It just doesn't exist!
Anything that is worthwhile in life takes commitment, hard work, and dedication. However, the rewards that you will receive will surely surpass the investment. I have found the more you invest and commit to this lifestyle the greater the reward. It will open doors to so many avenues beyond a healthier, better-looking body. It will help you realize your potentials and actually make you feel you can push beyond what you thought was your limit.
If you enjoyed this article, get weekly updates. It's
free

.
Sending...
Great! You're subscribed.
100% Privacy. We don't rent or share our email lists.