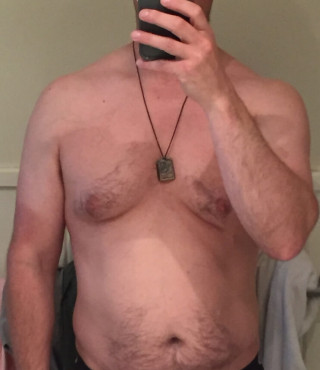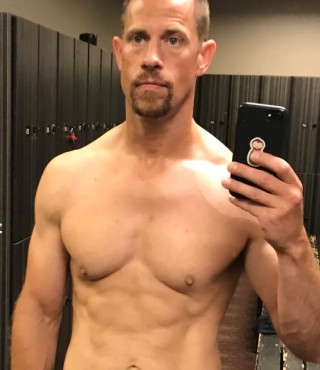 "I'm more active with my family. I get outside and do more activities!"
How many months' progress do your pictures represent? What were your stats for each picture?
The pictures represent 24 months of progress. In the first picture, I weighed 190 pounds and was around 25 – 30% body fat. In the second picture, I weighted 160 pounds and was at 8.5% body fat.
What has happened so far on the program?
My weight stayed at 190 pounds for that first year, but I lost a whole pants size and got a lot stronger. By the end of my first year, my strength plateaued. At that point, I started to cut calories. I started at a 10% deficit and kept decreasing by 5% per month. Once I hit 20% the weight just started falling off. I upped my protein to 1.2 grams per pound of body weight and recalculated my macros for every 10 pounds I lost.
While the weight came off, I was able to maintain the same weight on my major lifts. I continued my cut for 6 months until I got down to 8.5% body fat. I maintained that weight for a month and then started to bulk. I've been bulking for 6 weeks now and have put on 8 pounds and broke personal records in all my major lifts. My plan is to keep bulking until I reach between 12-14% body fat, at which point I'll start to cut again.
What workout split from the book did you use?
I started with the 5-day split. As I worked through the program, I changed things around and came up with a 4-day bro split made up of mostly compound lifts. I take Wednesday off and do cardio on that day. When I'm cutting, I add another hour or two of cardio per week to help with the calorie deficit. I found it's much more enjoyable for me to move more instead of eating less.
When Covid shut everything down I was able to switch to the Starting Strength program and keep lifting in my brother-in-law's garage, who fortunately had a barbell and a squat rack. I also started jogging 6-9 miles a week around my neighborhood.
What, if anything, almost kept you from buying the book or starting the program?
I'm always a little skeptical about workout or diet trends. I didn't want a new gadget to help me get in shape, or some "top secret" cleanse to flush all the fat out of my body. I was looking for a lifestyle change. I wanted to know how I should be eating and why. What my body needed and how much of it to stay lean and build muscle.
I happened across Bigger Leaner Stronger while browsing Amazon and started reading the reviews. It was exactly what I was looking for; a science-based approach to eating right and working out.
What do you like most about the program?
I like that there's no gimmick. There's no special equipment needed. I don't need to join a diet cult and buy their special meals. I can keep living life the way I normally do, and with some basic knowledge of nutrition and strength training, I can completely change my body composition and live a healthier life regardless of my demographic.
How does this program compare with others you've tried?
This is the first "program" that I've tried. I usually do my own thing and research the specific areas I'm trying to improve; diet, strength training, cardio, etc. That's the great thing about this program. It lets you do your own thing if you want to and Mike has already done the work to gather all the research you need into one place, Bigger Leaner Stronger.
How has what you've achieved with your body changed other areas of your life?
I'm more active with my family. I get outside and do more activities. I went on a 4-day backpacking trip into the mountains. It was amazing. I wouldn't have done that 2 years ago.
Who would you recommend this program to and why?
I recommend this book to everyone who talks to me about wanting to lose weight and get in shape. People see me and want to know what my secret is. I tell them it's not a secret. It's Bigger Leaner Stronger, and then I send them a link to the book. The book will tell you everything you need to know about how to get in shape. All you need is the will power to change. That's the hardest part.
Is there anything else you'd like to add?
I'm 44 years old. I'm married with 6 kids. I have a blown-out knee with a reconstructed ACL and chronic lower back pain. If I can do this, you can do this. It's not about genetics, age, or ability. It's about will power. Don't be miserable another day. Decide to change your life.
Did you use any Legion supplements?
The only supplement I use is whey protein, but it's not from Legion.
If you enjoyed this article, get weekly updates. It's
free

.
Sending...
Great! You're subscribed.
100% Privacy. We don't rent or share our email lists.