Check it out!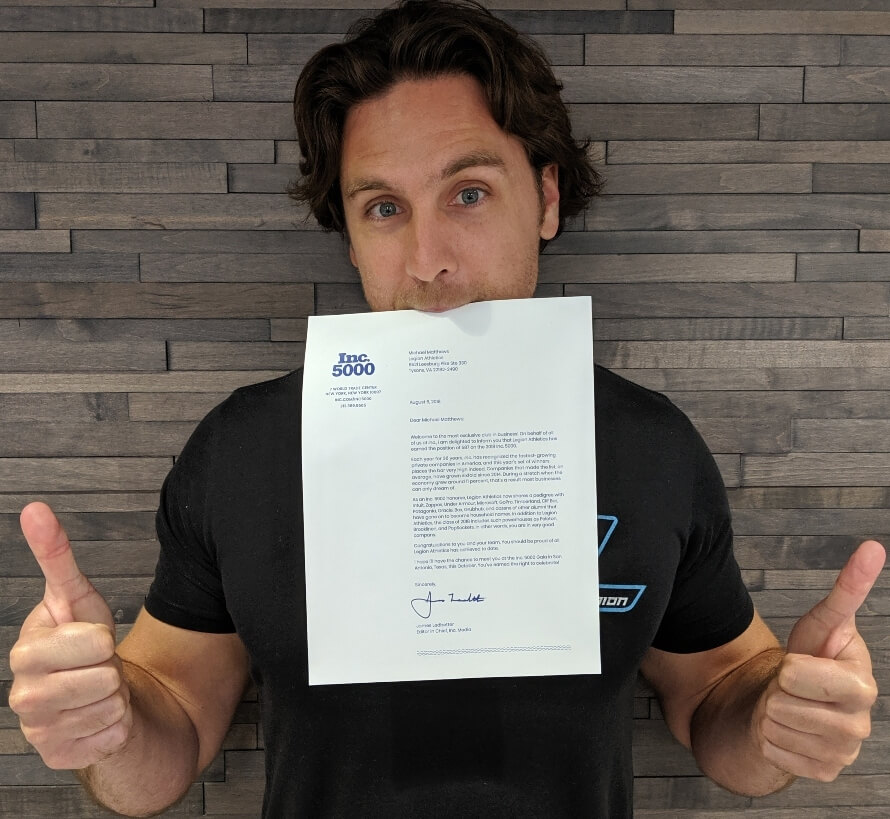 Legion Athletics was Inc. Magazine's 587th fastest growing company in America in 2018!
And if we had grown just 20% faster since our inception in 2014, we would've made the top 500 list!
I've never been one to celebrate milestones or "small wins" much—I've always tended to just keep my head down and soldier on toward the next target—but that's a bad habit, so let's take a moment to bask in our greatness for a moment, shall we?
And yes, you're a part of that "we" because, quite frankly, Legion wouldn't exist if it weren't for people like you.
Want to listen to more stuff like this? Check out my podcast!
So here are some highlights since Legion's launch in 2014:
We've served over 175,000 customers.

We've sold over 1.1 million supplements.

We've generated over $44 million in revenue.

We've sent over 210,000 emails to customers.

We've received over 35 million website visits.

We've collected over 240,000 email addresses.
And then there are the tens of thousands of pounds of fat and muscle we've helped people lose and gain, and ultimately, the tens of thousands of lives we've changed for the better.
And the best part?
We're just getting started because we want to turn those tens of thousands of people into hundreds of thousands and eventually millions.
We can do it, too. And if enough people like you believe in us, shop with us, and help spread the word, we will do it.
This next bit is going to help…
Muscle for Life Is Going to Disappear…Kinda
Six years ago, I bought the domain www.muscleforlife.com for $500, got a website designed, and started posting a couple articles per week on it.
Six months later, it was receiving over 700,000 visits and tens of thousands of social media shares per month.
As you can imagine, I was floored.
I had absolutely no expectations going into this project and wasn't sure if it was going to go anywhere let alone quickly become one of the biggest fitness blogs on the Internet.
I kept publishing articles and traffic kept growing, but I began to wonder: considering how much work was going into Muscle for Life, how could I turn it into a real business? How could I leverage the readership I was building to make a better living?
I then had the idea to create a supplement company.
And not just "another supplement company," either. I wanted to "scratch my own itch," so to speak, and make the products that I myself have always wanted, and that meant that I was going to have to do things very differently.
Namely, I was going to have to create products that could actually deliver the types of results that are worth paying for.
And that's exactly what I did.
That company—Legion Athletics—sprouted like a weed in a hothouse, producing $1.1 million in sales in its first year (2014).
As you can imagine, I was beyond floored.
Statistically speaking, most small businesses fail within their first five years and less than 10% produce more than $1 million in annual revenue.
Legion, then, was an instant outlier, and it was clear that I had a special opportunity on my hands.
And so I made the most of it without abandoning everything else I was doing.
For the next couple of years, I split my time between working on building Legion and Muscle for Life while chipping away at book projects, and I continued to advance on all fronts.
In that time, Legion broke $10 million in annual sales, Muscle for Life peaked at nearly 2 million visits per month, and my books surpassed 1 million copies sold.
There was a problem, though:
For all the work that had gone into Muscle for Life and for all its relative success, it was losing its strategic luster.
It was, at bottom, a glorified blog run by a skeleton crew barely producing seven figures in annual revenue, mostly from online coaching.
Furthermore . . .
Due to trademark concerns, "Muscle for Life" couldn't become a brand of, well, anything related to health and fitness without me risking litigation.

For various reasons, both strategic and moral, I didn't want to turn Muscle for Life into an affiliate income engine (i.e., I didn't want to stuff it full of promotions for other people's stuff).

Due to the terminal decline of the expensive online course business model, I didn't want to go in that direction, either.

While services like coaching and digital products like meal and training plans can make money, they don't make for a powerful core business offering that strongly differentiates you in the marketplace and achieves scale.
In other words, although Muscle for Life was a popular website with a large, loyal readership and strong domain authority, and thus had tremendous intrinsic value, it couldn't be effectively monetized.
What to do, then? How could I best tap into that value?
And then it hit me: the two horses I have in this race need to become one. Muscle for Life and Legion Athletics need to merge.
I loved this idea for a number of reasons:
Legion already had a popular blog that was generating seven figures in annual sales. By merging Muscle for Life into Legion, we'd be effectively doubling the size of that blog.

It simultaneously eliminates a strategic weakness/disadvantage (Muscle for Life) and enhances a strategic strength/advantage (Legion).

It allows for more resources to be invested in that strength/advantage (Legion).

It's easier and more efficient to run one business and e-commerce platform than two.

It'll be less confusing for readers and followers (for example, instead of having to search two blogs for articles—Muscle for Life and Legion—you'll only have to search one.)

It diversifies Legion's offerings and income, which improves its perceived value in the eyes of consumers (a one-stop-shop for getting fit as opposed to merely a supplement company) and its value to potential investors, should the need to raise capital ever arise.
The only downside of the consolidation, really, was emotional.
Muscle for Life is a part of my DNA. Without it, there would be no Legion, and to some degree, no "Mike Matthews the educator and thought leader."
But, as even hack writers know, you have to be willing to kill your darlings if the plot demands it, and that time had clearly come.
Fortch for Muscle for Life, a public beheading isn't called for, just a graceful retreat to make room for the new star.
And so here's what's going to happen over the next couple of weeks:
All content published at Muscle for Life (articles, podcasts, success stories, about me, etc.) will be republished on

Legion's website

.

All Muscle for Life URLS will redirect to their Legion counterparts.

Muscle for Life coaching

will become Legion coaching but otherwise remain the same.

All digital products sold by Muscle for Life will be sold by Legion.

All Muscle for Life user/customer accounts will remain separate from Legion user/customer accounts and remain accessible at

www.muscleforlife.com/my-account

.
And then, moving forward, all future content, products, services, and other things Mike Matthews will be published and released by Legion.
In other words, Legion is going to become my official home base. (Which, incidentally, is another benefit of the merger: when people ask where they can find me online, I'll have one answer instead of two).
So, it's a big move and, honestly, a slightly bittersweet one, but I'm excited because I think it's clearly the right move.
A 360-degree win, as they say.
So, that's the creamiest of this month's batch of news.
Much more to come this summer, including new Legion products and flavors, the official launch of the new third editions of my books Bigger Leaner Stronger and Thinner Leaner Stronger, the new-and-improved Stacked workout app, and more.
Get ready! 🙂
Thanks again for all of your support, and if you're half as excited for everything we have in store as I am, share this article on Facebook, Twitter, or wherever your favorite online hangout is!