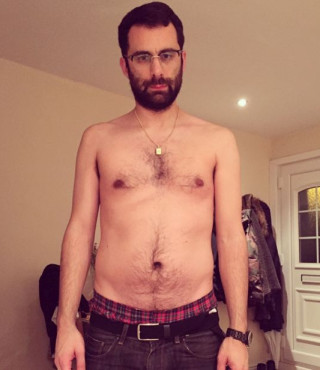 "I have far more focus in most areas of my life. My work has improved and most importantly my happiness is the highest I've probably ever felt."
What has happened so far on the program?
I'm 37 and in one year I went from 178 lbs at around 17-18% body fat to 162 lbs at 10-11% body fat, while putting on muscle!
I started off last March in a bit of a deficit until I got used to it, in which time I lost about 8 lbs. I then went into a bulk from September to December and got up to 180 lbs.
I then cut from January to March this year and got down to 162 lbs which is what I am now. I know this might seem like a long cut but I didn't feel a dramatic weight loss was needed and I was happy to do it gradually.
My progress in terms of strength has been steady and encouraging.
My deadlift has gone from 70 kg to over 100 kg despite being careful about how much I lifted due to a previous back injury (and I think I'm still being conservative on that exercise).
My bench press has gone up from 30 kg to 60 kg and again this might not be the biggest of jumps, but for someone who'd never lifted till last year, I'm pretty happy with it.
What, if anything, almost kept you from buying the book or starting the program?
Until last January I had never set foot in a gym before and I led a very sedentary lifestyle with little physically activity, so the thought of buying a book on fitness was very strange to me.
I had 2 friends doing Mike's program who told me I should check it out though, so I did.
What do you like most about the program?
The program has been very easy to follow and the exercises are all clearly laid out with links to videos (which for a total amateur like me was really important to have).
I also like that every 8 weeks I can have a de-load week to give my body a rest and I feel this is really important.
The results have been quicker than I had imagined and, although I thought that losing weight might reduce my strength, I have been able to increase my strength on certain exercises whilst being on a cut for nearly 6 months.
How does this program compare with others you've tried?
I've never tried any other program so can't comment on this. I will say, however, that Mike's detailed explanation in the book about macros and overall diet has been crucial for my success.
Also, my fiancé is a doctor who is studying nutrition so I've been able to really dig deep into the full nutritional needs of someone lifting weights.
How has what you've achieved with your body changed other areas of your life?
I have far more focus in most areas of my life. My work has improved and most importantly my happiness is the highest I've probably ever felt.
I had been making some very unwise choices mentally and physically for a number of years prior to starting this program and I can honestly say I feel like a new man.
Is there anything else you'd like to add?
I'd recommend it to anyone who wants to lose weight or increase their strength, whilst being smart about how to achieve this. I have already got my fiancé and sister to start it so I must be good at selling it somehow!
I'd also highly recommend watching as many videos as you can to do with form on ALL exercises. I would spend hours watching videos (from good sources, not gung-ho meat-heads) to really get an understanding of what I should be doing in the gym.
Before starting the program, I was using the machines in the gym and was fearful of the free-weights area and I didn't think I belonged there.
Once I started the course, I had no choice but to be in there though. This was daunting at first but one thing I've learnt is that everyone has to start from somewhere.
I feel I started at zero and am just getting going. I can't wait for this next year…
If you enjoyed this article, get weekly updates. It's
free

.
Sending...
Great! You're subscribed.
100% Privacy. We don't rent or share our email lists.