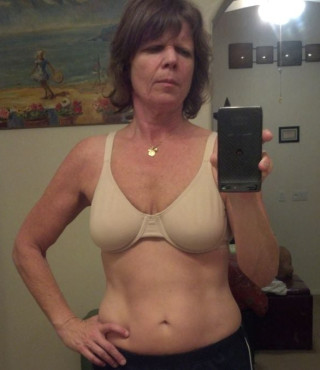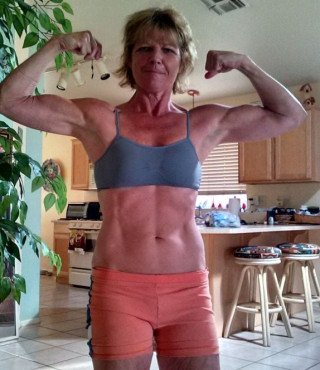 "I feel younger, more energetic, and happy."
What has happened so far on the program?
I didn't lose any significant weight on the scale, but in BF. I started at 20+ bf 119 lbs, in one year down to 15% 112 lbs.  1.5 years- 117 lbs, 14%bf.
I never did much weight on Bench.  I would just use bar. Now I'm doing 85 lbs.
Squats- went from 70 lbs to 110 lbs
Deadlifts- from bar only to 100 lbs
Military Press – From 15 lbs to 30 lbs
What, if anything, almost kept you from buying the book or starting the program?
I was looking for a better workout program. I had tried others and they never felt I would continue with them long term. This seemed like something I could incorporate in my life. Less time in gym, more progress, seemed ideal.
What do you like most about the program?
Once you get use to reading labels and figuring out the correct foods to eat, it is quite easy. I've been able to find a variety of foods so I wouldn't get too bored. Once you get the foods you just plug in the numbers. I never found I was hungry. As a matter of fact there were days I had to force myself to eat just to fit in the protein.
The workout program is very simple to follow. I work out 3 days a week. I just follow Mike's workout. I have increased the number of sets but it's perfect. I see results and don't have to spend a couple of hours in the gym.
I would have like to see the results quicker, but I'm very impatient. I read all these posts about people progressing so much faster I thought I was doing something wrong. I was told my age, may have a little to do with it. I'm 52 years old, female and hormones running amuk, so I am grateful for the progress I have made.
How does this program compare with others you've tried?
This program is not about a 90 day fix. This program is a steady life long system that can apply to anyone, any age. It's easy to follow, the support from Mike is invaluable, and the results are amazing!
How has what you've achieved with your body changed other areas of your life?
You feel better, you act better. I feel younger, more energetic, and happy. I've always been active but now I have bigger plans.
Is there anything else you'd like to add?
I recently read a post from someone over 50 years old. Anyone under 30 will not understand , but us over 50's still have the stamina and dry as we use to have. It's hard reading about BF% at 10% and progress happening so quickly for others when you are going slow and steady. It's definitely a mental game.
I also would recommend increasing weights slowly. I got so into this and starting increasing the weight so fast, I have a bad case of 'tennis elbow'. I wanted this overnight, and a tend to push too hard. You'll get there! Just keep it safe.
If you enjoyed this article, get weekly updates. It's
free

.
Sending...
Great! You're subscribed.
100% Privacy. We don't rent or share our email lists.