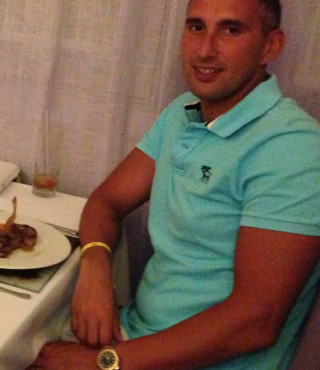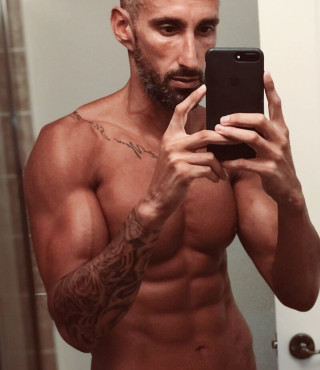 "My confidence level has changed, I feel better about myself, and I have more energy!"
How many months' progress do your pictures represent? What were your stats for each picture?
They represent 12 months.
What has happened so far on the program?
I was 200 pounds. I started with a cutting period for 9 months. I was down to 161 at my lowest point. At this time, I started bulking for 3 months.
My body fat was 20% and I was able to get it down to 8-9% range. I also went from a 36-inch waist to a 33-inch waist.
What workout split from the book did you use?
I do the 5-day split. Shoulders, arms, back, chest, & lower body. I also do 20-30 minutes of cardio every other day.
What, if anything, almost kept you from buying the book or starting the program?
I found the book on Audible. I have always worked out but did not see results like this. The game changer for me was when I read that I should be working out in the 4-6 rep range and heavy. I started seeing results a few months after. I used to lift medium weight for 15 reps.
What do you like most about the program?
Before Bigger Leaner Stronger, I worked out for 2 – 3 hours. I love that I can work out for 1 hour and get better results.
How does this program compare with others you've tried?
Once I got used to the diet and the intermittent fasting, it became a lifestyle. I enjoy the energy I feel. I hardly ever feel tired anymore! I also wake up with a ton of energy.
How has what you've achieved with your body changed other areas of your life?
My confidence level has completely changed. I feel much better about myself. I have more energy so I am able to do more.
Lastly, I am getting more done throughout the day. The only downside is that you will have to buy a new wardrobe, haha! But it is worth it 🙂
Who would you recommend this program to and why?
Anyone who is seriously considering a change in their diet and training. If you have been working out and you hit a wall with your results, get Bigger Leaner Stronger.
Is there anything else you'd like to add?
I wanted to add that when I reached out to Mike to ask a question, I wasn't sure if I would get a response or if I would just get someone else who would respond, however, Mike made himself available to me directly. Thank you, Mike!
Did you use any Legion supplements?
No, I did not. But I did use yohimbine, HMB, leucine, creatine, glutamine, and protein.
If you enjoyed this article, get weekly updates. It's
free

.
Sending...
Great! You're subscribed.
100% Privacy. We don't rent or share our email lists.