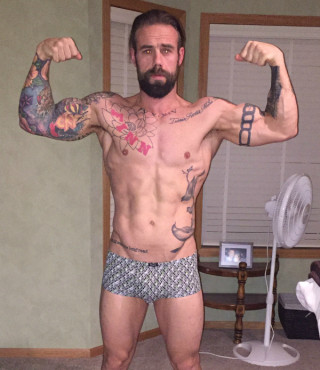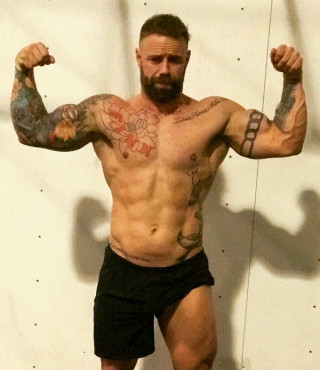 "I have grown so much stronger and am more confident!"
How many months' progress do your pictures represent? What were your stats for each picture?
The pictures represent 12 months.
Weight 182 lbs to 218 lbs.
Body fat 9% to 9-10% body fat.

What has happened so far on the program?
I did two bulks and one cut. I had to start from scratch after a ventricle hernia surgery in April of 2016. I followed bulking macros and then transitioned into cutting macros throughout the course of the year.
I have grown SO much stronger on the program.
Bench press: 185 lbs to 315 lbs
Squat: 265 lbs to 415 lbs
Deadlift: 275 lbs to 500 lbs
Military press: 125 lbs to 200 lbs 
I have put on 35 lbs of muscle and my waist remained at size 32!

What workout split from the book did you use?
The 5-day split and one year challenge.
What, if anything, almost kept you from buying the book or starting the program?
I have started and stopped many programs in the last 10 years because I didn't know how to eat with the program. I weighed 280 lbs in my early 20's and lost it all by running. I was hesitant to stop running for fear of gaining all the weight back.
What do you like most about the program?
I love seeing the weights move up each week and pushing myself for that one extra rep. I am very competitive and watching myself get bigger and wider has been a great trip!
How does this program compare with others you've tried?
This is easier to follow and the results are MUCH better. The diet is easy once you know what you are doing.
How has what you've achieved with your body changed other areas of your life?
I am MUCH more confident. People approach me in the gym and ask for tips now. I have even had people offer to pay me to design them a workout program. I just tell them to jump on Amazon and buy the books!
Who would you recommend this program to and why?
To anyone that wants to see results. The Bigger Leaner Stronger book and Year One Challenge are my gospels now. I never miss a workout. Once you start to see the results it's addictive. Pushing yourself in the gym and at home makes you feel amazing.
Is there anything else you'd like to add?
Stick with it through the first month and check your ego at the door. It took a lot for me to accept that I was weak in all of the big lifts. Watching the other guys in the gym doing 8-10 reps with more weight than I could do in the 4-6 rep range was a tough pill to swallow.
One year later they all look the same, repping the same weight 8-10 times. Now I am so far ahead of where they are! Be honest with where you are and strive to get better each week and you will get results if you are willing to put in the work.
Did you use any Legion supplements?
No.
If you enjoyed this article, get weekly updates. It's
free

.
Sending...
Great! You're subscribed.
100% Privacy. We don't rent or share our email lists.