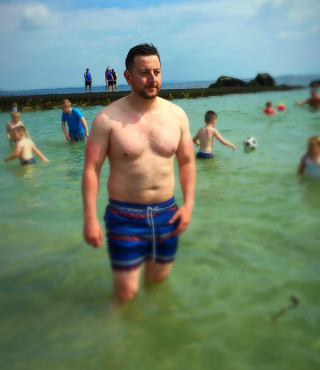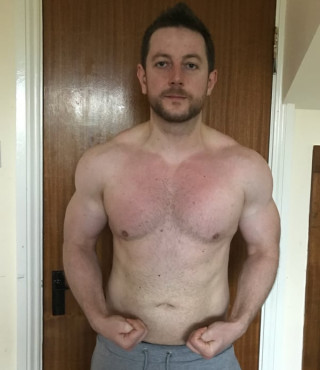 "This program didn't just change my life--it gave me my life back!"
WHAT HAS HAPPENED SO FAR ON THE PROGRAM?
All around I've lost 10% body fat and 10kg (20 pounds). I was cutting for 20 weeks and didn't do any reverse diet. Just one big cheat meal every Sunday. 🙂
I've gained so much confidence and so much power it's crazy. I mean I dropped 20 pounds of body weight but at the same time I was pushing more, lifting more, and so on. My strength overall is just HULK-ing more and more, while now I need to shop for a size M instead of L…weird right?
HOW MANY MONTHS' PROGRESS DO YOUR PICTURES REPRESENT? WHAT WERE YOUR STATS FOR EACH PICTURE?
I've got 22 weeks of BLS between them and only 20 weeks of dieting. I started the first two weeks with no diet. On the before picture I was 95kg and 26.4% body fat and on the after picture I'm 85kg and 16.1% body fat.
WHAT, IF ANYTHING, ALMOST KEPT YOU FROM BUYING THE BOOK OR STARTING THE PROGRAM?
I've been in and out of gyms for more than 12 years with no actual results. Also I've been on so many diets that I was getting sick just thinking I need to do this again.
I ended up with stomach problems, a small gastritis, and muscle atrophy. Working out for 6-8 months and then off because I just couldn't keep up with everything.
I am an analytical person so I wanted something that makes sense (1+1=2) and was proven…and that is how I got to it. And I enjoy cooking just as much as I enjoy lifting so The Shredded Chef is great.
WHAT DO YOU LIKE MOST ABOUT THE PROGRAM?
I love that it is not complicated, overwhelming, or hard to keep up.
It fits perfectly into my schedule (and I am a father of two and working IT…so if I can do it…). I knew about muscle memory so I was kind of expecting results sooner rather than later but BLS kicked that out of the park…I mean my 1RM was changing every week for the first 4 weeks.
HOW DOES THIS PROGRAM COMPARE WITH OTHERS YOU'VE TRIED?
The biggest difference is that BLS will easily become a lifestyle and can easily integrate into any routine. I don't have to go out of my way to diet or exercise….it feels natural and it's the missing link from my life.
As far as the eating goes, I can't even say I am on a diet…The Shredded Chef and many other recipes from my Google-ing showed me that I can still enjoy food and discover a new way of eating.
HOW HAS WHAT YOU'VE ACHIEVED WITH YOUR BODY CHANGED OTHER AREAS OF YOUR LIFE?
I think I've became a narcissist…hahaha…as one of my friends is saying: I need a routine for Mirror Watching! I love what I've become and I still can't believe it's true. I am full of energy and more productive every day. I've built an amazing positive mental attitude!
Long story short…I moved to Ireland with the family and got a little depressed and got some anxiety…soon I was 95-96kg, smoking a lot, and ignoring my health.
I ended up with gastro acid reflux and gastritis, and was psychologically failing. I could not enjoy a meal without taking a reflux/gastric pill after and was on stomach treatment for a long while.
The only reason I still open that cabinet full of stomach medicine now is because that is where I keep my Omega 3's. I've stopped smoking for about one year, I don't even know what it is like to have reflux or gastric/digestive problems anymore and I'm HAPPY. So this program didn't change areas of my life–it gave me my life back!
WHO WOULD YOU RECOMMEND THIS PROGRAM TO AND WHY?
I am talking to people about it and would recommend it to everyone who wants to be HAPPY! Define what happiness is to you and make it work! It's amazing how working out can change all the aspects of your life, not just in the gym.
IS THERE ANYTHING ELSE YOU'D LIKE TO ADD?
A wise man once said that if you don't change the present, the future is going to be a repeat of your past mistakes! Devotion, Determination, Diet…I like to call them 3D and it's all you need to be happy! Yes, working out and eating right can help you in all the aspects of your life!
I'd like to thank my wife, who is the solid foundation of my happiness
If you enjoyed this article, get weekly updates. It's
free

.
Sending...
Great! You're subscribed.
100% Privacy. We don't rent or share our email lists.