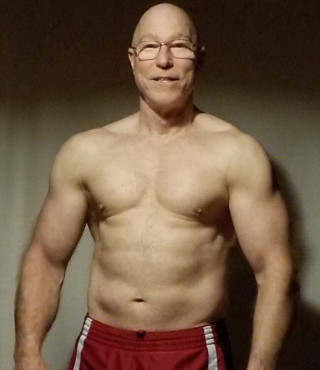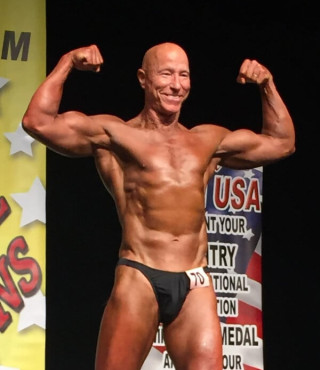 "Bigger Leaner Stronger helped me prepare for my first bodybuilding competition!"
How many months' progress do your pictures represent? What were your stats for each picture?
In the before picture I was 190 lb.
In the after picture I weighed 175 pounds with a goal to get to 169 by the end of May 2018.
What has happened so far on the program?
My bulked weight was about 194 and my goal was to maintain my muscle but cut my body fat to less than 10% (I was at 20% while at 194).
What workout split from the book did you use?
Given I'm retired (62 years old this year), I had plenty of time to exercise. I worked out every day, rotating the parts of the body and the type of workout. I was careful not to run more than 30 minutes per day to help maintain my muscle mass.
I have a target to compete in a Natural Bodybuilding event called the Black and Silver (INBA). The INBA is very restricted and follows the WADA rules on banned substances. This fits my lifestyle and interests me the most. In fact, I participated in an earlier INBA event in Davis, CA on Saturday, April 28, 2018, just to get in front of judges and see how I was doing and what to work on.
I received very complimentary feedback and excellent advice that all I really need to work on is my posing. This was very good advice as I've never done a bodybuilding competition and other than getting into shape I was pretty ignorant of the sport. I'm getting some excellent lessons now and look forward to my next event.
What, if anything, almost kept you from buying the book or starting the program?
I was not knowledgeable about cutting fat and maintaining muscle as much as I am now that I'm interested in bodybuilding.
After my wife heard me complaining about how hard it was to do, she searched and found Bigger Leaner Stronger. She knew I would love it and she was right!
What do you like most about the program?
I am an engineer and control theory person by education. I have a strong mathematical background and ran a lot of experiments on myself in terms of insulin usage, dieting, and exercise.
I wanted to know what worked best for me. Bigger Leaner Stronger has the math, which I enjoy, but it also has the explanations for what you need to do and why. It all "added up" for me.
How does this program compare with others you've tried?
I was a wrestler and soccer player in school and through college about 40 years ago. Cutting weight for wrestling back then was not a very healthy process and obviously would not work for me today. I never was overweight, at least not by much, so I didn't feel the need to do anything special.
However, once I set my goal on bodybuilding I realized I needed a better process than one I could "invent" on my own. The Bigger Leaner Stronger program and the nutrition advice in it sounded very solid, I saw that Mike had already done a lot of research.
Given the fact that I like to build on other people's efforts, once I read enough of the book, I knew Mike actually knew what he was talking about, and after that, I was hooked.
How has what you've achieved with your body changed other areas of your life?
Given the feedback from the INBA show I just received, I am well on my way to achieving my goal of being a competitive bodybuilder. In fact, multiple people told me that the hard work is done. Now I just need to work on my posing.
Who would you recommend this program to and why?
The casual dieter can probably use a lot of programs and lose a few pounds. I think Mike's approach will certainly work for that purpose but I see it as an approach that goes much more into a model of how your body works, a Model-Based Approach if you will.
Given my background in engineering, AI, and model-based approaches to instrument design, I find you can use your approach to fine tune your machine (the human body) and be able to reach your true human potential.
Is there anything else you'd like to add?
I love the recipes. I can easily put a shopping list together and know exactly what I'm eating. There are some substitutions I use such as non-fat yogurt (Fage) instead of things like sour cream. That is not necessary but I look for every opportunity to get a bit more protein.
I also log EVERYTHING into my Fitbit and know where I am in my calorie deficit. You may want to partner with Apple or Fitbit or better yet, start your own personal monitoring program.
I know it is hard because all the sensor IP is wrapped up with sneaker manufactures. I know because I looked into 25 years ago and found that Adidas, Nike, Motorola, and others owned the technology.
Did you use any Legion supplements?
No. I was already using Gains in Bulk since they are supporters of the INBA and make sure there are no banned substances that would violate WADA standards for banned substances.
If you enjoyed this article, get weekly updates. It's
free

.
Sending...
Great! You're subscribed.
100% Privacy. We don't rent or share our email lists.