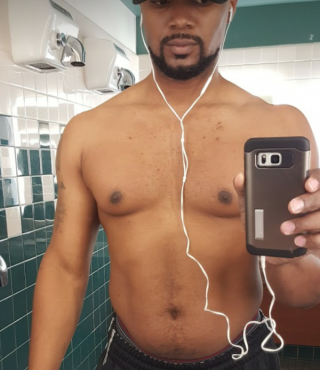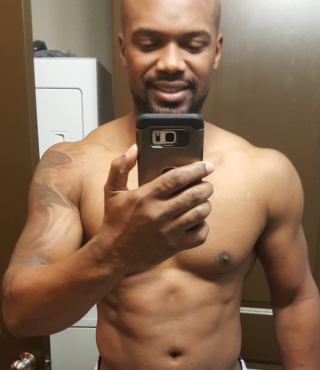 "I never dreamed that I'd be one of the success stories that I used to read and admire!"
What has happened so far on the program?
I started the cutting on the Bigger Leaner Stronger program at 240 lbs and about 18% body fat, trying to get to the illustrious 10% body fat percentage.
After reading Bigger Leaner Stronger, I also ordered the companion One Year Challenge and it was off to the races, using the 5 day split of the program.
In 5 months I have lost about 20 lbs and I'm currently around 10% body fat, and looking forward to a glorious bulk. 🙂
My strength also has increased significantly during the last few months on the program while cutting.
The bench press was my biggest struggle when I played football in high school but now it's one of my best lifts!
My working weight stats are:
Bench Press went from 160 lbs-255 lbs
Military Press went from 125 lbs-175 lbs
Deadlift went from 315 lbs-405 lbs
Squat went from 225 lbs-320 lbs
The most amazing thing to me is that this was all while cutting!!!
What, if anything, almost kept you from buying the book or starting the program?
I think skepticism, if anything, kept me from buying the book at first. I have seen several programs before promising the world in terms of results while being super restrictive nutritionally and ridiculously time consuming in the gym. When I saw BLS the ratings on Amazon were hard to believe at first.
What do you like most about the program?
Honestly what I love most is the simplicity of both the workouts as well as the nutritional advice. The way Mike breaks things down is very straight to the point, which is rare to see these days in the fitness world.
As far as results are concerned, I definitely saw an increase in strength long before I saw the scale move. For me it was like I was stuck at one weight for a while and then one day it just started falling off.
How does this program compare with others you've tried?
It was very simple to grasp the concepts presented and after Mike told me how to do it, it was simply time to put in the work.
How has what you've achieved with your body changed other areas of your life?
Well not to sound conceited but I definitely look in the mirror more. I would say that for me it has allowed me to appreciate the journey and learn to rebound from setbacks faster.
At first I just wanted to see if I could actually transform my body in the same way I had seen others on the program.
I never dreamed that I'd be one of the success stories that I used to read and admire!
Is there anything else you'd like to add?
I would recommend this program to anyone and everyone looking to seriously transform their body with proven methods. Not just another workout fad….no offense crossfit.
I recommend to just get started and be patient with yourself. I know it may seem like a daunting task to track your food or meal plan but you owe it to yourself to fully commit and build the habits.
What Mike teaches in BLS is 10 times better than what you're going to get from most of these personal trainers out here and it's a fraction of the cost.
If you enjoyed this article, get weekly updates. It's
free

.
Sending...
Great! You're subscribed.
100% Privacy. We don't rent or share our email lists.