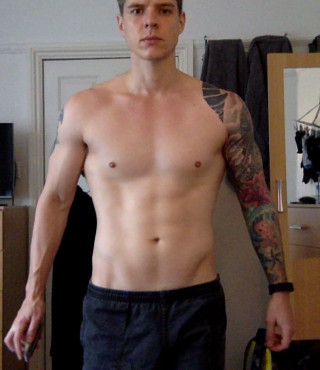 "In just over 6 months I lost a ton of fat, feel stronger physically and mentally and I am genuinely happier as well."
What has happened so far on the program?
I am 27 years old and in just over 6 months I lost a ton of fat while gaining strength and totally changed my body.
Whilst it has been hard to put on mass as I've been cutting, I have gained definition that I haven't had in a long time and my strength is definitely up.
My fitness is at a great level and I'd say that I've added about 44 lbs to my squats, about 55 lbs to my bench and about 88 lbs to my deadlifts.
When I first started cutting, I just limited calorie intake heavily and, as my weight loss began to slow down and I didn't know how to progress, I did some Googling and found Muscleforlife.com.
I posted a question on an article where Mike recommended I reverse diet and explained all the reasons why I should do that. It was the right advice at the exact right time for me.
What, if anything, almost kept you from buying the book or starting the program?
Nothing.
What do you like most about the program?
Just the fact that literally every question I've had on this journey of mine has been covered at some point by Mike.
I found Muscleforlife.com when I was a little bit stuck and needed advice on how to progress further and I got that information quickly and easily.
On top of that Mike is actually a great guy who answers questions and acknowledges his audience, and that's a really big thing.
How does this program compare with others you've tried?
I haven't really tried any other programs as such…However, the content I learned gave me a ton of extra insight and new perspective on training and nutrition.
This has allowed me to stay focused and on track for the most consistent training regime and diet that I've ever followed.
How has what you've achieved with your body changed other areas of your life?
It's definitely unlocked a new world for me. Prior to where I am now, for a few years I kept saying to myself "Okay I'm gonna lose X amount of weight, shred up and do it by X date" but I never really did it or completely understood the process required.
I'd get a few weeks in and just let work take over and put that commitment I made to myself aside and end up at square one.
After sticking to this program, I've been consistent and persistent in all areas of my health I am definitely more confident.
I feel stronger physically and mentally, I'm particularly fit in terms of cardio and endurance, and I am genuinely happier as well which is a big bonus.
Is there anything else you'd like to add?
It really just does come down to being persistent and consistent. I read somewhere that "the time is going to pass anyways regardless if you're training or not" (something like that)…
So for me I just asked myself "Do I want to be fat and not really recognizing who I see in the mirror against who I see I am in my own mind? Or do I want to commit to eating right and training hard to enjoy the results that will come in 6 months, a year, and so on?"
Ultimately, you just have to be ready to go for it. You're the only person who can drag your ass to the gym first thing in the morning, or last thing at night if that's the only time you can go.
You only get one body and it is on you to look after yourself and push your body and mind to be the best they can be.
If you enjoyed this article, get weekly updates. It's
free

.
Sending...
Great! You're subscribed.
100% Privacy. We don't rent or share our email lists.