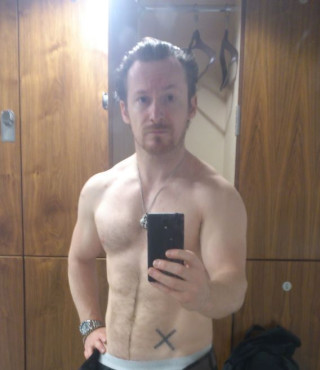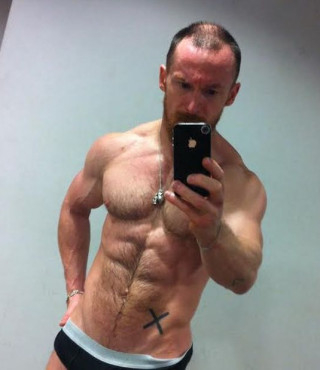 "It's not an exaggeration to say that at 43 Mike has given me a new lease of life."
What has happened so far on the program?
These pictures represent six months progress on the Bigger Leaner Stronger power building program and I'm now a couple of weeks into my first mesocycle on the Beyond Bigger Leaner Strong program. I started out at 71kg (156lbs) and went to 73.9kg (163lbs) and I went from somewhere around 16 – 17% to around 9-10% on my bulk following BLS. I'm currently 69kg (152lbs) and 7% and loving BBLS.
To be honest I'm completely blown away by my strength gains. I've seen some amazing results since starting in May:
BENCH Start: 69.8 kg (153.63Lbs.) Current: 110.6 kg (243.25Lbs.) Change: 18.5 kg (40.8Lbs.) Percent Change: 58.5%
SQUAT Start: 93.1 kg (204.84Lbs.) Current:176.9 kg (389.202Lbs.) Change: 38.1 kg (83.8Lbs.) Percent Change: 90.0%
DEADLIFT Start: 81.5 kg (179.24Lbs.) Current: 157.1 kg (345.67Lbs.) Change: 34.4 kg (75.6Lbs.) Percent Change: 92.8%
BICEP CURL Start: 29.1 kg (64.01Lbs.) Current:52.4 kg (115.22Lbs.) Change: 10.6 kg (23.3Lbs.) Percent Change: 80.1%
BARBELL ROW Stat: 46.6 kg (102.42Lbs.) Current: 104.8 kg (230.45Lbs.) Change: 104.8 kg (230.45Lbs.) Percent Change: 125.0%
MILITARY PRESS Start: 34.9 kg (76.82Lbs.) Current:72.7 kg (160.03Lbs.) Change: 17.2 kg (37.8Lbs.) Percent Change: 108.3%
Across the board I've gone from 'Novice' up to 'Advanced' or a little beyond-even in chest, where I'm lagging in strength and gains (my genetic weak spot). Deadlifts were entirely new to me (I was warned off of them previously as DANGEROUS!?) and so I'm 70Lbs UNDER ADVANCED, which I'm still happy with. Actually I'm more than happy. I'm ecstatic. Only two months ago, in September, I was at Intermediate!
What, if anything, almost kept you from buying the book or starting the program?
I've trained in pretty much every way you can over my time in and out of the gym. In the past I've trained exclusively in the 10 to 12 rep range, I've done bodyweight work, kettle bell training, pyramids, drop sets, super sets, you name it, only to plateau in size and strength, gradually losing range of mobility and succumbing to injury over time. I came across Bigger Leaner Stronger through Amazon at first, looking for some sort of program to give some structure back to training. I remember reading:
"In this book you're going to learn something most guys will never know: The exact formula of exercise and eating that makes putting on 10 to 15 pounds of quality lean mass a breeze…and it only takes 8-12 weeks."
I guess my only hesitation would have been, "Yeah, and what's the catch?" I didn't want another fitness industry, bodybuilding article type of quick-fix route to "The Ultimate Beach Abs," or whatever. However as I carried on reading the blurb I saw about "The Year One Challenge," and how I'd learn exactly how to train, eat, and supplement to make maximum gains in my first year of training. Then when I saw that I could read the first few chapters in the free trail download I figured what did I have to lose, and as soon as I started reading I knew I had come across the real deal.
What do you like most about the program?
I went into BLS with the attitude of, "What can it hurt? I'll give it a go, I've tried nearly everything else in the gym, at worst it'll give me back some focus for a while." As results started to quickly show it just became habit and things progressed all by themselves. As it turned out it's no BS when Mike says "…and it only takes 8-12 weeks."
I started doing a three-day split and then three months in, quite naturally, as my size and strength grew, and as the weights increased I went to five days. I never thought I'd have the time for that before, but I was focused and I had the tools and knowledge I needed and I'm in and out of the gym, changed, trained and showered in around fifty minutes.
How does this program compare with others you've tried?
I'm not a newbie to training but I'd never got to the bottom of how to really pile on lean mass while shedding body fat effectively. I liked that Mike was talking from a similar experience and that his results spoke for themselves.
I'd never focused properly on compound lifts so in the first few months I had to work a lot on my technique and my range of motion. I liked that the program had these areas covered off too and that it also introduced me to other world class coaches such as Mark Ripptoe and Dr. Kelly Starrett.
I've tried for years to strip off the last layer of fat through endless cardio and 'eating clean' and never got anywhere but still nutrition was the last part of my game to come together. I found it quite intimidating if I'm honest, more so than pushing the weight, but again Mike's made it bullet proof and once I committed to it I couldn't believe how straight forward it was.
How has what you've achieved with your body changed other areas of your life?
One of the biggest unexpected side effects of the training, supplementation and diet has been their effect on my immune system. I've always struggled during cold season, catching pretty much everything that's going around but not this year. I've been in work, social and family situations for extended periods with people suffering with coughs and colds and it's not even touched the sides. There have been times when I've even felt my immune system kicking in and dealing with an infection trying to take hold.
Above and beyond this I have energy and focus that I didn't have before and generally feel that bit more resilient and able in all areas.
Is there anything else you'd like to add?
The only thing I would say is to simply follow what it says in the books. Everything you need to know is covered off there and if you patiently and consistently apply your effort to the tools Mike is giving you then you cannot fail to succeed in meeting your goals, if not exceed them.
Further more, and what genuinely surprises me is that if you have a question or a problem Mike's always ready with a clear, concise and supportive response. That said, the books, articles and podcast pretty much cover everything you'd ever need off.
It's not an exaggeration to say that at 43 Mike has given me a new lease of life, and at six months in it feels like only the start for me, and to think that at the out-set of the year I was beginning to think that my fitness aspirations were coming to an end.
If you enjoyed this article, get weekly updates. It's
free

.
Sending...
Great! You're subscribed.
100% Privacy. We don't rent or share our email lists.