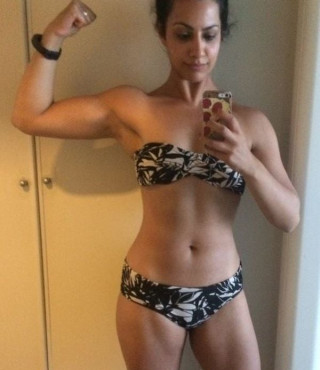 "I love how easy it is to follow and you don't have to spend hours in the gym and I love the meal plan!"
What has happened so far on the program?
I started the Thinner Leaner Stronger in January 2016 and found that my strength was increasing. I felt I had built OK muscle to start a cut so I got the meal plan from you guys.
I started a cut 20 May 2016 to 5 August 2016. In that time, I lost about 11 lbs. and about 6% body fat. My goal was to hit 121 lbs. before starting to reverse diet and maintain.
From January, my muscle mass increased significantly and also my strength on my big lifts. When cutting, I surprisingly managed to get stronger.
It was always my goal to hit a 220 lbs. deadlift and I went from not being able to lift it once, to deadlifting a 220 lbs for 3 sets of 6 reps each. I even got my one rep max up to 242 lbs, all whilst cutting. A very happy lady!
What, if anything, almost kept you from buying the book or starting the program?
My husband always spoke of Mike Matthew's podcasts and wanted to get the book. We're both after the same goal, which is to look lean and get strong. The book does exactly that and expected it to. So I had no doubts.
What do you like most about the program?
I love how easy it is to follow. Love how you don't have to spend hours in the gym and love the meal plan. I need carbs and most of my carbs are eaten before and after training. I don't really feel like I am "dieting".
I stopped seeing results after 8 weeks, and after reading an article on metabolism by Mike Matthews, I increased my fat intake and found that my metabolism had increased again and was back on the meal plan.
How does this program compare with others you've tried?
I've tried high reps and going to a point where I sweat a lot and felt like that was the only way to gain muscle. Before this program, I did tons of high reps with DOMS the day after, but this program is much more simple and very effective in building actual muscle.
I've not eaten carbs, which is just a silly idea. I don't want to be a body builder or anything but just feel lean and strong with longstanding results. The diet plan and advice in TLS is just brilliant in doing this.
How has what you've achieved with your body changed other areas of your life?
I have increased energy and never in my life felt so confident. I have always felt shy, hated taking pictures of myself and never would have thought I'd send a picture for the site.
I feel like I don't need to where baggy clothes. I feel great at the moment but also excited for the future and what that brings with following TLS.
Is there anything else you'd like to add?
I'd recommend this to every woman, because every woman should follow this if they want to be in shape and be healthy.
If things are not working for you, ask the Muscle For Life team and they'll be happy to help, or search for it on the site.
If you enjoyed this article, get weekly updates. It's
free

.
Sending...
Great! You're subscribed.
100% Privacy. We don't rent or share our email lists.