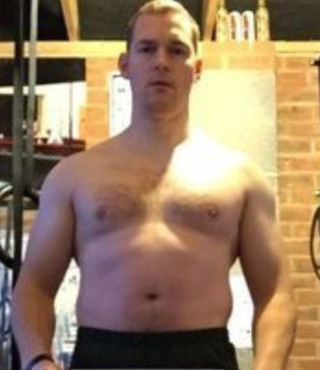 "I have lost just over 40 lbs and have gone from around 22% body fat to around 8%."
What has happened so far on the program?
So far, I have lost just over 40 lbs. I have gone from around 22% body fat to around 8%.  I'm really pleased with the success, but am determined to squeeze out a few more weeks of cutting down to 6% body fat. I think that would be a great achievement for me.
The lifting program is excellent and debunks the psychological demands of needing to overtrain. I love the big lifting design. I have lost some lbs on the lifts with losing so much weight, but I certainly look a lot better and am more comfortable with my bodyshape.
What, if anything, almost kept you from buying the book or starting the program?
I have spent a lot of hours in the gym doing really what Mike describes prior to discovering his own discovery.  I overtrained and did not take a keen enough interest in nutrition or calories to really focus in on my bodybuilding. I had tried multiple dieting techniques including Paleo, The Warrior diet, intermittent fasting, and an attempt at The Zone with limited success.
Whilst reading Mike's book, pretty much every point he made about bioscience was something I had either done in the past or could easily recognise.  His book is very clear and does dispel multiple myths about training, nutrition, and supplementation – which is a big one, as it is extremely easy to get sucked into buying multiple magic cures and spending a lot of money!
What do you like most about the program?
The program is excellent. I loved lifting big. I have been following the five day program.  I would appreciate some further guidance on HIIT for my non lifting days.
How does this program compare with others you've tried?
The diet is much better because it is not restrictive or over complicated. I have tried a number of very restrictive diets including the Warrior Diet and Paleo (which I agree with in principle but it's just too hard to follow if you have a job). I have finally got a much better knowledge of nutrition from reading your books.
How has what you've achieved with your body changed other areas of your life?
I was feeling overweight, bloated and lethargic. I now feel much better, more confident. Happy in my level of fitness and not desperately waiting for the next meal.
Is there anything else you'd like to add?
Read Mike's books and website, and follow his excellent guidance. I couldn't recommend his advice more highly, and I've been training for 20 years.
If you enjoyed this article, get weekly updates. It's
free

.
Sending...
Great! You're subscribed.
100% Privacy. We don't rent or share our email lists.