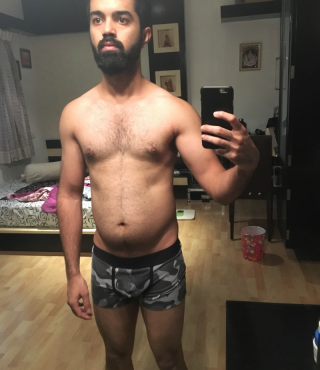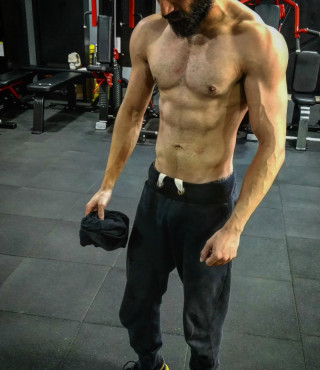 "I quit smoking and am much more confident and happy!"
How many months' progress do your pictures represent? What were your stats for each picture?
The pictures represent one year's progress.
Before picture: I weighed 55 kgs (121 pounds) and was around 20% body fat.
After picture: I weighed 50kgs (110 pounds) and was around 10% body fat.
What has happened so far on the program?
I cut for 8 months and lost around 5 kilos (11 pounds) but I was also able to gain some muscle as well.
I've gained a lot of strength, too. My big lifts have progressed significantly and I enjoy them a lot. My life has changed so much after reading Bigger Leaner Stronger. Before, I was never really a morning person, but now I wake up at 5 a.m. every day! I also stopped smoking!
What workout split from the book did you use?
I used the 5-day split.
What, if anything, almost kept you from buying the book or starting the program?
I've never tried any other program. I didn't believe it was possible to achieve such a great physique. I always thought you had to resort to using drugs to build a great body.
I was buying something on amazon and happened to come across Bigger Leaner Stronger and thought I might as well give it a shot. After reading the book, the whole program made complete sense to me.
What do you like most about the program?
Following the program was very easy. Things were explained properly and actually made sense, so the information stuck with me and I never forgot what I learned.
I started to see results from the very first week! Before, when I didn't know anything, I didn't see any results even after months of being in the gym.
How does this program compare with others you've tried?
I've never tried any other program. I learned things in the book which I would have never learned otherwise.
As far as working out before I started the program, I always did exercises for 20 reps with light weights. The trainer at my gym said it's good for fat loss and muscle toning, haha! Before, I never really enjoyed working out; now I get bored when I have rest days!
How has what you've achieved with your body changed other areas of your life?
I'm more confident now! People ask me how I lost my weight, which has been encouraging and makes me happy, too!
Who would you recommend this program to and why?
I'd recommend this program to everyone. In fact, I have already recommended it to all my friends! They have started the program and are really enjoying it.
Is there anything else you'd like to add?
Knowledge is very important in anything we do. Without proper knowledge, you're just wasting your time and money.
A lot of gym trainers don't know what they are talking about; they give out wrong advice! And the people that follow this wrong advice eventually give up since they don't see the desired results.
Mike Matthews is really helping people by providing proper knowledge and I'm thankful to the whole team at Muscle for Life!
Did you use any Legion supplements?
Unfortunately, no. It is very expensive to buy supplements by the time it comes to India with customs and taxes.
If you enjoyed this article, get weekly updates. It's
free

.
Sending...
Great! You're subscribed.
100% Privacy. We don't rent or share our email lists.