Forge
|
Pre-Workout Fat Burner
Save 10% With a Stack!
The Fat Loss Stack boosts fat loss, preserves muscle and strength, and enhances workout performance.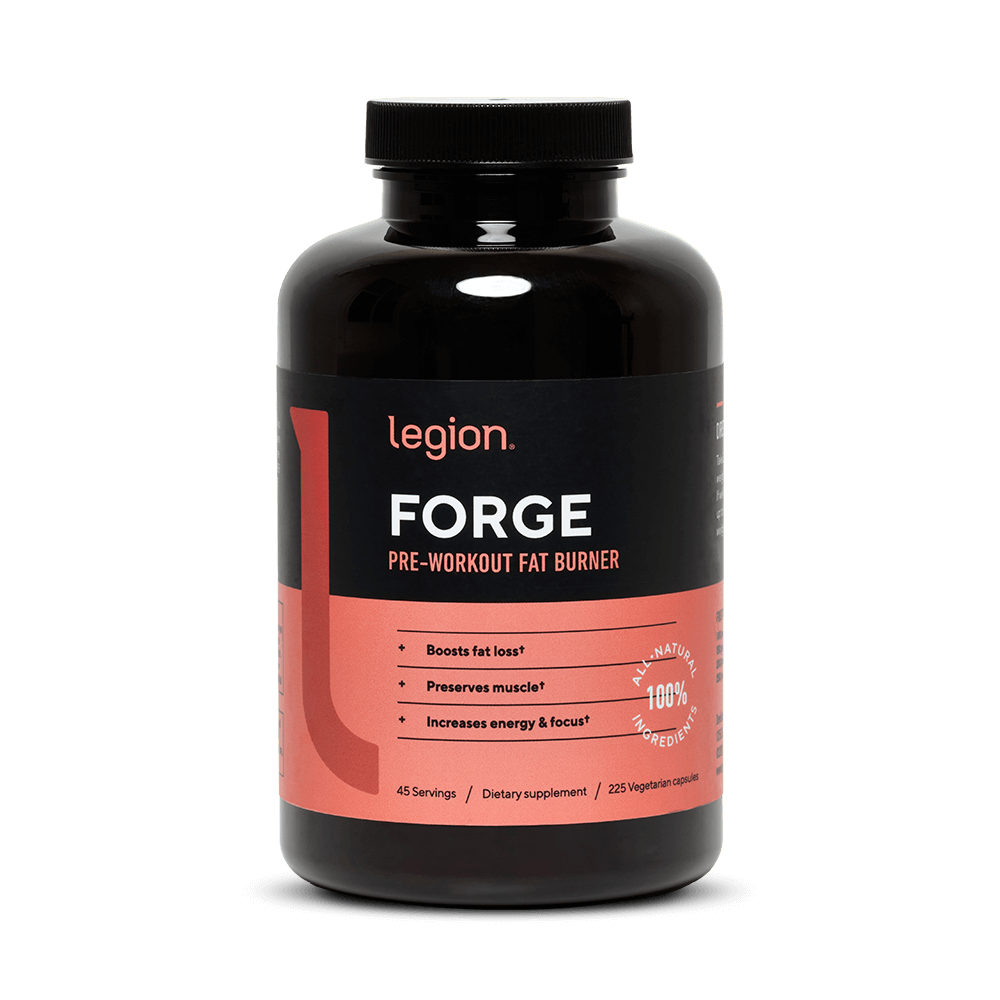 Pre-Workout Fat Burner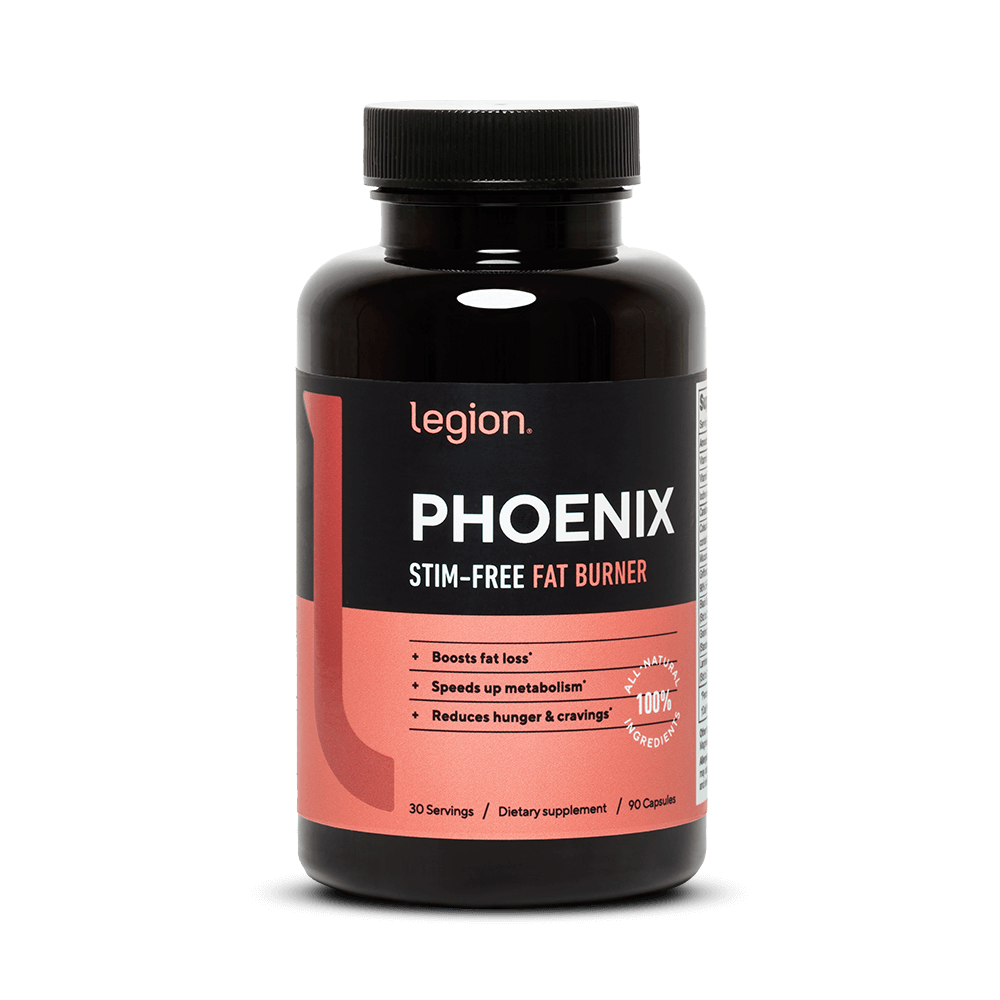 Fat Burner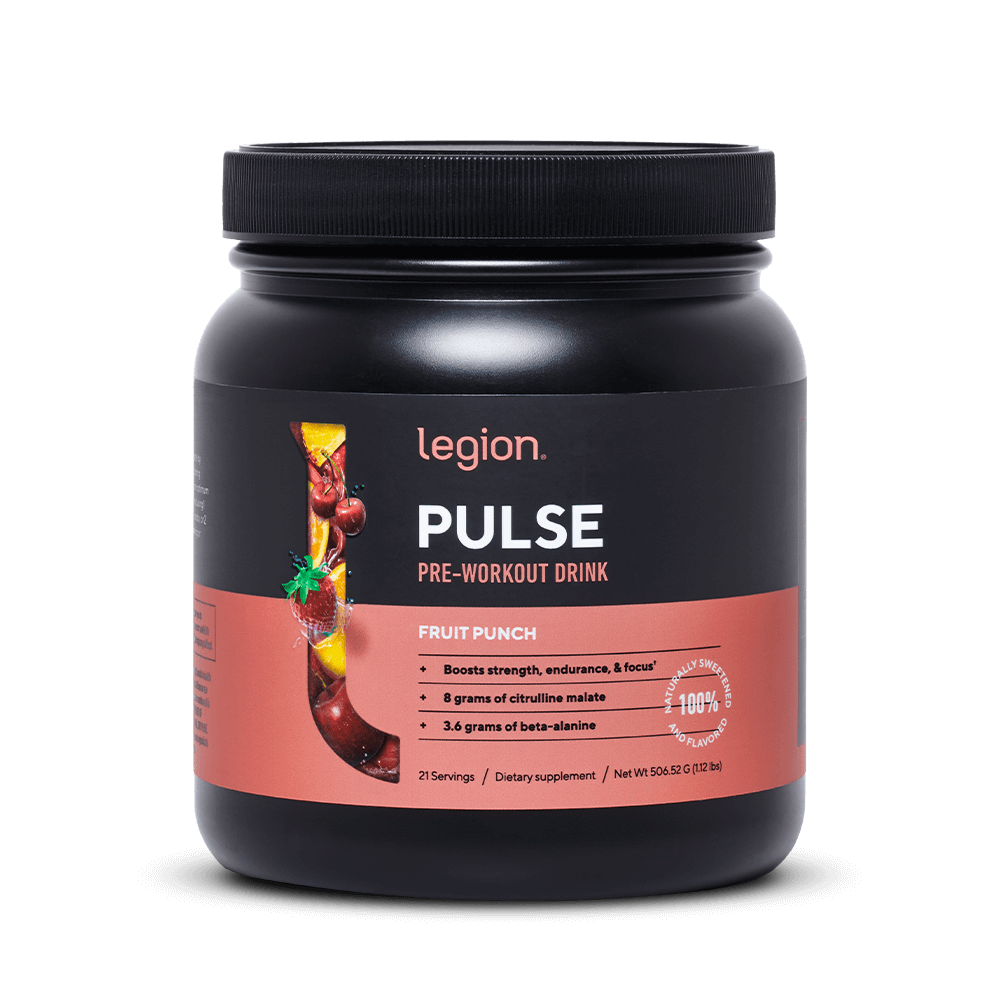 Pre-Workout
---
Our "It's On Us" 100% Money-Back Guarantee
If you don't absolutely love our stuff for whatever reason, we don't request you deliver it to a PO box in the Gobi Desert by carrier pigeon.
Nor do we ask you to fill a cursed inkwell with orc's blood and demon saliva and with it complete reams of return forms written in ancient Cyrillic script.
We just . . . wait for it . . . give you your money back. No returns. No forms. No nonsense. Holy moo cows.
That means you can say "yes" now and decide later. You really have nothing to lose.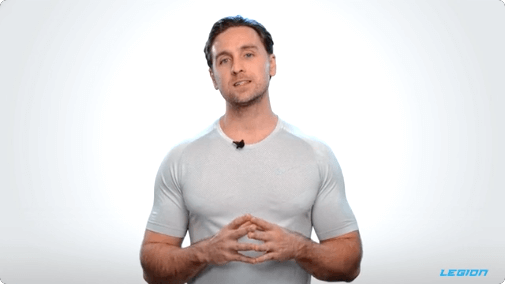 Why International Bestselling Author Mike Matthews Created Forge
Forge is a 100% natural fat burner that helps you lose fat faster (and "stubborn" fat in particular), preserve muscle, and maintain training intensity and mental sharpness.
"Stubborn" fat is a very real phenomenon, and while it ultimately yields to regular exercise and proper diet, it can take its sweet, sweet time.
There aren't many things you can do to speed this process up, either, but there's one strategy you should know about:
Fasted exercise with yohimbine supplementation—and that's why we created Forge.
The reason it's so effective is simple:
Every ingredient is backed by peer-reviewed scientific research and is included at clinically effective levels.
So, if you want to lose fat faster—and especially belly, hip, and thigh fat—while also maintaining lean mass and workout performance . . . you want to try Forge today.
You won't be disappointed.
In fact, if you don't absolutely love Forge, just let us know and we'll give you a full refund on the spot. No form or return necessary.
You really can't lose, so order now, and try Forge risk-free and see if it's for you.




25,000+ Five-Star
Reviews




25,000+ Five-Star
Reviews
Science-Backed Ingredients
Every ingredient in Forge is backed by peer‑reviewed scientific research demonstrating clear benefits.
Clinically Effective Doses
Every ingredient is also included at clinically effective levels, which are the doses used in published scientific studies.
All-Natural Ingredients
Forge contains no artificial ingredients like sweeteners, food dyes, or other unwanted chemicals.
Lab Tested
Every ingredient in every bottle of Forge is tested for heavy metals, microbes, allergens, and other contaminants to ensure they meet FDA purity standards.
Made in the USA
Forge is proudly made in America in NSF‑certified and FDA-inspected manufacturing facilities.
100% Money-Back-Guarantee
If you don't absolutely love Forge, just let us know, and you'll get a prompt and courteous refund. No forms or returns necessary.
Ingredients
(2,760 mg per serving)
Yohimbine (10 mg per serving)
Yohimbine is a naturally occurring substance that's found in several types of plants native to central and western Africa, including the bark of the yohimbe tree.
Studies show that yohimbine accelerates fat loss by increasing calorie burning and making "stubborn fat" deposits easier to lose.[1][2][3]
The details of how yohimbine speeds up fat loss in the stomach, hips, and thighs regions (the hardest spots to lean out for most people) are rather technical, but the gist is it "deactivates" a mechanism in fat cells that prevents them from being burned.[4]
In a sense, yohimbine helps "take the brakes off" of fat loss so your body's natural fat-burning chemicals can work more effectively.[5]
Additionally, research shows that yohimbine may also improve exercise performance by staving off physical fatigue—a welcome bonus when calories are restricted for fat loss.[6]
There's a slight catch with yohimbine, though:
Elevated insulin levels completely negate its weight-loss effects, and that means that if you want to reap its fat loss benefits, you want to use yohimbine only when you're in a fasted state.[7][8]
The clinically effective dose of yohimbine is between 0.1 and 0.2 milligrams per kilogram of body weight.
Forge contains 10 milligrams of yohimbine per serving and just 2.5 milligrams per pill to allow for maximum flexibility in dosing, as optimal intake depends on body weight.
This also allows for maximum safety.
While yohimbine is generally well tolerated in lower (but still effective) doses, overdosing can cause various negative side effects, including agitation, anxiety, hypertension, and tachycardia.[9]
This is why people with anxiety or panic or trauma disorders (like PTSD) are not advised to take yohimbine.
So, for example, a clinically effective dose of yohimbine for a 150-pound woman would be 7 to 13 milligrams, and one serving of Forge (4 pills) fits nicely in the middle.
Furthermore, if she feels good at this dose, she could add an additional capsule to each dosage and reach the top of the clinically effective range.
A clinically effective dosage for a 200-pound man, however, is higher: 9 to 18 milligrams. In this case, he could start with 4 pills per dosage to assess tolerance and move up to 6 to 7 for the maximum dose for his body weight.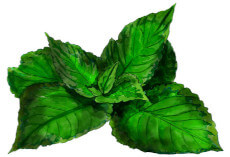 β-Hydroxy β-Methylbutyrate (2.5 g per serving)
β-Hydroxy β-Methylbutyrate, also known as HMB, is a substance formed when your body metabolizes the amino acid leucine, which is an amino acid that directly stimulates protein synthesis.[10]
HMB is often sold as a muscle-building aid, but the research purported to demonstrate these benefits is shaky at best.[11]
Well-designed studies do show that HMB is an effective anti-catabolic agent, however.[12]
That is, it's good at reducing muscle breakdown rates, which can help you recover faster from your workouts and experience less muscle soreness.
This also makes HMB perfect for use with fasted training because its anti-catabolic effects can counter the increased muscle breakdown rates that occur when exercising in a fasted state.[13]
In this way, HMB helps you reap all the fat loss benefits of fasted training with fewer problems related to muscle loss.
It's also worth noting that HMB is superior to leucine in suppressing muscle breakdown.[14] This means it's also more effective than BCAA supplements because they rely on leucine for their anti-catabolic effects (isoleucine and valine are very weak in this regard).[15][16]
The clinically effective dose of HMB is between 2 and 3 grams.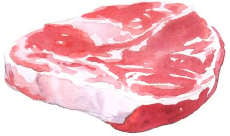 CDP-Choline (250 mg per serving)
CDP-choline (also known as citicoline) is a chemical that occurs naturally in the brain and increases levels of another chemical called phosphatidylcholine, which is vital for brain health and function.
CDP-choline can also increase levels of a neurotransmitter known as acetylcholine, which is a neurotransmitter involved in learning and muscular contraction.
Research shows that supplementation with CDP-choline improves focus and memory (and verbal memory in particular) and mitigates cognitive decline as we age.[17][18][19][20][21]
For attentional purposes, the clinically effective dose of CDP-choline is between 250 and 500 milligrams.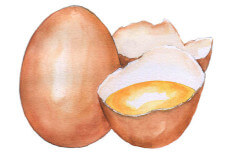 Lab Tested for Potency & Purity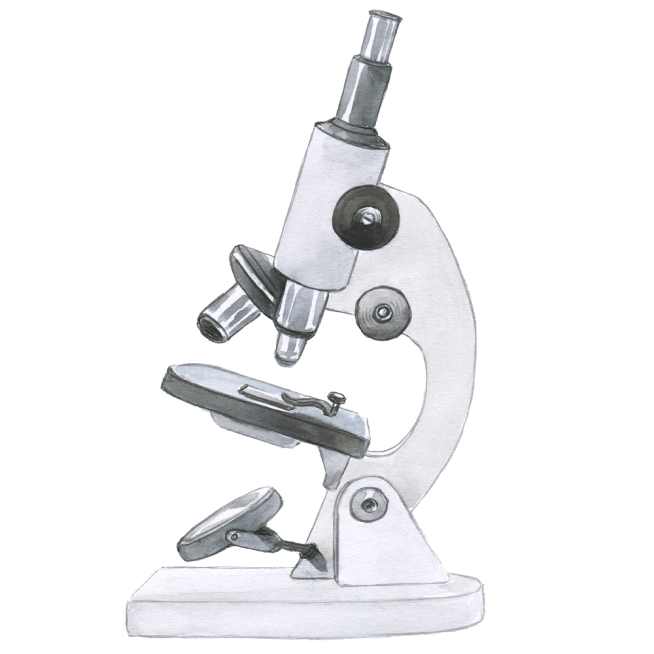 Lab Tested for Potency & Purity
Every bottle of Forge is analyzed in a state-of-the-art ISO 17025 accredited lab to verify what is and isn't in it. That way, you know exactly what you're getting and putting into your body.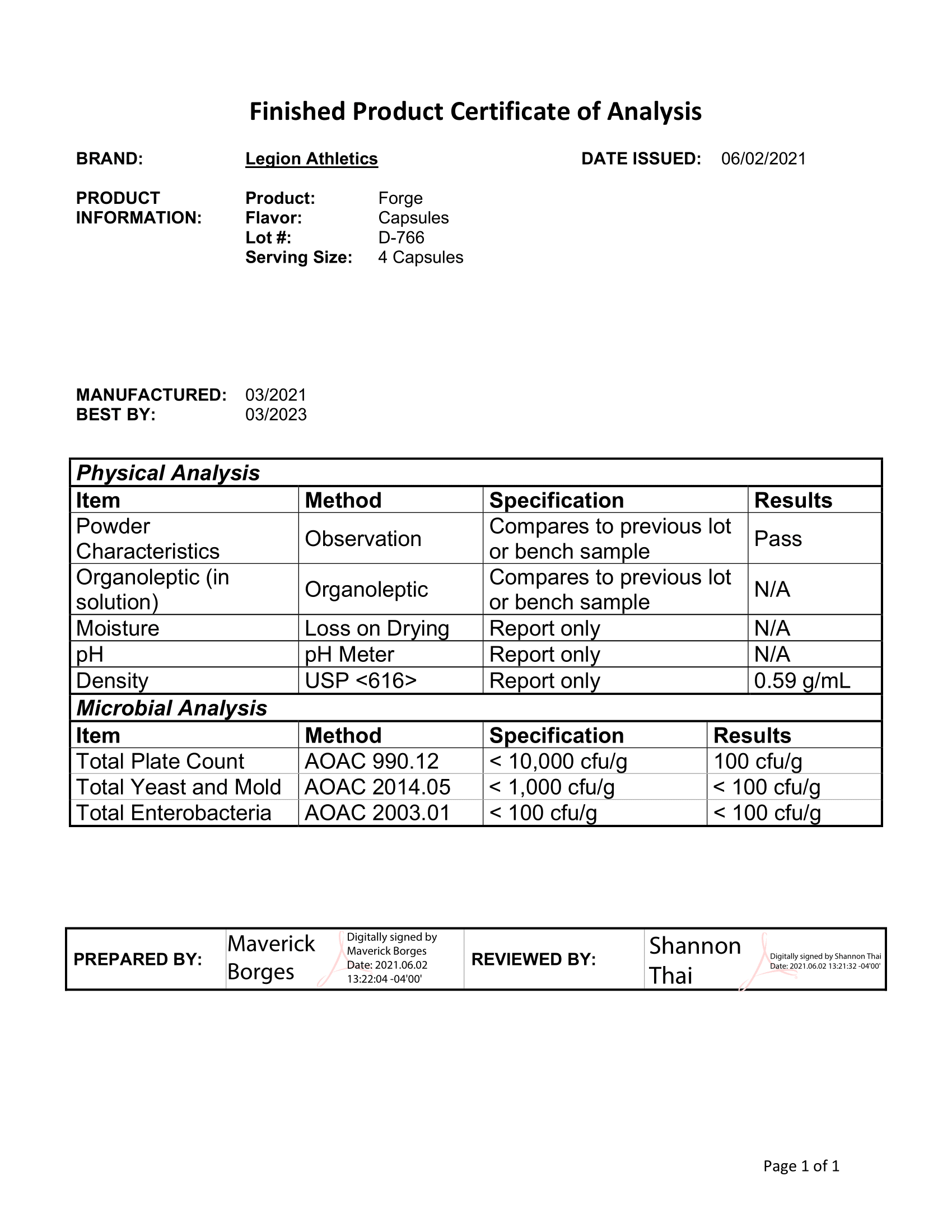 How to Use Forge
Take 1 capsule per 50 pounds of body weight 15 minutes prior to fasted training. If well tolerated, add 1 capsule per use until reaching 1 capsule per 25 pounds of body weight.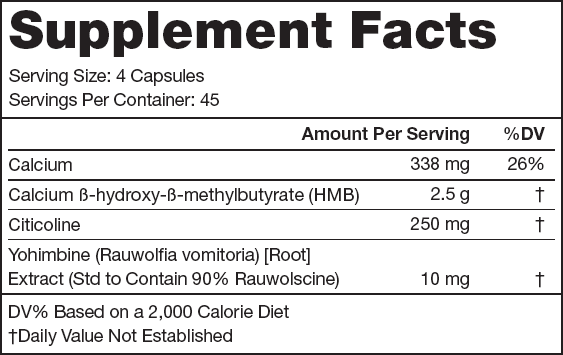 Customers Who Bought This Also Bought
Verified Customer Reviews
Ingredients & Use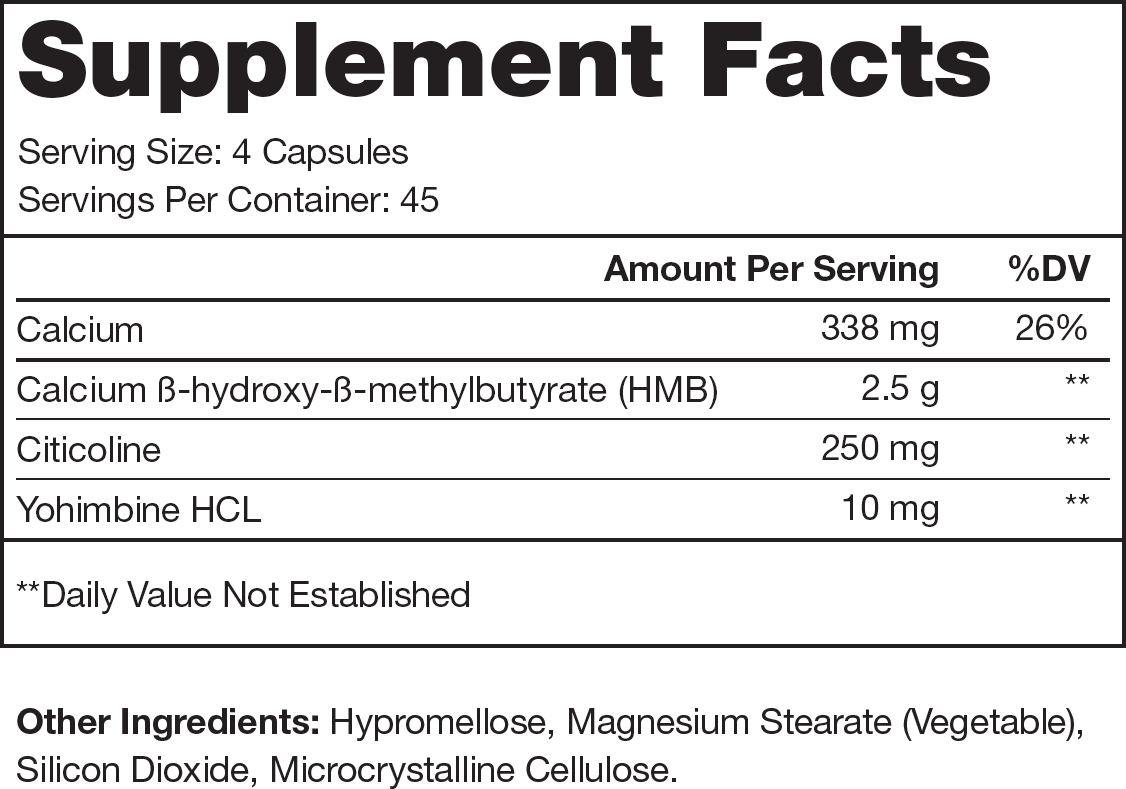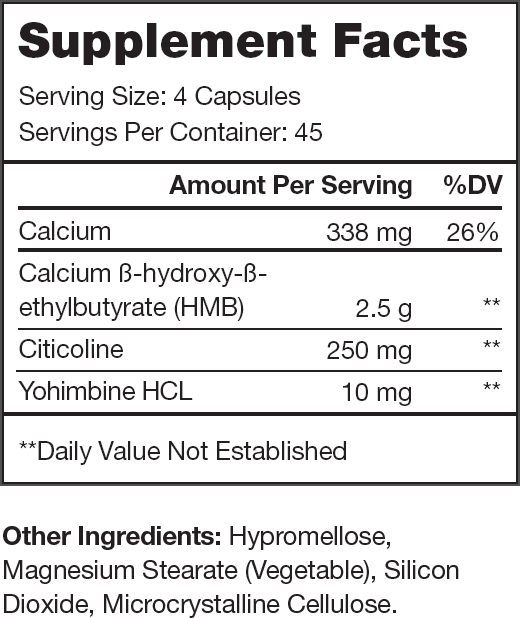 Directions
Take 1 capsule per 50 pounds of body weight 15 minutes prior to fasted training. If well tolerated, add 1 capsule per use until reaching 1 capsule per 25 pounds of body weight.
Warning
Not intended for use by persons under the age of 18. Do not exceed recommended dose. Consult your physician prior to use if you are pregnant or nursing, or if you are at risk, have been diagnosed, or are being treated for high blood pressure, heart, kidney, or thyroid, anxiety, depression, seizure disorder, or stroke.
KEEP OUT OF REACH OF CHILDREN. STORE IN A COOL, DRY PLACE. DO NOT USE IF SAFETY SEAL IS BROKEN OR MISSING.
Frequently Asked Questions
What the heck is a "pre-workout fat burner"?
How quickly will I see results with Forge?
Even if Forge helps me lose weight, will I just gain it back when I stop taking it?
Will I lose muscle if I do fasted exercise and take Forge?
How long can I safely use Forge for?
Should I take Forge every day?
Is Forge suitable for both fasted weightlifting and cardio?
Should I take Forge if I'm bulking?
What does the Prop65 warning on the label mean?
Is Forge vegan or vegetarian-friendly?
The #1 Brand of All-Natural Sports Supplements in the World
Over 300,000 customers served and 2,000,000 bottles sold!