In this podcast I interview bestselling author and all-around interesting dude Ryan Holiday, and we talk about some of the key messages about turning adversity into triumph found in his latest book The Obstacle is the Way.
THE OBSTACLE IS THE WAY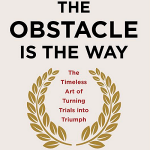 What did you think of this episode? Have anything else to share? Let me know in the comments below!