You know what sucks about most workout journals?
They don't tell you what to do. They're basically just fancy notepads.
Seriously.
A bunch of blank pages is helpful if you're an experienced weightlifter who knows how to create effective workout programs, but what if you're not?
Well, you have to go elsewhere for a workout routine and hope it's effective, safe, and easy to follow and track.
And let's face it—many programs are a bunch of macaroni.
That's why my workout journals are different.
They're called The Year One Challenge for Men and The Year One Challenge for Women, and they give you everything you need to take your fitness to the next level.
They're also NEWLY UPDATED to match everything in my new third editions of Bigger Leaner Stronger and Thinner Leaner Stronger.
⇒ Click here to get the men's journal
⇒ Click here to get the women's journal
Now, what are you getting in these journals, exactly? Three things:
1. First, my journals have an entire year's worth of workouts based on everything I teach in my flagship books for men and women, Bigger Leaner Stronger and Thinner Leaner Stronger.
That means you'll know exactly what you're supposed to do in the gym every day and only need to show up and get to work.
Think of it as the fitness version of painting by numbers.
Moreover, these journals are the next-best thing to having me personally program your workouts, because unless you're a veteran lifter, this is what I'd prescribe.
2. Second, my journals give you concise but key information you need to do your workouts properly.
For instance, they have short descriptions (with pictures!) of proper form on the major exercises, tell you how to warm up properly, what rep ranges to work in, how to progress on the programs, how long to rest in between sets, and more.
All things covered in Bigger Leaner Stronger and Thinner Leaner Stronger, of course, but helpful to have at hand for quick reference when you're in the gym.
3. Third, the workouts are laid out in a clean, user-friendly design that's easy and intuitive to use.
Here's what I'm talking about: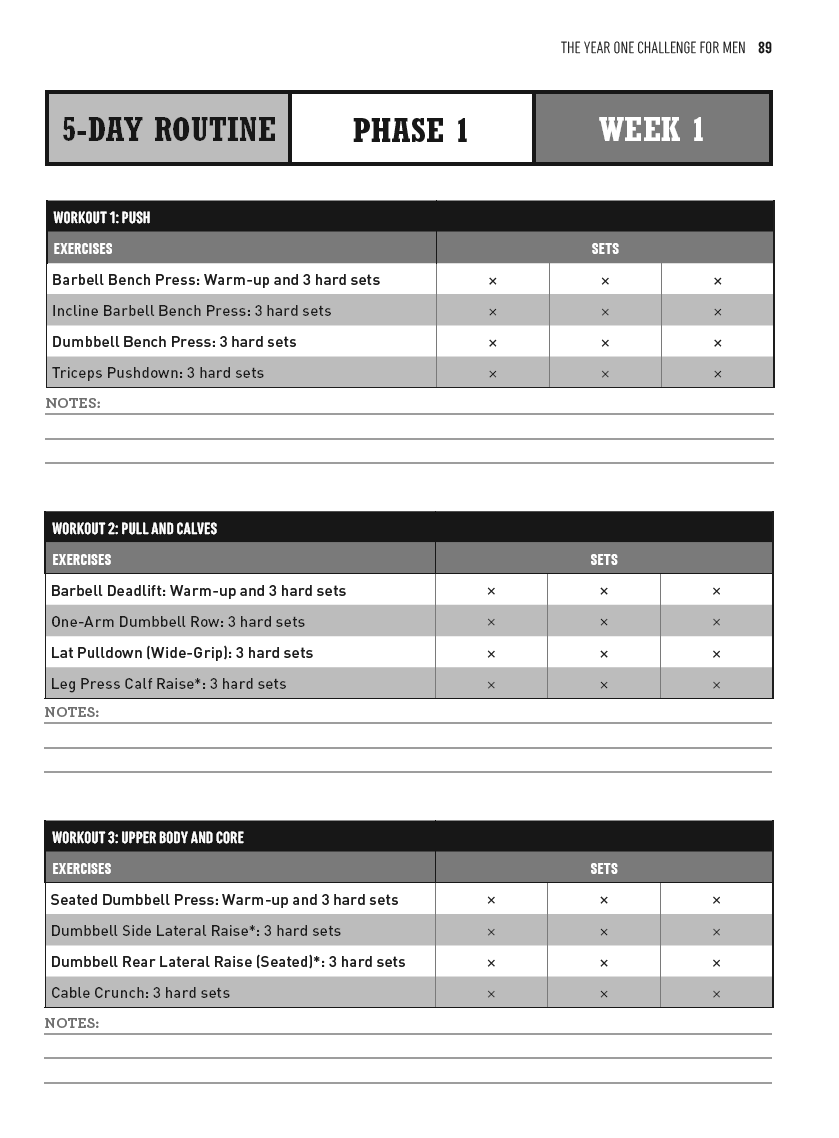 As you can see, you just start with the first exercise at the top of the list, write down your weight and reps for each set, move on to the next exercise, and so on.
This also makes it easy to review your performance, whether a couple weeks or months ago, to ensure you're making progress. 
And last but not least, my journals are available as eBooks and hardcopies.
If you like to use an app to track your workouts, the eBook is for you.
This way, you can have everything instantly accessible in your phone via Kindle, iBooks, Google Play, etc.
⇒ Click here for the men's eBook
⇒ Click here for the women's eBook
Enjoy!
P.S. My journals have all phases of all Bigger Leaner Stronger and Thinner Leaner Stronger routines.
That means they give you everything you need to do an entire year of 5-, 4-, or 3-day-per-week training (and to mix and match as needed).
The bottom line is if you're following or about to start BLS or TLS, these journals will help you get the most out of the programs.
Here are those links again:
⇒ Click here to get the men's journal