Minimalist shoes are on the rise.
Before you buy a pair, though, it helps to do your homework.
Not all minimalist shoes are created equal—each type has distinct features designed to suit specific activities.
That's why we've created this guide—to help you find the best minimalist shoes for your unique goals and preferences.
(Affiliate Disclosure: All products we review reflect the research and opinion of our editors. We sometimes receive the products we review for free, and when you make a purchase using the links in this article, we may earn an affiliate commission at no extra cost to you.) 
The Best Minimalist Shoes
Find the Perfect Supplements for You in Just 60 Seconds
You don't need supplements to build muscle, lose fat, and get healthy. But the right ones can help. Take this quiz to learn which ones are best for you.
Take the Quiz
The Best Minimalist Shoe Overall: Xero Speed Force ($130)


The Xero Speed Force are our absolute favorite barefoot shoes overall. While the Speed Force is marketed as a lightweight racing shoe, its minimalist style and mix of comfort, protection makes it ideal for darn-near everything.
Use
One of the reasons we like the Speed Force so much is because it's nearly perfect for just about everything. Here at Legion, we've used them for heavy deadlifts and squats, trail runs, long rucks and hikes, walking around cities, and as everyday sneakers. Heck, you can even use them as aqua shoes at the beach.
Design
Two standout features of the Speed Force are its minimalist appearance and snug sock-like fit. This close-fitting design provides a secure and comforting wrap around your foot, enabling you to focus on whatever you're doing rather than the shoe.
One thing we love about this shoe is that it has zero bells and whistles: just a thin, 4.5 mm sole, a breathable mesh upper, a flexible 2 mm insole, and a thin band of webbing that secures your heel in the shoe. 
Like most of Xero minimalist shoes, it has a "zero-drop" heel (the sole is the same thickness from toes to heel), and you can remove the insole if you want an even more barefoot feel.
The Speed Force may look and feel a little flimsy, but it's actually one of the most durable minimalist shoes we've tested. After over a year of near-daily use, none of us have found any signs of tearing, abrasion, or the sole pulling away from the upper (one of the most common problems with poorly made minimalist shoes). One reason for this is there simply aren't that many parts of the shoe to break—another benefit of its minimalist, no-fuss design.
Weight
Despite being astonishingly light—a men's size 9 weighs merely 6.6 ounces (187 grams)—these shoes don't compromise in the grip department. The soles are made of a rubber compound and have a simple tread pattern that provides sufficient traction on wet or rocky ground, but is still thin enough to provide a close-to-ground barefoot feel when in the gym.
Fit
Most people find the Speed Force runs about a half-size small, so you may want to size up half a size to get a proper fit. 
Conclusion
The Xero Speed Force provides a near-barefoot experience without compromising comfort, grip, or versatility. If you're looking for a lightweight, durable, minimalist shoe for nearly any use or occasion, get the Speed Force.
Best Minimalist Training Shoes: Xero 360 ($120)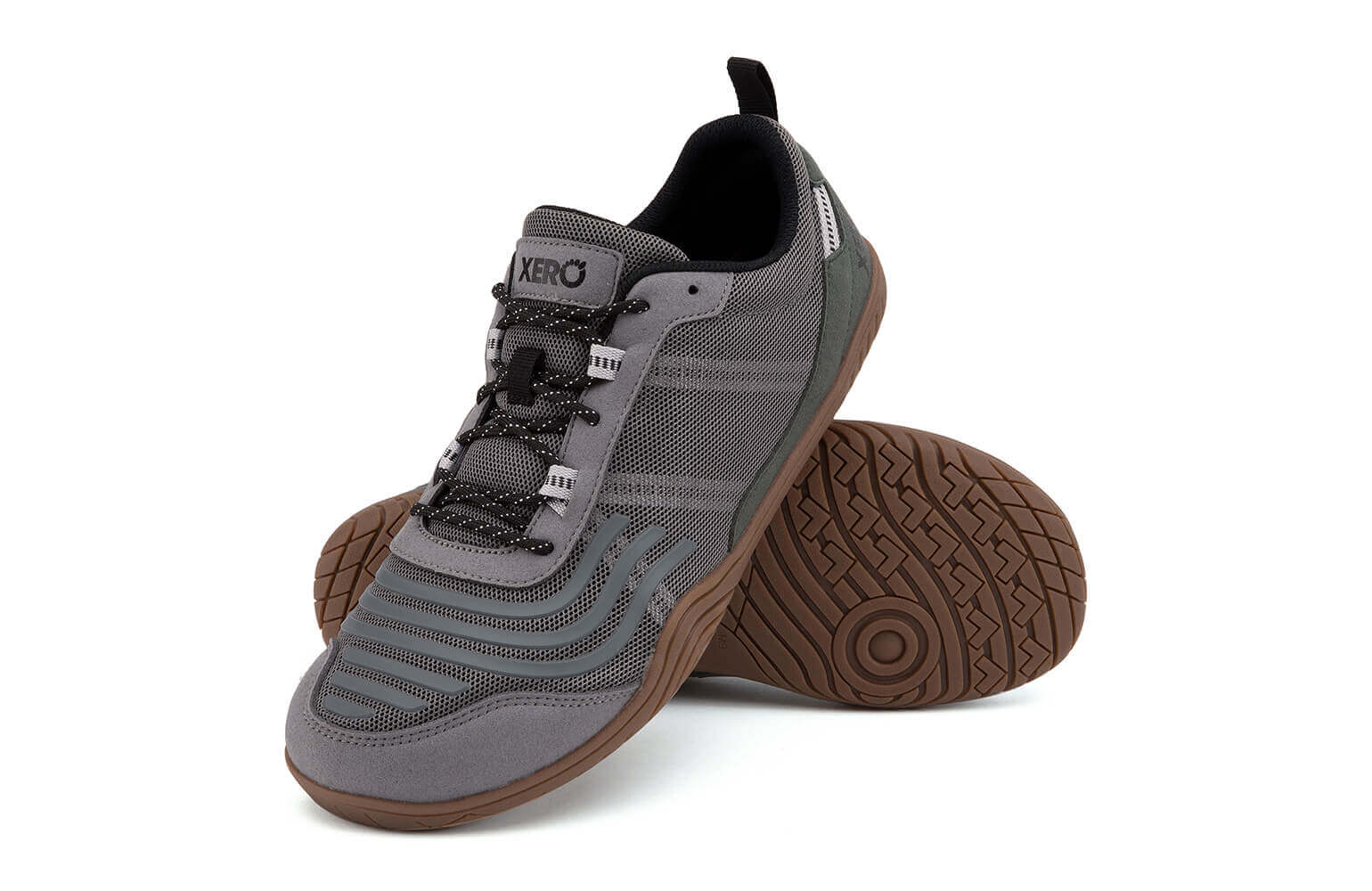 The Xero 360 is an excellent option for gym-goers who favor less restrictive footwear. It's robust without compromising comfort, making it a versatile choice for many types of exercise.
Use
The 360 is a cross-training shoe suitable for most types of exercise, including circuit training, hiking, and court sports.
It's also great for weightlifting, especially lower-body exercises like squats, deadlifts, and lunges, due to the thin sole that provides excellent ground feel and stability.
Design
The Xero 360 is designed with athletes in mind.
Its breathable mesh upper keeps your feet cool, and special instep and midfoot straps help the shoe fit securely. The shoe's sole has a flat multi-directional tread for better grip on smooth surfaces.
For added control and durability during activities like rope climbing, there are unique rubber inserts in the toe area, too (a detail many CrossFitters will appreciate). 
The area over the toes is also reinforced with suede leather, which can stand up to abrasion from rope climbing and other gym antics, as well as "toe dragging," which is common in racket sports like tennis.
Weight
A men's size 9 weighs just 9 ounces (~255 grams), which is surprisingly light given the 360's robust design, and ensures you can perform exercises such as lunges and step-ups without feeling encumbered by your footwear.
Fit
The 360 fits true to size, catering to a wide range of foot shapes with a spacious toe box that encourages natural toe splay.
Conclusion
The Xero 360 stands out in the minimalist training shoe market.
Its versatile use, thoughtful design, comfortable fit, and lightness make it an appealing choice for anyone who wants durable and lightweight training footwear.
Best Minimalist Hiking Shoes: Vivobarefoot Magna Forest ESC ($230)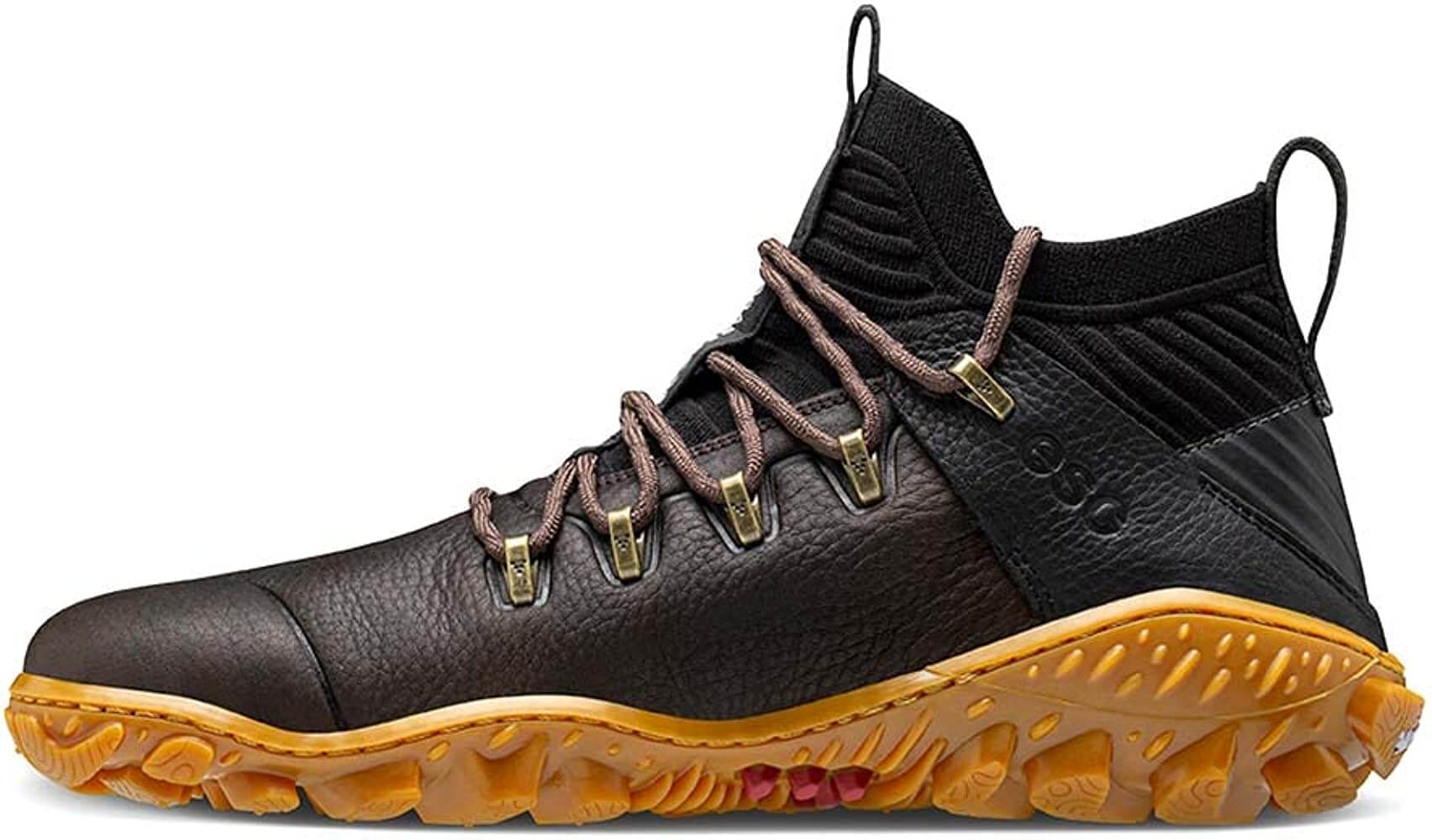 If you're seeking a sturdy minimalist walking shoe, the Vivobarefoot Magna Forest ESC could be a good match. Crafted to withstand wet and rugged conditions, it's as hard-wearing as a minimalist boot can be without compromising flexibility.
Use
If you love hiking, the Vivobarefoot Magna Forest ESC is likely a good fit for you.
These minimalist walking shoes are ideal for walking in rough conditions, including soft, wet, and muddy terrain, snow, or up hills or mountains. 
Design
Vivobarefoot collaborated with Michelin to engineer the Magna Forest ESC's rubber sole. 
The 2.5mm sole ensures you feel grounded, while the 7mm "lugs" (the raised parts of the sole, designed to provide grip) increase traction—the toe lugs act as claws for climbing, and the heel lugs provide critical break during descents. While the sole is heavier than some other minimalist outdoor footwear, it also provides exceptional traction in muddy conditions, which is worth the weight penalty. 
The Bloom Performance Insole, crafted from sustainable algae biomass foam, is a bonus if you're eco-conscious.
One drawback is that they can feel warm in more clement climates, though they're likely still more breathable than most leather boots.
Weight
The Magna Forest ESC shoes may feel heavier than most minimalist walking shoes you've tried (~1.2 pounds). But given their sturdy construction and grippy soles, the weight is understandable and contributes to the overall durability of the shoes.
Fit
The Magna Forest ESC is a wide-fitting minimalist walking shoe.
In theory, this allows your feet to spread as you move.
Conclusion
If you're after a rugged, highly water-resistant minimalist walking shoe that offers great ground feel and prioritizes performance, comfort, and sustainability, the Vivobarefoot Magna Forest ESC shoes are a good choice.
That said, they're not cheap, so you'll need to weigh their price ($230) against their obvious benefits.
Best Minimalist Running Shoes: Xero HFS ($130)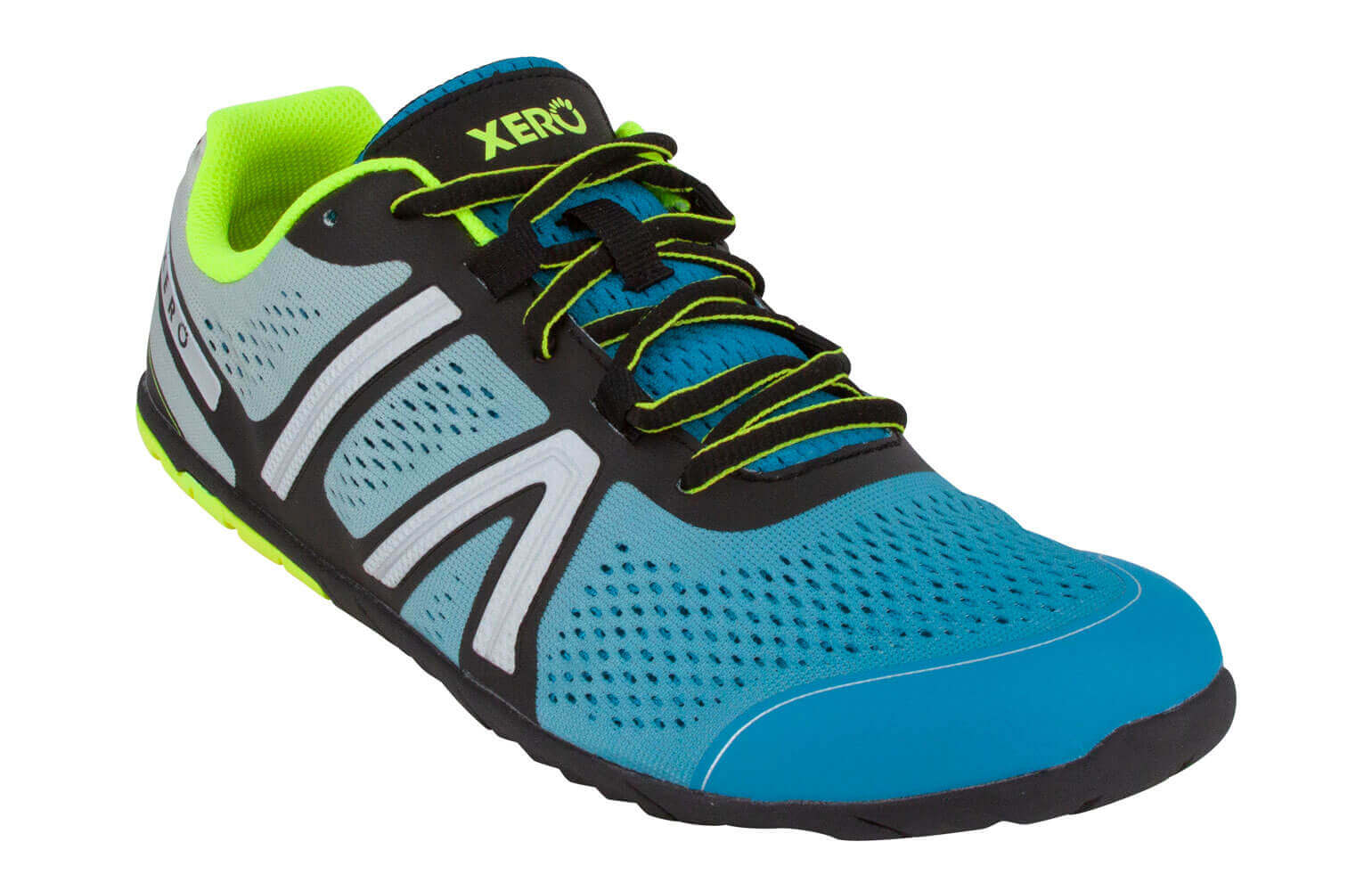 The Xero HFS minimalist shoe strikes a sweet spot between durability and weight, promising a barefoot experience that combines comfort and practicality that works perfectly for running.
Use
The HFS is a versatile shoe that you can use for various physical activities, including hiking and gym workouts.
Its main selling point, however, is that it's an excellent minimalist running shoe because it's lightweight enough to give you a barefoot feel but rugged enough to protect your feet when you're on the road. 
Design
The HFS boasts a tire tread-inspired, zero-drop sole with a low stack height of 5.5 mm. If you're eager for an even more grounded feel, you can remove the 2 mm insole. The shoe's design also incorporates a wide toe box, offering ample room to spread your toes.
The upper construction combines breathable mesh and synthetic leather around the toe and heel, contributing to their durability and comfort.
Weight
At about 7.9 ounces (~225 grams) for a men's size 9, the HFS is heavier than some other minimalist shoes. However, this marginal increase in weight doesn't compromise the shoe's comfort and usability—they're still much lighter than regular running shoes.
You can also reduce the shoe's weight by removing the insole.
Fit
The HFS offers a natural fit with a spacious toe box that allows your toes to spread. 
For sizing, Xero Shoes recommend going half a size up for a proper fit. Even though my usual size worked for me, it's probably best to follow the company's advice and size up by half.
Conclusion
The Xero HFS Minimalist shoe offers an excellent option for those looking to balance barefoot feel, functionality, and design. Its flexibility, spacious fit, breathability, and optional insole make it a standout choice in the minimalist running shoe market.
Despite being slightly heavier than some other minimalist shoes, it remains a solid choice for anyone interested in barefoot running (especially those new to it) because it protects your foot without compromising the sensory feedback you get from the road.
With a price point of $109.99 and a 5,000-mile warranty on the sole, the HFS is a good choice for anyone looking for minimalist, versatile, and durable running footwear.
Best Minimalist Shoes for Men: Bearfoot Bruin ($239)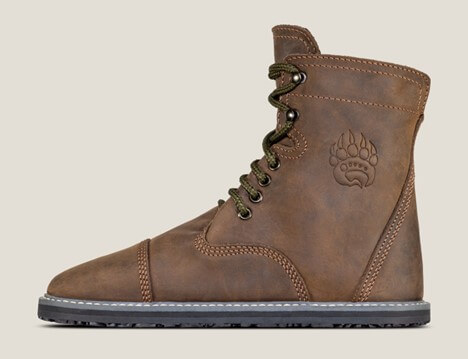 The Bruin boot by Bearfoot reimagines the classic work boot, blending barefoot biomechanics with real-world practicality and timeless aesthetics.
Use
The Bearfoot Bruin is a minimalist take on the work boot. It's rugged, protective (though lacking a steel or composite toe), can handle just about any weather condition, and looks great with a pair of worn work jeans or chinos.
Design
The Bruins boot has a full-grain leather upper and a flexible shaft that allows your ankle to move freely—a valuable feature for labor-intensive tasks.
The gusseted tongue (which is adjustable for "high-volume" feet) keeps unwanted elements at bay and adds a layer of comfort. It also folds down for a more laid-back, casual look. 
What's more, these boots are resoleable, which is a nice touch from a longevity standpoint.
Weight
The Bearfoot Bruins weigh 1 pound 10 ounces (~755 grams). This makes the Bruins heavier than your typical minimalist shoes, primarily due to their thick, heavy-duty sole and all-leather uppers. 
While it might initially feel unfamiliar, this feature serves a purpose—these boots are designed for work. Their weight lends stability and strength, enabling them to protect your feet against sharp, potentially dangerous objects you may encounter at a job site. 
While they may not be as light as a minimalist running shoe such as the Xero Speed Force, they're much lighter than traditional work boots, which typically weigh anywhere from 2-to-3 pounds (or 4+ pounds for steel-toed boots).
Fit
The Bruins fit true to size. If you plan on wearing them with thick socks, however, you may benefit from sizing up a half size.
Depending on the shape of your foot, it may take a few days or weeks for the Bruins to break in (this is the case with all leather footwear). Once they mold to your feet, though, they're as comfortable as a workwear boot can be.
Conclusion
The Bruin boot by Bearfoot is a robust, fashionable, and reliable addition to any discerning man's minimalist footwear collection.
It's important to note, though, that these boots carry some weight and may require a break-in period. But this shouldn't be seen as too much of a drawback. Rather, these characteristics further underscore their durability and longevity. 
Best Minimalist Shoes for Women: Groundies Universe (From $129)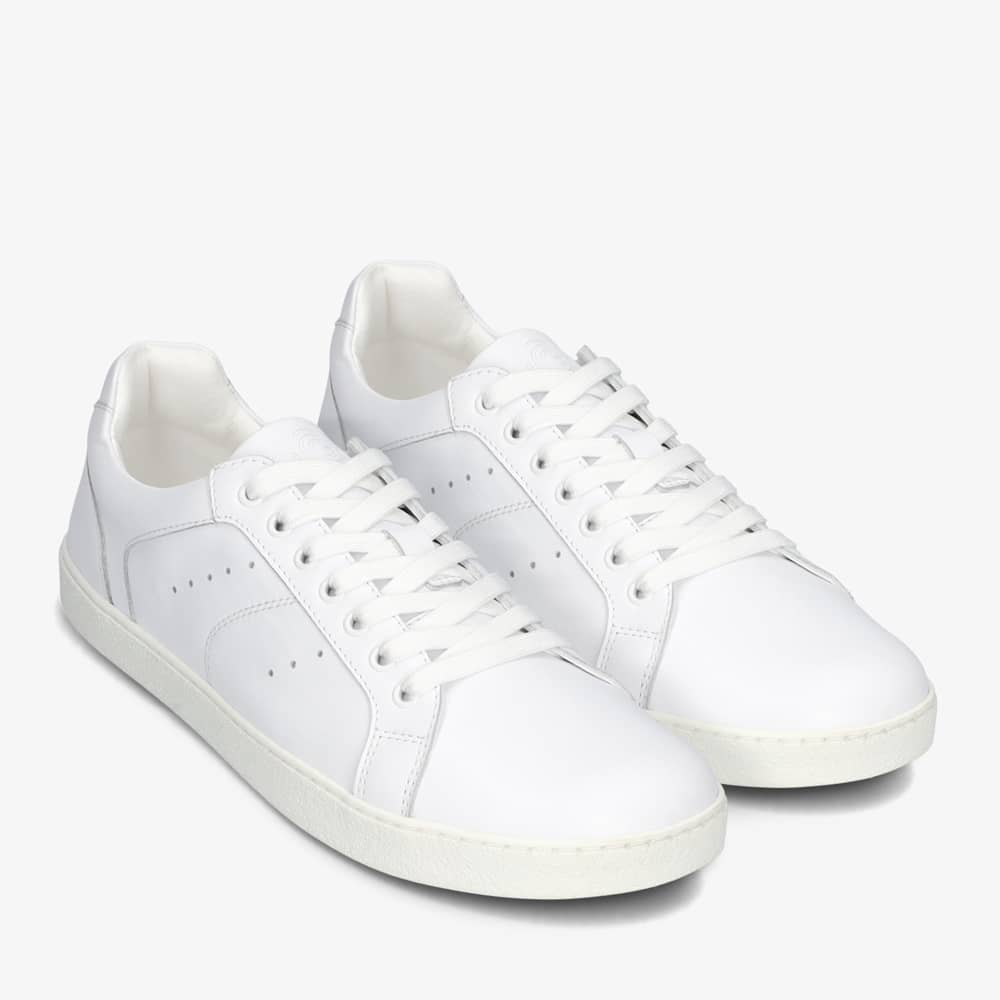 If you're searching for a shoe that's as stylish as it is functional and brings a unique blend of the classic and modern, Groundies Universe minimalist shoes might just be perfect for you. 
Use
The standout feature of the Groundies Universe is their versatility: whether you're dressing up, down, or something in between, Groundies Universe shoes have you covered.
Design
Echoing classic 80s Adidas and Reebok designs, the all-white leather Universe model reimagines these iconic shoes for the modern age.
The signature TrueSense® GS1 sole, composed of a 3 mm base and 3.9 mm tread, offers the flexibility and adaptability associated with minimalist barefoot shoes. Importantly, these shoes also have a wide toe box design, providing ample room for toe movement without sacrificing style.
Weight
The Universe model is light enough for everyday, prolonged use without compromising on the sturdy build expected of a quality sneaker.
Fit
The Universe shoe offers an accommodating fit, catering to various foot shapes. 
When purchasing, bear in mind that the Universe runs slightly larger than other Groundies shoes, though the manufacturer recommends buying your regular size. 
For those with narrow feet, the design of the sole's "walls" shouldn't pose a problem. However, those with wider feet should consider this design aspect for fit.
Conclusion
Groundies Universe minimalist shoes demonstrate that you don't need to compromise on style to enjoy the benefits of a barefoot shoe design.
If you're seeking a fashionable and practical women's minimalist shoe, these sneakers are as good as it gets.
Best Minimalist Shoes for Everyday: Vivobarefoot Geo Court III ($165)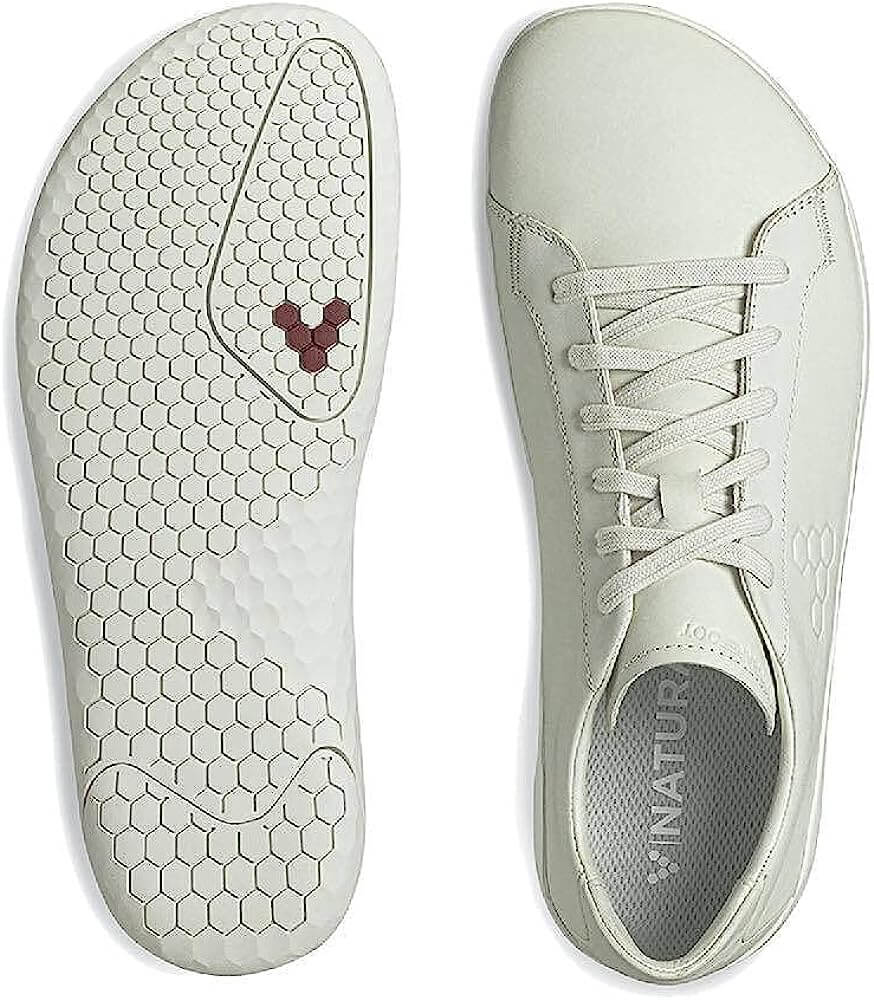 The Vivobarefoot Geo Court III is a versatile shoe that can handle the demands of your daily life. This latest model in the Geo Court series combines practicality, comfort, and style to make it suitable for almost any occasion. 
Use
The Vivobarefoot Geo Court III is a comfortable shoe for daily use that exudes a sleek, professional look. This shoe fits comfortably into any setting, whether at work, out with friends, or walking around town.
Design
The Geo Court III sports a simple and elegant design with a natural leather upper, a zero-drop rubber outsole, and a 3 mm removable cork insole. 
It also has added padding in the heel to enhance comfort and prevent heel slippage, and the sole offers excellent ground feedback and traction.
Perhaps the highlight is that it maintains a sleek appearance without compromising toe space, a notable plus for barefoot minimalist shoes. 
Weight
Weighing 10.2 ounces (~290 grams) for a size 10 model, the Geo Court III avoids adding unnecessary burden to your feet, making it ideal for prolonged daily use.
Fit
Staying true to your size is generally the best route with the Geo Court III. 
This shoe doesn't run long, making it a truer fit than other models in the Vivobarefoot range.
If you're in between sizes, consider sizing up unless you have narrow feet, in which case you may want to size down.
Conclusion
The Vivobarefoot Geo Court III stands out as an excellent everyday minimalist shoe.
While its $170 price tag might give pause to some, the shoe's versatility and adaptability quickly justify the investment. 
What About Minimalist Shoes From Big Brands?
Big brands such as Adidas, New Balance, and Nike face a challenge with the rise of barefoot and minimalist shoes.
Their long-held marketing narratives have focused on cushioned soles and "advanced" or proprietary shoe technology. They've told us that thicker soles absorb more shock, that added arch support realigns our feet, and that their innovations are the key to better performance and fewer injuries.
But minimalist shoes throw all those claims into disarray. They promote the opposite: thin, zero-drop soles and the notion that "less is more."
How, then, can big brands enter the minimalist shoe market without undermining all of their own marketing over the past 50+ years? 
It's a tricky tightrope to walk and one they've tried to navigate with varying degrees of success. Nike minimalist shoes and Adidas minimalist shoes, for example, often boast a "barefoot feel" and a "minimalist style."
However, these models still incorporate substantial padding and arch support, a far cry from true minimalist footwear.
Similarly, New Balance minimalist shoes frequently present slimmed-down versions of their traditional offerings but don't offer an authentic barefoot-like experience.
Some people defend these quasi-barefoot shoes as good "transition" footwear that straddle a middle ground, catering to consumers who want to dip their toes in the minimalist pool without fully committing. 
But you don't necessarily need a transition period to switch to minimalist shoes. It's entirely feasible—and often more beneficial—to dive right in and just start wearing minimalist shoes.
Thus, I recommend you steer clear of minimalist shoes from big brands like Nike, Adidas, New Balance, and so on. Most of the "minimalist" or "barefoot" shoes they sell, really aren't minimalist or barefoot at all, and you're better off sticking to one of the brands recommended in this article.