A weightlifting belt is an indispensable accessory for serious weightlifters.
They allow you to lift heavier weights more safely, boosting muscle and strength gain. 
Before purchasing a weightlifting belt, you need to choose one that fits your needs.
This expert guide will help you make an informed choice. In it, you'll discover the best weightlifting belts on the market, including the best lever weightlifting belt, powerlifting belt, Olympic weightlifting belt, and more.
(Affiliate Disclosure: All products we review reflect the research and opinion of our editors. We sometimes receive the products we review for free, and when you make a purchase using the links in this article, we may earn an affiliate commission at no extra cost to you.)
The Best Weightlifting Belts
Find the Perfect Supplements for You in Just 60 Seconds
You don't need supplements to build muscle, lose fat, and get healthy. But the right ones can help. Take this quiz to learn which ones are best for you.
Take the Quiz
How We Chose The Best Weightlifting Belts
Given the vast number of lifting belts on the market and the often subtle differences between each, deciding which are best is challenging. 
To provide reliable recommendations, we tested dozens of belts, paying attention to the following details:
Comfort:

Wearing a weightlifting belt

is never "comfortable," per se, but it shouldn't be so unpleasant that it disrupts your training. Our list only includes belts that are comfortable enough to allow you to train without distraction.

Stability:

A belt enhances your ability to

increase intra-abdominal pressure

by giving you something to

brace your

core muscles

against. The additional stability helps you lift more weight and protects your spine during

heavy lifts

. Only belts that provided exceptional stability made our list.

Mobility:

While stability is a priority, so is the freedom to move. The belts we selected offered top-tier support without compromising mobility.

Build quality:

The materials and craftsmanship used to make a belt are telltale signs of its quality. We focused on

leather belts

because they typically last the longest. We also paid close attention to the quality of the stitching and fastening mechanism to ensure we only chose belts that would last.
Best Weightlifting Belt Overall: Pioneer Cut 10 mm Powerlifting Belt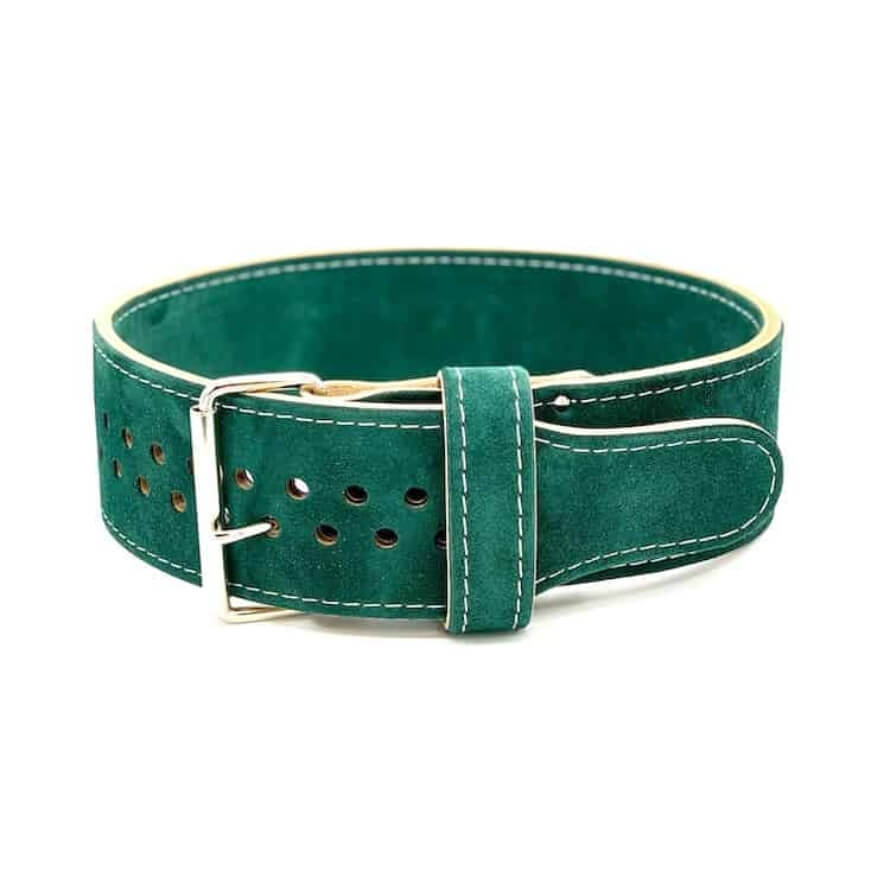 This Pioneer weightlifting belt is our top pick because it's the most comfortable, versatile, and well-built belt we tested. 
Unlike most belts, which adjust in one-inch increments, the Pioneer Cut weightlifting belt has a unique prong buckle that allows you to adjust the belt in half-inch increments—a detail that makes a big difference in your training.
For example, many weightlifters prefer a snugger fit for squats than deadlifts. With regular belts, making small enough adjustments to accommodate this preference isn't possible. But with the Pioneer belt, it's simple.
Likewise, day-to-day changes in waist circumference can mean a belt can fit well one day but be too big or small the next. Issues like these, however, aren't a problem with the Pioneer belt—you always feel comfortable and supported. 
Proudly made in the US, the belt also showcases exceptional build quality. It's crafted from sturdy sole bend leather, which is renowned for its durability, and then covered with high-quality suede to make it more comfortable against your body and prevent it from slipping when you're sweaty.
The finishing touches are top-notch, too. The edges are smoothly sanded down, which gives the belt a sleek look and stops it from catching your clothing or scratching your skin, and the end tip is tapered, which makes fastening it easier. 
Another plus for some is the extensive customization options offered by the manufacturer, General Leathercraft Mfg.
From the suede's hue (interior and exterior) and the stitching, buckle, and edge color to the leather's treatment and the inclusion of embroidered designs, the choices are vast. Bear in mind that the bespoke details cost extra, so if you want to keep expenses in check, it's best to limit them. 
The only minor downside is the belt's breaking in period. 
I've trained in it once or twice weekly for a month, and it's still pretty stiff, so I'd estimate that it'll take several months of consistent use before it conforms to your body's contours. Considering its unmatched quality, however, this is a minor inconvenience most will happily overlook.
Specs
Material: Leather
Fastening: Single-prong buckle
Sizes: 22-to-52 inches
Thickness: 10 millimeters
Width: 4 inches
Price: From $110
Pros
Highly adjustable

Customizable

Top-tier materials and build quality
Cons
Lengthy breaking in period
Find the Best Diet for You in Just 60 Seconds
How many calories should you eat? What about "macros?" What foods should you eat? Take our 60-second quiz to get science-based answers to these questions and more.
Take the Quiz
Best Powerlifting Belt: SBD Lever Belt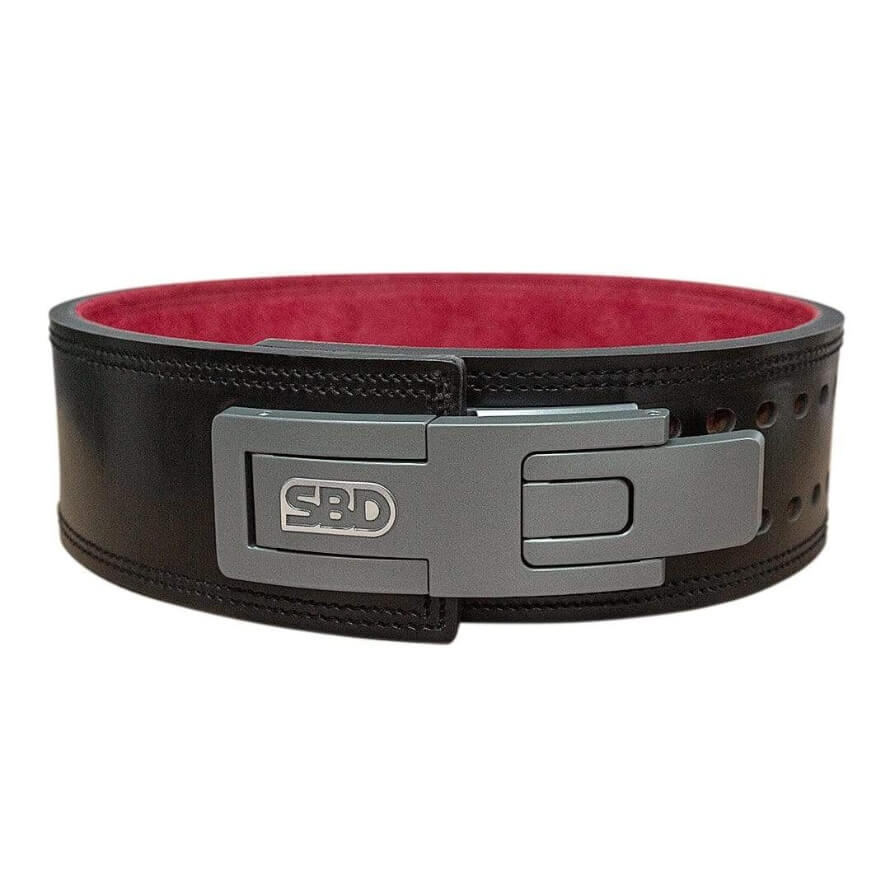 If you want a weightlifting belt for squats and deadlifts, the SBD weightlifting belt with lever is near perfect. Meeting the maximum size standards set by powerlifting federations, including IPF, USAPL, and USPA, it ensures top-tier support within competition rules.
The SBD weightlifting belt's standout feature is the patented "gliding" lever buckle. While traditional lever belts require you to make cumbersome adjustments to change the size, the SBD design combines the quick release of a lever belt with the adjustability of a prong belt.
Another plus is the SBD weightlifting belt's materials and construction. The buckle is made from a lightweight but hardy aluminum alloy, and the strap comprises three layers of treated leather sewn together using double stitching. Together, these details make this belt highly durable.
What's more, the "black oiled" finish on the outside is sleek and protects against wear, while the red suede on the interior ensures the belt stays in place during workouts.  
One minor flaw with the suede, however, is the color bleeds onto clothing (at least initially). Ideally, SBD would change this detail in future iterations since it's a simple way to improve the experience of using the SBD belt. 
Another downside to the SBD belt is it requires a ton of breaking in. I haven't used it for long, but it's still as rigid as it was when I unpackaged it, a fact that some will find off-putting.
The biggest issue with this SBD weightlifting belt is the price. At $280, it's comfortably the most expensive belt on this list (and possibly the market). Thus, I only recommend the SBD belt to experienced competitive powerlifters who don't mind paying extra to ensure maximum support. 
Specs
Material: Leather
Fastening: Lever
Sizes: 22.5-to-59 inches
Thickness: 13 millimeters
Width: 10 centimeters
Price: $280
Pros
Secure and adjustable buckle 

Top-quality materials and construction

Durable, wipe-clean leather
Cons
Expensive

Color bleeds onto clothing 

Takes a long time to break in
Best Lever Weightlifting Belt: Inzer Forever Lever Belt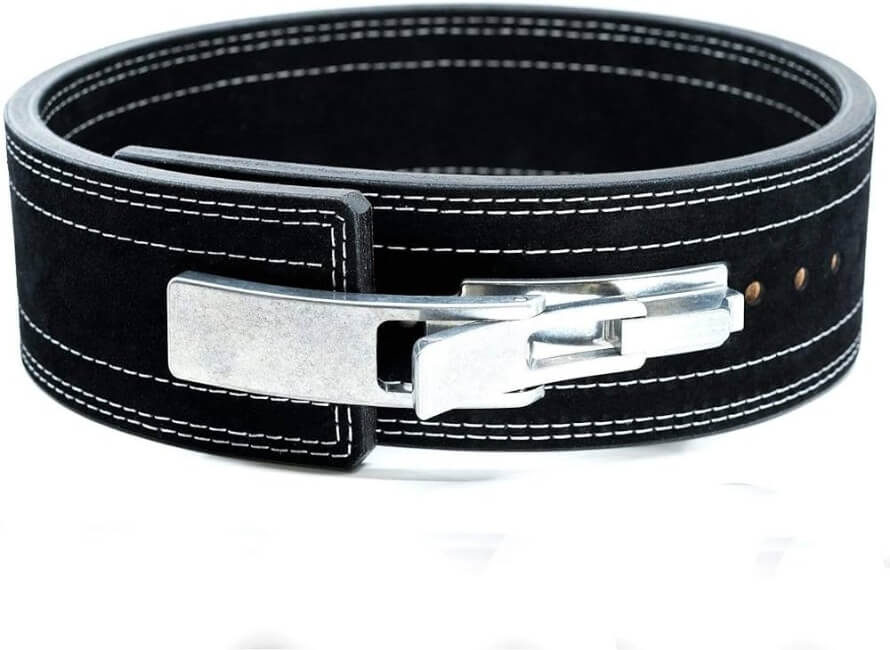 If you're looking for a top-end lever belt for weightlifting, the Inzer Forever lever weightlifting belt is our recommendation.
Unlike many belts, which are constructed from multiple glued layers of leather and can weaken with prolonged use, Inzer crafts its belt from a single leather piece, ensuring the belt doesn't come apart or warp and fit less snugly over time.
The belt is finished with suede, so it feels softer against your body and doesn't shift out of place during heavy lifts. 
Furthermore, four rows of lock-stitched, corrosion-resistant, high-density nylon secure the suede to the leather, ensuring these layers don't come apart. The edges are polished so it won't snag your clothing or scrape your skin, too. 
What's more, Inzer offers a range of colors, so you'll be able to find a design you like, regardless of your preference.
The main advantage of the Inzer weightlifting belt is its lever fastening, which is exceptionally strong and allows you to quickly release and fasten the belt. In fact, Inzer are so confident in their buckle that they provide a lifetime warranty on the lever.
Compared to prong-buckle belts, the trade-off is that you have to screw the buckle in place, which means adjusting the belt's tightness requires time, effort, and a screwdriver.
There are a couple of other potential downsides.
On the price spectrum, the Inzer Forever belt is slightly pricier than some alternatives. However, considering its high quality and durability, the investment proves its worth in the long run.
It also takes a long time to break in. While this is inconvenient, it's a testament to the hardiness of the materials used. 
All in all, the Inzer Forever belt is an awesome weightlifting belt, which is why it's our number-one pick for anyone who wants a durable lever belt for weightlifting. 
Specs
Material: Leather
Fastening: Lever
Sizes: 22-to-58 inches
Thickness: 10 millimeters
Width: 4 inches
Price: $130
Pros
Easy to fasten and remove

Solid buckle with a lifetime warranty

Made from a single piece of leather
Cons
Slightly expensive

Long break-in period
Best Weightlifting Belt for Beginners: Rogue Echo 10 mm Belt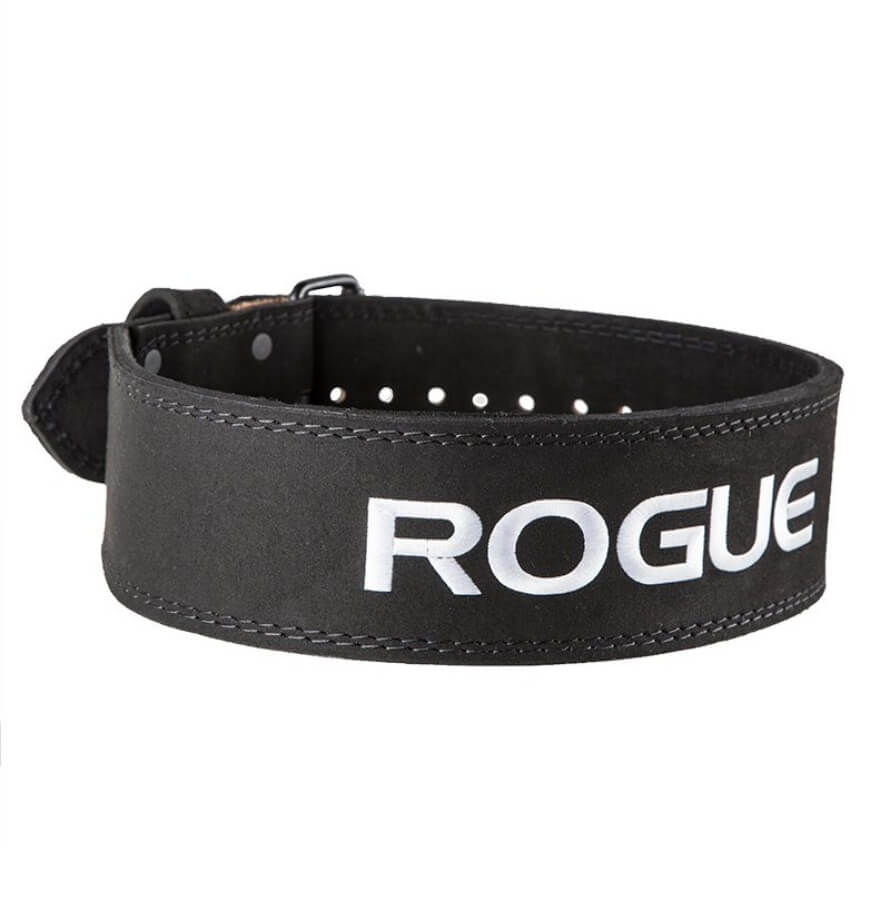 For beginners weightlifters seeking quality without a hefty price tag, the Rogue Echo belt is a smart pick.
This Rogue weightlifting belt is crafted from genuine leather and has a robust single-prong buckle to help you squat, deadlift, and press heavy weights safely and securely. It's also manufactured by Rogue, one of the fitness industry's most trusted names (though this belt isn't made in the US).
The only hitch is it requires a long break-in period.
The leather is exceptionally stiff, so much so that it can be tough to tighten initially. Additionally, its edges are a little sharp and might cause discomfort around the ribs and hips. With time and use, however, the belt should become more flexible, though expect this to take longer than belts made of higher-quality leather. 
At a price point of $55, the Rogue weightlifting belt is a value-driven choice for those starting in weightlifting. For its build and brand, it's hard to find a better deal.
Specs
Material: Leather
Fastening: Single-prong buckle
Sizes: 23-to-45 inches
Thickness: 10 millimeters
Width: 4 inches
Price: $55
Pros
Affordable

Sturdy

Solid buckle
Cons
Very stiff

Its sharp edges dig into your body

Long break-in period
Some Nutritionists Charge Hundreds of Dollars for This Diet "Hack" . . .
. . . and it's yours for free. Take our 60-second quiz and learn exactly how many calories you should eat, what your "macros" should be, what foods are best for you, and more.
Take the Quiz
Best Weightlifting Belt for Circuit Training: 2POOD 4" Weightlifting Belt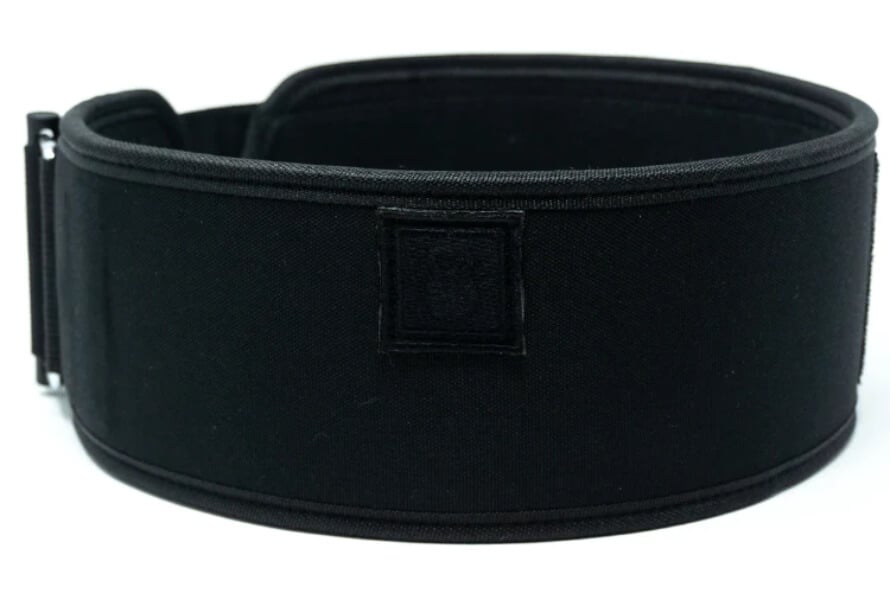 Circuit training workouts (e.g., CrossFit) often demand quick shifts between exercises. During a circuit, some exercises may require a belt, whereas others may not. Traditional leather belts can be bulky and hard to adjust on the fly, so they're typically unsuitable for these types of workouts. That's where this 2POOD weightlifting belt steps in.
This belt features a rigid foam core covered in Cordura (a rugged fabric often used in military gear), making it durable and supportive without being restrictive. Adjusting it is easy thanks to its long Velcro strap, reinforced by the 2POOD "WODClamp," a locking mechanism that helps the belt stay secure and takes stress off the Velcro, lengthening its lifespan.
Besides functionality, the belt offers style. It comes in a vast number of designs, catering to all tastes. 
While leather belts are preferred for heavy weightlifting, the 2POOD weightlifting belt is great for workouts needing fast adjustments, which is why it's our top choice for circuit training.
Specs
Material: Foam and Cordura
Fastening: Velcro
Sizes: 25.5-to-54.5 inches
Thickness: NA
Width: 4 inches
Price: $65
Pros
Easily adjustable

Plenty of designs to choose from

Lightweight 
Cons
Only suitable for circuit training

Not as supportive as a leather belt 
Best Olympic Weightlifting Belt: Eleiko Weightlifting Leather Belt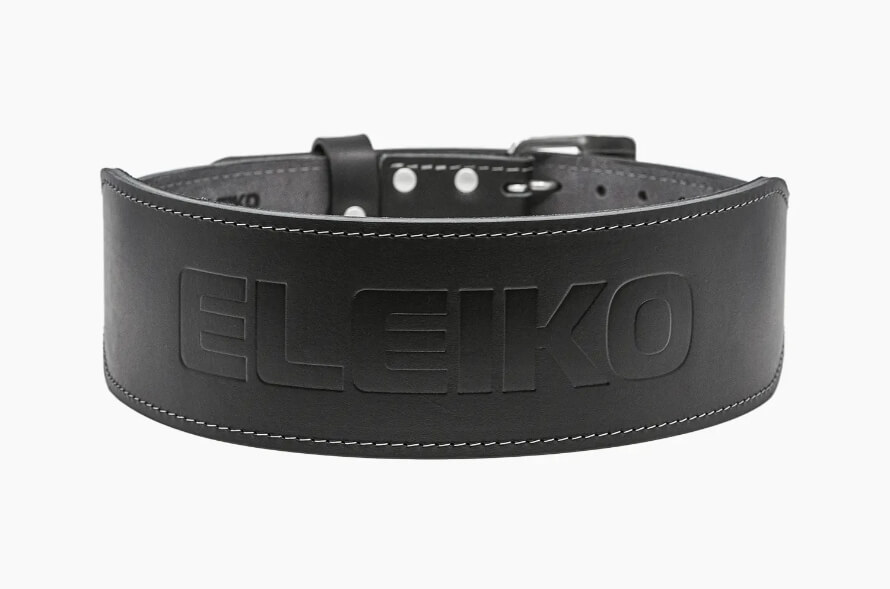 Unlike regular weightlifting belts, which are typically 4 inches wide all the way around, Olympic weightlifting belts taper towards the front to allow your upper body to move more freely during exercises like the clean and jerk and snatch.
If you don't do any "Oly" weightlifting, a regular weightlifting belt gives more support and will serve you better. However, if you regularly do the Olympic lifts, the Eleiko weightlifting belt (not to be confused with the Eleiko Powerlifting belt) is a solid choice. 
Eleiko is a Swedish brand known worldwide for making high-quality products, and their leather belt is no exception.
It's made in Sweden from vegetable-tanned leather designed to resist scratches and surface marks. The leather is also soft, so it's comfortable even when in the deep squat positions associated with the Olympic lifts. 
Additionally, it has a stainless steel double-pronged buckle that's robust and secure.
This belt's only shortcoming is its price. The Eleiko weightlifting belt has a high price tag, considering it's only suitable for a few exercises. Nevertheless, it's an excellent belt if Olympic weightlifting is your jam.
Specs
Material: Leather
Fastening: Double-pronged buckle
Sizes: 22-to-52 inches
Thickness: 8 millimeters
Width: 4 inches (at the back)
Price: $132
Pros
Premium materials

Strong buckle

Made from soft, comfortable leather.
Cons
Only suitable for Olympic weightlifting

Expensive 
Best Budget Weightlifting Belt: Harbinger 10 mm Powerlifting Belt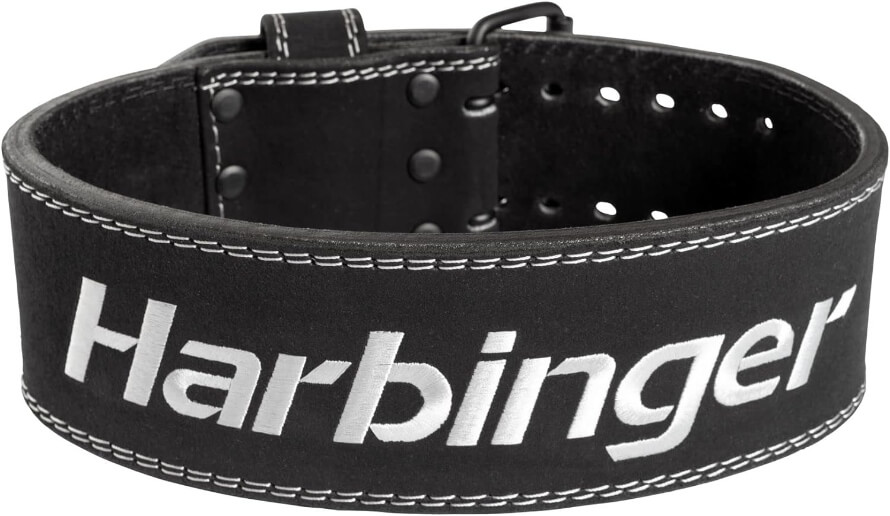 This Harbinger weightlifting belt is appealing for those not looking to splurge.
It's made from a combination of genuine and faux leather, which is likely the main reason for its lower price point.
Initially, it feels a lot like a leather belt: Stiff, durable, and supportive. However, despite not using it much, I suspect it'll lose its firmness quicker than the real-leather options on this list. That's not to say it'll break, but over time, it'll become less and less supportive. 
On the plus side, it sports a sturdy, double-pronged buckle that'll withstand high stress. That said, not everyone likes double-pronged buckles. Detractors often point out that a second prong is redundant and only makes a belt more difficult to fasten and open. 
While I understand the critique, I don't entirely agree. In my experience, it's not significantly more difficult to use and could arguably add extra stability and safety. Ultimately, the choice between a single or double-pronged buckle boils down to personal preference.
At $60, you shouldn't expect this belt to last a lifetime. But while you have it, it's a decent weightlifting belt for men and women that'll help you lift heavier weights more safely. 
Specs
Material: Leather and faux leather
Fastening: Double-pronged buckle
Sizes: Up to 52 inches
Thickness: 10 millimeters
Width: 4 inches
Price: $60
Pros
Cons
Made from cheap material

Probably won't last long
Best Weightlifting Belt for Women: Rogue 3" Ohio Belt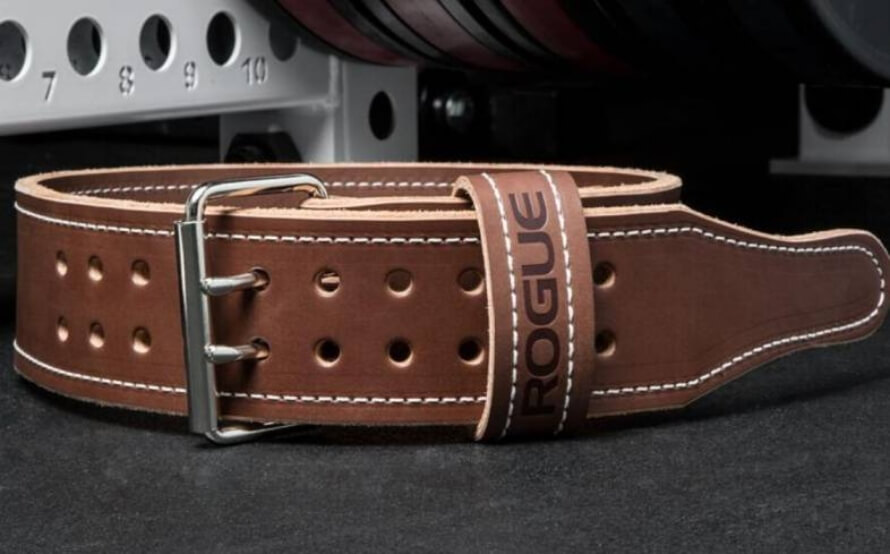 Although weightlifting belts are unisex, the belt's width is especially significant for females.
Many women, especially those around 5'4″ or shorter or those with a shorter torso, find a 3-inch belt more comfortable than the standard 4-inch. This is because a narrower belt is less likely to press against their ribs or hips.
With this in mind, the Rogue 3″ Ohio belt is an excellent women's weightlifting belt.
Crafted from vegetable-tanned leather, it's durable, water-resistant, and more pliable than other leathers, ensuring a quicker break-in period.
This Rogue weightlifting belt also has a solid double-pronged buckle with a bright zinc finish that'll keep your belt secure during heavy weightlifting. 
Moreover, it's produced by Rogue, a brand renowned for top-tier fitness equipment. Their quality does come with a slightly higher price point. Still, for those seeking a slim, durable belt, it's an investment worth making.
Specs
Material: Leather
Fastening: Double-pronged buckle
Sizes: 21-to-45 inches
Thickness: 10 millimeters
Width: 3 inches
Price: $115
Pros
Perfect for shorter women (or women with shorter torsos)

Made from high-quality materials

Manufactured by a trusted brand
Cons
Slightly pricey

Not suitable for men or taller women
Best Custom Weightlifting Belt: Best Belts Prime Cut Belt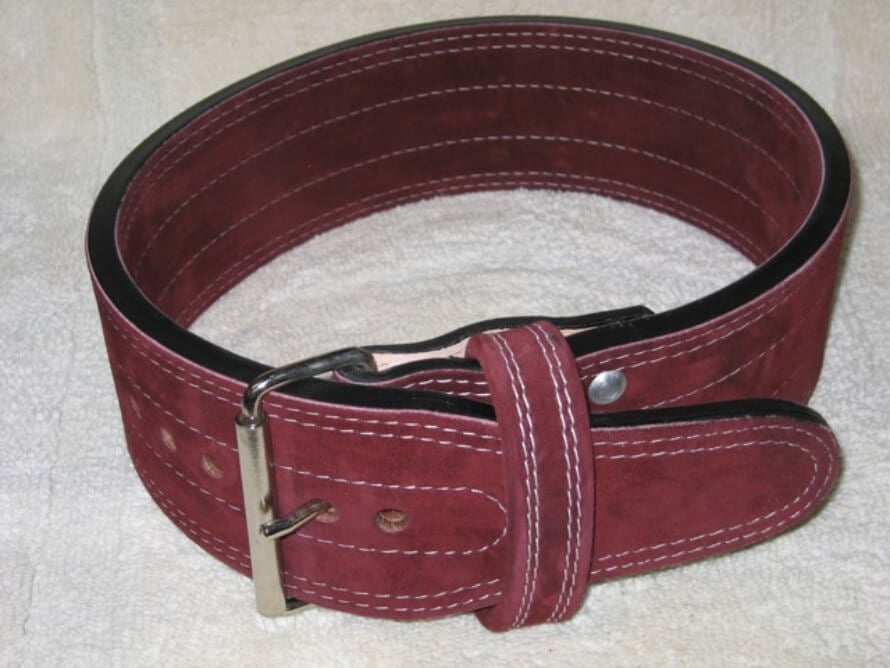 Best Belts is a small manufacturer based in North Carolina that makes exceedingly good weightlifting belts. 
Their most heavy-duty belt, the Prime Cut, is made from high-grade leather, sports a sleek and simple design, and has a sturdy buckle and rivets that make it robust enough to withstand a lifetime's worth of workouts. It's also finished with suede to ensure the belt stays in place, even when you're sweating.
Before shipping, Best Belts break in each belt they make. Don't expect a belt with this heft to arrive soft and supple, though. It's a solid piece of equipment that offers great support, but it'll take time to conform to your body and become comfortable. 
What sets Best Belts apart is their dedication to personalization. They handcraft belts to order, allowing customers to select from a spectrum of colors, sizes, and either a single or double-pronged buckle—a feature that those who value individuality will appreciate.
However, being a niche producer, Best Belts has its limits. Their reputation for quality sometimes outstrips their production pace, so be prepared for wait times when ordering.
Specs
Material: Leather
Fastening: Single- or double-pronged buckle
Sizes: Custom
Thickness: 12-to-13 millimeters
Width: 4 inches
Price: $120
Pros
Top-notch materials and build-quality

Customizable 

Excellent support
Cons
May need to wait to order