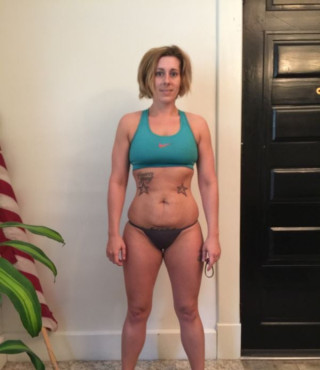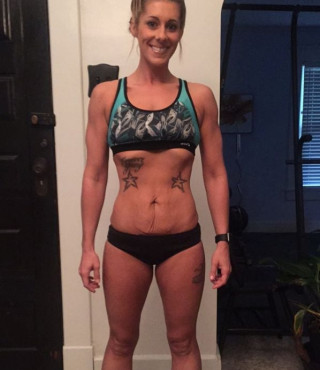 "My confidence is through the roof and girls I once aspired to look like are now contacting me, asking what in the world am I doing to look like this!"
What has happened so far on the program?
I started cutting at 146 pounds and in 4.5 months I lost 28 pounds but gained all the confidence in the world!  I am currently in the middle of my reverse diet right now, and then I plan to maintain.
My diet during my cut was high in protein, low in carbs & fat. During my reverse diet, I am adding 100-150 calories per week, mostly in carbs.
To answer the first question is hard, because so much has changed with me since beginning the program!
I have completely restructured my life physically, mentally, and nutritionally. I went through my share of struggles during my cut, but the end result has been SO worth it!
I have made serious strength gains! I could barely handle a 10 lb. dumbbell when I started but here are my stats at the end:
Bench Press: 90 pounds.
Squat: 140 pounds.
Deadlift: 155 pounds.
Military Press: 65 pounds.
What, if anything, almost kept you from buying the book or starting the program?
I was disappointed by literally every program I tried in the past. I was skeptical when I first heard about the program, but once I got into the book, I was sold.
His program is backed by science and studies, which I still look back on if I'm struggling with something. That really hit home for me! SCIENCE BITCH! (Breaking Bad reference, not actually calling anyone a bitch).
What do you like most about the program?
I love that this program teaches YOU how to do YOU. I learned how to calculate MY OWN BMR, TDEE, macros, etc… and didn't have to pay someone absurd amounts of money to do it for me.
In doing that, it made me understand things so much better! Other programs say "Eat this & lose 20 pounds" or "Do this and lose 3 dress sizes" but none of them are tailored to MY exact physical or nutritional needs.
The results have definitely been better than I expected. I was also glad to get advice from the book on supplementing! It was a game-changer when I started Legion supplements.
How does this program compare with others you've tried?
Almost every other program I've tried involved crazy amounts of cardio and almost no weightlifting, and I still couldn't figure out why I wasn't getting the look I wanted.
As far as diets go, I would just starve myself and hope to lose weight (never happened). The gym is literally my favorite place to be now and I get plenty of food (even when I was in a cut!).
How has what you've achieved with your body changed other areas of your life?
I was downright depressed before I started this program. I was never motivated to do anything, always feeling tired & sluggish.
My confidence is through the roof and girls I once aspired to look like are now contacting me, asking what in the world am I doing to look like this!
I have more energy than I did when I was 16  years old (and I'm 20 pounds. Lighter than I was then too!)
I actually got so motivated once I saw I had it in me to do this, that I started to get my finances under control too, so I paid off all my debt & started saving! Go me!
Is there anything else you'd like to add?
I would recommend this program to everyone. Big or small, young or old, and man or woman. It WILL work if executed correctly, all you have to do is want it!
This program is great because it teaches you how to manage nutrition & physical activity at every stage in the game.
I would tell all the girls out there to hold on loosely. This will not happen overnight no matter how perfectly you are doing everything, and that's all part of the ride! Have fun with it!
Lastly, while cutting I used Legion Pheonix, Pulse (LOVE THAT GRAPE GOOD GOOD), and Triton.
If you enjoyed this article, get weekly updates. It's
free

.
Sending...
Great! You're subscribed.
100% Privacy. We don't rent or share our email lists.