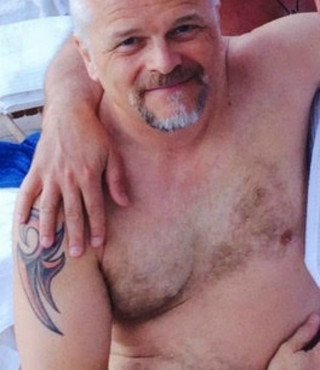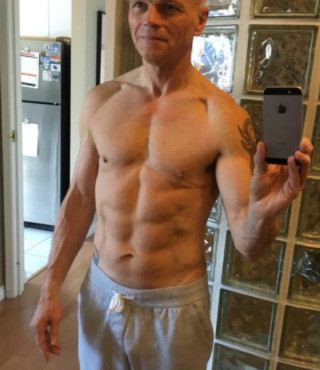 "I leaned out in a way I never imagined possible!"
How many months' progress do your pictures represent? What were your stats for each picture?
18 months progress.
Weight: 185 lbs to 150 lbs.
Body fat: 30%+ to 10.2%.
What has happened so far on the program?
My journey began in January 2016. In dealing with personal issues, I decided I needed to get a grip on my physical health and I started running. My sister introduced me to MyFitnessPal in February and I started tracking my macros.
I cut for the first 6 months using steady-state cardio at 1,750 calories/day. By June 2016 I had dropped to 153 lbs. That month I started working with a trainer lifting three times a week and he had me go up to 2,300 calories per day.
By November 2016 I was 159 lbs and 23% body fat.
By February 2017 I was 156 lbs and 18.3% body fat. It was late that month that I discovered Bigger Leaner Stronger through a Google search (looking for at-home ab routines).
It took me a while to absorb the nutrition concepts, I listened to the audiobook twice while commuting back and forth from work each day. By April, at 154 lbs and 15.4% body fat, I was convinced to follow the plan.
I went back to a cut at 1,700 calories, started HIIT running, and laid out for my trainer the core exercises I wanted to do. The changes over the past two months have been dramatic. I am down to 150 lbs and 10.2% body fat.
I have leaned out in a way I never imagined possible. I am in size 28 pants — a size I have not worn since junior high! My abs have popped out, and my biceps and triceps have noticeable definition.
I have deadlifted over 200 lbs, but have cut back a bit to correct and perfect my form. I am doing weighted tricep dips with 25 lbs (4×4) whereas in early April I couldn't complete 4×6 at body weight.
I am bench pressing 120 lbs (just started in April). I also just started the standing military press in April.
What workout split from the book did you use?
I do 3 days a week. Once I am done teaching my night class I will be going up to 4 days a week.
What, if anything, almost kept you from buying the book or starting the program?
The second I saw the book, I bought it. The description on iBooks caught my attention for some reason.
I have been running off and on for a decade and more. I tried a personal trainer once before, as well. Nothing ever stuck.
What do you like most about the program?
What I like most about the program are the results. All the information I heard in the book made sense, but it has been only the last two months when I actually started to implement that information that I have really started to see rapid results.
It has been remarkable–like my body has been transformed in front of my eyes! The chapter on willpower, particularly, struck me and I regularly think of those principles when I am "tempted" to fall off the wagon.
The nutrition information is so logical and easy to work with. That information has been the most helpful so far. Next, I am going to work at training my trainer.
He already has me doing a lot of the same things the program suggests. I am going to get him to help me implement more of that program into my routine.
How does this program compare with others you've tried?
There is no comparison. I have never had rapid results like this at any point before.
How has what you've achieved with your body changed other areas of your life?
I have never felt this good in my entire life, and I still have a lot of personal crap going on. But with my body healthy and strong, my mind is also healthy and strong. I have never been happier or felt more confident and prepared to face whatever it is the day brings, every day.
Who would you recommend this program to and why?
I have already recommended it to my sister. She has already downloaded it and is listening to Thinner Leaner Stronger. I have recommended it to my friends via Facebook and to my co-workers.
I will continue to do so to anyone who is interested and will listen. Why? Because I feel too good not to share that with others.
Is there anything else you'd like to add?
Don't let those old, tired excuses hold you back any longer from having the body you always dreamed of. Changing your body will change your life in good ways you haven't even imagined.
Did you use any Legion supplements?
Yes; I am just getting going with them, but so far I love them. I have switched over to Triumph completely now.
I took Phoenix (but ran out and need to re-order). I love the chocolate/peanut butter Whey+ protein powder. I'm hoping to be able to order protein bars soon. 🙂
If you enjoyed this article, get weekly updates. It's
free

.
Sending...
Great! You're subscribed.
100% Privacy. We don't rent or share our email lists.