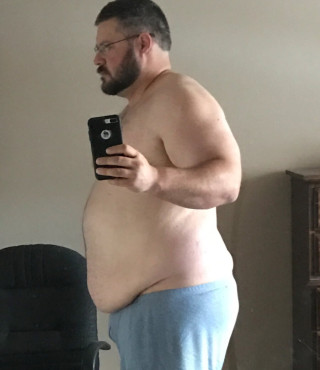 "I have more confidence and my overall quality of life has improved!"
How many months' progress do your pictures represent? What were your stats for each picture?
My pictures represent 5.5 months' progress–February 20, 2017 to Sept 9, 2017.
In my before pictures I was 376.2 lb and in my after photos I am 305.8 lb.
I actually began this program on January 23, 2017 at 395 lb. In February I measured my body fat at 52.8% and in July I was at 41.4%. My waist started at 59 inches and I am now at 41 inches–18 inches lost!
What has happened so far on the program?
I have been using Bigger Leaner Stronger for 6 months. I have lost 90 lb thus far. I have been cutting the whole time at about 25% below my TDEE.
I followed the 5-day split and I am finishing up phase 3 of the program. My lifts have all increased and I am currently lifting heavier than I did when I was playing college football.
I use the Stacked app to track my progress and the Bigger Leaner Stronger Year One Challenge journal. I also procured the MFL meal plan in June and have been following it for the past two months.
What workout split from the book did you use?
I used the 5-day split. I worked out primarily in the morning Monday through Friday and I did HIIT cardio three days a week.
What, if anything, almost kept you from buying the book or starting the program?
The only thing that kept me from doing this sooner was my own self-doubt. With the help of a great friend, I took the leap and have never looked back! I am very proud of myself at this point.
What do you like most about the program?
The program has been super easy to follow. It is all laid out for you. This program is how I like to lift– heavy and focusing on compound movements.
I have achieved results much greater and more quickly that I could have ever imagined. I am looking forward to the next 6 months and seeing where that takes me.
How does this program compare with others you've tried?
I like this program much better because of the focus on compound movements and heavy lifting. Other programs I had tried before used too much isolation lifting–high reps and light weights. The programs just did not gel with me.
Bigger Leaner Stronger goes along with how I prefer to lift, it's similar to how we lifted in football for many, many years.
How has what you've achieved with your body changed other areas of your life?
Prior to Bigger Leaner Stronger I had a very poor self-image. I was out of shape, lazy, and made excuses as to why I couldn't do some activities.
But now with what I have achieved thus far, my confidence is through the roof. I believe I can achieve anything if I just commit to it!
I have taken up kayaking, road and mountain biking, my golf game has improved, and my overall quality of life has improved immensely.
Who would you recommend this program to and why?
I have recommended this program to my mother and brother and several others. My mother has seen tremendous gains as has my brother. They are both still in phase 1 but are feeling and looking better already.
I have recommended this to other friends as well. I would recommend this program to anyone who is ready to change their life, to stop making excuses, and to take control and live their life as it was intended.
Bigger Leaner Stronger has changed my life and I am more than thankful that my friend introduced me to this program.
Is there anything else you'd like to add?
I would suggest following Mike and Legion Athletics on Facebook, Instagram, and other social platforms. It is the best way to get the articles that Mike shares, which are extremely beneficial to your progress.
Also, on Facebook, join Team Legion. It is a wonderful forum for people using Bigger Leaner Stronger to help one another. It is a true brotherhood of fitness-minded people.
Did you use any Legion supplements?
I use Legion products and was so impressed with them that I became a Legion Affiliate.
I use the WHEY+, PULSE, FORGE, PHOENIX, and TRIUMPH. Legion supplements are simply the best around–no fluff and tremendous results. I would recommend them to anyone.
If you enjoyed this article, get weekly updates. It's
free

.
Sending...
Great! You're subscribed.
100% Privacy. We don't rent or share our email lists.