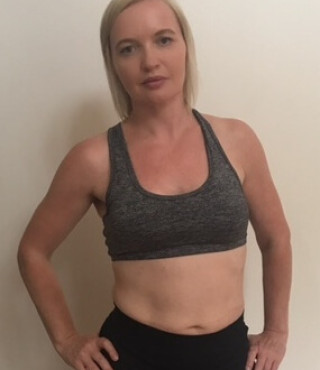 "Thank you Mike! You are my hero and my fitness coach who turned my life upside-down!"
How many months' progress do your pictures represent? What were your stats for each picture?
They represent 8 weeks. In the first picture, before I started the program, I weighed 136 pounds and I had a body fat percentage of about 33-to-34%.
In the after picture, I weighed 125 pounds and I was about 23-to-24% body fat.
I cut for 8 weeks and lost a total of about 11 pounds. I started to eat healthier food, was very careful with my portion sizes, and I had no trouble losing fat!
Because of what I learned from Thinner Leaner Stronger, I now know that I don't need to be that strict with my food intake in order to lose weight.
What has happened so far on the program?
I followed a meal plan and just did exercises that were mentioned in Thinner Leaner Stronger. After a while I realized that the best thing to lose weight for me is  intermittent fasting. I used it a lot since I read Mike's book. I bought books Bigger Leaner Stronger, The Shredded Chef, and the motivation book.
I like listening to podcasts and reading blogs, learning at the same time because Legion taught me more than I would get from anywhere else. Mike featured me on his website once I finished the meal plan (8 weeks) but I never stopped.
What workout split from the book did you use?
I used the 5-day split and did 20 minutes of HIIT per week. Some days I also cooled down with yoga after my workouts.
What, if anything, almost kept you from buying the book or starting the program?
Nothing, I just searched the Internet for how to build a strong, toned body and it led me to Muscle for Life. I saw Thinner Leaner Stronger and after reading the sample I decided to read the whole book.
I didn't think the program would be too hard because I've tried a lot of crazy, intense workout programs throughout the years. I thought all those different programs would help me get thinner; a lot of them were ridiculous now that I look back.
I realize how little I knew about training and nutrition when I first started! Nothing worked well for me until I tried this program. I love the Thinner Leaner Stronger program and it suits me perfectly!
When I started thinking about gaining muscles, I searched a lot and everything was so freaking different and I did not know what to do. Anyway, the Universe has got my back and I found Mike Matthews. I do not know why I stopped on the website MuscleForLife.
It was different, informative, positive, something that I did not see anywhere. Maybe, today there are many websites that look similar but not all of them have a real treasure—books. I bought Bigger Leaner Stronger only because I was curious if there anything different about men's workouts. Anyway, love all books, cooked a lot from the cookbook, The Shredded Chef, still using only exercises that are recommended and you know I feel like everything Mike wrote is working so far.
What do you like most about the program?
I finally feel like I'm doing the right thing when it comes to training and nutrition. The only thing I regret is not finding Muscle for Life sooner. 🙂
Following the program was easy and it's even easier to continue! I've been able to make progress without starving myself. I can eat whatever I want without any body fat coming back on!
Just in the last two weeks, I've noticed my legs have gotten even thinner and stronger. I can see my body changing every week!
The meal plan and the program gave me an understanding of what to do with training and nutrition. I see a lot people around me not making any progress compared to me. It's proof that what I'm doing right now works!
How does this program compare with others you've tried?
This program is different than anything else out there. I've tried many, and none of them gave me the results I wanted. Most of them contain advice that simply doesn't work.
The workouts in this program are great. I used to base my workouts around machines, but those types of workouts didn't work too well for me. Now that my workouts and my exercises are organized, I feel much more confident going into the gym.
How has what you've achieved with your body changed other areas of your life?
First of all, after gaining a lot of strength I tried myself in a local club powerlifting competition. I was curious to try so I did it. Such an amazing experience! Anyway, I wanted to do something else and the strongest desire to help people. I thought that if I would go and talk about Mike's books people will doubt so I wanted to use the knowledge in a different way. I went to PT course and finished Cert 3 and 4.
I am have around 4-to-5 clients per day, not enough and not all of them are the clients I wanted to work with, but I know if I do have those people working out with me, they trust me. I am using the proper form, thank you, Mike. I am using the knowledge that I have got from his books. I am using the knowledge in meal planning, making my meal plans and workouts that are based on Mike's books.
Everything is working perfectly and my clients trust me and they're all seeing results. Since last year I also started to implement Somatic training (not from Mike's books but I do know all my dedication and willingness to learn and improve is coming from the time I started with Mike).
THANK YOU MIKE! YOU ARE MY HERO AND MY FITNESS COACH WHO TURNED MY LIFE UPSIDE-DOWN!
I couldn't wish for a better experience. Now I am on my way to learn more and this learning never stops because I am relentless. I will die in the gym when I will be 100 or maybe 100 and something, telling people stories of my fitness journey.
Who would you recommend this program to and why?
I have recommended this program to a lot of people already. Honestly, I would recommend it to anyone who is interested in living a healthy lifestyle.
I've noticed many people just stick with their own programs and go through the motions, scared to try something new. I really do believe that Thinner Leaner Stronger is for everyone; for those people that like to see change.
Is there anything else you'd like to add?
If you start something awesome, never stop, learn, move, be active. Being curious is not bad, it leads to knowledge, being stubborn in your training leads to a beautiful body. I never stopped and if there were some days that I did not get to the gym, I always found a way to exercise. The more you are there, the more you'll get addicted, and you'll feel happier.
Did you use any Legion supplements?
I did but I decided that any supplements are good for people who are exercising seriously for comps or any other events. I am exercising for myself, to look and feel good. I used some supplements and I think they are very simple and clean, worth trying.
If you enjoyed this article, get weekly updates. It's
free

.
Sending...
Great! You're subscribed.
100% Privacy. We don't rent or share our email lists.