7 Healthy Lunch Ideas to Help You Power Through Your Day
Eating a healthy lunch can be a challenge. We get so swamped at work that we grab some quick and unhealthy fast food or skip lunch altogether, sometimes without even realizing it.
I've forced myself to get in the habit of bringing my lunch to work with me. If I have lunch sitting in the office fridge, I'm less likely to overeat. And it's a lot quicker to grab my pre-made lunch than figuring out where to order from. Plus, I seem to save more money when I bring my delicious leftovers from dinner.
All in all, it's not hard to see why packing a healthy lunch is key to living a nutritious life.
The trick is getting in the habit of doing so, which takes a bit of recipe planning.
So in an attempt to garner more appeal for the most essential meal of the day (I think I'm sticking with this one), here are 7 healthy lunch ideas that will keep you powering through your day:
1. Clean Eating Power Meatballs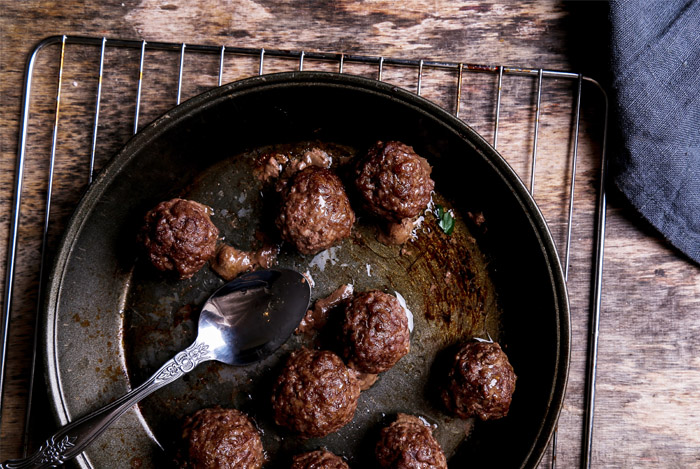 While researching ways to make healthier versions of foods I love, I came across these Clean Eating Power Meatballs over at He and She Eat Clean.
Instead of ground beef, this recipe calls for ground chicken or lean ground turkey. Choosing either of these options gives you lean protein to power through your day and keep you satisfied.
As Fit Day notes, both options will run you between 125-130 calories per 3 oz. serving, with turkey taking the edge for fewer calories. But both will net you 26 g of protein in that serving, which is a fantastic way to keep you going.
Plus, instead of using breadcrumbs, this recipe uses rolled oats. Since oats contain fiber to fill you up, you'll be less hungry throughout the day.
And if you needed yet another reason to dig in, oats are also rich in folate, omega-3 fatty acids, and potassium.
This recipe makes 15 meatballs so you'll have plenty for dinner and lunch the next day. Pair this with some tomato sauce and whole wheat pasta or even quinoa and you're ready to go.
Here's what you'll need:
1 1/2 tsp garlic powder
1 tsp dried basil
1 tsp dried oregano
1 tsp onion powder
1/2 tsp sea salt
1/2 tsp red pepper flakes
1/2 c rolled oats
1 egg
1 lb ground chicken or lean ground turkey
Here's what you'll do:
Preheat oven to 400F and spray a baking sheet with oil.
Mix all the ingredients in a bowl and use your hands to incorporate them together.
Shape mixture into 1" round meatballs and place on a baking sheet.
Bake these babies up for 23 minutes or until the meat is cooked through.
2. Ham & Veggie Frittata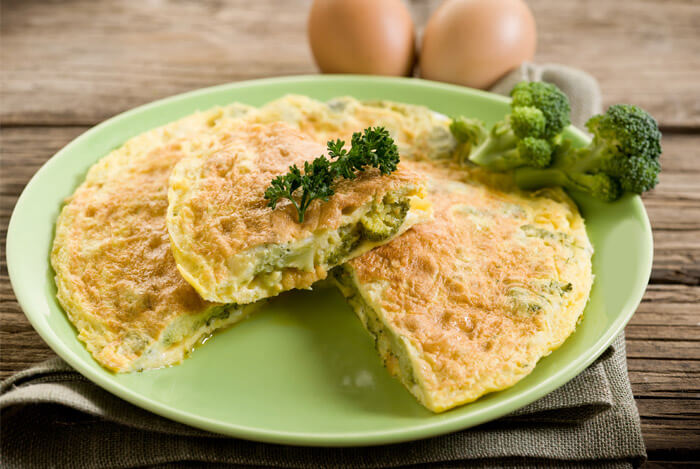 My love for eggs transcends just breakfast; I routinely make avocado egg salad on cloud bread for lunch and it's an easy crowd pleaser for picnics.
I also like taking a page from the Italians who eat frittatas morning, afternoon, and night. This light and fluffy frittata marries perfectly with warm, hearty soup, or big cold salads.
I use Canadian bacon in this frittata.
Adding in the peas and broccoli for a little bit of protein and fiber rounds out this super healthful lunch option.
For the frittata you'll need:
6 eggs, whisked
2 tsp oil of your choice
1 small yellow onion, diced
1 garlic clove, minced
½ medium broccoli, chopped in bite sized pieces
⅓ cup of peas
4 slices of Canadian bacon (fully cooked), chopped
⅓ cup low fat milk
½ tablespoon dried parsley
Salt and pepper to taste
Instructions
Preheat your oven to 375F.
Saute the onion in a 10-inch ovenproof skillet with oil for about 3-4 minutes. Add the garlic and cook for another minute.
Add the broccoli to the pan and cook until it softens, but remains crisp, just about 5 minutes. Add the ham and peas.
Whisk eggs in separate bowl with milk. Add seasonings.
Pour the egg mixture over the veggies in the skillet and stir. Sprinkle with parsley. Cook for about 1-2 minutes or until the edges begin to set.
Place skillet in oven and bake for around 15 minutes, or until the frittata is cooked through.
3. Shiitake Bok Choy Soba Noodle Bowl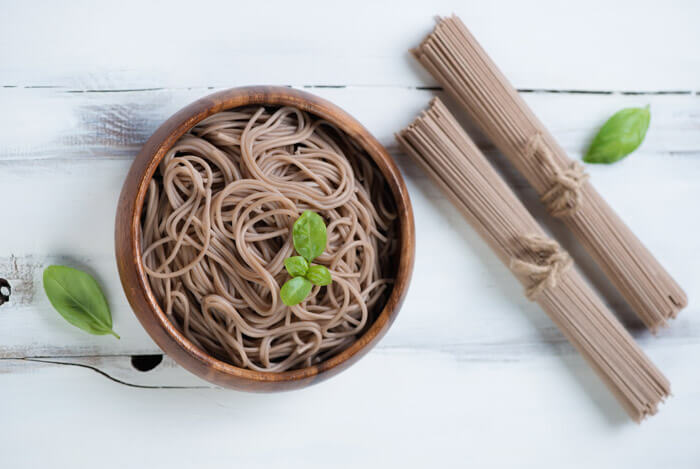 It's hard to resist ordering take out when you're in the middle of a hectic work day, but I promise that you'll be way more excited to look forward to this homemade noodle lunch instead.
Over at A House In The Hills, Sarah Yates Mora cooked up this soba bowl recipe that's entirely vegan and gluten free.
A little known fact is that soba noodles are made of buckwheat, which is an essential grain. But they're also naturally fat and cholesterol free. Just one cup of these noodles gives you 6 g of protein for only 113 calories.
This recipe makes about 2-3 servings, so you'll have plenty to take to work for a few days. Trust me, you'll need to keep yourself from devouring it all the first night you make it.
Not only is this noodle bowl good cold, but it also heats back up well in the microwave too.
Here's what you need:
4 cups of shiitake mushrooms, washed and thinly sliced
3 small/ medium bok choy
6 oz. or approximately 2 bunches of buckwheat soba noodles (double check the label if you're watching for gluten)
¼ cup + 3 tablespoons gluten free tamari
⅛ cup mirin
2 tablespoons vegan butter of your choice
2 tablespoons fresh ginger, minced
3 medium cloves of garlic, crushed
2 tablespoons toasted sesame oil
sesame seeds to garnish
Here's the directions:
Bring a large pot of salted water to boil. Cook noodles per package instructions, drain and rinse with warm water. Set aside.
While the water is getting ready to boil, prepare the mushrooms and bok choy. Use a wet cloth to clean off dirt from the mushrooms. Trim the ends of the bok choy, wash thoroughly, and dry.
To make the sauce: combine mirin, garlic, ginger, sesame oil, and 1 tablespoon of tamari.
In a large nonstick saute pan, heat the butter with 4 tablespoons tamari. Add mushrooms to the pan and coat them in the butter and tamari. Leave them alone and let them cook on high heat for 6 minutes.
Stir mushrooms after this time and cook for an additional 2 minutes until they're brown, slightly crispy, and a little caramelized. Set aside.
In a wok or larger pan, combine cooked noodles, sauce, bok choy, and mushrooms. Cook over medium high heat just until the bok choy is wilted. Garnish with sesame seeds.
4. Spinach-Quinoa Patties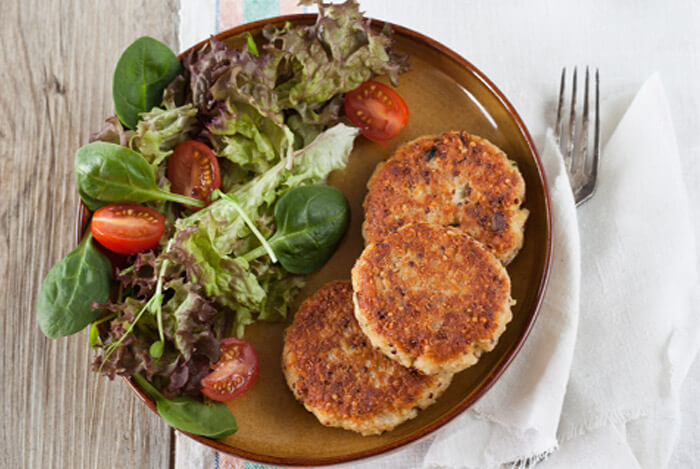 These spinach quinoa patties combine two of my favorite healthy staples together. I like this recipe from Cassie at Back to Her Roots because it's so versatile. You can make small patties and toss them in a salad for protein or snack on them during the day. You can also form them into larger patties and use them as vegetarian burgers.
Ingredients:
3 cups cooked quinoa (cooked in chicken or veggie broth for added flavor)
3 eggs
½ teaspoon salt
2 tablespoons parsley, minced
2 cloves garlic, minced
1 large carrot, peeled and shredded
4 green onions, diced
1 cup frozen chopped spinach, thawed and squeezed dry
½ cup Parmesan cheese, grated (optional)
1-2 cups whole wheat panko
2 tablespoons avocado oil
Directions:
Combine all the ingredients except the oil in a medium bowl and mix until well incorporated. You can add more panko if necessary to make sure the mixture holds shape when formed into patties. Let the mixture rest for 5-10 minutes to allow for flavor melding.
Heat oil in a large skillet over medium-high heat. Form the mixture into small patties about 2" wide. Cook patties in heated skillet for 2 minutes on one side. Flip patties and cook for an additional 2 minutes. Both sides should be golden. Cool the cooked patties on paper towel lined plates.
5. Rainbow Power Kale Salad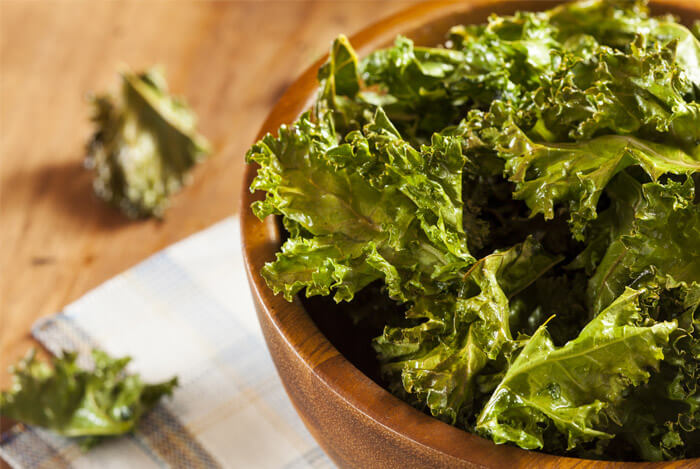 Not only is this salad nutrient dense and healthy, but the colors in it are so beautiful you may be too busy Instagramming pictures of it to want to eat it. We can thank Megan at With Salt and Wit for this recipe.
Using superfood kale as a base provides us with essential vitamins, minerals, and even omega-3s. Kale is also packed with magnesium.
Your main source of protein in this salad comes from the chickpeas. One cup of chickpeas gives us 12 grams of protein.
Here are the ingredients for the salad:
1 large bunch of kale, finely chopped
1 red bell pepper, diced
1 ½ cups carrots, julienned
½ head of purple cabbage, sliced
2 cups broccoli florets, finely chopped
1 (14.5 oz.) can of chickpeas, drained, and rinsed
¾ cup cashews
Ingredients for the homemade Peanut Dijon Dressing:
2 tablespoons peanut butter
1 tablespoon olive oil
½ lime, juiced
3 tablespoons water
1 tablespoon Dijon mustard
½ tablespoon pure maple syrup
¼ teaspoon salt
¼ teaspoon pepper
¾ teaspoon garlic powder
Here's how you make it:
Toss kale, pepper, carrots, cabbage, broccoli, and chickpeas together in a large bowl. Set aside.
Combine dressing ingredients in a small blender and mix until incorporated.
When you're ready to eat, pour about 2 tablespoons of dressing over the salad and toss. Top with cashews.
These next two recipes feature avocado, a wonderfully healthy fruit I regularly praise.
6. Avocado, Tomato, Cucumber & White Bean Salad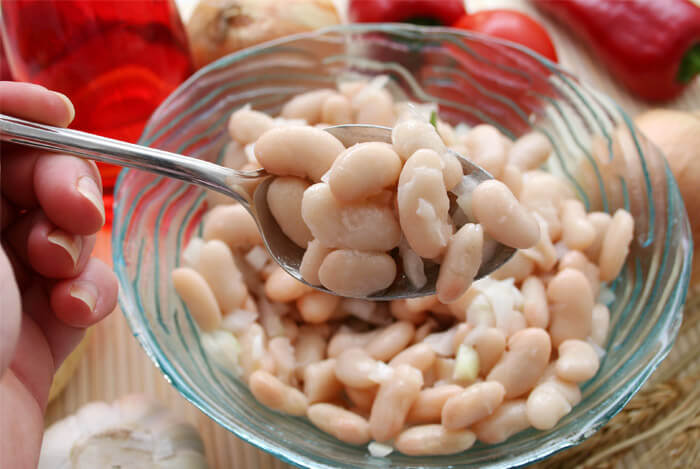 This salad wins the award for delicious simplicity. In fact, you probably have all the ingredients for this one in your pantry right now.
Most vegetable salads rely on mayo as a binding ingredient, but not this one. By choosing to make your own vinaigrette, you're adding healthy oil, lemon, and tangy Dijon mustard for flavor to the salad without adding a ton of calories.
Did you know that cucumbers fight off sugar cravings and even boost energy levels?
Both of those traits make me want to add cucumber to anything I eat in the afternoon, and they work perfectly in this salad.
The cannellini beans in this salad give you 14 g of protein per cup, plus their fiber will make this salad seem ultra filling. You can always add chicken if you're trying to get more protein in your diet.
Here's what you need for the salad:
1 (15 oz.) can of cannellini beans
1 avocado, chopped
½ small sweet onion, sliced in thin rings
½ medium cucumber
2 small/ medium tomatoes
And don't forget about the dressing:
1 ½ tablespoons olive oil
¼ teaspoon garlic, minced
1 teaspoon Dijon mustard
¼ cup fresh squeezed lemon juice
fresh basil, torn in bite sized pieces
salt and pepper to taste
Here's what you'll do:
Prepare salad ingredients and place in bowl.
Whisk the dressing ingredients together in a separate bowl and pour over salad.
You make this salad in the morning and store it in the fridge at work, but if you make this salad the night before and keep it in the fridge overnight it will develop insane flavors.
7. Avocado Caprese Chicken Salad with Balsamic Vinaigrette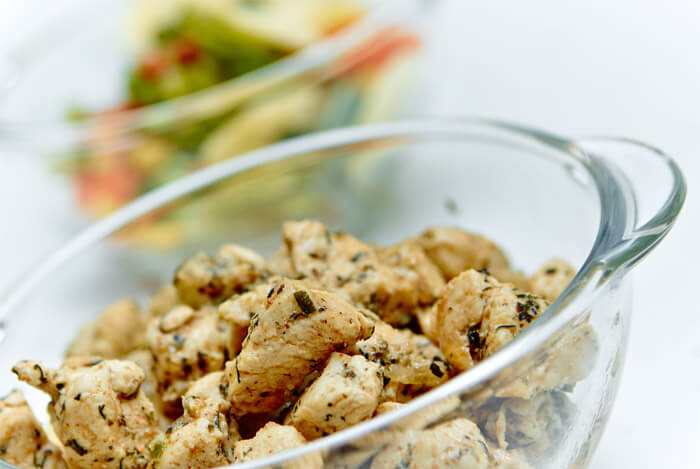 I love caprese salads; I can almost taste the juicy tomatoes, creamy mozzarella, and fresh basil right now. YUM.
But caprese salads are not exactly power lunch material…unless you're using this recipe from Joyful Healthy Eats, which adds lean chicken for a major protein boost.
Bonus? It only takes 15 minutes to make two servings. Major score!
Ingredients:
2 boneless skinless chicken breasts seasoned with salt & pepper
½ cup of halved fresh mozzarella balls
1 avocado, diced
6 oz. of fresh spring mix salad (about 3-4 cups)
½ cup of halved cherry tomatoes
¼ cup of fresh basil
Balsamic Vinaigrette:
1 garlic clove, minced
1 teaspoon of dry basil
1 tablespoon of Dijon mustard
1 tablespoon of lemon juice
¼ cup of balsamic vinegar
⅓ cup of olive oil
salt & pepper to taste
Instructions:
To make the vinaigrette, mix garlic, dry basil, Dijon mustard, lemon juice, balsamic vinegar, salt, and pepper in a small bowl. Slowly add the olive oil and keep whisking until the dressing is well combined. Set aside.
Heat a grill pan on medium-high heat and spray with cooking oil. Add seasoned chicken to pan and cook for 5-6 minutes per side, or until cooked through and there's no more pink.
When assembling salads to take to work, divide spring mix, avocado, tomatoes, fresh basil, and mozzarella in two containers. Let chicken cool before packing. Pack vinaigrette in separate container to keep salad from getting soggy during the day.
All of these recipes have lean protein, healthy carbs, and tons of vegetables. By combining these ingredients, you'll have perfectly healthy, power packed lunches to keep you going and satisfied until dinner.
What's your take on these healthy recipes? Have anything else you'd like to share? Let me know in the comments below!
Want to know how to build muscle and lose fat eating delicious foods like these?
"Dieting" doesn't have to suck. You CAN eat foods you like and have the body you want!
Click Here to Learn How
OVER 100,000 PEOPLE HAVE USED MY COOKBOOK TO GET THE BODY THEY WANT EATING THE FOODS THEY LOVE. WILL YOU BE NEXT?
What if I told you that just about everything magazines and trainers "teach" you about dieting is wrong?
What if you could build muscle and lose fat eating "naughty" foods every week?
What if you didn't have to suffer through low-carb dieting to get lean? In fact, what if you could eat all the carbs you wanted?
And what if you didn't have to gorge yourself just to gain muscle and didn't have to put on pounds and pounds of ugly fat, either?
In short, what if I told you that proper dieting--whether you want to maximize fat loss or muscle growth--is much simpler and more enjoyable than you've been led to believe?
Imagine eating delicious, filling meals every day...never feeling starved or stuffed...having great energy levels and workouts...and watching your body respond exactly as you desire, dropping fat or adding muscle each and every week.
And imagine finally understanding how proper dieting really works, never again falling for the BS, tricks, and gimmicks pushed by "gurus" and other shysters.
Well, I have good news.
All these "fantasies" can be a reality...if you know how to do a handful of "little" things correctly.
You see, when you know how to diet properly--and this doesn't mean learning to eat boiled chicken and raw broccoli six times per day--getting lean and muscular becomes simple, convenient, and dare I say...enjoyable.
And this book will show you the way.
If you enjoyed this article, get weekly updates. It's
free

.
Sending...
Great! You're subscribed.
100% Privacy. We don't rent or share our email lists.