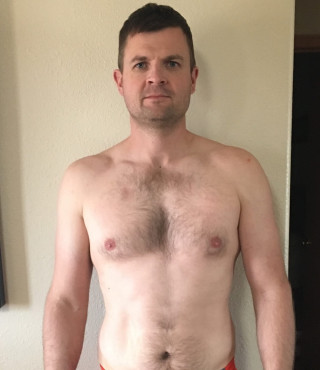 "My energy levels have skyrocketed and I do feel more productive on a daily basis!"
How many months' progress do your pictures represent? What were your stats for each picture?
My starting weight was 183 pounds with a body fat percentage of around 22%. The second pic is right at 2 years on Bigger Leaner Stronger and about 3 weeks into a shred and a body fat percentage of around 13% and a weight of 190 pounds.
What has happened so far on the program?
When I started the program, I was very weak. My bench was only 160 pounds for 4 to 6 reps. I did not lose weight or gain for about 2 months. I figured out that I was only eating to maintain and not grow lean muscle. I went on the bulk cycle closely monitoring my micros and macros and the gains started to come on.
I stayed in bulk for a good 8 months before I went on a shred cycle. When I go on a shred, I followed Mike's advice and bulk to about 15-17% and then start a shred cycle. My bench is now right at 260 for 4 reps. I went from being able to concentration curl only 40 pounds for 8 reps to 60 pounds for 8 reps. My squats, deadlifts, and other exercises have increased big time as well.
What workout split from the book did you use?
I stay on the 5-day split continuously.
What, if anything, almost kept you from buying the book or starting the program?
I was very skeptical at first. I had tried other programs (written by steroid-enhanced lifters) that did not show results. I was also a bit concerned about only doing 4-6 reps and 2 to 3 minute rest periods in between with heavier weight. I was not sure if the program was going to work for me.
What do you like most about the program?
The program absolutely works! It is easier than I expected. Once I got into the program for a few weeks, I was loving it and when I finally got my nutrition correct to go along with it, the results were fantastic. The results have been quick. Bigger Leaner Stronger is the real deal!
How does this program compare with others you've tried?
The Bigger Leaner Stronger diet opened my eyes to how much I could actually eat. With other diets, I felt like I was starving all of the time. I was surprised by how much I could actually eat as long as I was monitoring my intake.
I learned quickly that the program works best when your nutrition is optimal. The workouts are great. They are cut and dried. Nothing fancy, but they work! I feel wiped out after a workout. The Bigger Leaner Stronger workouts are totally different than any of the other programs out there.
How has what you've achieved with your body changed other areas of your life?
I am definitely more confident now. I actually don't mind taking my shirt off in public now. I get compliments regularly and people ask me what I am doing. My energy levels have skyrocketed and I do feel more productive on a daily basis.
Who would you recommend this program to and why?
I would recommend the Bigger Leaner Stronger program to anyone who wants to build lean muscle the correct way. The reason is that this program will work with any body type, male or female. The results are real and come quickly as long as you are loyal to the program and the diet.
Is there anything else you'd like to add?
I love this program. My success was slower than a lot of the stories that I read. I would encourage anyone who is skeptical to do the program and stick with it and be loyal to it and it will pay you back. "Greatness is a lot of small things done well. Day after day, workout after workout, obedience after obedience, day after day."-Ray Lewis
Did you use any Legion supplements?
I use Legion supplements exclusively. I use Forge, Phoenix, Legion Whey+ protein, and Fortify. Legion supplements are no bs. They work! The whey protein flavors are by far the best I've ever tried and no gas! Forge, Phoenix, and Fortify absolutely work!
If you enjoyed this article, get weekly updates. It's
free

.
Sending...
Great! You're subscribed.
100% Privacy. We don't rent or share our email lists.