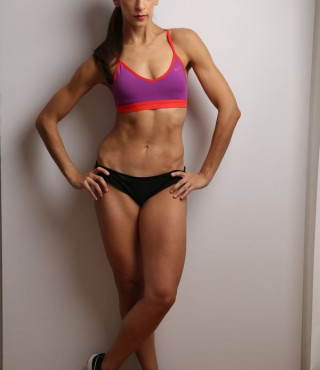 "Eating the correct balance of macros has given me more consistent energy and I no longer have crashes."
What has happened so far on the program?
I am 30 years old and in 7 months I went from 157 lbs. at about 23% body fat down to 141 lbs, and am around 16% body fat now. 🙂
Coming out of two back-to-back dance injuries when I started the program, I cut for 4 months, and then maintained for 4. I then reverse dieted out of my cutting phase because my fat loss had really stalled at that point.
So far I have lost 16 lbs, and before this I had never weighed below 145 as an adult. I started deadlifting at 60 lbs in March, and am now up to 115 lbs.
My bench press has increased from 30 lbs to 65 lbs, and my military press has increased from 30 lbs to 45 lbs.
My squat has actually stayed the same at 120 lbs, because before I read Thinner Leaner Stronger, I didn't realize that by only going about halfway down, I wasn't squatting correctly.
So for the first few months I had to back the weight off to build up the strength for a full squat, and am now back to 120 and doing it correctly!

What, if anything, almost kept you from buying the book or starting the program?
Having worked as a professional dancer for 10 years, I was already accustomed to pushing myself in high levels of physical activity, but this program was unlike anything else I had done in the past.
Dancers typically rely on cardio, pilates and yoga for their cross-training outside of dance, and any weight-training tends to be on the lighter side.
I wasn't sure how lifting this heavy and decreasing cardio would affect my body, but since I was already out of shape from coming out of injury and was frustrated with my old gym routine, I figured it was worth a shot!
What do you like most about the program?
I love that I now have all the information I need to have consistency. It's my job to be in shape, and in the past, coming back from an injury or a vacation was more of a guessing game than anything, and often resulted in giant weight fluctuations and unhealthy choices.
The bounce-back from this injury put me in better shape than I was in before, and I'm now able to maintain my shape because I understand so much better about how what I'm putting in my body directly affects it.
How does this program compare with others you've tried?
The focus on overloading your muscles to facilitate growth is the most intelligent part of this program, as other weight-training programs I have tried didn't address this and eventually caused me to plateau.
The diet is extremely different from what I have done in the past. I have always tried to simply eat clean to help fuel my body as a dancer, but I really had no idea how much I was preventing muscle growth by limiting my carbs.
The understanding of macro balance has changed my life!
How has what you've achieved with your body changed other areas of your life?
The program allowed me to bounce back from my injuries with total body health, and I feel great going into auditions knowing that I look my best and feel strong.
Eating the correct balance of macros has given me more consistent energy and I no longer have crashes.
Is there anything else you'd like to add?
I would recommend this to everyone! Multiple dancers I know have already bought the book because of my progress, and they love it, but my boyfriend, who is not a dancer, has been doing the Bigger Leaner Stronger program and he loves it! He has already lost close to 20 lbs.
I've also been using the Legion Fortify joint supplement for a few months, and I used the Phoenix Fat Burner for the second to last month of my cut, to get over a fat loss plateau.

If you enjoyed this article, get weekly updates. It's
free

.
Sending...
Great! You're subscribed.
100% Privacy. We don't rent or share our email lists.