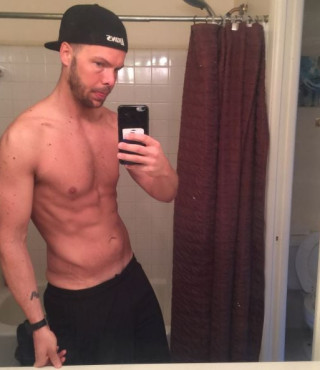 "I got better results using Bigger Leaner Stronger in 3 months than I had in the past 2 years!"
What has happened so far on the program?
I am 33 years old and in 3.5 months I went from weighing 205 lbs at 17% body fat down to 190 lbs at about 10% and definitely gained some muscle!
My bench was terrible before at about 160 lbs and I now bench over 200 lbs for 4-6 reps.
My squat went from 185 up to 275 lbs for 4-6 reps.
My deadlift went from 225 up to 340  lbs for 4-6 reps.
And my military press went from 80 up to 135 lbs for 4-6 reps.
What, if anything, almost kept you from buying the book or starting the program?
Honestly, I think the big lifting kept me from doing it.  I always loved working out, but it was much more comfortable to go and use every machine in the gym than it was to learn a proper deadlift or squat.
I did the big lifts before, but not with good form or comfortably, and I felt awkward because everyone else doing those exercises looked great and knew what they were doing.
Once I learned how to do them, I got better results using Bigger Leaner Stronger in 3 months than I had in the past 2 years!
What do you like most about the program?
It works and the workouts are so enjoyable!  I always went to the gym and just abused myself doing high-rep, drop set and super set bullshit.
Now, I go to compete with myself and beat my previous numbers.  It's so simple and I started seeing results within a month.
How does this program compare with others you've tried?
I counted macros before but always thought that meal plans were outdated.  I learned I like meal plans and I now understand that there is something more precise about them (especially when cutting).
I now look forward to my daily meals, and the best one is post-workout (1 scoop Legion vanilla whey +, 1 scoop Legion chocolate whey +, 14 oz rice milk, 1 large banana and cinnamon).
How has what you've achieved with your body changed other areas of your life?
I like my job and am happy with where I am at in life, but now having the physique I want has increased my confidence and I have great energy even in a calorie deficit.
Is there anything else you'd like to add?
Man, what I wouldn't give for this to have been the first program I ever tried.
I think the Bigger Leaner Stronger program is especially best for people who messed around for a few years and didn't get the results they want. Only then can you truly appreciate the crazy difference in results this program gives.
If you are looking at this website then you already know this program works. Don't do the high-rep, crazy programs from other websites. This program really is easy. Give this a shot for 30 days. You'll love it.
I use Legion Pulse pre-workout, and take Legion Recharge & Whey+ post-workout. When cutting I also used Legion Forge and Phoenix.
I had a bad case of weight lifter's shoulder and Legion Fortify helped me work through it. I also use Legion Triumph for general health.
On top of all the bad programs I tried, I also had lots of ridiculous supplements. I have no problem paying a few $$ for a supplement line that I know works.
If you enjoyed this article, get weekly updates. It's
free

.
Sending...
Great! You're subscribed.
100% Privacy. We don't rent or share our email lists.