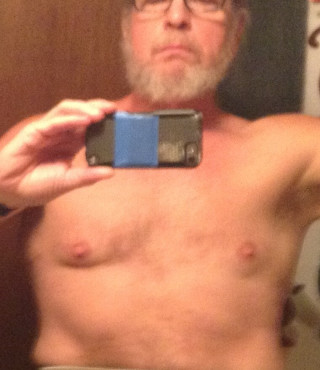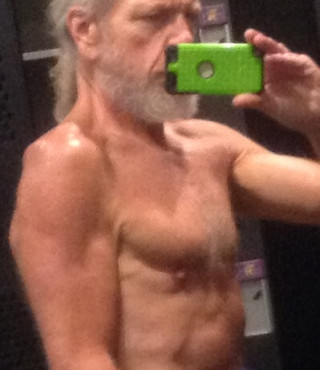 "I am now very healthy, less prone to injury, and my lifts are continuing to increase."
How many months' progress do your pictures represent? What were your stats for each picture?
8 months. I started in January at 200 pounds and 20-23% Body fat. I was so ashamed of my body, that I couldn't bear to take a picture of myself. The first pictures were taken at 190 pounds. I was flexed in the early photos. The next series was taken at 160 pounds, followed by 150 pounds, and finally at 145 pounds.
I had a hard time determining my body fat percentage, due to some skinfolds, however, my pants size have gone from size 38 to my current size 30 inch waist. My goal was 10%, which I believe I am currently at. I may now be 9% presently because I am currently weighing in at 143-144.
What has happened so far on the program?
My cut was 8 months with one break and several refeeds and a reverse diet since that time. I lost a total of 56 pounds. I, surprisingly gained muscle and my strength increased substantially. I was beset by shoulder and back injuries along the way, but healed rapidly and managed to work around those injuries.
I am now very healthy, less prone to injury, more attentive to form, and my lifts are continuing to increase the deadlift in particular. I couldn't do a push press and performed poorly on the bench due to very weak shoulders in the beginning.
I couldn't deadlift the bar because of lower back issues and mobility problems. I learned the sumo lift from your website and have soared past my body weight. My bench has more than doubled and my push press is slowly increasing.
What workout split from the book did you use?
5-day split.
What, if anything, almost kept you from buying the book or starting the program?
You won me over immediately with your book about the myths of bodybuilding book and material, and the way you exposed the supplement industry. I had tried some internet workouts, which were mostly accessory training, high rep ranges, and netted dismal results.
I was killing myself with cardio. I was spending almost an hour alone, daily, sweating out hard cardio, followed by an hour or so of high rep training, showing little progress, and losing very little body fat.
What do you like most about the program?
The program was much easier than I thought it would be. I didn't feel like I was doing enough at first. I may have experienced gym rat withdrawals at first. The results shocked me!
Once I began the 5 days split with a 20% calorie deficit, I began losing 1-2 pounds. of body fat per week. Because I was building muscle through newbie gains, the scale didn't show my progress as much as the change in my physical appearance.
How does this program compare with others you've tried?
Like night and day. I passed from frustration, boredom, and little to no physical change; from poor health to excellent health; from an old man's body and ailments to the body I haven't had since I was in my twenties. Vertigo and migraines are gone. Chronic back pain has subsided substantially.
How has what you've achieved with your body changed other areas of your life?
I am more confident, more effective in my various roles in life, much more fun as a Grampa, I am more assertive, and a little less introverted than before.
Who would you recommend this program to and why?
I would highly recommend this program to anyone who wants the best body of their life. To those who have tried and failed. To those who, like myself, think because they are seniors, they can't be in their very best shape, I believe owe it to themselves to give it at least 8 weeks. It works. I promise you that everyone who works this protocol and follows the flexible dieting suggestions will succeed.
Is there anything else you'd like to add?
I am a missionary to Kansas for the Bigger Leaner Stronger book. I have referred this book to many men and women. I've even purchased copies for others, I believe in it that much! Please give it a try. perhaps you think you've tried everything. Get Mike's books, download the free material on his website. It may just change your life!
Did you use any Legion supplements?
Almost all of them. Grape Pulse, Strawberry Lemonade Recharge, and Strawberry-Banana Whey+ before and after training. Triton and Fortify daily for my joints. Triumph is my go-to multi-vitamin with Ascend in the morning. I took Phoenix throughout my cut, along with Forge for plateaus.
If you enjoyed this article, get weekly updates. It's
free

.
Sending...
Great! You're subscribed.
100% Privacy. We don't rent or share our email lists.