8 Healthy Recipes to Make the Most of Chicken
For us meat eaters, chicken is a regular part of our diets.
And fortunately, it's healthy for us on its own.
However, a lot of recipes tend to overdo it when it comes to toppings and sides.
So today, we're going to talk about 8 ways to make the most of chicken without going overboard with calories.
But first, let's take a look at the nutritional benefits chicken has to offer.
Health Benefits of Chicken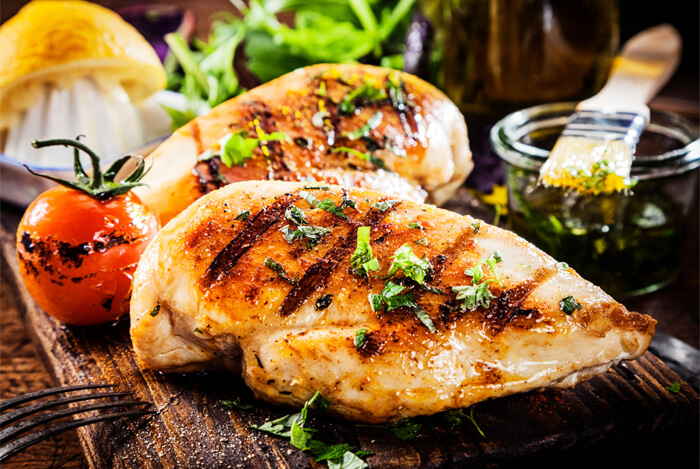 Nutrition content is one of chicken's strongest selling points. A single 4 oz. boneless, skinless chicken breast contains:
124 calories
26 grams of protein
4 milligrams of calcium
2 milligrams of potassium
Chicken is also relatively low in saturated fat compared to other protein alternatives.
And as you're about to see, chicken can be pretty versatile – and always delicious.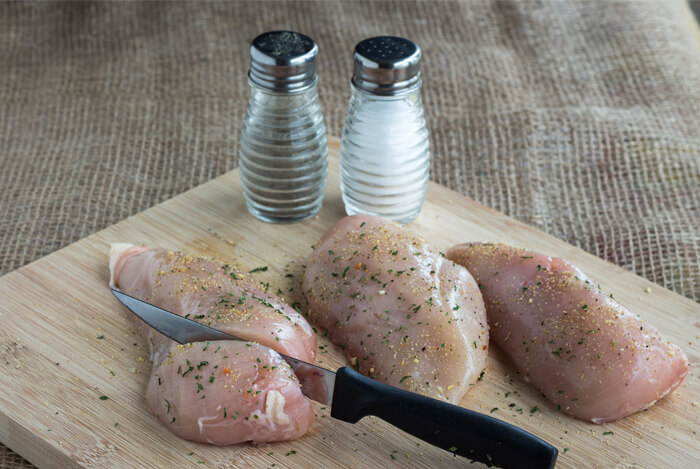 You might not have the chance to get out to Hawaii often, but you can pretend you're there when you eat this wonderful grilled chicken. It's marinated in a mixture of pineapple juice, low-sodium soy sauce and ketchup, and ginger. It's simple and colorful, and downright delicious.
Ingredients
1/4 cup pineapple juice
2 tablespoons low-sodium ketchup
2 tablespoons lower-sodium soy sauce
1 1/2 teaspoons minced peeled ginger
2 garlic cloves, minced
4 (6-ounce) skinless, boneless chicken breast halves
Cooking spray
3/4 teaspoon salt, divided
1/4 teaspoon black pepper
2 cups hot cooked long-grain white rice
1/4 cup chopped fresh cilantro
Directions
Combine first 5 ingredients. Reserve 1/4 cup marinade; place remaining marinade in a zip-top plastic bag. Add chicken to bag; seal. Chill 4 hours.
Heat a grill pan over medium-high heat. Coat pan with cooking spray. Remove chicken from bag; discard marinade in bag. Sprinkle chicken with 1/2 teaspoon salt and pepper. Add chicken to pan; baste with 2 tablespoons reserved marinade. Cook 6 minutes. Turn chicken over; baste with 2 tablespoons reserved marinade. Cook 6 minutes.
Combine rice, 1/4 teaspoon salt, and cilantro.
Enjoy!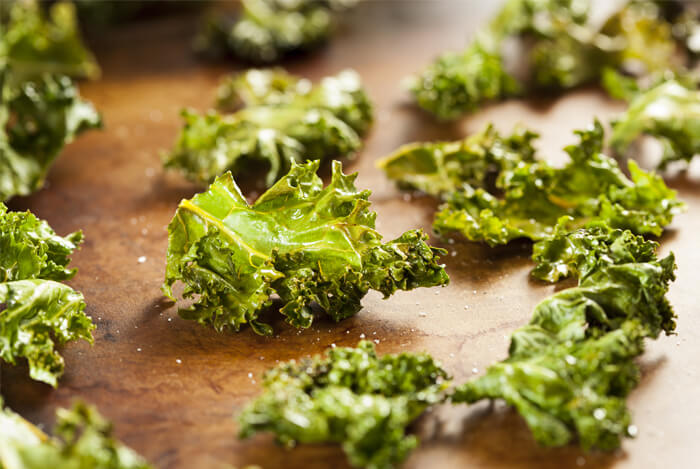 Kale is one of those perfect superfoods that can be mixed with a huge amount of foods. I can't get enough of the stuff, so when I found this grilled chicken and roasted kale recipe, I had to share it with you guys.
Ingredients
1/2 pound small red-skinned potatoes, cut into 1/2-inch pieces
2 tablespoons extra-virgin olive oil, plus more for brushing
1 large bunch kale, stems removed, leaves torn (about 10 cups)
3 cloves garlic, thinly sliced
Kosher salt and freshly ground pepper
2 large skinless, boneless chicken breasts (about 1 1/2 pounds)
4 cups mixed salad greens
1/2 cup cherry tomatoes, halved
1/3 cup grated parmesan cheese
1 tablespoon fresh lemon juice
Directions
Preheat the oven to 425 degrees F.
Toss the potatoes with 1/2 tablespoon olive oil on a rimmed baking sheet; spread in a single layer and roast 5 minutes.
Toss the kale in a large bowl with the garlic, 1/2 tablespoon olive oil, 1/4 teaspoon salt, and pepper to taste. Add to the baking sheet with the potatoes and toss.
Roast until the kale is crisp and the potatoes are tender, stirring once, 15 to 20 minutes.
Meanwhile, preheat a grill or grill pan to medium and brush with olive oil.
Slice the chicken breasts in half horizontally to make 4 cutlets. Coat evenly with 1/2 tablespoon olive oil and season with salt and pepper.
Grill the chicken until well marked and cooked through, 2 to 4 minutes per side. Transfer to a plate.
Toss the kale, potatoes, the remaining 1/2 tablespoon olive oil, the salad greens, tomatoes, parmesan, lemon juice, and salt and pepper to taste in a large bowl.
Divide the chicken among plates and top with any collected juices. Serve with the kale salad.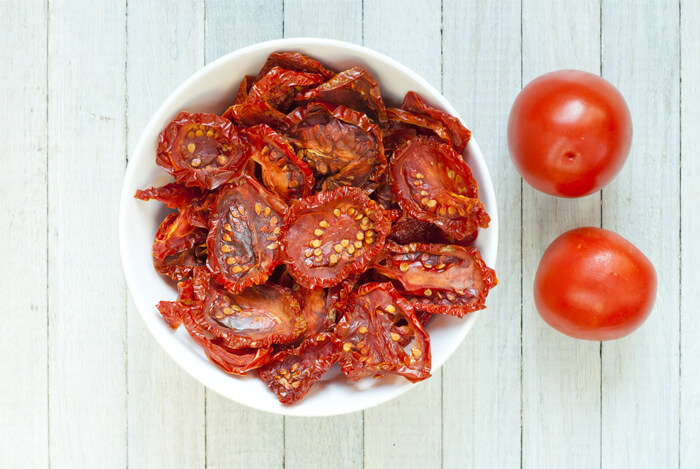 Tomatoes are one of those great fruits that you should be eating every day. This Italian-inspired dish uses them in their wonderful sun-dried form that I heartily enjoy. The recipe also recommends you serve it with sautéed spinach or steamed broccoli – and I couldn't agree more.
Ingredients
8 ounces orzo, preferably whole-wheat
1 cup water
1/2 cup chopped sun-dried tomatoes, (not oil-packed), divided
1 plum tomato, diced
1 clove garlic, peeled
3 teaspoons chopped fresh marjoram, divided
1 tablespoon red-wine vinegar
2 teaspoons plus 1 tablespoon extra-virgin olive oil, divided
4 boneless, skinless chicken breasts, trimmed (1-1 1/4 pounds)
1/4 teaspoon salt
1/4 teaspoon freshly ground pepper
1 9-ounce package frozen artichoke hearts, thawed
1/2 cup finely shredded Romano cheese, divided
Directions
Cook orzo in a large saucepan of boiling water until just tender, 8 to 10 minutes or according to package directions. Drain and rinse.
Meanwhile, place 1 cup water, 1/4 cup sun-dried tomatoes, plum tomato, garlic, 2 teaspoons marjoram, vinegar and 2 teaspoons oil in a blender. Blend until just a few chunks remain.
Season chicken with salt and pepper on both sides. Heat remaining 1 tablespoon oil in a large skillet over medium-high heat. Add the chicken and cook, adjusting the heat as necessary to prevent burning, until golden outside and no longer pink in the middle, 3 to 5 minutes per side. Transfer to a plate; tent with foil to keep warm.
Pour the tomato sauce into the pan and bring to a boil. Measure out 1/2 cup sauce to a small bowl. Add the remaining 1/4 cup sun-dried tomatoes to the pan along with the orzo, artichoke hearts and 6 tablespoons cheese. Cook, stirring, until heated through, 1 to 2 minutes. Divide among 4 plates.
Slice the chicken. Top each portion of pasta with sliced chicken, 2 tablespoons of the reserved tomato sauce and a sprinkling of the remaining cheese and marjoram.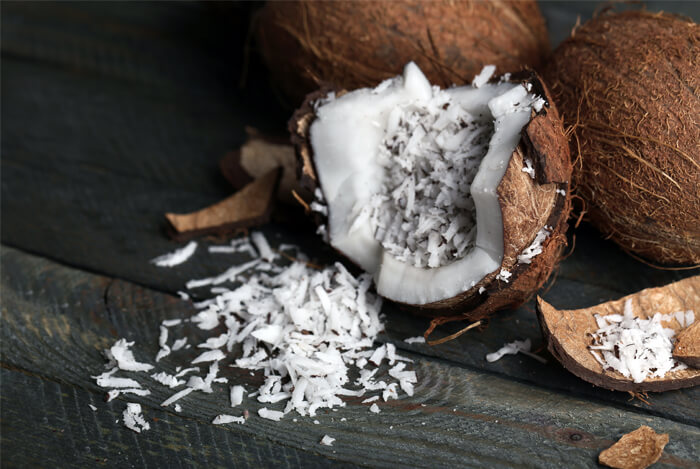 Ever since I was a kid, I've always enjoyed chicken fingers. In my picky days, I had to convince myself not to just order chicken fingers at every restaurant I went to with my family.
But as an adult, I've tried to stay away from them because they can be high in calories and carbs thanks to their breading – and because they're deep fried.
This recipe, on the other hand, is perfect for adults. It's reminiscent of childhood but perfectly healthy!
Ingredients
4 (6-ounce) skinless, boneless chicken breast halves, cut into 1/2-inch-thick strips
1/2 teaspoon salt
1/4 teaspoon ground red pepper
1 cup rice flour
1 cup whole buttermilk
1 large egg
1 1/2 cups unsweetened flaked coconut
3 tablespoons canola oil
Sweet chile sauce (optional)
Directions
Sprinkle chicken with salt and pepper. Place flour in a shallow dish. Combine buttermilk and egg in a shallow dish, stirring well. Place coconut in a shallow dish. Dredge chicken in flour; shake off excess. Dip chicken in egg mixture; dredge in coconut.
Heat a large skillet over medium-high heat. Add oil to pan; swirl to coat. Add chicken to pan; cook 6 minutes or until done, turning to brown. Serve with chile sauce, if desired.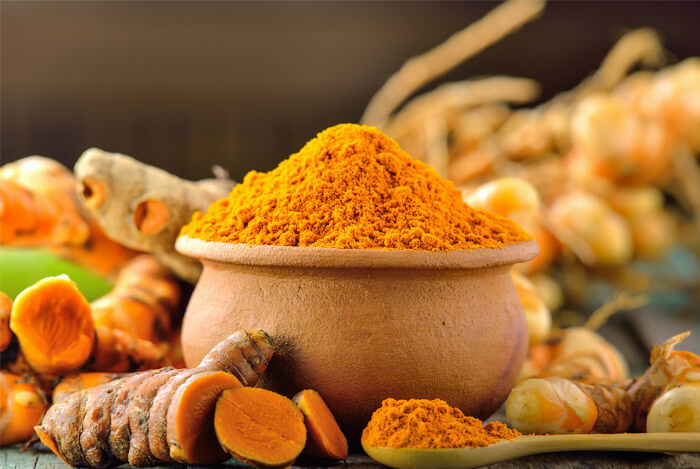 This one's a little complicated, but believe me, the results are well worth it. And if you want to get a little crazier with it, try mixing in other vegetables like shredded carrots or sliced jicama.
Ingredients
3 tablespoons low-sodium soy sauce
2 tablespoons fresh lime juice
1 tablespoon olive oil
1 tablespoon fish sauce
2 teaspoons curry powder
1 1/2 teaspoons grated fresh ginger
1 teaspoon turmeric
3 cloves garlic, minced
1 3/4 pounds chicken tenders
1 teaspoon honey
6 tablespoons seasoned rice vinegar
1/4 teaspoon crushed red pepper flakes
1 seedless English cucumber, shaved with a vegetable peeler lengthwise into ribbons (about 3 cups)
1/2 cup unsalted peanuts
3 tablespoons chopped cilantro
Lime wedges, for serving
2 cups cooked rice, optional
Directions
Soak 12 8-inch bamboo skewers in water for 20 minutes.
Combine 1 Tbsp. soy sauce, lime juice, oil, fish sauce, curry powder, 1 tsp. ginger, turmeric, and 2 minced garlic cloves in a zip-lock bag.
Add chicken and marinate at room temperature for 15 to 30 minutes. Mix honey, 4 Tbsp. vinegar, and 1/8 tsp. red pepper flakes in small bowl. Add cucumber ribbons; let stand at room temperature for at least 15 minutes.
Preheat grill or a lightly oiled grill pan over medium-high heat. Puree peanuts in a small food processor or blender to form a paste. Add cilantro, 3 Tbsp. water, and remaining 2 Tbsp. vinegar, 1/8 tsp. red pepper flakes, 2 Tbsp. soy sauce, 1/2 tsp. ginger, and 1 minced garlic clove; process until smooth.
Remove chicken from bag; discard marinade. Thread 1 piece of chicken on each bamboo skewer. Grill chicken, turning, until golden brown and cooked through, about 8 minutes. Drain cucumber ribbons. Serve chicken skewers with sauce, cucumber ribbons, lime wedges, and rice, if desired.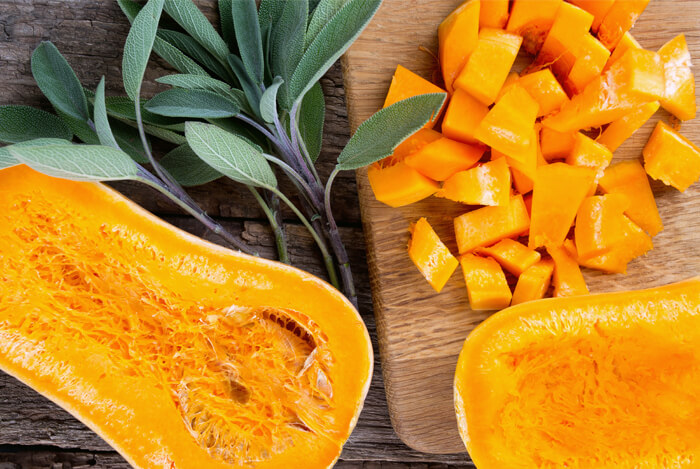 This is comfort food at its healthiest.
Cacciatore is a rustic-style meal often called "hunter's stew" that has a delightful mixture of Italian herbs and vegetables – and even sometimes wine. Because of how healthy it is on its own, adding chicken to it might just make it a balanced-diet favorite.
Ingredients
1 onion
1 leek
4 cloves of garlic
2 rashers of higher-welfare smoked pancetta
2 sprigs of fresh rosemary
olive oil
2 fresh bay leaves
½ a butternut squash or sweet potatoes
100 g chestnut mushrooms
2 x 400 g tins of plum tomatoes
250 ml Chianti , or other good red wine
4 free-range chicken thighs, bone in
8 black olives (stone in)
200 g seeded whole meal bread 
Directions
Preheat the oven to 375°F.
Peel the onion and cut into eighths, trim, wash and slice the leek, peel and slice the garlic.
Place a large ovenproof casserole pan on a medium heat.
Finely slice the pancetta, pick and finely chop the rosemary leaves, then place both in the pan with 1 tablespoon of oil and the bay leaves.
Stir regularly for 2 minutes, then add the garlic, followed by the onion and leek.
Cook for 10 minutes, stirring regularly.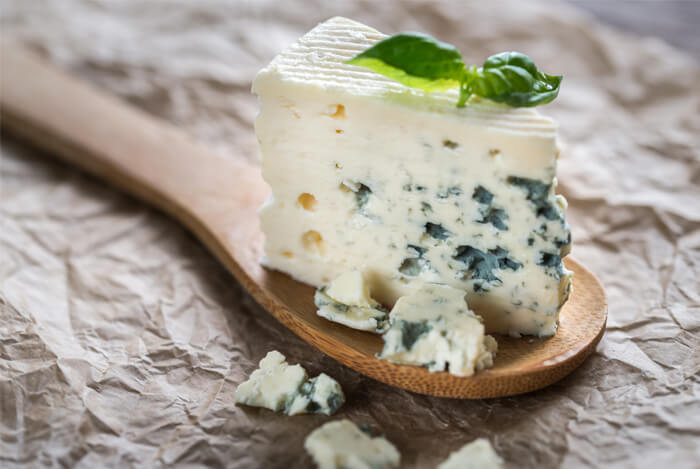 When you see anything with blue cheese in it, you might raise an eyebrow. Thankfully, this buffalo chicken recipe shows you how to prepare your own blue cheese dressing in the healthiest way possible.
And if you want it to be a little on the spicier side, try marinating your chicken in Sriracha sauce while you prepare the other ingredients!
Ingredients
2 (8-ounce) boneless, skinless chicken breast halves
2 tablespoons cayenne pepper hot sauce (or other hot sauce), plus more to taste
2 teaspoons olive oil
2 hearts Romaine, cut into 1-inch strips (about 8 cups)
4 celery stalks, thinly sliced
2 carrots, coarsely grated
2 scallions, green part only, sliced
1/2 cup Blue Cheese Dressing, recipe follows
Blue Cheese Dressing:
2 tablespoons mayonnaise
1/4 cup low-fat buttermilk
1/4 cup plain fat-free yogurt
1 tablespoon white vinegar
1/2 teaspoon sugar
1/3 cup crumbled blue cheese
Salt and freshly ground pepper
Directions
Preheat the broiler.
Put the chicken between 2 sheets of waxed paper and pound with a mallet or hammer so the chicken is an even thickness of about 3/4-inch, then cut the chicken crosswise into 1/2-inch strips.
In a large bowl, combine the hot sauce and the oil, add chicken and toss until the chicken is well coated. Arrange the chicken on a baking sheet and broil until it is cooked through, about 4 to 6 minutes, turning once.
In a large bowl combine the Romaine, celery, shredded carrots and scallions. Toss with the dressing. Divide the greens between 4 plates, top with the chicken.
Serve with extra hot sauce.
Blue Cheese Dressing:
Fold a full sheet of paper towel into quarters and put it into a small bowl.
Spoon the yogurt onto the paper towel and place in the refrigerator for 20 minutes to drain and thicken.
In a medium bowl, whisk the buttermilk and thickened yogurt into the mayonnaise until smooth.
Add the vinegar and sugar and continue to whisk until all the ingredients are well combined.
Stir in the blue cheese and season, to taste, with salt and pepper.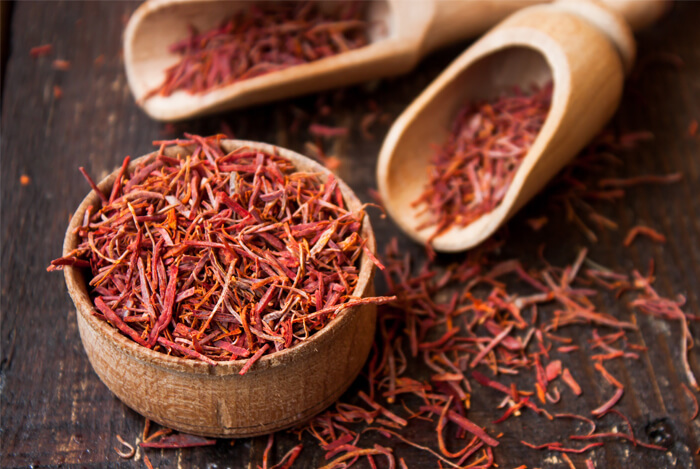 This is by far the most straightforward way to make a delicious chicken breast with the fewest steps. The Greek or low-fat yogurt you add to it will add immensely to the flavor and health benefits of the chicken. And whether you serve it over whole grain rice or just eat it on its own with a tasty veggie is up to you!
Ingredients
Greek or plain whole-milk yogurt
Saffron threads, crushed
1 garlic clove, minced
4 (6-ounce) skinless, boneless chicken breast halves
Directions
Preheat broiler.
Combine 1 1/2 cups yogurt, 1/2 teaspoon salt, 1/8 teaspoon pepper, a pinch of saffron, and garlic in a large bowl.
Add chicken, tossing to coat.
Let stand at room temperature for 15 minutes.
Place chicken on a broiler pan coated with cooking spray.
Broil for 10 minutes per side or until the chicken is cooked through and the surface is browned.
See — you don't have to eat plain old unhealthy fried chicken all the time. There are plenty of ways to make chicken that will give you all the flavor you crave while helping you stay close to your diet.
What's your take on chicken recipes? Have anything else you'd like to share? Let me know in the comments below!
Want to know how to build muscle and lose fat eating delicious foods like these?
"Dieting" doesn't have to suck. You CAN eat foods you like and have the body you want!
Click Here to Learn How
OVER 100,000 PEOPLE HAVE USED MY COOKBOOK TO GET THE BODY THEY WANT EATING THE FOODS THEY LOVE. WILL YOU BE NEXT?
What if I told you that just about everything magazines and trainers "teach" you about dieting is wrong?
What if you could build muscle and lose fat eating "naughty" foods every week?
What if you didn't have to suffer through low-carb dieting to get lean? In fact, what if you could eat all the carbs you wanted?
And what if you didn't have to gorge yourself just to gain muscle and didn't have to put on pounds and pounds of ugly fat, either?
In short, what if I told you that proper dieting--whether you want to maximize fat loss or muscle growth--is much simpler and more enjoyable than you've been led to believe?
Imagine eating delicious, filling meals every day...never feeling starved or stuffed...having great energy levels and workouts...and watching your body respond exactly as you desire, dropping fat or adding muscle each and every week.
And imagine finally understanding how proper dieting really works, never again falling for the BS, tricks, and gimmicks pushed by "gurus" and other shysters.
Well, I have good news.
All these "fantasies" can be a reality...if you know how to do a handful of "little" things correctly.
You see, when you know how to diet properly--and this doesn't mean learning to eat boiled chicken and raw broccoli six times per day--getting lean and muscular becomes simple, convenient, and dare I say...enjoyable.
And this book will show you the way.
If you enjoyed this article, get updates. It's
free

.

100% Privacy. We don't rent or share our email lists.