Amazing Benefits of Souping – The New Juicing
Juicing is very popular, but many people complain that it's just too hard to stick to only drinking juice, and that they're constantly hungry.
Enter, souping.
Let's look at some benefits and get onto some good ideas for recipes, shall we?
Souping Benefits
Right off the bat, one of the biggest benefits here is that soup tastes awesome. It's also a good way to get in more vegetables and fiber.  Let's take a look.
Souping is Convenient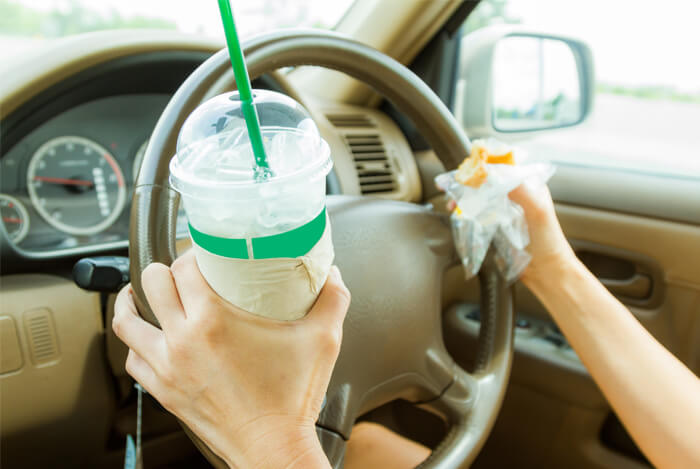 The convenience of souping can't be understated.
Stuck in traffic and hungry? Do you think you can chow down on a salad? I mean you could – but that's definitely more accident prone than sipping soup out of a thermos. Throughout the busy work day, all you need is a microwave, and you're golden.
Souping Is High In Fiber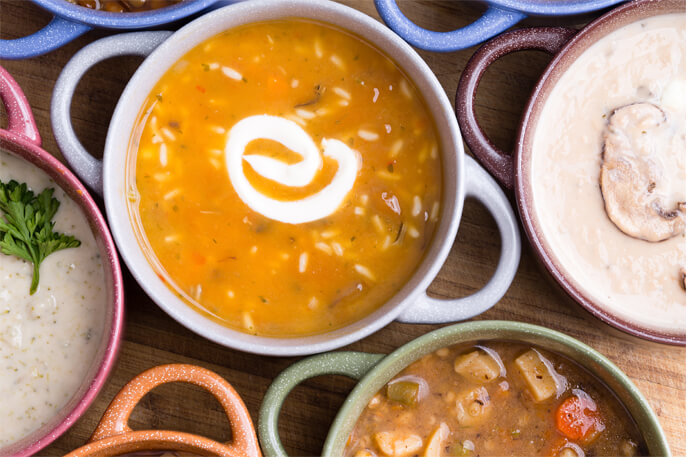 Great, so it's convenient. That's really nice, especially with our busy twenty first century lives, but how is it healthy? Well, number one? Fiber. I've already beat fiber into the ground by talking about high fiber foods, but it can't be spoken about enough. In this generation, we are terrible with our fiber intake.
According to the UCSF Medical center, the average Joe or Jane should be getting around 25 to 30 grams of fiber per day. But, at best, we get half of that.
One of the key differences with soup is that if you add some high fiber vegetables like corn, beans, or lentils, you won't sacrifice flavor.
Souping Is An Easy Way for More Vegetables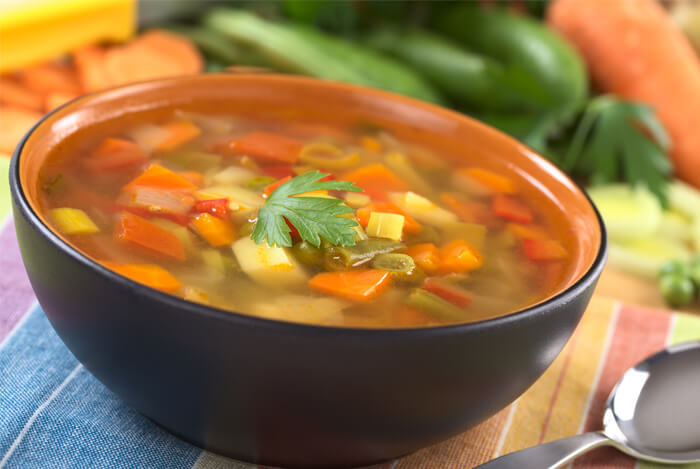 A key concern of many people seeking better nutrition and a more balanced diet is getting more vegetables. Outside of the usual salad here and there, it may not be that easy for people to get a good amount of vegetables throughout the day. Luckily, many soups are packed full of vegetables, and incidentally, the nutritional benefits that come with them.
You can throw any number of vegetables into a good broth, including, but not limited to: beets, celery, broccoli, mushrooms, carrots, peas, celery, cabbage, and zucchini. The taste and consistency of these vegetables changes as the vegetables cook and soak up the flavors of the broth. If you don't like the way certain vegetables taste, or don't like their texture, adding them to a soup is a great way to fit them into your diet.
Souping Provides Various Healthy Spices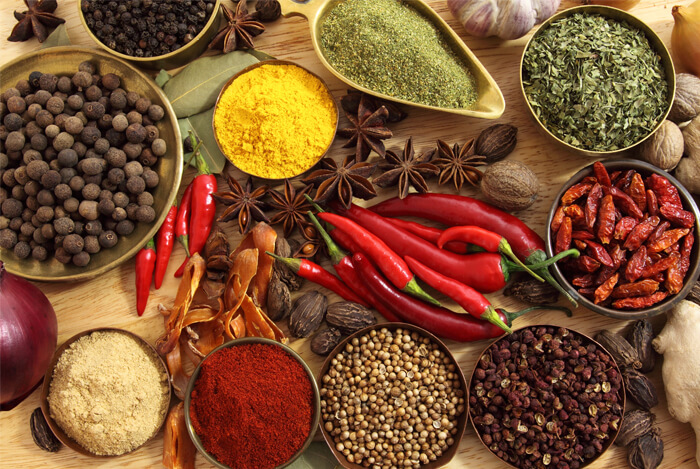 One great thing about soups is that you can add a variety of spices to not only enhance the flavor, but improve nutritional value as well. Give your soups a boost with some of the following spices:
Easy Soup Recipes
Let's go over just a few good recipes, and then I'll let your creativity takes over.
Lentil Soup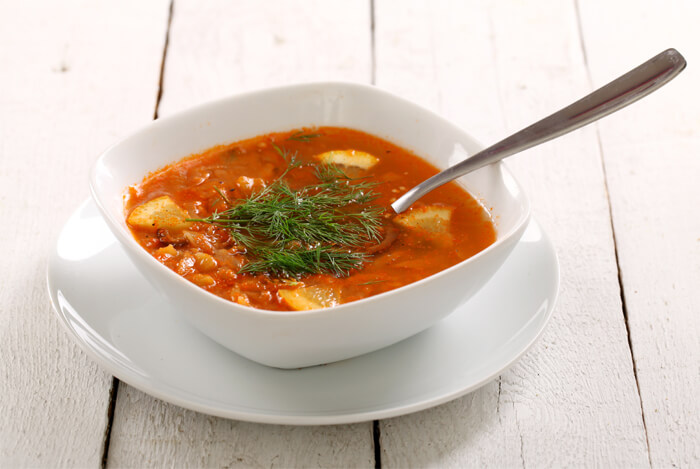 Like I mentioned before, I'm not a fan of lentils most of the time, but lentil soup is pretty good. Lentils have a heavier texture in soup than your run-of-the-mill watery soups, but have a lot of health benefits on their own. This recipe is inspired by Chowhound, but I've simplified it to my liking.
Ingredients:
Diced Celery (1 Stalk)
1 Diced Carrot
1 Diced Onion
Minced Garlic
1 Diced Tomato
1 Cup of Lentils
A pinch of salt, pepper, cumin, and basil
3-4 Cups of Vegetable Broth
Chowhound says to cook the vegetables first, but personally, I like to stew things. It's really up to you, there's no wrong way. It will save time to cook the vegetables first, but putting everything into a pot on medium heat and leaving it alone isn't very much work either.
Vegetable Beef Soup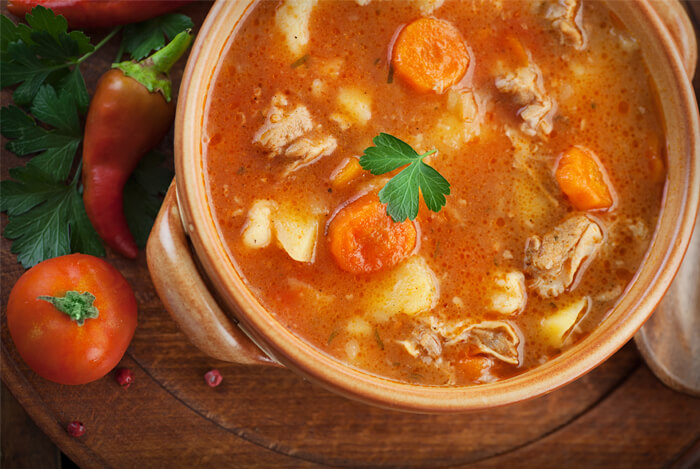 This one is pretty classic. And another easy flexible recipe that you can tweak to your liking.
Ingredients:
½ lb of Ground Beef (Or any lean meat you'd like)
A Chopped Onion
Minced Garlic
1 or 2 Diced Tomatoes
3-4 Cups of Broth that matches the meat you chose, or just vegetable broth
A quarter of a head of cabbage, chopped
A diced Carrot
A diced Celery Stalk
A handful of chopped mushrooms
A diced Zucchini
A Pinch of Basil, Oregano, Salt, and Pepper
First, brown the meat in a pan. Then throw everything into a pot and bring it to a boil. Then take the heat down to low/medium. Stir it every once in a while, and cook it for about half an hour. Then bring the heat even lower. The taste will change as it sits there on low heat and the vegetables absorb the taste of the broth and other vegetables. Yum yum.
Mushroom Barley Soup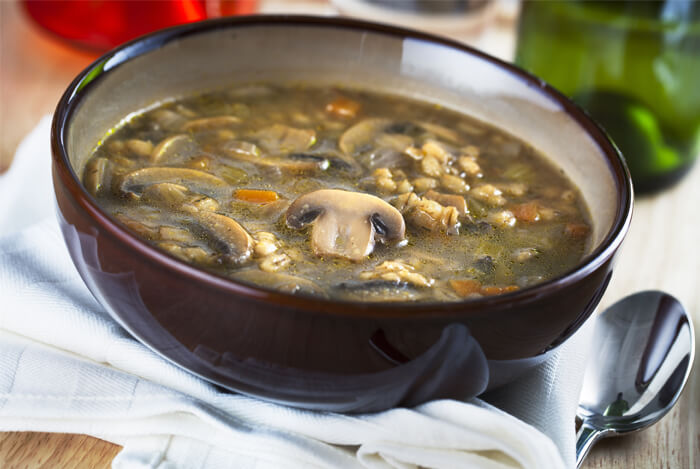 I found this one on Real Simple, and I haven't tried it. But it just sounded so good that I felt like I had to share it. It's mushroom barley soup. I really like mushrooms…and barley, so this one has to be a winner.
Ingredients:
Olive Oil
A pound of Mushrooms
3-4 Cups of chopped (or diced) carrots
2 cloves of garlic (chopped or minced)
4-6 Cups of Vegetable Broth
About 1 Cup of Barley
They say thyme and parley, I say Basil and Oregano
Salt and Pepper to taste
Rice or Apple Cider Vinegar (1-2 tea spoons)
Cook the vegetables in a pan for about 10 minutes and add the spices.
Then transfer everything into a large pot with the broth and simmer for about half an hour. You'll notice I added vinegar, and that's because I feel like mushrooms go well with that sweet and sour flavor, similar to Tom Yum Soup, which is a lemon grass based Thai Soup.
It could also be really good with some Cayenne pepper to boot. Be creative, it's hard to mess up soup. You can always adjust the flavorings with spices, or decrease the flavoring by adding more broth. The kitchen is your oyster!
Final Thoughts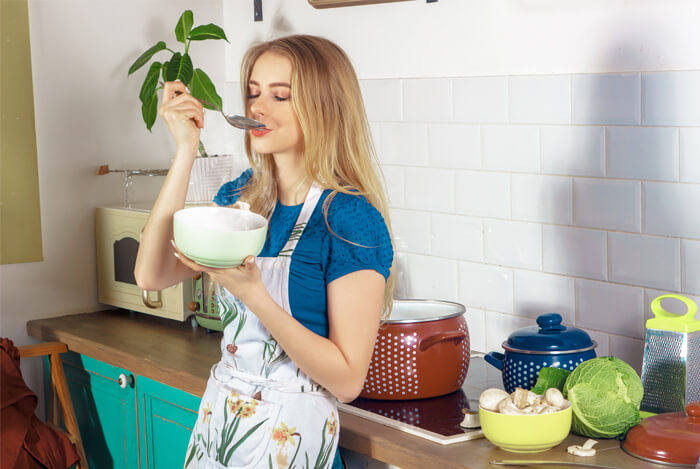 We've gone over the benefits of souping, which include convenience, ease of getting additional fiber into your diet, and having a higher amount of vegetables and spices in your diet.
I know I didn't throw too many recipes out there, but the ones mentioned are simply to spur your creativity.
What's your take on souping? Have anything else you'd like to share? Let me know in the comments below!
Want to know how to build muscle and lose fat eating delicious foods like these?
"Dieting" doesn't have to suck. You CAN eat foods you like and have the body you want!
Click Here to Learn How
OVER 100,000 PEOPLE HAVE USED MY COOKBOOK TO GET THE BODY THEY WANT EATING THE FOODS THEY LOVE. WILL YOU BE NEXT?
What if I told you that just about everything magazines and trainers "teach" you about dieting is wrong?
What if you could build muscle and lose fat eating "naughty" foods every week?
What if you didn't have to suffer through low-carb dieting to get lean? In fact, what if you could eat all the carbs you wanted?
And what if you didn't have to gorge yourself just to gain muscle and didn't have to put on pounds and pounds of ugly fat, either?
In short, what if I told you that proper dieting--whether you want to maximize fat loss or muscle growth--is much simpler and more enjoyable than you've been led to believe?
Imagine eating delicious, filling meals every day...never feeling starved or stuffed...having great energy levels and workouts...and watching your body respond exactly as you desire, dropping fat or adding muscle each and every week.
And imagine finally understanding how proper dieting really works, never again falling for the BS, tricks, and gimmicks pushed by "gurus" and other shysters.
Well, I have good news.
All these "fantasies" can be a reality...if you know how to do a handful of "little" things correctly.
You see, when you know how to diet properly--and this doesn't mean learning to eat boiled chicken and raw broccoli six times per day--getting lean and muscular becomes simple, convenient, and dare I say...enjoyable.
And this book will show you the way.
If you enjoyed this article, get updates. It's
free

.

100% Privacy. We don't rent or share our email lists.