10 Delicious Lentil Recipes
One of my favorite legumes are lentils – they're quick and easy to make and extremely versatile. They've also got a bad rap as being bland, boring and, well, a little bit pointless.
But I've got ten delicious lentil recipes here, so see for yourself.
Nutritional Profile of Lentils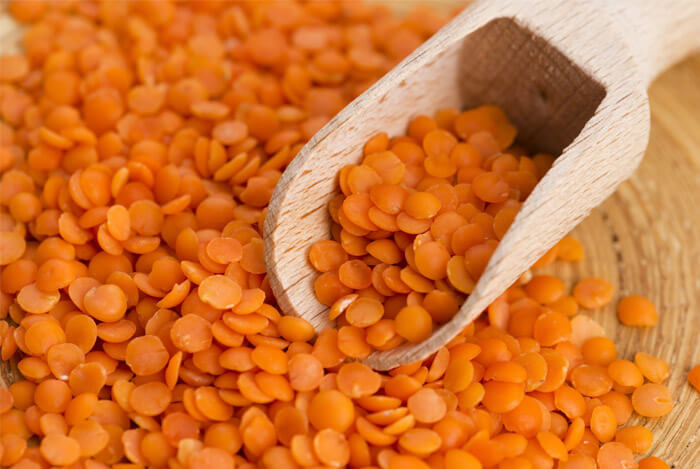 Before we get to all the delicious ways you can use lentils, let's take a look at their nutritional profile.
While there are many varieties of lentils, in general, one cup of cooked lentils contain:
230 calories
1 g fat
40 g carbohydrates – 13% RDV (Recommended Daily Value)
16 g fiber – 63% RDV
18 g protein – 36% RDV
Iron – 37% RDV
Vitamin B6 – 18% RDV
Copper – 25% RDV
Folate – 90% RDV
Magnesium – 18% RDV
Manganese – 49% RDV
Phosphorus – 36% RDV
Potassium – 21% RDV
Thiamin – 22% RDV
Zinc – 17% RDV
No saturated or trans fat
No cholesterol
So, without any further ado, let's get right down to the tasty lentil recipes.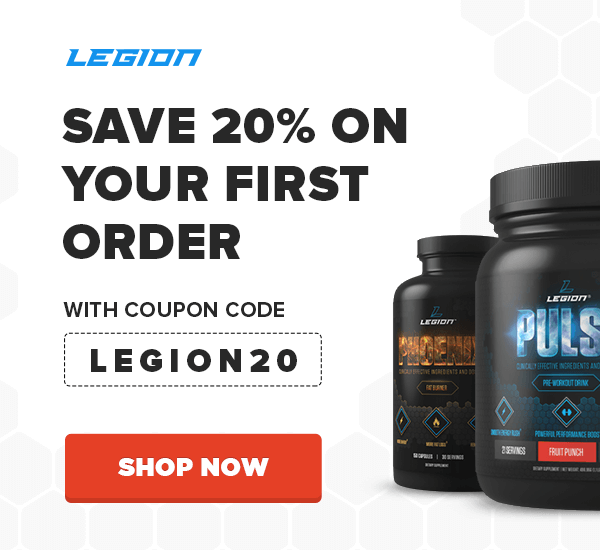 Spiced Lentil, Sweet Potato & Kale Whole Wheat Pockets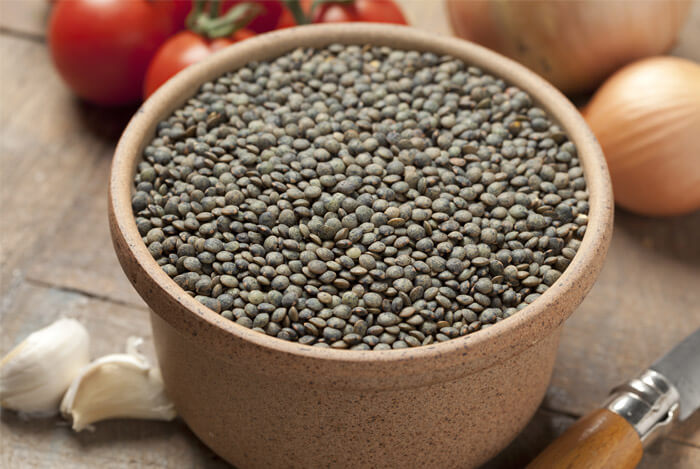 These wholesome pockets from The Kitchn are delicious. I'll admit, they do require a little work but it's worth it.
You can also double the recipe and freeze them before baking so you always have a healthy lentil dish on hand.
Sweet potatoes are loaded with vitamin A – one medium potato contains 438% of your RDV.
Make sure to check out my post on all the nutritional benefits of sweet potato.
Kale's another important food to eat regularly.
Ingredients (makes 6 pockets)
For the dough
1 cup warm water
2 tsp active dry yeast
1 & 1/2 cups whole wheat flour
1 & 1/2 cups all-purpose flour
1 & 1/2 tsp salt
3 tbsp olive oil, divided
For the filling
3 small sweet potatoes, scrubbed clean
2 tbsp cooking oil, divided
1 medium yellow onion, half thinly sliced, half diced
2 cloves garlic, minced
1 tsp ground cumin
1/2 tsp ground cinnamon
1/2 tsp ground allspice
1/2 cup French green (Puy) lentils, rinsed
2 cups water
1/2 bunch destemmed kale, cut into bite-sized pieces
1/2 tsp salt
Directions
Combine warm water and yeast and sit until the yeast dissolves. Combine the two flours, salt, 2 tablespoons of olive oil and the yeast mixture and mix until dough forms. Knead until smooth. Grease large bowl with the remaining olive oil, place the dough in the bowl and cover for 1 to 2 hours, or until doubled in size.
Preheat oven to 400F. Prick the sweet potatoes with a fork and bake for 45 to 60 minutes, until cooked. Allow to cool.
Sauté diced onion and garlic until translucent then add the cumin, cinnamon, and allspice and cook until fragrant, about 1 minute. Add lentils and water and bring to a boil over high heat, then lower and simmer uncovered for 10 minutes.
Add kale and salt to the lentils. Cover and simmer for 5 to 10 minutes until lentils are soft. Drain and transfer the lentil and kale mixture to a bowl.
Meanwhile, warm 1 tablespoon of oil in a heavy skillet over low heat. Add sliced onion and cook, until caramelized, about 20 to 25 minutes. Increase oven heat to 450F. Peel and mash sweet potatoes.
Divide dough into 6 pieces and roll each into a 9-inch oval shape. Spread each with 1/4 cup mashed sweet potato over the bottom half of the dough and cover with 1/3 cup of the lentils and kale, and some caramelized onions. Fold top half of the dough over, and pinch and fold edges to seal securely.
Place pockets on baking tray, brush with oil and add 3 small slits to let steam escape as it bakes. Bake for 25 to 30 minutes, or until browned.
Wild Mushroom, Lentil and Olive Burgers with Cashew Garlic Sauce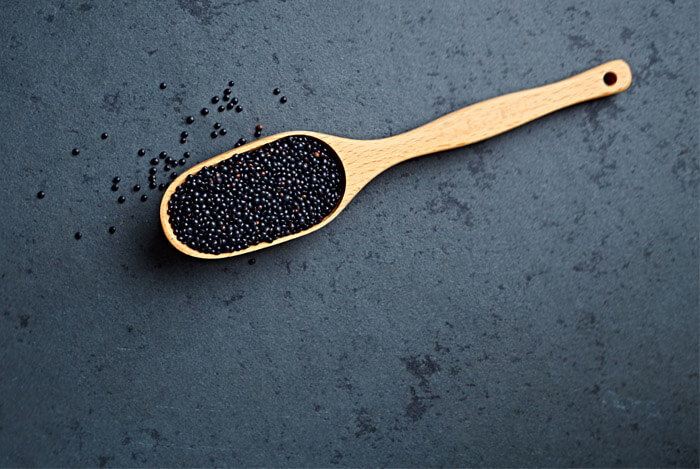 When I came across this recipe from My New Roots, I just had to try it. It's absolutely packed with flavor, a far cry from the mushy, salt-filled veggie burgers I've had before.
Add in garlic, known for helping the heart, brain and skin; and kalamata olives, rich in monounsaturated fat (a 'good' fat) and you've got a winning combination in terms of taste and nutrition.
Ingredients (makes 6 to 8 burgers)
1 cup beluga lentils, rinsed
Coconut oil (enough for cooking)
1 red onion, sliced
Pinch sea salt
2 cups mixed wild mushrooms, sliced
5 cloves garlic, minced
3 tbsp fresh rosemary
1 tbsp fresh thyme
2 tbsp tamari
1/2 cup sunflower seeds
15 kalamata olives
2 tbsp olive oil
1 tbsp Dijon mustard
Freshly cracked black pepper
Cashew Garlic Sauce
1/2 cup raw cashews, soaked for at least 4 hours
1/2 cup water
1 small clove garlic
2 tbsp extra virgin olive oil
4 tsp freshly squeezed lemon juice
2 tbsp chives
1/2 tsp sea salt
Dash of honey or maple syrup
Directions
Add lentils and 2 cups of water to a saucepan, bring to a boil, cover, reduce to simmer and cook until tender. Drain if necessary.
In a pan heat coconut oil, add sliced onions and a pinch of salt. Cook until softened, then add garlic, rosemary and thyme. Cook for a few minutes, then add sliced mushrooms. After five minutes, stir mushrooms and stir in tamari. Once cooked, remove from heat and set aside.
Process sunflower seeds to consistency of breadcrumbs. Add cooked lentils, mushroom mixture, mustard, olive oil, and black pepper. Pulse to blend (the mix should be thick).
Pit and roughly chop olives and stir into rest of ingredients. Form into 6 or 8 thick patties and fry, oven cook or broil to your liking.
For the cashew garlic sauce, blend all ingredients until smooth and creamy, and drizzle over burgers.
Roasted Cauliflower and Lentil Tacos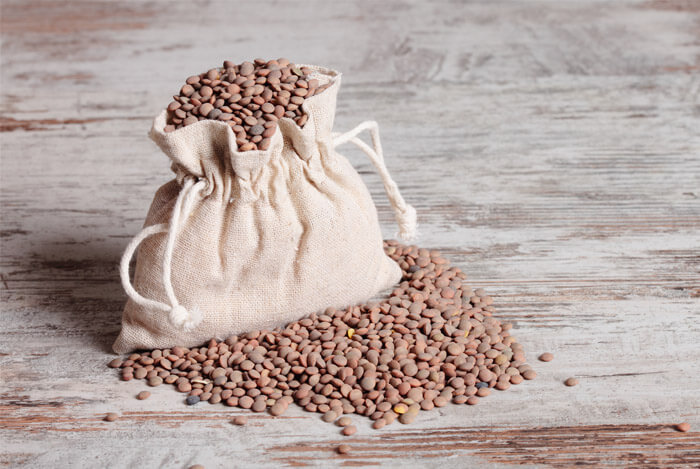 Instead of loading up on calories with traditional tacos filled with ground beef and melted cheese, try these lightened up tacos (which are easily as delicious) by Cookie and Kate.
Cauliflower might seem like an odd choice for a taco filling but when you roast the florets they end up being perfectly crispy and a little chewy. And we could all do with adding more cauliflower to our plates.
Top the lentil and cauliflower mix with fresh cilantro.
I also load on the avocado, chilies and salsa verde – just like I would with any other taco recipe.
Ingredients (serves 2 to 4)
1 large head of cauliflower, sliced into bite-sized florets
3 tbsp oil of choice
Salt and freshly ground black pepper
1 cup chopped yellow or white onion
2 large garlic cloves, pressed or minced
2 tbsp tomato paste
1/2 tsp ground cumin
1/2 tsp chili powder
3/4 cup brown lentils, rinsed
2 cups vegetable broth or water
8 corn or wholegrain tortillas
1/2 cup packed fresh cilantro leaves
Directions
Preheat oven to 425F. Toss cauliflower with 2 tablespoons oil and season. Roast for 30 to 35 minutes, tossing halfway, until the florets are deeply golden on the edges.
Warm one tablespoon oil in a medium-sized pot over medium heat. Sauté onion and garlic until translucent. Add tomato paste, cumin and chili powder and sauté for another minute, stirring constantly. Add the lentils and the vegetable broth.
Raise heat and bring to a gentle simmer. Cook, uncovered, for 20 to 35 minutes, until the lentils are tender and cooked through. Drain off any excess liquid, then cover and set aside.
Warm tortillas and top with the lentil mixture, cauliflower, chopped cilantro and any other toppings.
Easy Red Lentil Dhal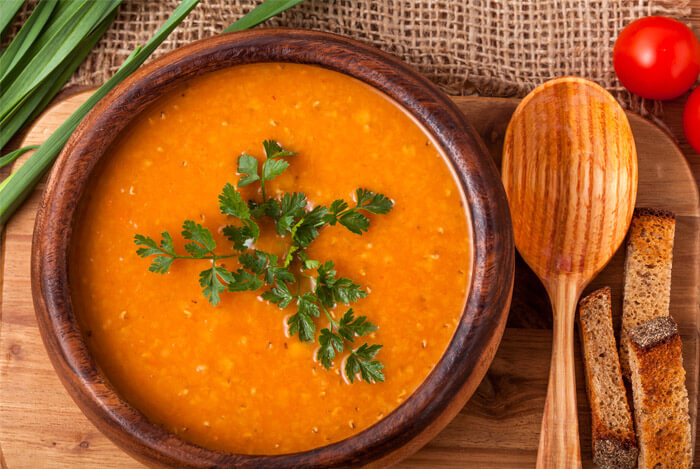 Filling and nutritious meals don't come any easier than this dhal recipe – a traditional Indian staple made from split pulses.
Lindsay at Pinch of Yum whips this up in just 15 minutes. Now that's what I like to hear – a tasty and nutritious meal in mere minutes.
Lentils are the main ingredient, but they're filled with flavor thanks to abundant spices and creamy coconut milk.
Ingredients (makes 6 cups)
2 & 1/2 cups red lentils
5 to 6 cups of water
2 tbsp curry paste
1/2 cup coconut milk
1/3 cup water
1/2 tsp salt
1/4 tsp black pepper
1/4 tsp cayenne
2 tsp curry powder
1/2 tsp turmeric
1 tsp chili powder
lime juice
green herbs for garnish
Directions
Bring the water to a boil in a large pot. Add lentils and cook uncovered for 10 minutes. Remove from heat.
Stir in remaining ingredients until completely incorporated. Season with additional salt and herbs for garnish.
Seared Salmon with Orange-Lentil Salad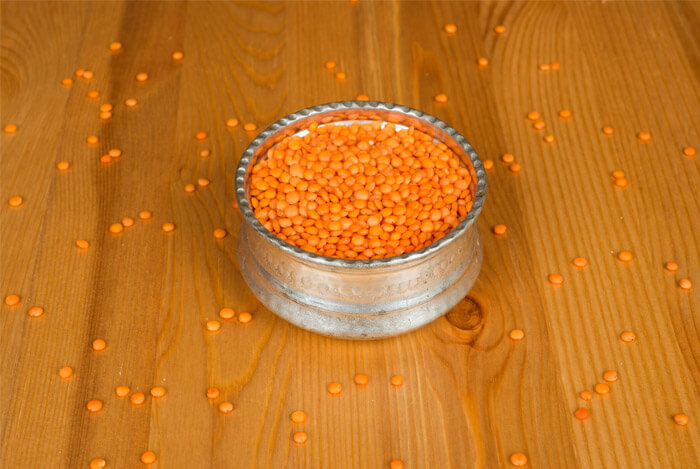 This recipe by Health.com is my idea of a perfect lunch – salmon on a bed of citrusy lentils and served with a side of something green (I recommend roasted broccoli).
Salmon gives you massive bang for your buck nutritionally. It's a great source of protein and healthy omega 3 fatty acids.
Since lentils are a great source of iron, I'm glad to see them being served with vitamin C rich orange zest and juice.
Ingredients (serves 4)
1 tbsp cooking oil
4 skinless salmon fillets
Salt and freshly ground black pepper
1/2 tsp finely grated orange zest
3 tbsp freshly squeezed orange juice
2 tbsp finely chopped red onion
2 & 1/2 cups cooked lentils
Directions
In a 12-inch skillet, heat oil over medium-high heat. Season salmon and cook until deep golden, about 4 minutes. Turn and sear on opposite side.
While salmon is cooking, stir orange zest, juice and red onion into lentils. Divide salad among four plates, top with salmon and serve.
Moroccan Red Lentil Soup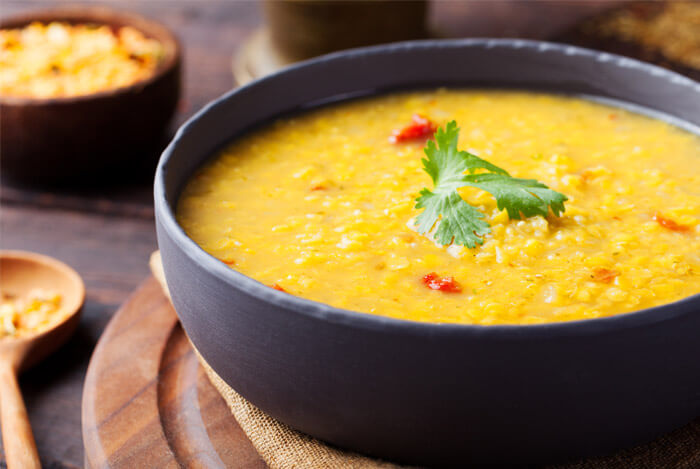 A bowl of this soup by Julia over at A Cedar Spoon will keep you going all afternoon, thanks to the hearty lentils and satiating power of the spices.
Ingredients (serves 6)
3 tbsp cooking oil
1 large onion, chopped
1 celery stalk, chopped
1 carrot, chopped
3 garlic cloves, chopped
2 tsp ground coriander
1 tsp ground cumin
1 tsp ground turmeric
1/2 tsp sweet paprika
1/4 tsp ground cinnamon
1/2 tsp sea salt
Dash of pepper
8 cups low-sodium vegetable broth
15oz can crushed tomatoes
2 cups red lentils, rinsed
1 lemon, juiced
Pinch of red pepper flakes
4 tbsp fresh flat-leaf parsley and 1 tbsp fresh cilantro, chopped
Directions
Heat oil in a large pot and add the onions, carrots and celery and sauté until tender. Then add the garlic, coriander, cumin, turmeric, paprika, cinnamon, salt and pepper and continue cooking for another 2-3 minutes, stirring continuously.
Add the broth, tomatoes, and lentils stir well and bring to a boil. Simmer uncovered on low for 20-25 minutes, until the lentils are tender.
Stir in the lemon juice, red pepper flakes, parsley and cilantro, cover and cook for 10 minutes.
Lentil, Walnut and Spinach Loaf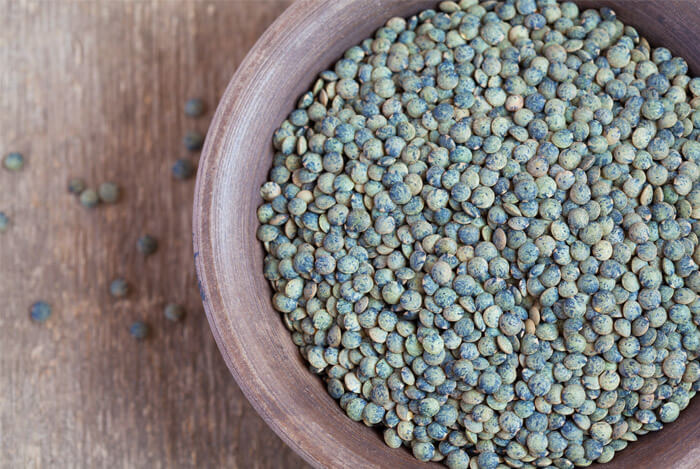 This isn't the first meatless meatloaf recipe I've posted on the site but, when we're talking about lentils, I couldn't omit this recipe, from Health is Happiness.
It contains a surprising amount of veggies (well, more than you'd find in a meat-filled meatloaf at least) along with good fats and protein.
The walnuts in this dish are an excellent source of omega 3 fatty acids and have even been shown to benefit those with high cholesterol.
And last but not least, I have to mention the sneaky greens in this loaf – spinach. This leafy vegetable is a great source of vitamin K for bone and blood health.
Ingredients (makes 1 loaf)
1 cup uncooked green lentils, rinsed
1 cup walnuts, finely chopped and toasted
3 tbsp ground flaxseed & 1/2 cup warm water
1 tbsp coconut oil
3 garlic cloves, minced
1 & 1/2 cups diced sweet onion
1 cup diced celery
1 cup grated carrot
2 packed cups spinach, roughly chopped
1/3 cup raisins
3/4 cup breadcrumbs
2 tsp fresh thyme (or 3/4 tsp dried thyme)
1 teaspoon ground cumin
Salt and pepper, to taste
Balsamic Apple Glaze
1/8 cup ketchup
1 tbsp pure maple syrup
2 tbsp unsweetened applesauce
2 tbsp balsamic vinegar
Directions
Make the glaze by whisking all ingredients together in a bowl. Set aside.
Place lentils in a pot and cover with water. Bring to a boil. Reduce heat and cook for about 40 minutes, until soft. Remove from heat and mash slightly with a fork.
Whisk ground flax with 1/2 cup warm water in a small bowl and set aside.
In a large skillet, heat the oil and add the onions, garlic, cumin and celery. Sauté for about 5 minutes. Then add the carrots, raisins and spinach. Sauté for another 5 minutes. Remove from heat.
In a large bowl, combine all the ingredients: the lentils, toasted walnuts, veggie mix, breadcrumbs and the flax mixture. Season with salt, pepper and cayenne pepper to taste. Mix well.
Press mixture into a lined or greased loaf pan. Brush the glaze on top. Bake at 350F for 35-40 minutes. Let cool for 10 minutes before slicing and serving.

Spicy Red Lentil Chipotle Hummus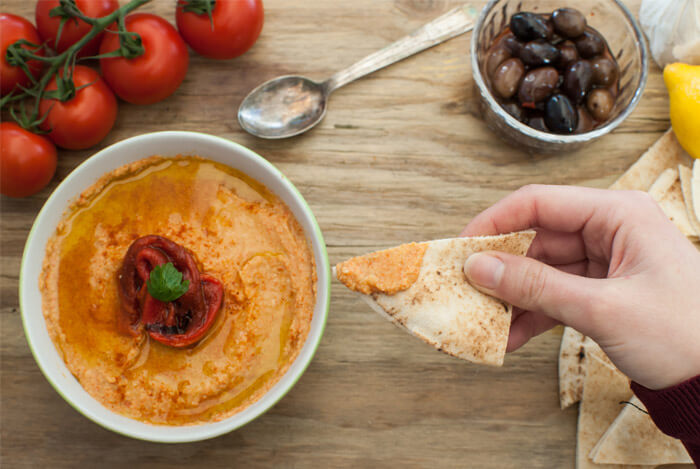 If you're bored of plain old chickpea hummus, or are just out of chickpeas, then I'd most definitely recommend this high-protein red lentil hummus recipe by Coffee and Quinoa.
Following a Mediterranean or anti-inflammatory diet plan? Good news – this recipe works for you too.
It's not just protein that this snack boasts. Thanks to the tahini (a paste made from sesame seeds), it provides plenty of calcium and copper.
For such tiny seeds, sesames contain around 18% of your RDV of calcium per two tablespoon serving. That amount will also provide 36% of your daily copper needs – a mineral that's vital for healthy red blood cells, nerve cells and immunity.
Add this hummus to salads, or use it as a dip for cucumbers, carrots, celery, sliced bell peppers and anything else you like.
Ingredients
1 & 1/2 cups uncooked red lentils, rinsed
1/4 cup tahini
Juice of 2 limes
1 large garlic clove, peeled and roughly chopped
1/2 cup water, plus more as needed
4 chipotle chilies
1 tsp smoked paprika
1/2 tsp cumin
1/2 tsp kosher salt
Directions
Simmer lentils with water until thoroughly cooked and beginning to get mushy, about 12 minutes.
Meanwhile, in a food processor, puree tahini with lime juice, garlic, and 1/2 cup water. Add cooked lentils, chipotle chilies, paprika, cumin, and salt. Puree until smooth, adding more water as necessary.
Bright Lentil Salad with Apples, Fennel, and Herbs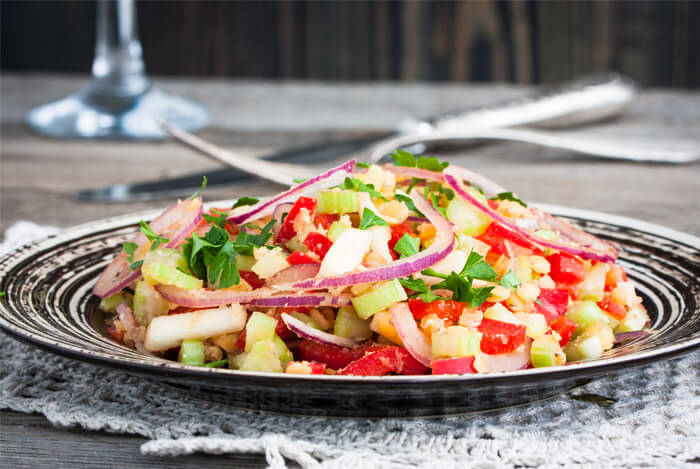 This summery French-style salad recipe I stumbled upon over at Serious Eats looks good but tastes even better.
One cup of sliced fennel provides 17% of your daily vitamin C needs, 11% of dietary fiber, 10% potassium and 8% of manganese needs.
Ingredients (serves 4)
1 tbsp apple cider vinegar
Salt and freshly ground black pepper
2 tbsp olive oil
1 tbsp water
1 medium fennel bulb, finely diced
1 apple, peeled and finely diced
8 ounces baby plum tomatoes, finely diced
2 x 14.5oz cans of Puy lentils, drained and rinsed
1 tbsp fresh thyme
2 tbsp fresh basil
Directions
In a large bowl, whisk together the vinegar, salt, and pepper. Add in the olive oil, and whisk until emulsified. Add the water, and whisk to loosen. Add the fennel, apple, and tomatoes, toss to combine, and allow to sit in the vinaigrette for 15 minutes. Finally, add the lentils and fresh herbs, and allow to sit another 15 minutes. Serve.
Creamy Lentil Stuffed Butternut Squash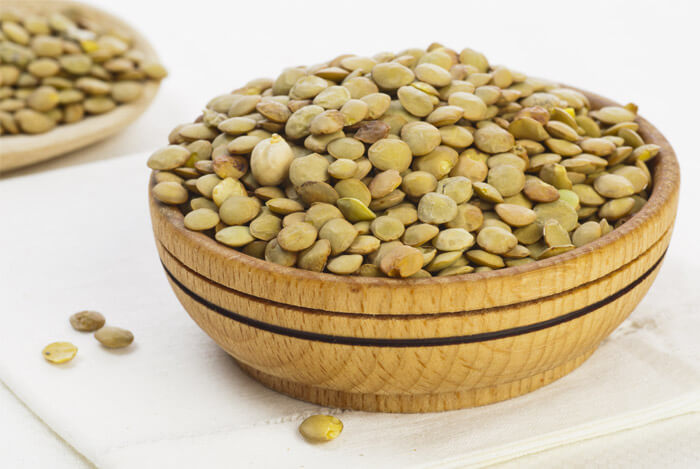 Who doesn't love roasted butternut squash? It's the perfect fall or winter vegetable in my opinion.
Emma at Coconut and Berries had the genius idea to stuff it with lentils, miso, tamari and creamy almond butter for an unbelievably tasty and filling dish.
Butternut squash, known as 'the apple of God' by American Indians, is a good source of fiber, potassium, and magnesium and also contains 457% of your daily vitamin A needs, per cup!
The seeds of this squash contain monounsaturated fatty acids for a healthy ticker, and 18 amino acids.
Adding a dash of miso doesn't just add flavor but nutrients and even probiotic bacteria – essential for gut and overall health.
Ingredients (serves 2)
1 medium butternut squash
1/2 tbsp cooking oil
1 onion, chopped
1 clove of garlic, minced
3/4 tsp dried thyme
1/2 cup uncooked green or Puy lentils, rinsed
1 tbsp white miso
1 Tbsp tamari
2 tbsp almond or cashew butter
1 cup chopped kale
Pepper, to taste
Directions
Preheat oven to 350F. Cut butternut squash in half lengthwise and scoop out seeds and any stringy bits. Place, cut side down, on a baking sheet and bake for 45 minutes, or until tender. Remove from oven and, with a spoon, remove a little of the squash flesh to create a hollow to fill.
Meanwhile, in a pan over medium heat, cook the onion in the olive oil for 5-8 minutes. Add the garlic and thyme and cook, stirring, for a further minute.
Add the lentils, miso, tamari and 1 cup of water. Bring to a boil then reduce heat, cover and simmer for 15-25 minutes until cooked.
Add the kale, nut butter and 3/4 cup water, a quarter cup at a time. Stir and simmer until the kale is cooked. Season with pepper, to taste.
Spoon the lentil mixture into the hollowed-out squash, return to the oven and bake for 10 minutes.
What's your take on these lentil recipes? Have anything else you'd like to share? Let me know in the comments below!
Want to know how to build muscle and lose fat eating delicious foods like these?
"Dieting" doesn't have to suck. You CAN eat foods you like and have the body you want!
Click Here to Learn How
OVER 100,000 PEOPLE HAVE USED MY COOKBOOK TO GET THE BODY THEY WANT EATING THE FOODS THEY LOVE. WILL YOU BE NEXT?
What if I told you that just about everything magazines and trainers "teach" you about dieting is wrong?
What if you could build muscle and lose fat eating "naughty" foods every week?
What if you didn't have to suffer through low-carb dieting to get lean? In fact, what if you could eat all the carbs you wanted?
And what if you didn't have to gorge yourself just to gain muscle and didn't have to put on pounds and pounds of ugly fat, either?
In short, what if I told you that proper dieting--whether you want to maximize fat loss or muscle growth--is much simpler and more enjoyable than you've been led to believe?
Imagine eating delicious, filling meals every day...never feeling starved or stuffed...having great energy levels and workouts...and watching your body respond exactly as you desire, dropping fat or adding muscle each and every week.
And imagine finally understanding how proper dieting really works, never again falling for the BS, tricks, and gimmicks pushed by "gurus" and other shysters.
Well, I have good news.
All these "fantasies" can be a reality...if you know how to do a handful of "little" things correctly.
You see, when you know how to diet properly--and this doesn't mean learning to eat boiled chicken and raw broccoli six times per day--getting lean and muscular becomes simple, convenient, and dare I say...enjoyable.
And this book will show you the way.
If you enjoyed this article, get weekly updates. It's
free

.
Sending...
Great! You're subscribed.
100% Privacy. We don't rent or share our email lists.