13 Delicious & Simple High Protein Snacks
Snacking between meals has something of a bad reputation. But it can be a great way to keep hunger at bay.
Many people find healthy snacks to be a big help in keeping hunger at bay.
This list of protein packed bites features all my old reliables, many of which are great for snacking on-the-go as they're portable and can be made ahead of time.
1. Cottage Cheese and Fruit Bowl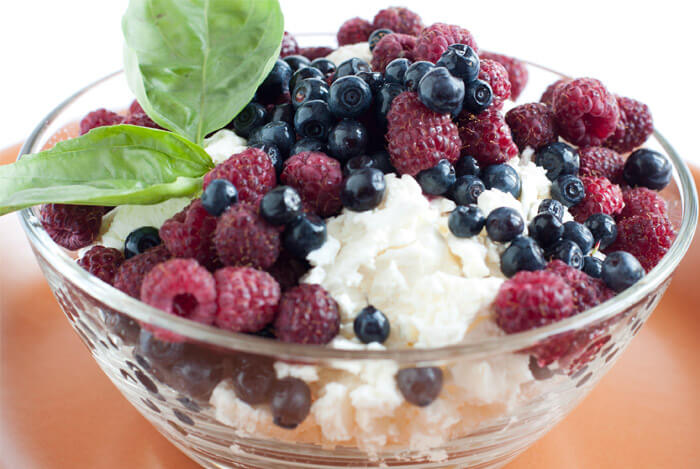 Protein: 14 grams per 1/2 cup
Cottage cheese may freak you out at first but give it a go, I promise it's actually really good. Mix in a little fruit, like some blueberries or strawberries, to sweeten it up and add those all important antioxidants.
A mere half cup of cottage cheese packs a seriously impressive protein punch, clocking in at 14 g, and just 116 calories. If you're counting calories, opt for the low fat, 1% milk fat cottage cheese. It only has 81 calories, yet you won't be compromising on the protein levels at all.
2. Homemade Trail Mix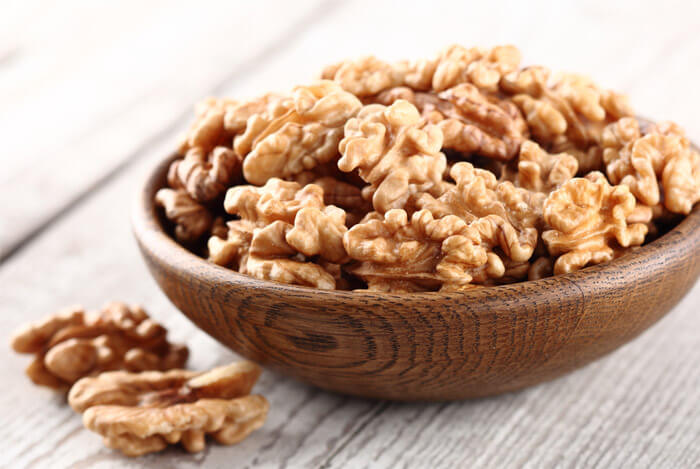 Protein: 6 grams per 1/3 cup
On-the-go snacks don't get much easier than this. You can pick up trail mix in most stores, so there's really no excuse for unhealthy snacking. But I prefer to mix my own when I can – it means I get to add in what I want and don't have to worry about any questionable ingredients.
Raw nuts, seeds, shredded coconut, and unsweetened dried berries are all smart choices.
My go-to trail mix recipe is a Cranberry-Pumpkin Seed Trail Mix (thanks Martha!). The original recipe says it makes 4 servings of ½ cup each but I find that amount to be a little too high in calories. By dividing it into 6, I get almost 6 g of protein for 163 calories, and then it makes enough to see me through the week.
Ingredients
1/2 cup dried cranberries
1/2 cup chopped toasted almonds
1/2 cup toasted pumpkin seeds (pepitas)
1/4 cup toasted walnuts
1/4 cup raisins
Directions
Easy – mix all the ingredients and divide into 6 portions.
3. Turkey, Avocado & Hummus Roll-Up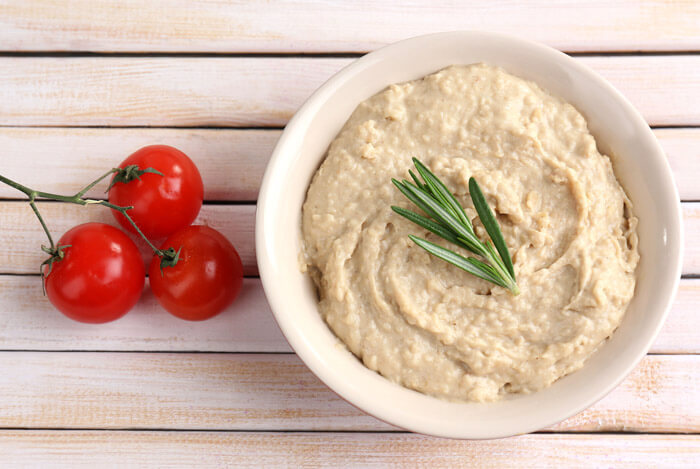 Protein: 8 grams per roll-up
Quick, simple, and savory, I just love turkey roll-ups. This gluten free bite from Organize Yourself Skinny definitely keeps the hunger pangs at bay.
It also contains one of my favorite good fats, avocado. Both the turkey and hummus bring protein to the table meaning this humble 100 calorie snack gives you 8 whole grams of protein.
Ingredients
1-2 slices of turkey
2 slices of avocado
1 tbsp hummus
Directions
Lay the turkey out flat. If using 2 slices then lay slices onto one another.
Spread hummus on top of the turkey. Add the avocado and roll.
4. High Protein Green Smoothie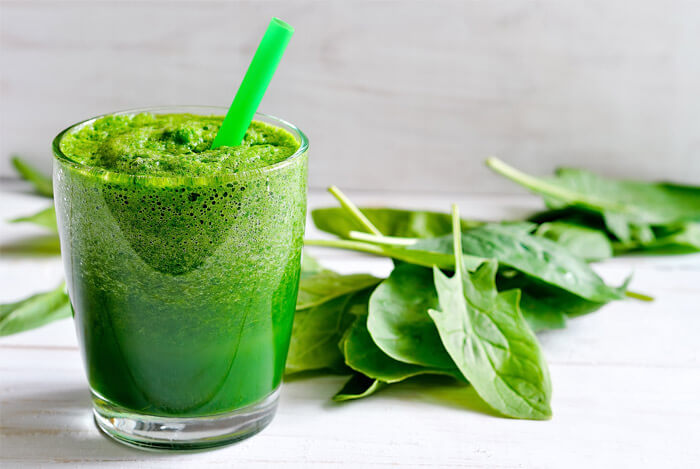 Protein: 11 grams per smoothie
I'm all about convenience when it comes to healthy eating. That's why I'm such a fan of this high protein smoothie from Shape.com. All I have to do is throw a few ingredients into a blender and 30 seconds later I have a filling snack that is an absolute nutritional powerhouse.
Feel free to swap the spinach for kale, which I sometimes do. And those who are dairy free can switch up the whey powder for an alternative like pea or hemp protein.
Ingredients
1 cup unsweetened coconut milk
2 cups baby spinach
1 frozen banana
2 tbsp almond butter
2 tsp organic vanilla extract
1/4 cup (1 scoop) whey powder
1 cup ice
Directions
Combine all the ingredients and blend until smooth.
5. Roast Chickpeas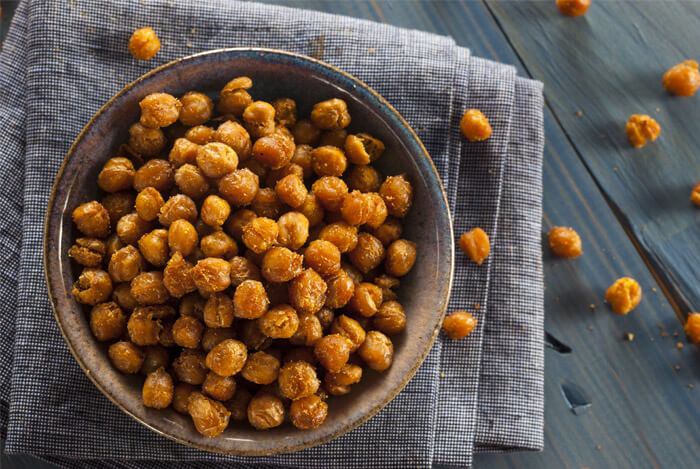 Protein: 6 grams per 1/3 cup
Have you tried roasted chickpeas yet? They're an awesome snack – crispy and crunchy just like nuts, yet lower in fat.
I like mine spicy like in this recipe by Kelly at Eat Yourself Skinny. If spices aren't for you, herbs, cinnamon, or plain old salt and pepper all work well instead.
Chickpeas are also thought to help lower cholesterol in addition to being tasty and filling.
Ingredients (makes 2 cups)
1 tbsp olive oil
1 & 1/2 tsp chili powder
1 & 1/2 tsp ground cumin
1/4 tsp salt
1/8 tsp cayenne pepper
2 cans chickpeas, rinsed, drained and patted dry
Directions
Preheat oven to 400F. Stir all the ingredients together in a large bowl, coating the chickpeas thoroughly.
Bake, shaking the pans occasionally until the chickpeas are browned and crisp (about 35 to 40 minutes). Serve warm or at room temperature.
6. Super Seed Chocolate Protein Bites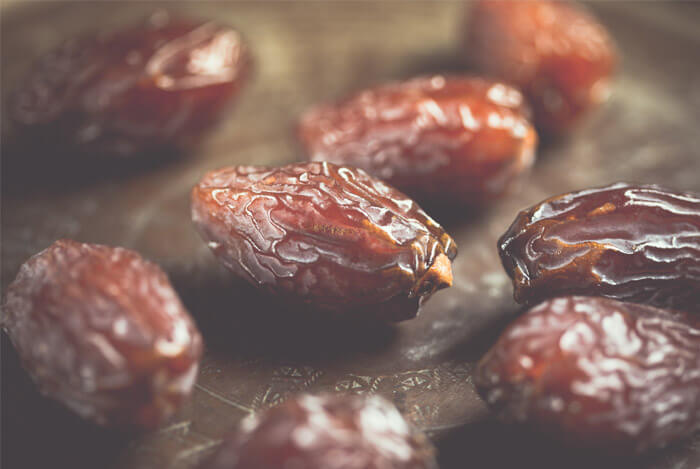 Protein: 5.7 grams per 4 bites
These homemade energy bites from Angela Liddon over at Oh She Glows are a lot more tasty and don't have near as much sugar as most store bought brands. They also pack in more protein per calories at 1.4 g of protein per 44 calorie bite. That means I can eat four of these babies for just 176 calories and 5.7 g of protein.
They can be stored in the freezer for easy snacking. Oh, and they're nut free, which is good news for those with allergies.
Ingredients (makes 16)
12 pitted Medjool dates
¼ cup hulled hemp seed
¼ cup chia seeds
¼ cup sesame seeds
¼ cup cocoa powder
½ tsp pure vanilla extract
¼ tsp cinnamon
¼ tsp fine grain sea salt, or to taste
¼ cup raw cacao nibs
Directions
Add dates to a food processor and process until a chunky paste forms.
Add in the hemp, chia, sesame, cocoa, vanilla, cinnamon and salt. Process until thoroughly combined. Pulse in the cacao nibs. The dough should be sticky (if not add a tsp or two of water).
Shape into small balls and freeze for 20 minutes or so until firm. Store leftovers in the freezer.
7. 2-Ingredient Pancakes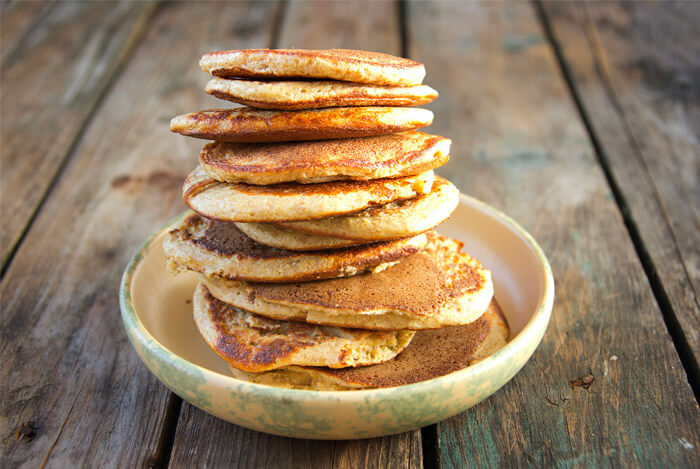 Protein: 12.4 grams per pancake
Not just for breakfast, pancakes make an amazing snack – particularly these paleo style ones. If you haven't tried these already then they might sound a bit weird to you, but I swear you'll love them.
Of course, eggs are one of the best sources of protein you can get, and the banana adds carbs for energy and a little fiber.
These pancakes are so easy to make that they barely need a recipe but for those that need step-by-step instructions, this comes courtesy of Hurry the Food Up.
Ingredients (makes 1)
Directions
Mash up bananas in a large bowl.
Whisk eggs and add to banana paste.
Fry in a pan with a little heated oil or butter.
8. Greek Yogurt Parfait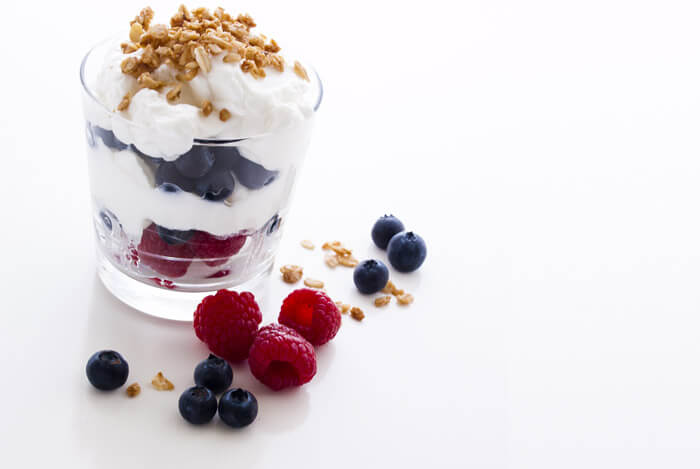 Protein: 22 grams per parfait
Another amazing dairy based protein source, Greek yogurt has twice the amount of protein of regular yogurt – giving you serious bang for your buck nutrition wise.
This parfait by Iowa Girl Eats is awesome! In addition to calcium rich yogurt, the oats are a good source of fiber and have been shown to help manage blood pressure levels.
Throw this together the night before so you can grab it as you head off to work. It also keeps for up to three days in the fridge.
Ingredients
6 oz Greek yogurt
1/3 cup gluten free oats, uncooked
1 tsp chia seeds
2 tbsp milk of choice (I like almond)
1 cup mixed fruit and berries
Directions
In a bowl combine yogurt, oats, chia seeds, and milk. Layer half in a wide-mouth jar or glass.
Add half the fruit and berries then layer in remaining yogurt mixture and berries.
Refrigerate overnight, or just eat straight away!
9. Chocolate Milk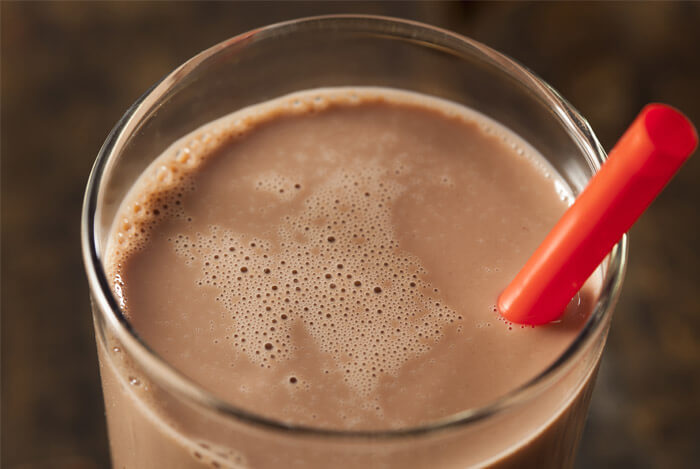 Protein: 8.5 grams per drink
It turns out that low fat chocolate milk provides the optimal mix of carbohydrates and high quality protein for post workout recovery.
Who would have thought it?
Well, researchers compared the recovery benefits after exercising of drinking low fat chocolate milk versus water and sports drinks. The athletes who drank the chocolate milk showed improved performance and quicker exercise adaptation. They also gained more muscle and lost more fat.
I adapted this recipe from Built Lean ever so slightly by using organic dairy milk instead of almond milk.
Ingredients
1 tbsp raw cacao or cocoa powder
8 oz milk
1 pinch of nutmeg
1 pinch of cinnamon
Stevia, to taste
Vanilla extract (optional)
Directions
Combine all ingredients in a small pot on the stove top. Bring mixture to a simmer and stir thoroughly. Remove and enjoy.
10. Steamed Edamame with Olive Oil & Lemon Juice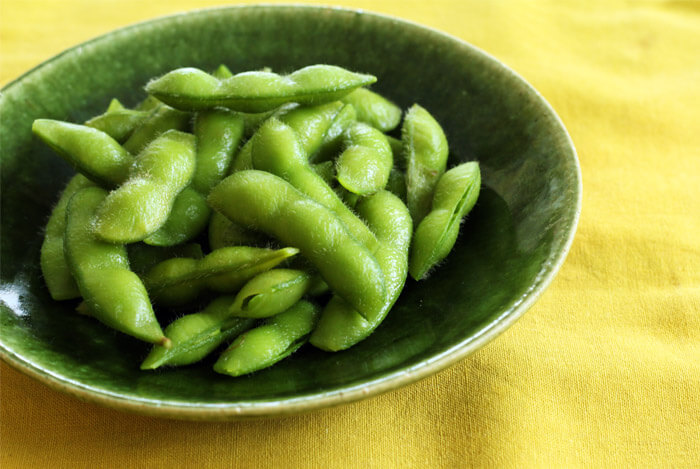 Protein: 17 grams per cup
These soybeans are a fresh tasting snack – especially when on the road. Plus, it's easy to pick up a pack in the store when you're out and about.
You'll get about 17 g of protein per cup, and just 189 calories. Pretty sweet!
If I get the chance, I like to add a little flavor by steaming them for five minutes and drizzling on some extra virgin olive oil. I top it off with a dash of freshly squeezed lemon juice for a tangy twist and immune boosting benefits.
11. Hard-Boiled Eggs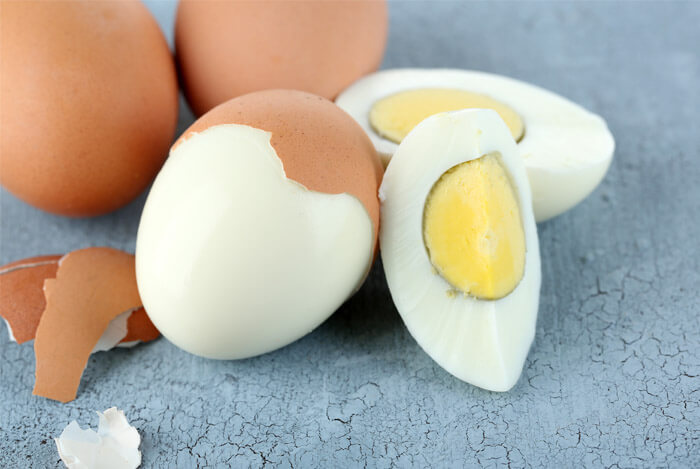 Protein: 6 grams per large egg
Hard-boiled eggs aren't the most exciting snack but they are easy to prep ahead, portable, and protein rich.
Here's how I make the perfect hard-boiled egg (hey, it can be tricky – overdone eggs are just plain nasty).
Place your eggs in a single layer at the bottom of a saucepan. Cover with cold water. Heat the pot on high and bring the water to a boil.
Turn off the heat, keep the pan on the hot burner, cover, and let sit for 10-12 minutes.
Strain out the water from the pan and run cold water over the eggs to cool them quickly and stop them from cooking further.
These will keep in the fridge for five days – perfect to get through the working week.
12. Black Bean & Salsa Wrap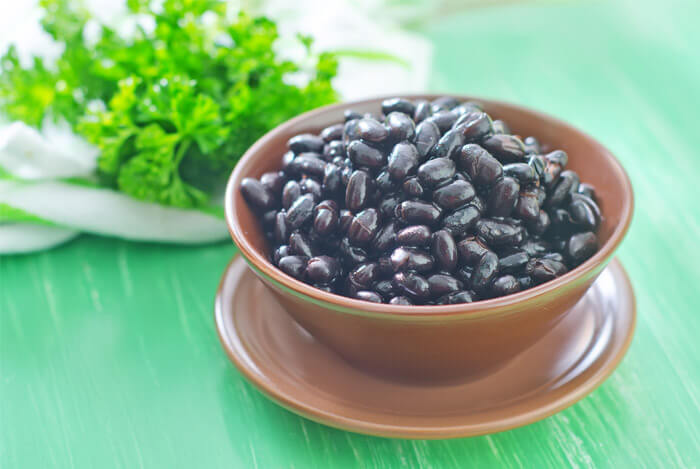 Protein: 14 grams per wrap
This wrap recipe from Fitness Magazine is a filling snack.
It's really tasty and quick to throw together, and you can leave out the avocado if you want to cut the calories down a little (but you'll also be missing out on their tasty and healthy fats).
Ingredients (makes 2)
1/2 cup canned black beans, rinsed and drained
1/4 tsp cumin
2 tbsp salsa
2 whole-grain tortillas
¼ avocado, chopped
Directions
Mix black beans, cumin and salsa. Fill tortillas with bean mixture and chopped avocado.
13. Smoked Salmon & Cucumber Stacks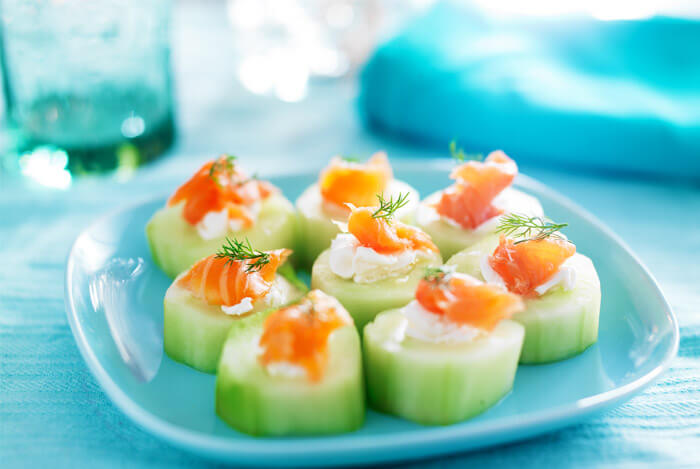 Protein: 16 grams per 5 rounds
Salmon is one of my favorites. This high protein fish is full of the essential fatty acid omega-3.
These impressive little stacks by the Pescetarian and the Pig are simple to throw together and have just four ingredients. Five rounds works out at just 115 calories.
Ingredients (makes 10 stacks, serves 2)
3 oz smoked salmon
1 small bunch of fresh dill
4 oz low fat cream cheese
1/2 cucumber
Directions
Cut cucumber into 10 rounds and top with a small piece of fresh dill.
Then add a little low-fat cream cheese, then a piece of salmon.
What's your take on these high protein snacks? Have anything else you'd like to share? Let me know in the comments below! 
Want to know how to build muscle and lose fat eating delicious foods like these?
"Dieting" doesn't have to suck. You CAN eat foods you like and have the body you want!
Click Here to Learn How
OVER 100,000 PEOPLE HAVE USED MY COOKBOOK TO GET THE BODY THEY WANT EATING THE FOODS THEY LOVE. WILL YOU BE NEXT?
What if I told you that just about everything magazines and trainers "teach" you about dieting is wrong?
What if you could build muscle and lose fat eating "naughty" foods every week?
What if you didn't have to suffer through low-carb dieting to get lean? In fact, what if you could eat all the carbs you wanted?
And what if you didn't have to gorge yourself just to gain muscle and didn't have to put on pounds and pounds of ugly fat, either?
In short, what if I told you that proper dieting--whether you want to maximize fat loss or muscle growth--is much simpler and more enjoyable than you've been led to believe?
Imagine eating delicious, filling meals every day...never feeling starved or stuffed...having great energy levels and workouts...and watching your body respond exactly as you desire, dropping fat or adding muscle each and every week.
And imagine finally understanding how proper dieting really works, never again falling for the BS, tricks, and gimmicks pushed by "gurus" and other shysters.
Well, I have good news.
All these "fantasies" can be a reality...if you know how to do a handful of "little" things correctly.
You see, when you know how to diet properly--and this doesn't mean learning to eat boiled chicken and raw broccoli six times per day--getting lean and muscular becomes simple, convenient, and dare I say...enjoyable.
And this book will show you the way.
If you enjoyed this article, get updates. It's
free

.

100% Privacy. We don't rent or share our email lists.