11 Healthy Recipes for Chocolate Lovers
No longer do chocoholics everywhere have to enjoy their guilty pleasure in secrecy.
Of course, like everything else, chocolate should be enjoyed in moderation. And you'll need to choose a dark chocolate with 70% to 85% cacao solids for the most antioxidant power.
Most of these 11 healthy recipes call for cocoa powder, the raw ingredient in dark chocolate.
So go on…enjoy the following recipes.
Chocolate Chip Banana Bread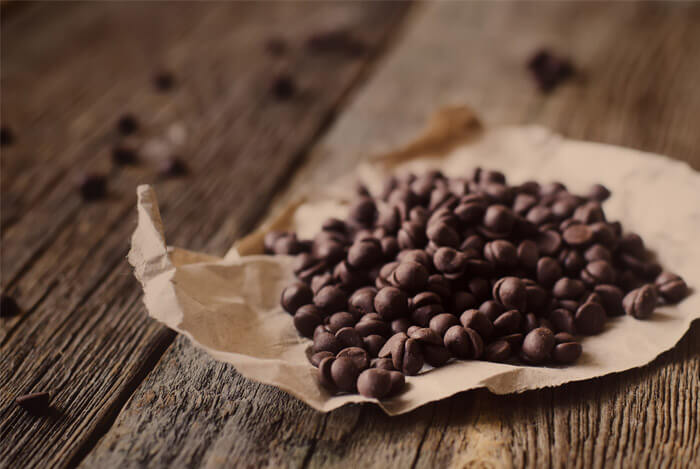 This delicious moist banana bread recipe is free from flour and refined sugar.
But don't worry, the sweetness from the ripe bananas and the chocolate chips will satisfy any sweet tooth.
I used almond milk in this recipe, but feel free to use any milk you'd like.
Ingredients (makes a 9 x 5 loaf)
2 & 1/2 cups rolled oats
1 & 3/4 cups mashed banana
1 tsp baking soda
1/2 tsp cinnamon
3/4 tsp baking powder
3/4 tsp salt
1 & 1/2 tsp pure vanilla extract
1/3 cup milk of choice
1/2 cup pure maple syrup or honey
1 & 1/2 tbsp vinegar
1/2 cup mini dark chocolate chips
Directions
Preheat oven to 350 F, and grease or line a 9×5 loaf pan.
Put the oats in a blender and blend until a fine powder forms. Add all other ingredients (except chocolate chips) and blend until smooth. Then stir in the chips.
Pour batter into loaf pan and bake for 35 minutes. Turn the oven off, but don't open the door. Allow bread to sit for another 10 minutes.
Remove and allow cool completely before removing from the pan.
Raw Chocolate Pudding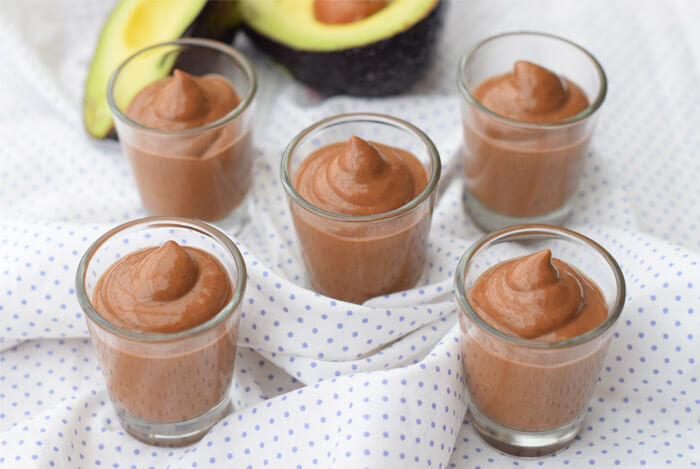 This recipe has a surprise ingredient that you'd never think was there just by tasting it..
I like to eat this pudding topped with fresh raspberries or strawberries.
Ingredients (serves 4)
1 medium, perfectly ripe avocado
1/2 cup dates
2 & 1/2 tbsp raw cocoa powder
1/4 cup water & 1/8 cup water
1 & 1/2 tablespoons honey
1/8 tsp sea salt
Directions
Blend all ingredients in a high-speed blender until smooth. You may need to add a tiny bit of extra water to get it really smooth but too much will ruin the consistency.
Pour into serving bowls and enjoy.
Peanut Butter Chocolate Banana Soft Serve 'Ice Cream'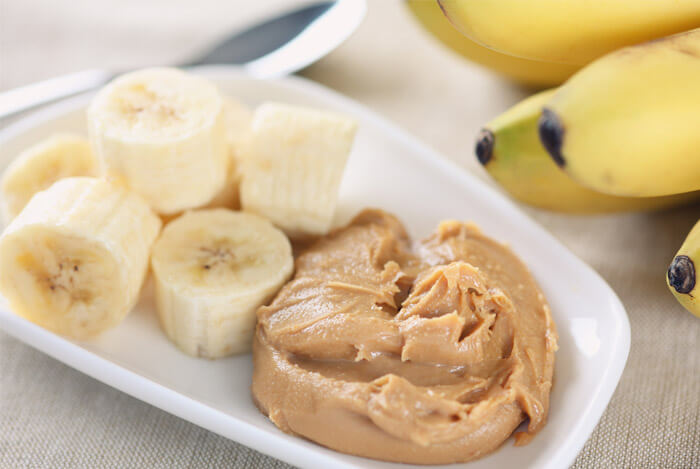 If you haven't tried this kind of delicious and healthy alternative to sweet ice-cream then you're missing out.
This particular recipe is extra tasty thanks to the addition of peanut butter.
Ingredients (serves 3)
3 large ripe bananas, chopped and frozen
2 tbsp unsweetened cocoa powder
3 tbsp natural peanut butter
Directions
Add the bananas, cocoa and two tablespoons of peanut butter to a food processor. Process until it takes on the consistency of ice-cream.
Stir in the remaining tablespoon of peanut butter to create 'chunks'.
Chocolate Chia Pudding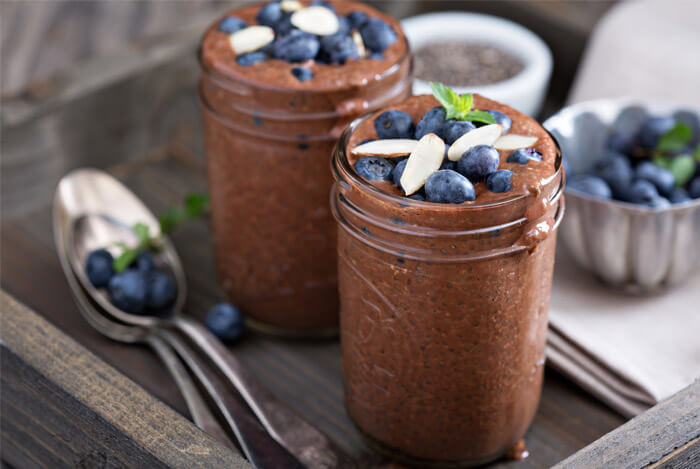 Chia puddings like this one are equally good for breakfast, desserts or snacks.
I've featured a chia pudding before, but this recipe here is flavored with both cacao and a sweetener like stevia or honey, making it that little bit more indulgent.
Ingredients (makes 3 small pots)
2/3 cup coconut milk
4 tbsp chia seeds
1/2 tsp of stevia or 1 tbsp of honey
3 tbsp of raw cacao
pinch of sea salt
Directions
Mix all ingredients in a bowl.
Place in 3 small jars, and refrigerate for at least 3 hours, or overnight.
Top with fruit, coconut or seeds.
Chocolate Hemp Repair Bars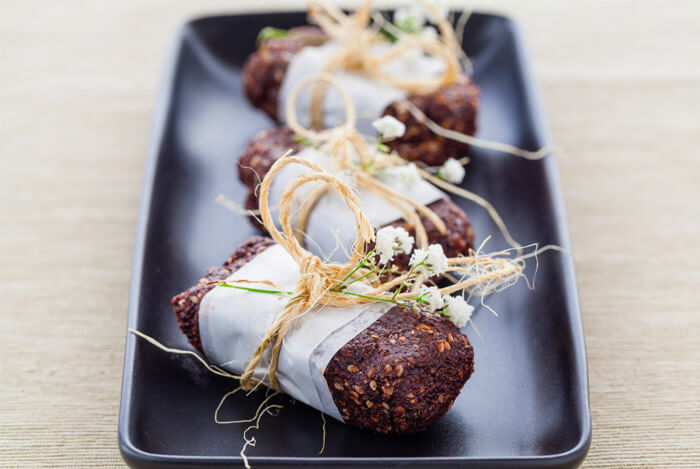 These energy bars are perfect for busy, health conscious people. They're quick to make, portable, sugar free, gluten free, dairy free and grain free.
They're still tasty and filling, with the texture of a soft cookie.
Ingredients (makes 12 bars)
1/2 cup almond butter
1/2 cup shredded unsweetened coconut
2 eggs
1/3 cup hemp protein powder (or powder of choice)
1/4 cup hemp seeds
1 tbsp cacao powder
1 tbsp ground chia seed
2 pinches of stevia powder
Directions
Preheat oven to 350F and line a cookie sheet with parchment paper or a silicon baking mat.
Add all ingredients to a bowl and mix well.
Divide the dough into 1/4 cups and shape into a bar. Bake for 10 to 15 minutes until cooked throughout.
Allow to cool for 5 minutes before transferring to a cooling rack.
Gluten Free, Flourless Black Bean Brownie Muffins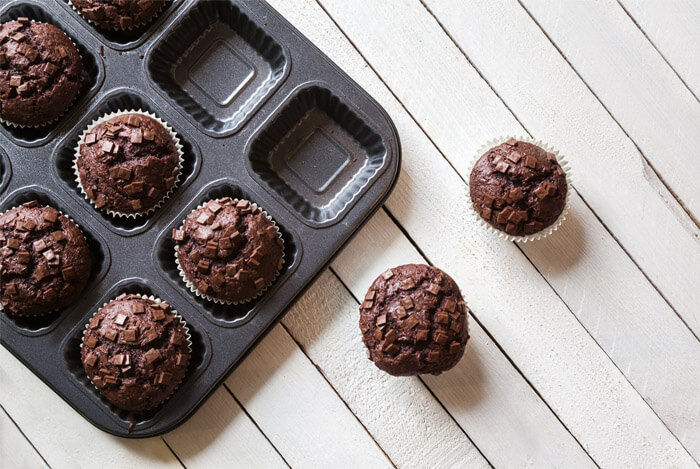 Don't let the fact that these muffins contain black beans put you off.
I'm all about hiding healthy foods in desserts, and that's the basis of this recipe.
Gram for gram, black beans give you a hefty dose of protein and fiber, yet you can't even taste them in this recipe.
Each muffin has just 159 calories, 2.4 g of fiber and 4.2 g of protein.
Ingredients (makes 12)
1 x 15 oz can of black beans, rinsed and drained
3 eggs
1/2 cup pure maple syrup
2 tbsp coconut oil, melted and cooled
1 tsp vanilla extract
1 tbsp brewed coffee
1/2 cup unsweetened cocoa powder
1 tsp baking powder
1/4 tsp salt
1/3 cup chocolate chips, plus 3 tablespoons for sprinkling on top
Directions
Preheat oven to 350F. Line a 12 cup muffin tin with baking liners.
Place black beans and 1 egg in food processor and process until beans are well blended. Add the other eggs, maple syrup, coconut oil, vanilla and coffee; process again until smooth. Next add cocoa powder and baking powder; process until smooth. Fold in 1/3 cup of chocolate chips.
Divide batter evenly among muffin cups. Sprinkle remaining chocolate chips on top. Bake for 25 minutes or until cooked throughout. Place on wire rack to cool for 10 minutes, then remove muffins from tin and transfer to wire rack to cool completely.
Chocolate Hummus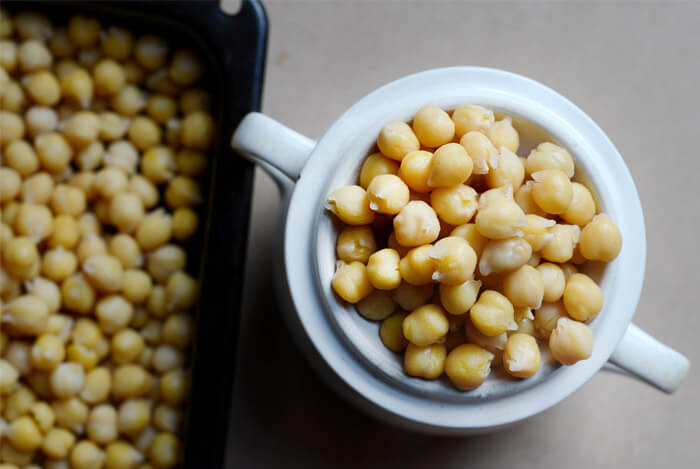 This chocolate hummus is really similar to Nutella and is just as versatile. But it only has a third of the calories and sugar.
Use it as a fruit dip, on top of oatmeal or even with high protein 2-ingredient pancakes for a healthy twist on Nutella crepes!
Ingredients
1 x 15 oz can chickpeas, rinsed and drained
3 tbsp unsweetened cocoa powder
1/4 cup maple syrup
1/4 tsp vanilla extract
Cinnamon, to taste
Sea salt, to taste
Water, as needed
Directions
Add all ingredients except water to a food processor, and process until smooth. Add water in small amounts, as needed, until desired consistency is reached.
Hide-the-Spinach Chocolate Smoothie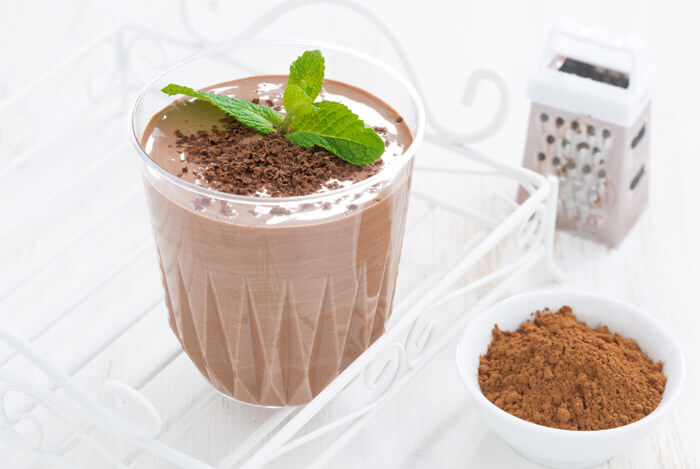 The cocoa powder totally masks the flavor of the baby spinach and both the bananas and dates add sweetness.
Ingredients (serves 2 to 4)
2 cups milk of choice
3 cups raw baby spinach
2 bananas
6 pitted organic dates
3 tbsp cacao or unsweetened cocoa powder
1 tsp pure vanilla extract
pinch sea salt
ice (optional)
Directions
Blend all ingredients until smooth, rich and creamy.
Raw Almond Butter Cups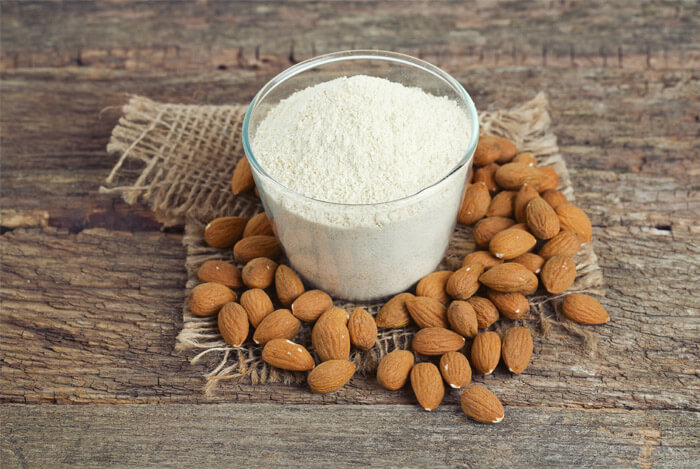 A healthier take on Reese's Peanut Butter Cups, this recipe is a winner in my book. I mean, the base of these tastes just like cookie dough.
You can also easily make these treats gluten-free by using certified gluten-free oats.
Ingredients (makes 12 mini cups)
For the base
3/4 cup raw almonds, ground into a meal
1/4 cup rolled oats, ground into a flour
2 tbsp raw almond butter
1 & 1/2 tbsp coconut oil, warmed if necessary
1 & 1/2 tablespoons pure maple syrup
1/4 tsp cinnamon
1/4 tsp pure vanilla extract
pinch of fine grain sea salt, to taste
For the topping
3 tbsp coconut oil
3 tbsp pure maple syrup
2 tbsp cocoa powder
pinch of fine grain sea salt, to taste
Directions
Add all base ingredients into a bowl and mix to form a sticky dough.
Line a muffin tin with paper liners and portion the dough into each muffin cup. Press down until even and smooth.
To make the topping, whisk together the four ingredients until no clumps remain. Spoon the sauce over top each of the cups, distributing evenly.
Freeze for 30-45 minutes, until firm. Best enjoyed straight from the freezer.
Raw Protein Chocolate Power Balls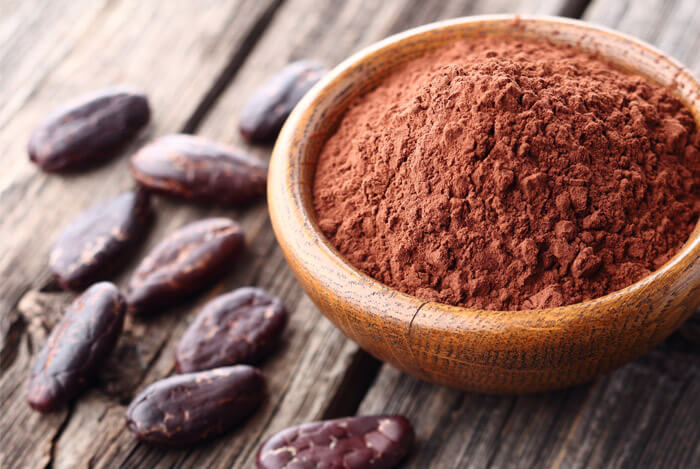 This recipe makes seven super healthy raw protein balls – one for every day of the week.
Made with cacao, chia seeds, hemp protein, flax seeds and almond, they're high in protein, essential fatty acids and antioxidants.
Each little teaspoon-sized ball has 3 g of protein, 3.1 g of fiber and 10% of your RDV of iron.
Ingredients (makes 7 balls)
2 tsp hemp protein
2 tbsp ground flax seed
1 tsp chia seeds
5 tbsp ground almonds
2 tbsp cacao powder
1 tbsp maple syrup
1/2 tsp vanilla extract
Directions
Add all ingredients into a bowl and mix until moist and evenly combined.
Divide into seven teaspoon sized parts and roll into balls. Store in the fridge or enjoy immediately.
'Hot Chocolate" Banana-Nut Oatmeal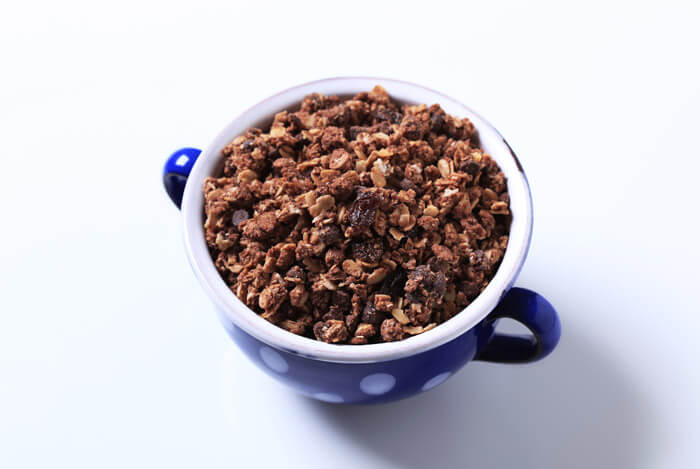 Proving you can have chocolate at any time of the day, this oatmeal recipe is both healthy and delicious.
If you don't eat oatmeal for breakfast, I would definitely recommend you give it a go. It's a simple and tasty way to get some fiber and nutrients into you first thing in the morning.
Ingredients (serves 4)
2 cups plain almond milk
2 fully-ripened large bananas (1 & 1/2 diced and 1/2 thinly sliced crosswise)
1/4 tsp pure almond extract
1/4 tsp pure vanilla extract
Kosher salt
2 cups old-fashioned rolled oats
2 tbsp unsweetened cocoa powder
2 tbsp honey (or vegan alternative)
1/3 cup toasted and chopped walnuts
Pinch ground cinnamon
2 tbsp semisweet chocolate chips
Directions
Add the almond milk, 1 & 3/4 cups water, diced banana, almond and vanilla extracts and pinch of salt to a pot. Bring to a boil over high heat.
Stir in the oats, cocoa powder and 1 tablespoon of the honey and reduce the heat to medium. Cook, stirring frequently, until the oats are fully cooked.
Transfer to bowls, top with the sliced bananas, walnuts, the remaining honey, cinnamon and chocolate chips and serve.
What's your take on healthy desserts? Have anything else you'd like to share? Let me know in the comments below!
Want to know how to build muscle and lose fat eating delicious foods like these?
"Dieting" doesn't have to suck. You CAN eat foods you like and have the body you want!
Click Here to Learn How
OVER 100,000 PEOPLE HAVE USED MY COOKBOOK TO GET THE BODY THEY WANT EATING THE FOODS THEY LOVE. WILL YOU BE NEXT?
What if I told you that just about everything magazines and trainers "teach" you about dieting is wrong?
What if you could build muscle and lose fat eating "naughty" foods every week?
What if you didn't have to suffer through low-carb dieting to get lean? In fact, what if you could eat all the carbs you wanted?
And what if you didn't have to gorge yourself just to gain muscle and didn't have to put on pounds and pounds of ugly fat, either?
In short, what if I told you that proper dieting--whether you want to maximize fat loss or muscle growth--is much simpler and more enjoyable than you've been led to believe?
Imagine eating delicious, filling meals every day...never feeling starved or stuffed...having great energy levels and workouts...and watching your body respond exactly as you desire, dropping fat or adding muscle each and every week.
And imagine finally understanding how proper dieting really works, never again falling for the BS, tricks, and gimmicks pushed by "gurus" and other shysters.
Well, I have good news.
All these "fantasies" can be a reality...if you know how to do a handful of "little" things correctly.
You see, when you know how to diet properly--and this doesn't mean learning to eat boiled chicken and raw broccoli six times per day--getting lean and muscular becomes simple, convenient, and dare I say...enjoyable.
And this book will show you the way.
If you enjoyed this article, get updates. It's
free

.

100% Privacy. We don't rent or share our email lists.