10 Healthy Versions of Your Fast Food Favorites
You probably know by now that indulging in fast food is rarely a wise decision.
Usually higher in calories, sodium content, largely processed and low in nutrients, the best course of action is to stay away from these restaurants.
But even once you've sworn off of eating fast food altogether, some of their more popular choices might still linger in your mind.
Consider these ten versions of your favorite fast food menu items first.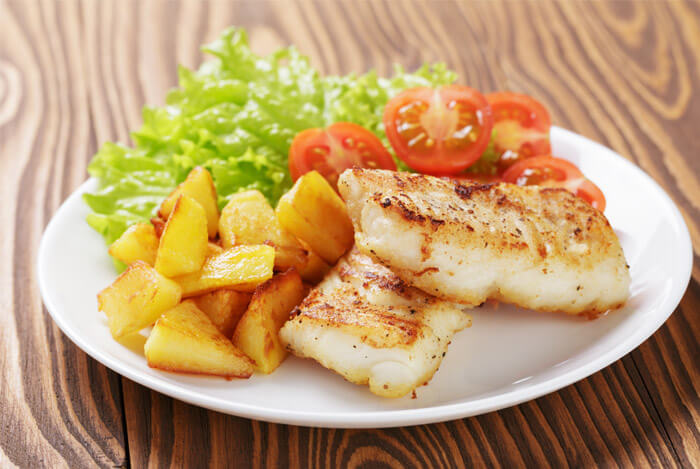 This British comfort meal can now be made with a lighter batter and served with delicious red potatoes.
Ingredients
4 large red potatoes
2 tbsp. olive oil
Salt and ground black pepper
3 tbsp. all-purpose flour
1 tbsp. cornmeal
1½ lb. skinless cod fillets
1 lemon
Directions
Preheat oven to 450 degrees F. In nonstick 15 1/2-inch by 10 1/2-inch jelly-roll pan (or pan lined with nonstick foil), toss potatoes, 1 tablespoon oil, 1/2 teaspoon salt, and 1/4 teaspoon black pepper until coated; spread in single layer. Roast potatoes 30 to 35 minutes or until golden and tender, turning over once halfway through roasting.
In nonstick 12-inch skillet, heat remaining oil over medium-high heat. Add cod; cook 4 to 6 minutes or until cod turns opaque in center, turning over once. Serve with potatoes and lemon.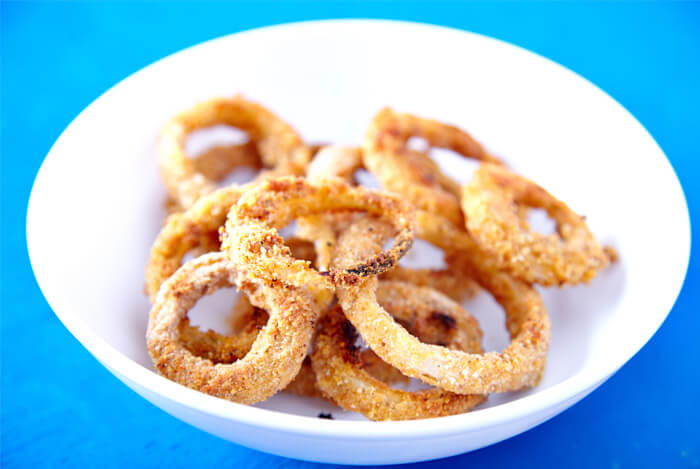 Onion rings are delicious.
This recipe is a bit of a challenge. But if you can pull it off, you'll have a newfound appreciation for the art of crafting the perfect onion rings.
Ingredients:
2 large sweet onions, cut into 1/2 inch slices
1 quart (950 ml) low fat buttermilk
4 egg whites
2/3 cup (85 g) whole wheat flour (or all-purpose)
3/4 cup (125 g) ground cornmeal
1 cup (60 g) panko bread crumbs
3/4 teaspoon salt
1/2 teaspoon pepper
1/2 teaspoon paprika
nonstick spray
Directions:
At least 4 hours ahead of time, place the sliced onion rings into a large dish and pour buttermilk over top. Cover tightly and store in the refrigerator. In this step, you are soaking the onions, which will tenderize them. Soak them for at least 12 hours for the best taste.
Once the onions have soaked, remove from the refrigerator. Set aside.
Preheat oven to 425°F (218°C). Line two large baking sheets with parchment paper or silicone baking mats. In a medium bowl, beat the egg whites. Set aside. In a large shallow dish, mix the whole wheat flour, cornmeal, bread crumbs, and the seasonings together until combined.
Remove each ring from the buttermilk and dip in egg whites. Immediately submerge in the bread crumb mixture, mixing around to coat the onion well. If the bread crumbs won't adhere, dip in egg whites and then the breading again. If you find you need more breading, make more.
Lay each breaded ring on the baking sheets in a single layer. You'll have two batches if your onions were large. When all the rings are breaded, spray each with nonstick spray to "seal" the breading, which will prevent the breading from staying raw and allows it to bake onto the onion rings.
Bake each batch for 15 minutes, remove from the oven and flip each ring using tongs. Spray the other side with nonstick spray. Then bake for 15 more minutes, or until the onion rings reach your ideal crispiness.
Allow the onion rings to sit out for 10 minutes before enjoying this delicious treat.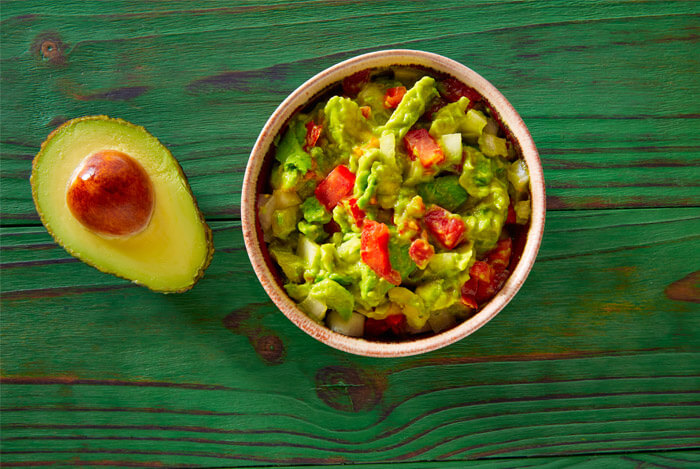 These chicken quesadillas, a favorite of Tex-Mex, counteract that with wonderful avocados and low-fat options for the key ingredients that make a quesadilla so delicious.
Ingredients
2 tsp. canola oil
1 green onion
1 lime
1 lb. skinless, boneless thin-sliced chicken breasts
4 burrito-size low-fat flour tortillas
1 c. reduced-fat (2%) shredded Mexican cheese blend
½ avocado
¾ c. salsa
Directions
In 12-inch nonstick skillet, heat oil on medium 1 minute. Add green onion and cook about 6 minutes or until tender, stirring occasionally.
Meanwhile, from lime, grate 1 teaspoon peel and squeeze 2 tablespoons juice. Evenly season chicken on both sides with lime peel, 1/4 teaspoon salt, and 1/8 teaspoon ground black pepper.
Add chicken to green onion in skillet; cook 10 minutes or until chicken is no longer pink inside. Transfer to bowl; stir in lime juice.
Evenly divide chicken mixture and cheese on half of each tortilla; fold over to make 4 quesadillas.
In same skillet, cook quesadillas on medium, in 2 batches, 8 minutes per batch or until browned on both sides and heated through. Cut each quesadilla into thirds. Stir avocado into salsa; serve with quesadillas.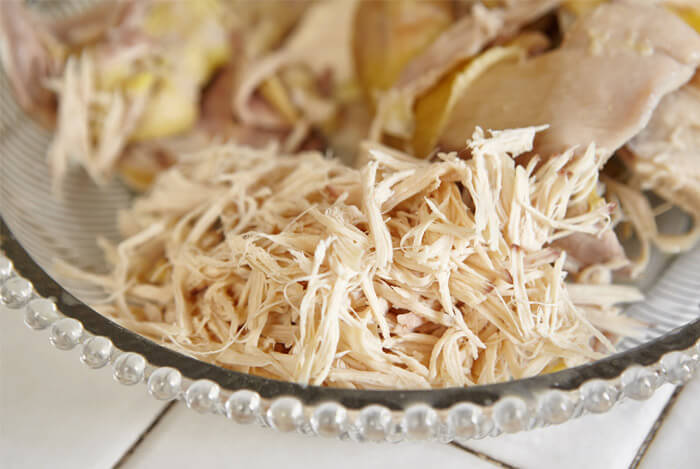 This recipe is sure to serve you up that chicken sandwich you're always craving from those more unsavory establishments.
Ingredients
1/3 cup shredded rotisserie chicken
Coarse salt and ground pepper
1 tablespoon fat free mayonnaise
1 garlic glove, minced
2 slices toasted bread
Sliced avocado
2 slices of bacon (optional)
Lettuce
Directions
In a small skillet, cook bacon over medium until crisp, 10 minutes.
With tongs, transfer bacon to paper towels to drain.
Add chicken to skillet and stir to coat with drippings.
Season with salt and pepper.
In a small bowl, mix together low-fat mayonnaise and garlic; season with salt and pepper. Spread mayo on bread and layer with bacon, chicken, avocado, and lettuce. Top with the other slice of bread.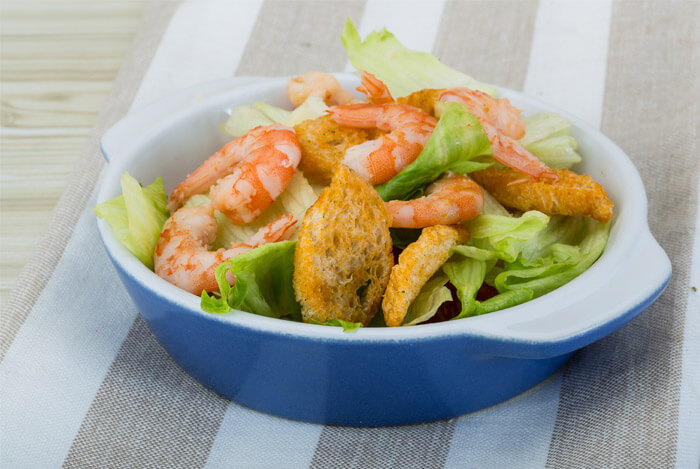 This healthy version of the classic salad is just as delicious and much more healthy.
Ingredients
3 tablespoons lemon juice, plus 4 lemon wedges for garnish
2 teaspoons Dijon mustard
3 anchovies, coarsely chopped, or 1 teaspoon anchovy paste, or to taste
1 small clove garlic, coarsely chopped
2 tablespoons extra-virgin olive oil
1/2 cup grated Asiago cheese, divided
1/2 teaspoon freshly ground pepper
8 cups chopped hearts of romaine, (about 2 hearts)
1 pound peeled cooked shrimp, (21-25 per pound; thawed if frozen)
1 cup croutons, preferably whole-grain
Directions
Place lemon juice, mustard, anchovies (or anchovy paste) and garlic in a food processor; process until smooth. With the motor running, gradually add oil; process until creamy. Add 1/4 cup Asiago cheese and pepper; pulse until combined.
Combine romaine, shrimp and croutons in a large bowl. Add the dressing and toss to coat. Divide among 4 plates, top with the remaining 1/4 cup Asiago cheese and garnish with a lemon wedge.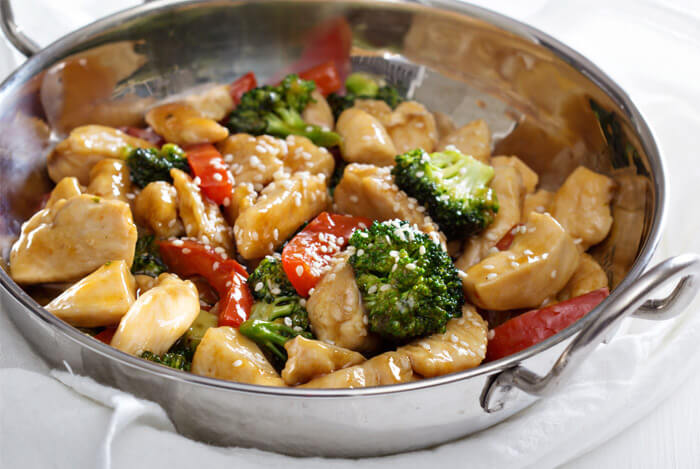 This staple of Chinese takeout can be made in a much healthier fashion.
Careful with the soy sauce though. Even in reduced-sodium form, soy sauce can still pack a salty punch.
Ingredients
2 cups instant brown rice
1/4 cup seasoned rice vinegar
2 tablespoons reduced-sodium soy sauce
2 tablespoons cornstarch
2 tablespoons apricot preserves
2 tablespoons canola oil, divided
1 pound chicken tenders, cut into bite-size pieces
4 cloves garlic, minced
2 teaspoons finely grated or minced ginger
1 cup reduced-sodium chicken broth
6 cups bite-size pieces of vegetables, such as snow peas, broccoli and bell peppers
1 5-ounce can sliced water chestnuts, drained
Directions
Prepare rice according to the package directions.
Meanwhile, whisk vinegar, soy sauce, cornstarch and apricot preserves in a small bowl. Set aside.
Heat 1 tablespoon oil in a large skillet over medium-high heat. Add chicken and cook, undisturbed, for 2 minutes. Continue cooking, stirring occasionally, until no longer pink on the outside and just starting to brown in spots, about 2 minutes more. Transfer to a plate.
Add the remaining 1 tablespoon oil, garlic and ginger to the pan and cook, stirring, until fragrant, 20 to 30 seconds. Add broth and bring to a boil, stirring constantly. Add vegetables, reduce heat to a simmer, cover and cook until the vegetables are tender-crisp, 4 to 6 minutes. Stir in water chestnuts and the chicken. Whisk the reserved sauce and add to the pan. Simmer, stirring constantly, until the sauce is thickened and the chicken is heated through, about 1 minute. Serve with the rice.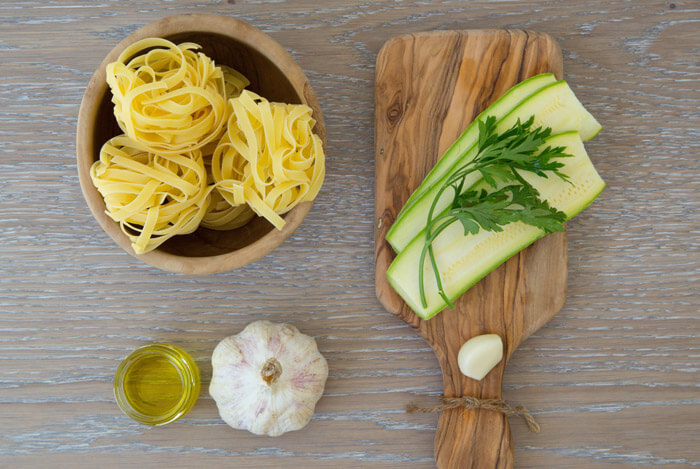 This recipe from Eating Well is a great alternative to restaurant Alfredo, which can pack huge calorie counts and even higher sodium content.
Ingredients
3/4 cup vegetable broth, or reduced-sodium chicken broth
4 large cloves garlic, peeled
4 ounces whole-wheat fettuccine
1 small zucchini, cut into matchsticks
2 teaspoons cornstarch, mixed with 1 tablespoon water
2 tablespoons reduced-fat sour cream
Pinch of freshly grated nutmeg
1/8 teaspoon freshly ground pepper, or to taste
3/4 cup freshly grated Parmesan cheese, divided
1 tablespoon chopped fresh parsley
Directions
Bring a large saucepan of water to a boil. Combine broth and garlic cloves in a small saucepan; bring to a boil over high heat. Cover, reduce heat to a simmer and cook until the garlic cloves are soft, about 15 minutes.
After the garlic has simmered about 10 minutes, cook fettuccine in the boiling water, stirring often, for 8 minutes. Drop in zucchini and cook until the fettuccine is just tender, about 1 minute more.
Meanwhile, transfer the garlic and broth to a blender. Process until the mixture is smooth, about 1 minute. (Use caution when blending hot liquids)
Return the mixture to the pot and bring to a simmer over medium-high heat. Add cornstarch mixture; whisk it until slightly thickened, about 15 seconds.
Remove from the heat and whisk in sour cream, nutmeg and pepper. Return the pot to very low heat to keep the sauce warm. (Do not boil.)
Drain the pasta and place in a large bowl. Add the sauce and 1/2 cup Parmesan; toss to coat well. Sprinkle with parsley and serve immediately, passing the remaining 1/4 cup Parmesan separately.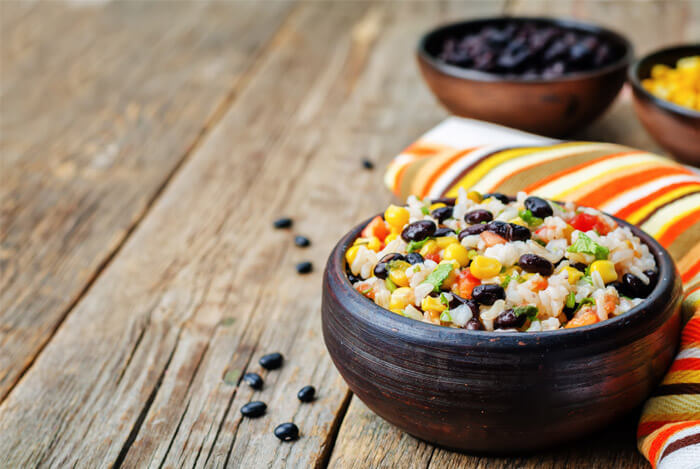 This burrito bowl recipe is a healthy alternative to fast food that will have you wondering why you ever spent so much time and money at fast food restaurants when you could have been making this from home all along.
Ingredients
2 mL olive oil
90 g green peppers
90 g red peppers
0.25 onions
225 g ground beef (94/4)
150 g corn
200 g black beans
240 mL salsa
3 g chili powder
8 g taco seasoning
115 g basmati rice
240 mL water
Directions
Chop vegetables.
Saute peppers and onions in olive oil.
Add beef to saute, cook entirely.
Add all other ingredients to pan.
Bring pan to a gentle boil.
Cover and allow to simmer until rice is cooked (typically 15 – 20 minutes).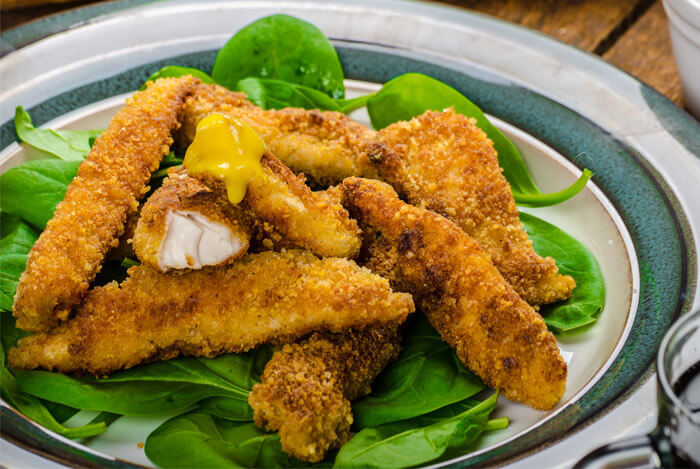 A favorite of mine growing up. These days, I'm much more cautious with my nutrition, which makes these healthy chicken strips all the more appealing.
Ingredients
¾ c. panko (Japanese-style bread crumbs)
2 tbsp. sesame seeds
1 large egg white
1 tsp. Chinese five-spice powder
½ tsp. salt
1 lb. chicken-breast tenders
1 tbsp. olive oil
1 small onion
½ c. low-sodium ketchup
1 tbsp. brown sugar
1½ tsp. cider vinegar
1½ tsp. Worcestershire sauce
Directions
Preheat oven to 475 degrees F. In 10-inch skillet, toast bread crumbs and sesame seeds over high heat about 5 minutes or until golden, stirring frequently. Transfer crumb mixture to plate.
In medium bowl, with wire whisk or fork, mix egg white, 1/2 teaspoon five-spice powder, and salt until foamy. Dip tenders in egg-white mixture, then in crumb mixture to coat. Place tenders on cookie sheet. Bake tenders 13 to 15 minutes or until they lose their pink color throughout. Do not turn tenders over.
Meanwhile, in same skillet, heat oil over medium heat until hot. Add onion and cook 8 to 10 minutes or until soft and lightly browned. Remove skillet from heat; stir in ketchup, sugar, vinegar, Worcestershire sauce, and remaining five-spice powder. Pour sauce into small bowl; serve with tenders.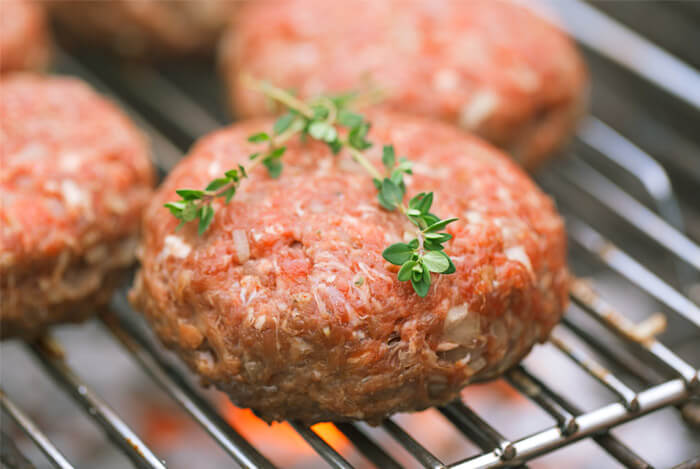 Obviously not a choice for the vegans and vegetarians, this burger is for the meat lover who wants to limit their calories and fat. And, the tangy yogurt sauce gives awesome flavor without the need for mayonnaise or the other usual suspects in burger condiments.
Ingredients
1/3 cup plain fat-free Greek yogurt
1 tablespoon chopped fresh cilantro
1 tablespoon chopped fresh mint
1 1/2 teaspoons minced seeded serrano chile
1/8 teaspoon kosher salt
1 garlic clove, minced
1/2 English cucumber, grated, squeezed dry
1/2 pound ground beef, 90% lean
6 ounces ground lamb
1/4 teaspoon kosher salt
1/8 teaspoon freshly ground black pepper
1 teaspoon olive oil
1 cup baby spinach
4 thin slices red onion
4 (1 1/2-ounce) hamburger buns, toasted
Directions
Combine the first 7 ingredients in a small bowl; stir well.
Gently combine beef and lamb, being careful not to overwork. Divide the mixture into 4 equal portions, gently shaping each into a 1/2-inch-thick patty. Press a nickel-sized indentation in the center of each patty. Sprinkle evenly with 1/4 teaspoon salt and pepper.
Heat a large cast-iron skillet over medium-high heat. Add oil to pan, and swirl to coat. Add patties; cook for 3 minutes on each side or until desired degree of doneness.
Place 1/4 cup spinach, 1 onion slice, and 1 patty on bottom half of each hamburger bun. Top each patty with 2 tablespoons raita and top half of bun.
See? You don't have to go to fast food joints to enjoy your favorites. You may even discover a new appreciation for the foods because of these new, healthier versions.
What's your take on these healthy fast food alternatives? Have anything else you'd like to share? Let me know in the comments below!
Want to know how to build muscle and lose fat eating delicious foods like these?
"Dieting" doesn't have to suck. You CAN eat foods you like and have the body you want!
Click Here to Learn How
OVER 100,000 PEOPLE HAVE USED MY COOKBOOK TO GET THE BODY THEY WANT EATING THE FOODS THEY LOVE. WILL YOU BE NEXT?
What if I told you that just about everything magazines and trainers "teach" you about dieting is wrong?
What if you could build muscle and lose fat eating "naughty" foods every week?
What if you didn't have to suffer through low-carb dieting to get lean? In fact, what if you could eat all the carbs you wanted?
And what if you didn't have to gorge yourself just to gain muscle and didn't have to put on pounds and pounds of ugly fat, either?
In short, what if I told you that proper dieting--whether you want to maximize fat loss or muscle growth--is much simpler and more enjoyable than you've been led to believe?
Imagine eating delicious, filling meals every day...never feeling starved or stuffed...having great energy levels and workouts...and watching your body respond exactly as you desire, dropping fat or adding muscle each and every week.
And imagine finally understanding how proper dieting really works, never again falling for the BS, tricks, and gimmicks pushed by "gurus" and other shysters.
Well, I have good news.
All these "fantasies" can be a reality...if you know how to do a handful of "little" things correctly.
You see, when you know how to diet properly--and this doesn't mean learning to eat boiled chicken and raw broccoli six times per day--getting lean and muscular becomes simple, convenient, and dare I say...enjoyable.
And this book will show you the way.
If you enjoyed this article, get weekly updates. It's
free

.
Sending...
Great! You're subscribed.
100% Privacy. We don't rent or share our email lists.